The Mountain From 'Game of Thrones' Just Married His Tiny Girlfriend, And You've Got To See The Photos
It's like a mountain married a molehill.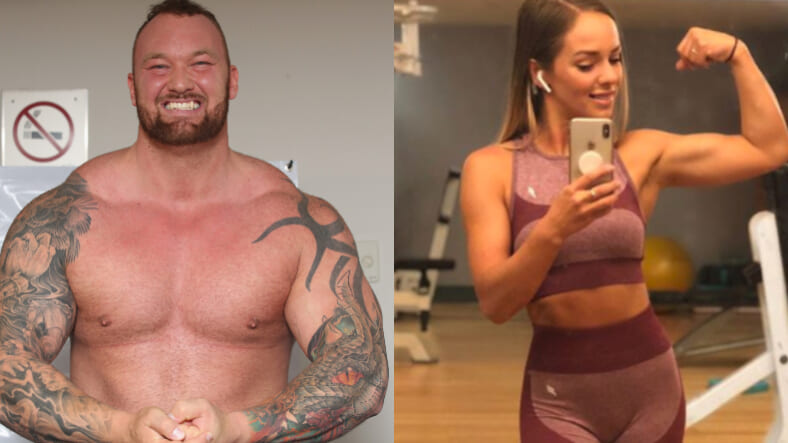 Left: Getty Images
Hafthor Julius Bjornsson, the 6-foot-9-inch World's Strongest Man champion who plays Ser Gregor "The Mountain" Clegane on Game of Thrones, just married his 5-foot-2-inch girlfriend. 
The ceremony took place at a picturesque location in Bjonsson's native Iceland, and wedding photos showing the happy couple's remarkable size difference have taken the internet by storm. 
https://www.instagram.com/p/BpKmOUnC1dE
"It is with great pleasure that I now get to call Kelsey Morgan Henson my wife!" the GoT star wrote. 
Henson is of course aware of her beastly new husband's extraordinary stature, and she isn't afraid to playfully joke about it. 
https://www.instagram.com/p/BpKmO1xC3qW
"Looking forward to pulling this big guy around for the rest of my life," she quipped.
https://www.instagram.com/p/Bim3Lqmhfyx
To be fair, Bjornsson makes pretty much everyone look like a toddler. Here he is towering over 5-foot-9-inch UFC fighter Conor McGregor. 
https://www.instagram.com/p/BonmaHlHNna
But, as Bjornsson noted last month, "Love comes in all shapes and sizes."
https://www.instagram.com/p/BnIkFQAHlI1
Help the vertically-mismatched couple celebrate with more of their greatest moments below:
https://www.instagram.com/p/BlDVPMgHzGbhttps://www.instagram.com/p/Bjafrc1BtoPhttps://www.instagram.com/p/BoEHiDLi_axhttps://www.instagram.com/p/BnRrycJH7kzhttps://www.instagram.com/p/BndMdtcnj6ahttps://www.instagram.com/p/BmmTCHcHgwihttps://www.instagram.com/p/Bd-ssHrBxFmhttps://www.instagram.com/p/BkMh_l8H9QM