10 Things You Probably Didn't Know About 'The Godfather'
Leave the gun, take the cannoli, and celebrate the 45th anniversary of the most iconic mob movie ever.
March 24, 2017, marks the 45th anniversary of the premiere of what would go on to be perhaps the greatest mafia movie of all time: The Godfather. Directed by Francis Ford Coppola and starring Marlon Brando, Al Pacino, Robert Duvall, James Caan, and Diane Keaton, Godfather was the biggest film of 1972 and, for a time, one of the hugest moneymakers in history.
Godfather is considered a true classic, ranked beside Citizen Kane on many lists of best movies ever made. It has everything, after all: moving family drama, edge-of-your seat suspense, and bloody, sudden violence.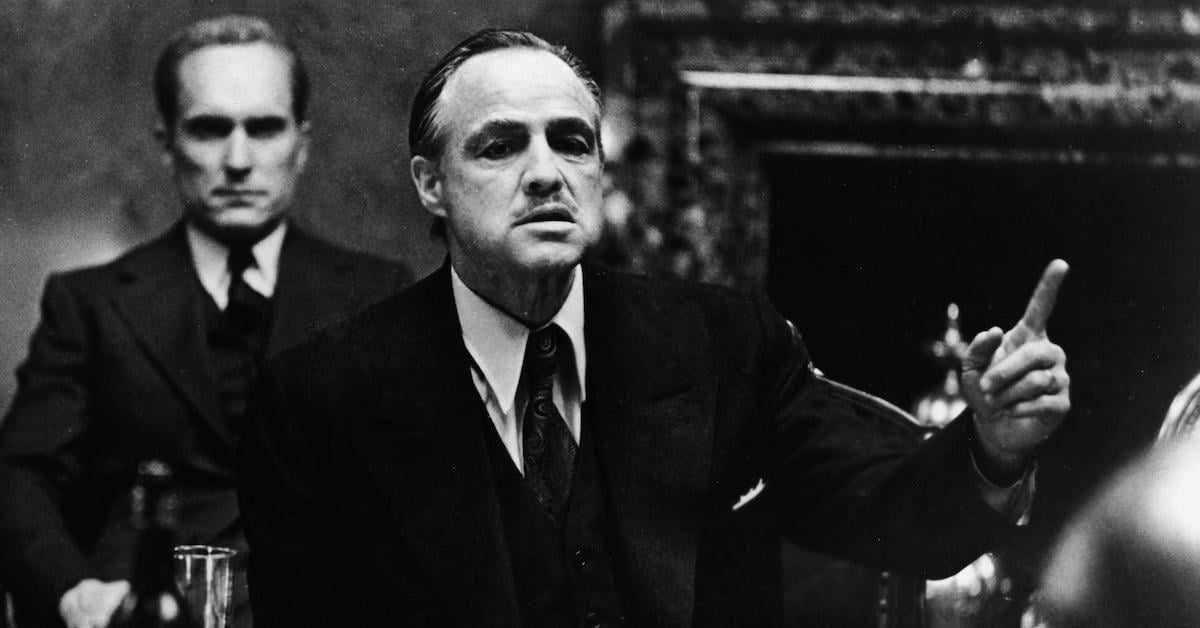 It's easy to assume that even those who aren't die-hard movie geeks know just about all there is to know about this storied flick—after all, it was only the beginning of a trilogy that extended to 1990's much-maligned (but actually not that awful) The Godfather Part III. But there are plenty of things you may not know about this legendary drama. 
Here, 10 things you probably didn't know about The Godfather. 
1. The studio did NOT want to cast Marlon Brando.
That's hard to believe now, since it's nearly impossible to imagine anyone else playing the elderly, mush-mouthed mob boss, but it's true—Paramount even suggested British thespian Sir Laurence Olivier. In the end director Coppola tricked Brando into a screen test that impressed the studio, and they got on board.
2. Al Pacino wasn't the first choice to play Michael Corleone.
The famously method actor's conflicted character would go on to be the backbone of the trilogy, but Paramount wanted a leading man like Robert Redford, Jack Nicholson, Dustin Hoffman or Warren Beatty. James Caan would also test for the role, as well as Martin Sheen.
3. The "leave the gun, take the cannoli" line was improvised. 
The script had Richard Castellano's Clemenza tell a hit man who'd just taken out a snitch to "Leave the gun." He threw in the utterly genius "take the cannoli," and a legendary line was born.
4. Yep, that was actually a real decapitated horse head.
https://www.youtube.com/watch?v=q2CX20bBNJE
Talk about realism—the horse head left as a warning to movie producer Jack Woltz was the real thing. Don't flip out, they didn't just kill a horse to make a seriously gruesome prop—they bought it from a company that made dog food.
5. The movie was almost set in the 1970s.
An early script updated the story from Mario Puzo's original novel to the time in which the movie was made, but Coppola nixed that and made it a period piece—which in hindsight was perfect.
6. Marlon Brando didn't bother memorizing his lines.
Great as he was in the title role, Brando didn't necessarily work his ass off. Vito Corleone's words were on cue cards distributed around the set. Brando had been doing this for years and claimed it made him more spontaneous.
7. The actors kept mooning each other on set.
After they'd warmed up to each other, James Caan and Robert Duvall began trying to throw Brando off by dropping their pants and mooning him. Brando had the last laugh, however, pulling the same prank during the wedding scene—which was witnessed by dozens of lucky extras.
8. Believe it or not, you don't hear the words "mafia", "mob" or "cosa nostra" in the movie.
That's a fact that might have some shaking their heads, sure it isn't true—but "mafia," "cosa nostra," and "mob" were taken out of the script to appease the Italian-American Civil Rights League, which was formed to combat negative Italian stereotypes.
9. Brando rejected his Oscar in a seriously controversial way. 
It was actually huge news at the time, but may be nearly forgotten today. Brando was awarded the Best Actor Oscar. He sent Native American activist Sacheen Littlefeather in his place. She read a statement that said she was "representing Marlon Brando this evening and he has asked me to that he cannot accept this very generous award…because of the treatment of American Indians today by the film industry." Needless to say, Hollywood kind of freaked out. Just listen to the boos in the video above. 
10. Several actors prepped for their roles by consulting real-life mobsters.
It may give some fans of the movie a jolt to learn that James Caan, Robert Duvall, and Al Pacino all researched their roles by hanging with actual mobsters. Caan, for example, paid close attention to body language, noting the true made men tended to touch themselves, always adjusting their shirts or crotches. He's still around so revealing this apparently didn't piss off his consultants.
Naturally the 45th anniversary of a film of this towering importance will see some serious celebration—anyone lucky enough to get into the Tribeca Film Festival screening of Godfathers I and II will also get to see much of the remaining cast reunite in celebration on April 29th. 
Hopefully no mooning or real horse heads will be included.