Tom Hanks: Officially America's Favorite Leading Man
See who else made the cut.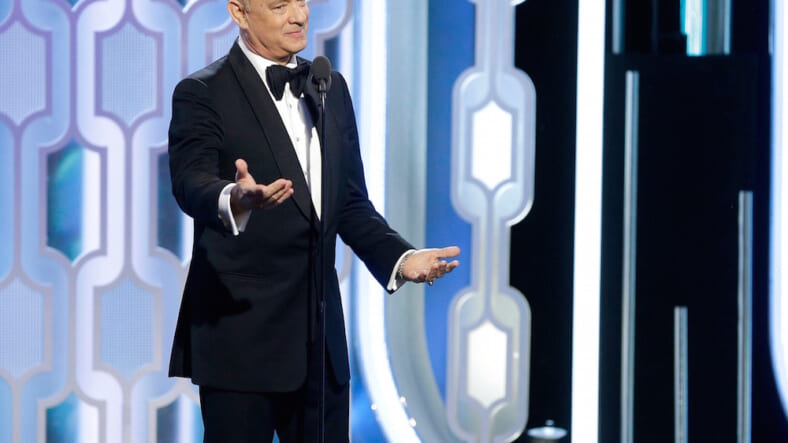 Perhaps it's his unmatched breadth of roles, his everyman charm, or those bright blue eyes. Whatever the reason, Tom Hanks has left an indelible impression on Hollywood and in the hearts of moviegoers.
It's easy to see why he was just named America's favorite leading man.
This announcement was made in an annual report from The Harris Poll, which polled 2,252 US adults online between December 9 and 14, 2015. Hanks jumped a total of four spots from last year, when he polled as our fifth favorite actor. However, he's nabbed the top slot before, back in 2002, 2004, 2005, and 2013. In all, this is his fifth time as number one. 
There were some surprises on the list, with John Wayne taking fourth place despite not having exactly been around to appear in films for nearly 40 years (read: dead). The Harris Poll also threw some of our favorite leading ladies, like Jennifer Lawrence, into the mix. Check out the top 10 below:
Tom Hanks
Johnny Depp
Denzel Washington
John Wayne
Harrison Ford
Sandra Bullock
Jennifer Lawrence
Clint Eastwood
Brad Pitt
Julia Roberts
This being the vast and sometimes divided country that it is, there were some regional differences of opinion. Namely, the East Coast is mad for Harrison Ford, the South loves the rakish Johnny Depp, the Midwest likes dependable Denzel Washington, and the West Coast digs Hanks.
There was likewise some generational splintering. Millennials picked Johnny Depp as their favorite, Gen Xers chose Harrison Ford, Baby Boomers said Hanks, and the older participants polled said John Wayne (That explains his spot on the list).
Luckily for Hanks-hungry audiences, our man Tom has a slew of new projects in the cooker, including the upcoming A Hologram for the King. We're sure it'll be great, seeing that everything Tom Hanks touches turns to gold.