Nice-Guy Comic Tom Papa Spills on Dave Chappelle, Jerry Seinfeld, and His New Stand-Up Special
In times of uncertainty, Tom Papa is the level-headed voice we need.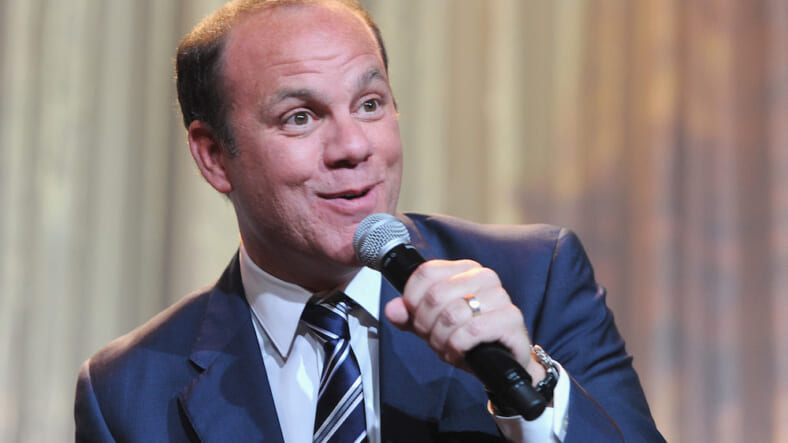 Now more than ever, the expectations placed on men are simultaneously overwhelming and wildly contradictory. Happiness, it seems, is unattainable without a J.D. from Yale, the brain of Elon Musk, a Rolls-Royce collection in the garage, the sex life of Leonardo DiCaprio and, somehow, the physique of a 22-year-old Calvin Klein model.
Not so, says comic Tom Papa, who rails against the pathological status anxiety afflicting modern men in his upcoming stand-up special, Human Mule.
"The culture creates this feeling that we should all be incredibly happy and beautiful all the time—that there should be fireworks shooting off your lawn every day," Papa told us. "Then if it doesn't happen, people are miserable, and they break off their marriages, they leave their jobs and they feel depressed. No, that's not how real life works."
His special, which premieres on Epix on Dec. 9, serves up some hard truths about the trials of fatherhood, the slog of everyday life, and the sobering realization most of us will never reach the ranks of the Whole Foods-dwelling super rich. Even so, his droll, wryly self-deprecating style provides an hour-long relief of uproarious but sometimes deeply uncomfortable laughs.
Maxim recently caught up with the level-headed Tom Papa before the debut of his new televised special about not being Elon Musk, how Jerry Seinfeld changed his life, and Dave Chappelle's triumphant return to TV.
You riff about everyone expecting to inevitably become part of the super rich. What inspired that bit?
The culture has gotten to the point where we always look at people who seem to have it all and think, "Well if I just get some more money then my life is going to be really great." Life shouldn't be feeling bad that you're not in a fancy restaurant. A bag of Fritos on your way home from the 7-Eleven will make you feel just as happy. Once you get to the point of being able to buy something without asking your wife's permission, then you're good. You don't have to aim any higher than that.
You joke that inside every guy is a 16th century man who wants to burn down the village. When did you realize this?
I live in a home filled with girls, and I'm always trying to soften myself to fit in with them and be respectful of them, but there is definitely a part of us that is like dogs. Our breed, as men, likes to run and chew on furniture sometimes. Don't be lulled into thinking that if a guy agrees to go on an art walk with you on a Sunday afternoon that he's changed. He's just trying his best to make you happy. Accept that you're still living with this wild animal.
You say that when you moved to New York to break into comedy, you lived in a shit hole and smelled like hot dogs. Can you describe that time?
When I started comedy, I lived in a studio apartment that the landlord called a "two bedroom," but there were no doors. I lived there with two other guys on futons and old mattresses, and there was no sink in the bathroom so we had to brush our teeth in the kitchen sink. There was an occasional roach problem, and we were on the first floor with windows that faced the garbage. That said, it may have been the happiest I had even been. We couldn't believe that we were living in New York and making it as comedians. We would just come back to that hellhole, pass out and then get up and run back into the city again. When you're young, you don't know any better, and it's the greatest. Now, I'd probably kill myself. 
Jerry Seinfeld gave you your first big break. What influence did he ultimately have on you?
He really made it clear that this is a craft that you have to work really hard at. You look at comedians, and you think, "Oh, these people just kind of hang out, get high during the day and then go tell a couple of jokes." But you have to write everyday, you have to be constantly doing your sets, you have to be constantly editing, and you have to treat this as any other craft. As a young comic, seeing the confirmation that if you work that way you will get results was a really big lesson. I probably would have found my way eventually, but it happened a lot quicker because I met Jerry.
In your special, you joke about being lazy and wanting to sleep all day. Are you more ambitious than you let on?
I am ambitious, and I do really want to work hard, but don't you find that it's a constant struggle? You know all the things that you're supposed to do, but you just get tired. You just want to lie down and not be a part of this day. That's why I say in the special that people like Elon Musk are freaks. Everyone else I know—even successful people—have a hard time getting out of bed sometimes. It doesn't mean you're not ambitious; you're just human.
Lastly, what did you think of Dave Chappelle's return on SNL?
I thought Dave Chappelle's monologue was just beautiful. Even with all the great editorials and all the great commentators on TV, Dave doing 11 minutes of standup said more than all of them. It was so thoughtful, funny and had the right message. I ran into him the other night, and I told him, "I sent your monologue to my kids as soon as I saw it because, as a parent, I was trying to figure out how to articulate what this election means to my kids." I was like, "Let Dave be your dad for a day." Moments like that really make me proud to be a comedian.
For more of the brilliant and hilarious Tom Papa, watch his upcoming special Human Mule when it premiers on Epix on Dec. 9.