A 'Training Day' Prequel Is In the Works That's Set In the 1990s
The movie would explore the past of Denzel Washington's corrupt LAPD narcotics detective Alonzo Harris.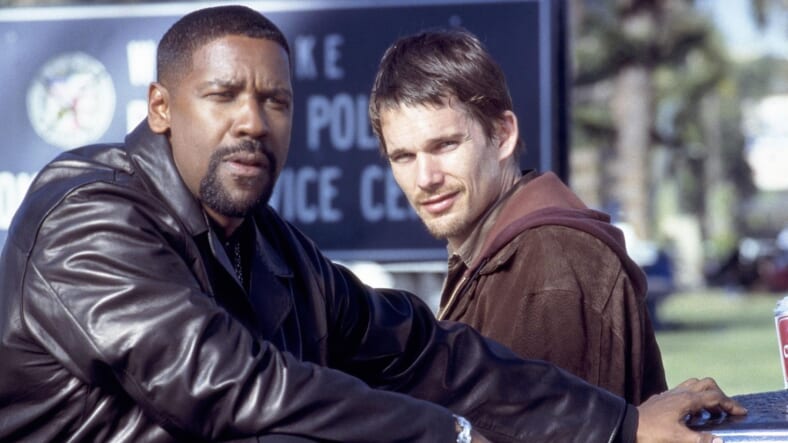 Warner Bros. Pictures
A Training Day prequel that delves into the past of Denzel Washington's famously corrupt LAPD narcotics detective Alonzo Harris could be getting the green light from Warner Bros. 
Collider reports that the studio has tapped The Black List writer Nick Yarborough to pen the script. Insider sources also revealed the movie's particularly volatile setting: Los Angeles in late April of 1992, two days before the controversial Rodney King trial verdict was delivered, which sparked the Los Angeles riots. 
Washington won a Best Actor Oscar for his performance in director Antoine Fuqua's classic 2001 crime thriller. Co-star Ethan Hawke, who played rookie detective Jake Hoyt, was nominated for Best Supporting Actor. Given that development of the prequel is in "very early stages," no director or actors are currently attached.
However, Collider made some interesting observations regarding a potential cast. Washington was 46 years old when Training Day hit theaters, and the prequel is set about 10 years earlier. His son, John David Washington, is hot off his starring role in Spike Lee's acclaimed true crime drama BlacKkKlansman. 
He's currently 35 years old, putting him in the ideal age range to play a young Harris. Not to mention, he's currently filming the lead in Christopher Nolan's upcoming Tenet, which is also being made by Warner Bros.
If they do it right, there's also no reason to believe that a Training Day prequel wouldn't be a box office success, given that the original grossed over $100 million worldwide.