Watch Eminem Spread a Rap Virus in 'Venom' Video
Pump up the volume.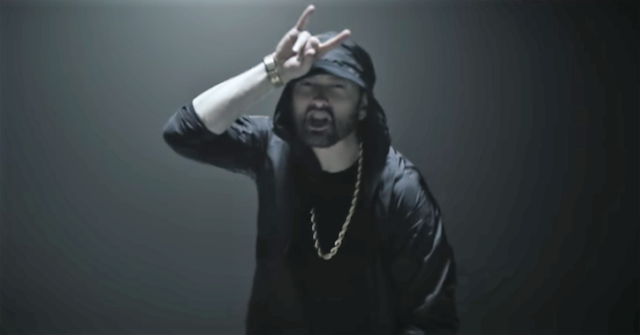 YouTube/EminemMusic
Venom hit theaters on October 5, and along with it came a NSFW music video for Eminem's eponymous tie-in track from the movie. 
Footage follows the spread of a what can best be described as an ultra-contagious rap virus that causes infected pedestrians—and even a pet dog—to spit Em's lightning-fast rhymes.
Aside from wordplay-riddled lines that are often offensive, nods to the new Marvel film are scattered throughout the lyrics. Check out this profanity-free pre-chorus and chorus below:
I'm the super villain Dad and Mom was losin' their marbles to

You marvel that? Eddie Brock is you

And I'm the suit, so call me—
Venom, (I got that) adrenaline momentum

And I'm not knowin' when I'm

Ever gonna slow up and I'm

Ready to snap any moment I'm

Thinkin' it's time to go get 'em

They ain't gonna know what hit 'em

(W-W-When they get bit with the—)
The Venom music video is already pushing 10 million views on YouTube. Here's how people are reacting on Twitter: 
https://twitter.com/loveyourfate96/status/1048547972466655232
Eminems music video for Venom is better than the actual movie

— Tommy (@TommyWitney) October 6, 2018
Venom is maybe the best Linkin Park music video ever made

— britt hayes (@MissBrittHayes) October 6, 2018
https://twitter.com/trillconfirmed/status/1048481763377471488https://twitter.com/VRPayne_/status/1048557375060410368
What do you think?