How Kendall Jenner Killed The Retro Metal T-Shirt Trend
Slayer guitarist Gary Holt must be psyched.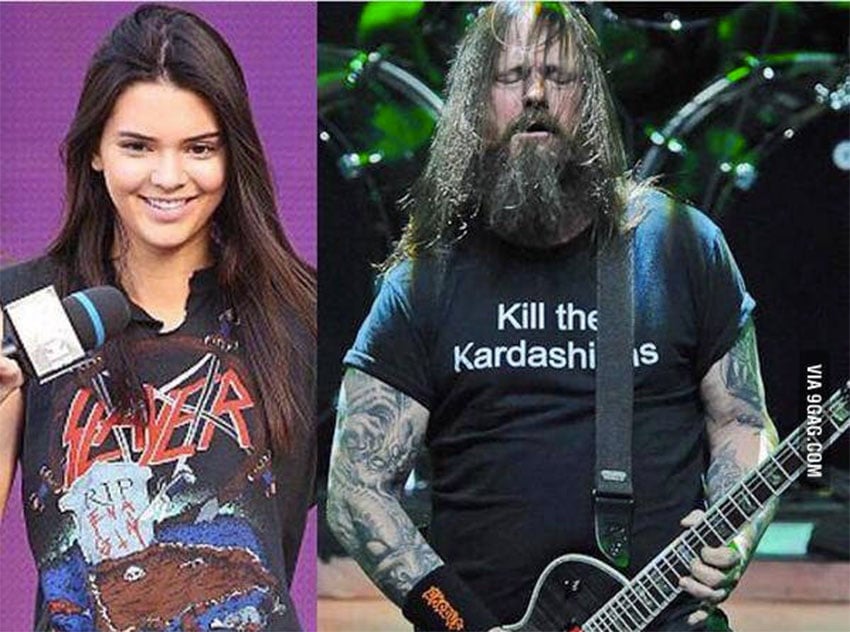 An annoyingly persistent style trend that saw top-tier young celebs like Justin Bieber and Kendall Jenner rocking vintage rock and metal tees from groups like Slayer and Metallica may have mercifully come to an end.
HighSnobiety dubbed the t-shirt trend "grungewave," writing that a "newfound taste for rock" in streetwear "isn't fussy – it finds inspiration in punk, grunge, indie, thrash metal and even a bit of crust punk."
Thankfully, this merging of glitzy, social media-ruling young millionaires with the down-and-dirty metalhead look is already painfully played out, writes HighSnobiety—and the reason they contend it's dead may surprise you:
Unsurprisingly, the rock and metal communities aren't too impressed by Hollywood mega-basics and their pseudo-interest in the genre — especially when Kendall "I don't get how some people can listen to heavy metal" Jenner suddenly decided she's into Slayer merch (or, more likely, her stylist is). Slayer's Gary Holt (replacement for Jeff Hanneman, RIP) deserves a Nobel Prize for his part in creating what's probably the greatest meme in the history of the internet, though. [See the photo above].

There's good news, though — the band tee fad is dead. RIP. Pour one out. The trend's time is up because H&M has started selling Metallica, Nirvana and Guns 'N' Roses T-shirts. Rather then going to a show, trawling eBay, hitting up a vintage store or venturing into Hot Topic (or getting your stylist to do it, if you live in Hollywood), you can just cop a piece of rock history from one of H&M's 3,716 stores.
HighSnobiety writes that while this might seem like an insulting form of "cultural theft," this widespread sale of copies of historic band tees essentially mainstreams them again. And even if it's a brief resurrection for fashion once more suited to roadies and permanently stoned high-school burnouts, it's actually the demise of us ever having to see a Kardashian rocking a Megadeth muscle shirt, ever again. 
"[It's] only a matter of time," writes the style site, "before people who don't give a shit about music with guitars and double bass drums will forget about it and move onto something else."
Good riddance. And while it's highly unlikely that Slayer guitarist Gary Holt's own fashion statement about the Kardashians will ever fill up mainstream clothing store racks, we have to give him respect for the most effortlessly metal response to the Kendalls and the Biebers imaginable.
h/t HighSnobiety