'Virtual Realities – The Art Of M.C. Escher' Showcases 400 Of The Famed Artist's Most Mind-Melting Pieces
Escher is heralded as a "one-man art movement" for his signature artworks where birds morph into fish and staircases tangle in circles.
M.C. Escher might have been an unknown while alive, but today he's one of those rare talents whose last name has become an adjective.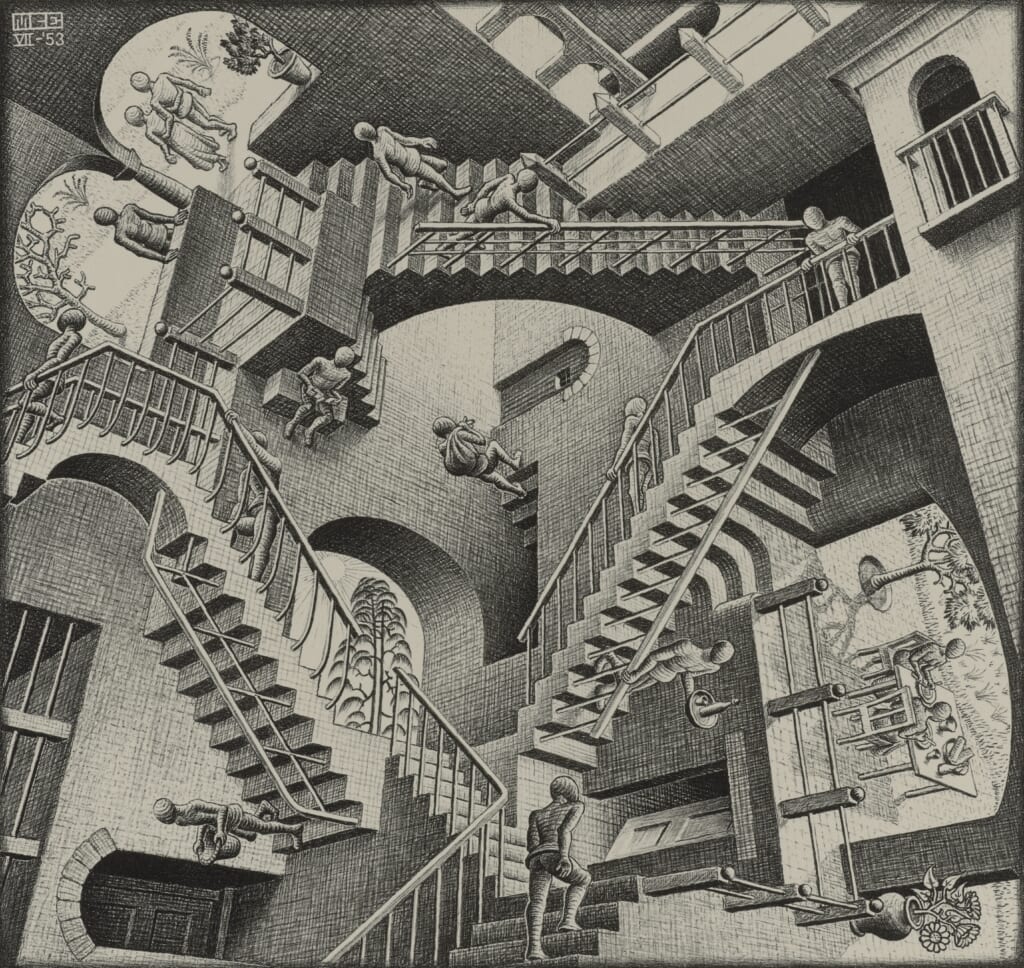 Some have heralded the late Dutch artist a "one-man art movement" for his ubiquitous tessellations where birds morph into fish and staircases tangle in circles. The Dutch artist didn't invent optical illusions, yet his compositions have grown synonymous with the artform.
Virtual Realities – The Art of M.C. Escher opened March 13 at the Museum of Fine Art in Houston, chronicling the man whose 50-year career broke boundaries between math and art with works like his Circle Limit III woodcut based on the hyperbolic lines in the Poincaré disk model—just one in which "strings of fish shoot up like rockets from infinitely far away" and then "fall back again whence they came," the artist once said.
A clip by BBC even states that Escher correctly worked out the shape of the universe approaching infinity. Cosmologists and mathematicians still study his work.
The exhibition shares Escher's story across 400 prints, drawings, lithographic stones, and sketchbooks—even a selection of Escher's actual working tools. The artifacts were culled from the collection of Michael S. Sachs, "who gathered works over 50 years and acquired ninety percent of the Escher estate in 1980," as a release explains.
Born 1898 in the Netherlands, Escher started off as an architect in training. During his studies, his interests evolved into his lifelong passion for drawing and printmaking. Escher's earliest experiments were with light in traditional, Italian-inspired landscapes.
Curator Dena Woodall tells Maxim this retrospective "is arranged somewhat chronologically, but mainly thematically, from his early works and his Italian period in which he made the Italian landscape [and] cityscape his muse to his more mind-bending works," those pairing logic with natural beauty in dimensional transitions, impossible buildings, and paradoxes like the mobius strip. 
It could be possible Escher owes at least part of his acclaim to ancient knowledge. His love for patterns started when he studied the colorful tiles of Moorish architecture on trips to Spain during 1922 and 1936—inputs which built the bridge between Escher's traditional and eventual artistic directions.
"By spanning Escher's entire career, this extraordinary exhibition explores Escher's detailed thought process," Woodall states in the release. "It reveals, in a way, the magic behind the final prints, with the inclusion of preparatory drawings and progressive printing proofs as evidence of his working process. His meticulous manner extends to printing all of his woodcuts by hand with the back of a spoon, instead of a press."
"You have to retain a sense of wonder, that's what it's all about," Escher once said. Exhibition attendees can actively exercise their wonder in either two rooms featuring interactive optical illusion experiences, or with the Escher-inspired menu at Le Jardinier, MFAH's on-site restaurant. Samples of the opticalmenu include a cocktail called Our Checkered Past with rum, Pernod, and tropical fruit juice followed by pan-fried scallops, cauliflower fondont, black currant coulis, and tuile noire with a black & white sesame seed praline dessert.
The entire museum commemorates this landmark exhibition of Escher's work with a synesthesia not only inspired by his art and history, but also his affinity for transcending dimensions–here, from sight to taste.
"Escher was one of the artistic geniuses of the 20th century," Woodall concludes. "He was a master draftsman and printmaker. He chose his own path, not particularly adhering to one artistic movement but to his own artistic vision. Mathematicians were struck by how he could realize their mathematical computations. He questioned reality from a unique perspective and made the mundane fascinating."
Learn more about the method behind the magic at MFAH through September 5th.