'The Walking Dead' Actor Austin Nichols: "My Job is About Blood, Sweat and Dirt"
We hit the road with the gun-toting Spencer Monroe of TV's biggest zombie smash.
Austin Nichols is worried. Since landing the role of Spencer Monroe, a sharp-shooting lookout on AMC's The Walking Dead, he is usually concerned about zombies. Not today. Here, on an early March afternoon in Austin, Texas, it's all about rain. A massive El Nino-generated low pressure system has hunkered down over the Lone Star State and now Nichols's afternoon plans – a motorcycle ride to Opie's BBQ – are in jeopardy. 
He steps into his garage. Between the electric car that is charging and the two sleek road bikes hanging on a wall stands his matte black Triumph Scrambler. Customized with glistening chrome pipes, a stitched leather seat and low profile lights, the bike is practically screaming at him to jump on and tear up Route 71 to the town of Spicewood.
Outside the wind churns. Raindrops patter on the driveway. The 35 year-old shakes his head and ambles back inside. His house, a rustic/modern mix in a quiet, leafy section of Ridgewood, is not what one might expect from a guy with Hollywood heartthrob looks who's co-staring on TV's top-rated entertainment series. It's littered with books. Steinbeck, Roth and Cather in the living room shelves. Hobbes, Mailer and Kierkegaard in piles on the bedroom floor. After high school in Austin (his hometown), Nichols matriculated at USC with aspirations to literature and writing.
Yet before he could barely unpack, he landed a role on the Fox sci-fi show Sliders and earned his SAG card. Other parts followed; movies including Wimbledon, The Day After Tomorrow and Glory Road, TV guest spots on Six Feet Under, Deadwood and CSI. His big break came in 2007 when TV guru David Milch cast him as the mysterious lead John Monad in the HBO series John from Cincinnati. 
But the metaphysical themes proved too much for audience and critics; the show only lasted a single season. "I really believed in it. We all thought it would catch fire," says Nichols. "But in the end it was a good lesson. I had to learn how to deal with such a big heartbreak. Pick myself up and keep going."
Keep going he did (while graduating from USC with an English major). Nichols soon nabbed a four-year stint on One Tree Hill and afterwards a reoccurring role on the Showtime hit Ray Donovan. Then, in 2015, he got a potential game-changing phone call from his agent: an audition for The Walking Dead. 
"It was a dummy scene," explains Nichols, meaning that the show didn't release real pages from an upcoming episode. "I was flirting with a girl and telling her I have access to a car and trying to get us out of there." The Texas native nailed it and joined the cast in the third-to-last episode of season 5.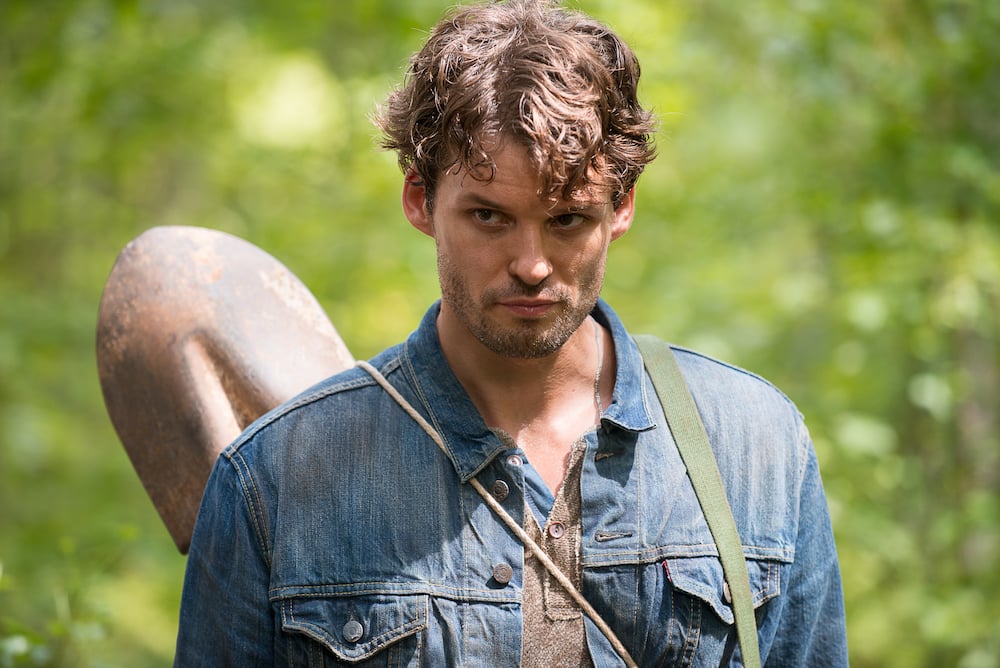 Nichols didn't go out celebrating. He went out and bought books. Every single issue of Robert Kirkman's The Walking Dead comic book series. "It's amazing how much they helped inform my character," says Nichols. 
That character, Spencer Monroe, is a member of the Alexandria Safe-Zone who serves as one of the lookouts and a sniper in the Alexandria Tower. He's also more complicated than he may seem. "Spencer comes off as entitled," explains Nichols. "But there's a strength to him. There's a reason he outlived his entire family. He wants to do the right thing and his heart is in the right place but he's flawed."
Back at casa Nichols, the El Nino rain persists so instead of his motorcycle he opts for his black pick up truck with a bumper sticker that reads, "Jesus was a Jedi." On the way to Opie's Nichols talks about his first ever acting gig at age 15, a blood and guts UT Austin student film. 
He confirms that he was, at age 16, ranked third in the world in trick water-skiing, a career that earned him multiple shoulder surgeries. He discusses the influence of some of the greats with whom he's worked; Ray Donovan's Liev Schreiber, Deadwood's Ian McShane and Timothy Olyphant (and basically "the whole cast") and the inimitable Milch.
The conversation, however, always circles back to the joys of The Walking Dead. "My job is basically about blood, sweat, dirt, running, fighting, stunts," explains Nichols. "If you have a fight scene you go home with cuts, bruises, and a sore back. But when I fall into bed like that it's a great feeling." 
There is, of course, more to it than that. The show is a juggernaut, a ratings record-breaker, a religion, of sorts, unto its own. It gives the cast a unique vibe, like being part of a championship sports team that's playing like Golden State Warriors. "Except that Andrew Lincoln is our point guard," laughs Nichols. "He's simply one of the best examples of classy leadership I've ever seen."
Nichols arrives at Opie's a few minutes before noon. It's early, but he knows it's necessary beat the crowds. Inside the cavernous BBQ mecca, he's not greeted by a hostess but a massive platter of meats. Here, patrons personally pick what they eat and it's carved in front of them. 
Nichols's tray towers with ribs, briskets, jalapeno sausage (perhaps wisely steering clear of the cheese-infused links), sides of beans, potato salad, and Opie's famous tater tot casserole. As he finishes his lunch, the owner sidles up for a chat. Other patrons ask for photos. Nichols gladly obliges and genuinely enjoys chatting them with the ease of a good-natured Texan.
Back in his pick-up, Nichols ponders the future. Today, he jokes, he'll go back home and digest. In another week he's off to LA to visit his girlfriend actress Chloe Bennett, an actress on the ABC show Agents of S.H.I.E.L.D. As for his future on The Walking Dead? "I'd never give anything like that away," he says with a laugh. "Everyone will just have to tune in Sunday nights and find out."