Well, That Was One of the Most Exhilirating Nights in NBA History
Kobe Bryant and the Warriors delivered a crazy night.
Getty Images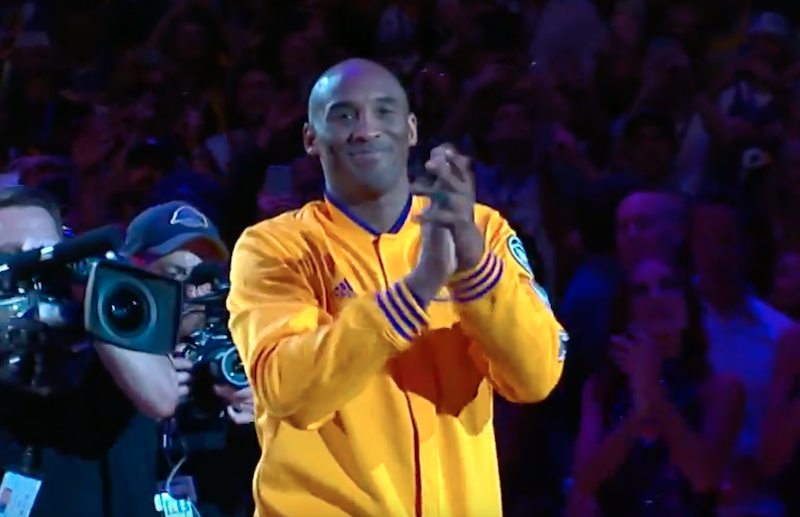 Two games that had no bearing on the NBA playoff picture tipped off at 10:30pm EST last night with every hoops-addicted weirdo in the world watching. Neither disappointed. 
In Los Angeles, Kobe Bryant laced up his sneakers for the final time. A few hundred miles north in Oakland, the Warriors were vying for the NBA's all-time wins record and hoping to get star point guard Steph Curry eight three-pointers, which would give him 400 on the season.
With the stage set, that just left the games to play and they did not disappoint. 
In L.A., Kobe came out firing after a pre-game ceremony that saw the greatest Laker of all-time, Magic Johnson, declare Kobe the greatest Laker of the all-time. What an honor.
Kobe missed his first five shots of the game and, in true Kobe fashion, kept shooting. At end of the first quarter, he had 15 points on 13 shots. At halftime, he had 22 points and with under two minutes left, he scored his 50th point on this runner, to bring the Lakers to within six.
But Kobe wasn't done. In the final 97 seconds of the game, Kobe made two mid-range jumpers, two free throws and a three, finishing the game with a nice round 60 points. It took him 50 shots — the most anyone's taken in more than 30 years — but that's fitting. The greatest volume shooter of all-time went out with the most voluminous shooting night since Wilt Chamberlin put up 100 back before anyone kept track of stats. 
In the process, Kobe led a Laker comeback that was meaningless on its face, but incredible to watch. Dude looked like he was dying on the sideline and just kept chucking. 
" tml-embed-width="600″ tml-embed-height="315″ tml-render-layout="inline
And then he ended his career with the least Kobe thing of all—an assist.
Meanwhile up in Oakland, real history was being made as the Dubs drubbed the Grizzlies with a 125-104 win. Golden State's 73rd win places them alone atop the all-time winningest season list and ends the greatest regular season of in league history. 
The game was never in doubt. A first quarter spree by the greatest shooter to ever play the game ensured that. All told, Steph Curry knocked down 10 threes on Wednesday, giving him a total of 402 on the season. That should make you do a spit take. Just look at this list of the greatest three point shooting seasons of all-time. Curry's 402 threes are 116 more than the previous record of 286, which he set last year. The record before that? The 272 Curry hit three years ago. This is what it looked like he hit number 400. 
With that crazy night behind us, the NBA will break for a couple of days before the playoffs start up this weekend. Kobe won't be there, but Steph and the Warriors will. And they'll be eyeing a number much smaller than their win total or Curry's three-pointers made—two. As in two NBA titles in a row.