Watch Al Pacino as an Angry Jimmy Hoffa in New Clip From 'The Irishman'
"That's how you dress for a meeting?"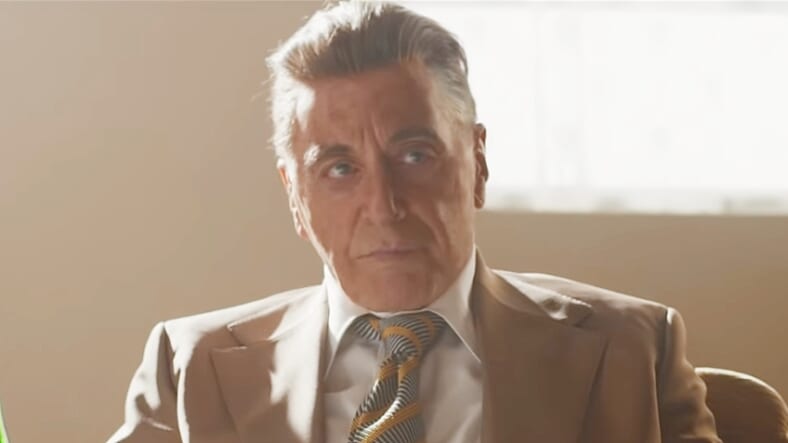 Netflix/The Irishman
Man, would anyone in their right mind want to be on the receiving end of Al Pacino's pissed-off glare? Even when he's playing a historic character like Jimmy Hoffa in The Irishman—a man noted for his personal sketchiness as much as his mysterious disappearance—there's still all the charisma and intensity of Pacino the acting icon there.
That's why this new clip from the Martin Scorsese movie about mob hitman Frank Sheeran (Robert De Niro) doesn't look like much at first. Just four older guys sitting down for a meeting, having a casual conversation. Then it becomes clear as Pacino's Hoffa speaks with a rival union boss, Tony Pro (Stephen Graham) that we could be moments from disaster.
Face set in a hard mask, Hoffa slowly drills into Pro's confidence. He's late. He's wrong about the weather. He's dressed inappropriately for the meeting.
It's a great example of how a brilliant actor can turn the screws in a dramatic scene with little more than facial expressions and tone of voice. 
The 90-second conversation eventually gets so intense De Niro's Sheeran feels the need to break it up with a joke. Yes, the hitman in the room is the one trying to smooth things over. 
Hoffa's infamous 1975 disappearance is a central moment in the Netflix movie, though it's about much more than that—and reviews since its theatrical premiere indicate it's a legitimate Scorsese masterpiece. As a refresher, here's the synopsis:
Robert De Niro, Al Pacino and Joe Pesci star in Martin Scorsese's THE IRISHMAN, an epic saga of organized crime in post-war America told through the eyes of World War II veteran Frank Sheeran, a hustler and hitman who worked alongside some of the most notorious figures of the 20th Century.

Spanning decades, the film chronicles one of the greatest unsolved mysteries in American history, the disappearance of legendary union boss Jimmy Hoffa, and offers a monumental journey through the hidden corridors of organized crime: its inner workings, rivalries and connections to mainstream politics.
The Irishman is in theaters on November 1, and begins streaming on Netflix on November 27, 2019.