Watch Chris Rock Address Will Smith's Oscars Slap In New Standup Comedy Footage
"I'm still kinda processing what happened. So at some point, I'll talk about that s**t. And it will be serious and funny."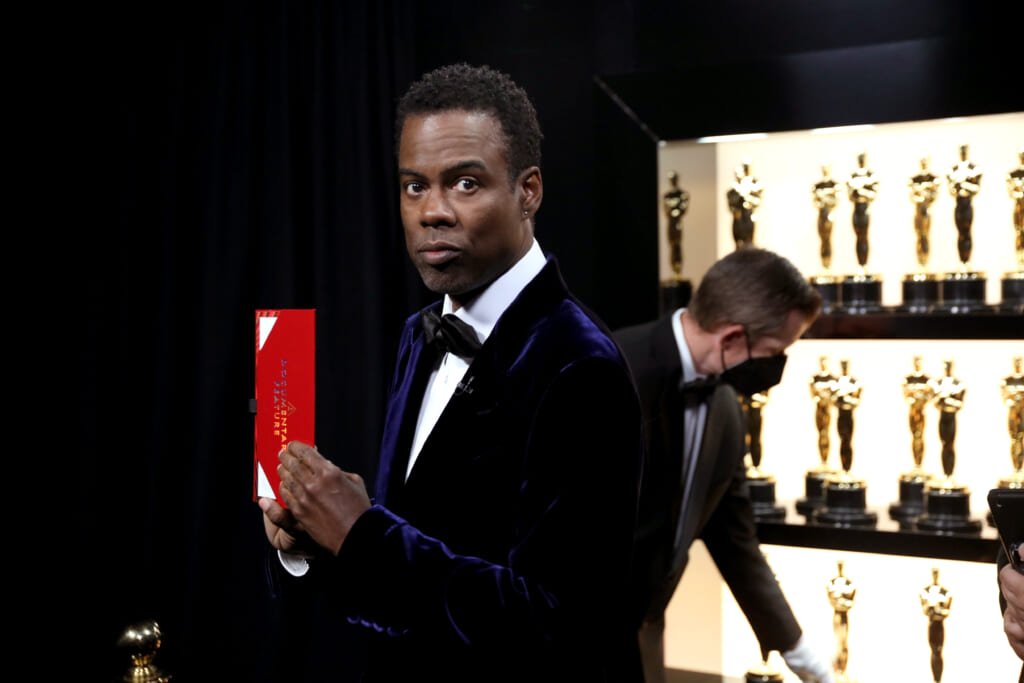 Chris Rock broke silence regarding his Oscars confrontation with Best Smacktor Will Smith at a Boston comedy show on Wednesday night.
The video above contains most of his address to a sold-out show at the Wilbur theater, where he received a standing ovation upon taking the stage.
"You got me all misty and shit. How was your weekend?" he joked, per the New York Post.
"I don't have a bunch of shit about what happened," Rock said before explaining that his set was written before the "slap heard around the world."
"I had like a whole show I wrote before this weekend. I'm still kinda processing what happened. So at some point, I'll talk about that shit. And it will be serious and funny."
Ticket sales for Rock's Ego Death World Tour, which kicked off at the Wilbur, had skyrocketed from a minimum of $46 per ticket to a minimum of $341 on secondary market platform TickPick since the Oscars drama.
"I'm gonna tell some jokes," Rock told the crowd. "It's nice to be out."
While presenting Best Documentary at the 94th Academy Awards, Rock was slapped by Smith on live TV after joking about wife Jada Pinkett Smith's bald head. A new angle appears to show Pinkett Smith laughing seconds after Smith struck Rock.
Smith later won Best Actor for King Richard, in which he plays the father and coach of tennis superstars Venus and Serena Williams, and delivered a light apology not to Rock, but his peers and the Academy.
The next Day, Smith apologized directly to Rock in a lengthy Instagram post reminiscent of a press release.
"Jokes at my expense are a part of the job, but a joke about Jada's medical condition was too much for me to bear and I reacted emotionally," Smith wrote.
"I would like to publicly apologize to you, Chris. I was out of line and I was wrong. I am embarrassed and my actions were not indicative of the man I want to be. There is no place for violence in a world of love and kindness."
While Smith's IG apology was posted for 62.5 million followers, Rock's apology to Oscars co-hosts Wanda Sykes, Amy Schumer and Regina Hall was given in private.
Sikes recounted the moment that Rock approached her at Gucci's 14th Annual "The Party" during a recent appearance on The Ellen DeGeneres Show.
"As soon as I walked up, the first thing he said to me was, 'I am so sorry. It was supposed to be your night. You and Amy and Regina were doing such a good job. I'm so sorry this is going to be about this,'" Sykes told host Ellen DeGeneres. "That's who Chris is." 
Sykes also condemned the Academy for allowing Smith to remain on-site, let alone accept the Best Actor award.
"I just felt so awful for my friend Chris," she said. "It was sickening. I physically felt ill and I'm still a little traumatized by it. For [the Academy] to let him stay in that room and enjoy the rest of the show and accept his award. I was like, 'How gross is this?' This is just the wrong message."
"You assault somebody, you get escorted out the building and that's it. But for them to let him continue, I thought it was gross. Plus, I wanted to be able to run out after he won and say, 'Unfortunately Will couldn't be here tonight,'" Sykes added.
She also voiced frustration with Smith, who she said had not yet apologized to her or her co-hosts.
"I know he apologized to Chris but I believe we were the hosts," she said. "This is our house. We're inviting you in. We're going to take care of all of you tonight.  Make sure you have a good time. Nobody has apologized to us. We worked really hard to put that show together. What the hell is this? It's just wrong."
Schumer also shared her thoughts in a since-deleted Instagram post.
"I love my friend @chrisrock and believe he handled it like a pro. Stayed up there and gave an Oscar to his friend @questlove and the whole thing was so disturbing," she wrote in reference to musician Questlove's Best Documentary Feature win for Summer of Soul (…Or, When the Revolution Could Not Be Televised).
I'm still in shock and stunned and sad. Im proud of myself and my cohosts. But yeah. Waiting for this sickening feeling to go away from what we all witnessed," Schumer said before plugging her Hulu series Life and Beth, joking "I think we can all agree that the best way to unpack what happened is to stream my series."