Watch a Former Navy SEAL Train Keanu Reeves to Clear a Room for 'John Wick: Chapter 3—Parabellum'
This is a master class in being a badass.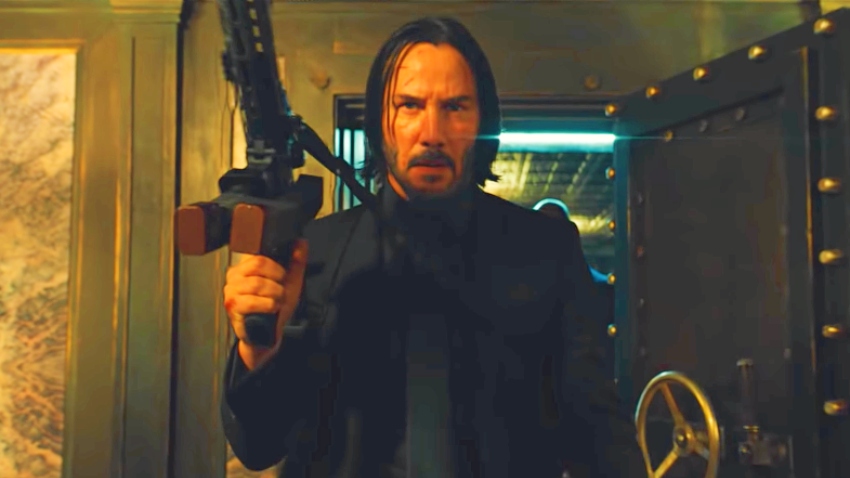 John Wick Chapter 3: Parabellum/Screengrab
For some men hitting the mid-50s means it's time to put your feet up. At 54, Keanu Reeves could take on a couple of lame-ass romantic comedies a year and chill. 
https://www.youtube.com/watch?v=F-WyWK8ypdg
But he's also John effing Wick. This video of him training for John Wick: Chapter 3—Parabellum with Navy SEAL veteran and former CIA contractor Shawn Ryan at Ryan's Florida-based Vigilance Elite shows Reeves isn't about to let anyone else handle his Wick stunt work if he doesn't have to, age be damned. 
Ryan's outfit provides tactical training for law enforcement and civilians and part of what we get here is a bit of a master class in how elite special forces operators take care of business. Ryan clearly demonstrates organized and focused strategies for how a lone gunman might clear a room while avoiding the trap of the doorway death funnel—knowledge no one wants to ever use, but it's cool to have it.
https://www.youtube.com/watch?v=qWgp6x2ez48
Another thing obvious in this video: Keanu Reeves, like his movie assassin, appears to be a "man of focus."
"Training for John Wick" is becoming its own little video mini-genre. Footage cobbled together in this clip reel is a good example, demonstrating how Halle Berry put herself through the paces training-wise for her role as Wick's fellow assassin Sophia in John Wick: Chapter 3. 
https://www.youtube.com/watch?v=U7iRajuVtqQ
If anything, video of Reeves training for John Wick: Chapter 2 was even more intense.
In Parabellum, Wick is on the run from pretty much the entire assassin underworld—everyone wants the $14 million bounty on his head. He obviously needs to have a warrior's skillset to survive. 
We'll see how all this killer training pays off when John Wick: Chapter 3—Parabellum is in theaters on May 17.