WATCH: Zoolander and Hansel Stop by 'SNL' to Talk Presidential Candidates
Politics, so hot right now.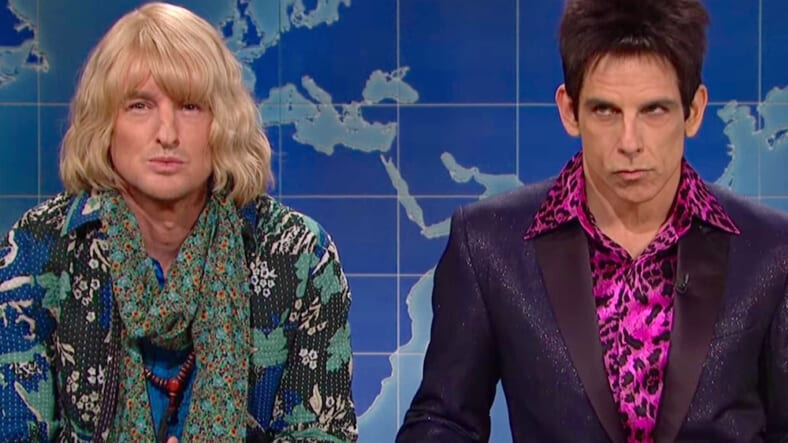 With the 2016 election cycle in full swing, we get the usual procession of political commentators sticking to strident talking points. While their arguments may ultimately sway the election, sometimes it's nice to hear a fresh perspective—or rather, a fresh, young, hot perspective.
Luckily, SNL's Weekend Update invited Derek Zoolander and Hansel, the hottest faces in men's fashion, to sound off on this year's lineup of candidates. "We're not here to talk about fashion," began Hansel, so hot right now. "We're here to talk about the one thing everyone wants to hear male models talk about—politics."
" tml-embed-width="600″ tml-embed-height="355″ tml-render-layout="inline
Though there were forgivable errors like mistaking "couscous" for "caucus" and Ted Cruz for Tom Cruise, these fashion icons made some surprisingly well-reasoned arguments. For one, Zoolander thinks a makeover could give Bernie the edge he's looking for over Hillary Clinton. "Bernie is a champion of the 99 percent—apparently the 99 percent off at J. C. Penney."
It was also simply fair to point out that Hillary has been taking some style cues from Zoolander's favorite fashion icon—Kim Jong-un.
The models noted Donald Trump could become a surprise favorite among the fashion set, who might be partial to his arsenal of model looks. For instance, he's nailed "Orange Mocha Crappucino" and, after Iowa, just debuted his new signature look, "Second Place."
Let's hope this election will be decided with a walk-off.