Why the World's Biggest Gambling Mecca is Facing Hard Times
Revenue in the glitzy gaming wonderland of Macau has fallen for 19 straight months.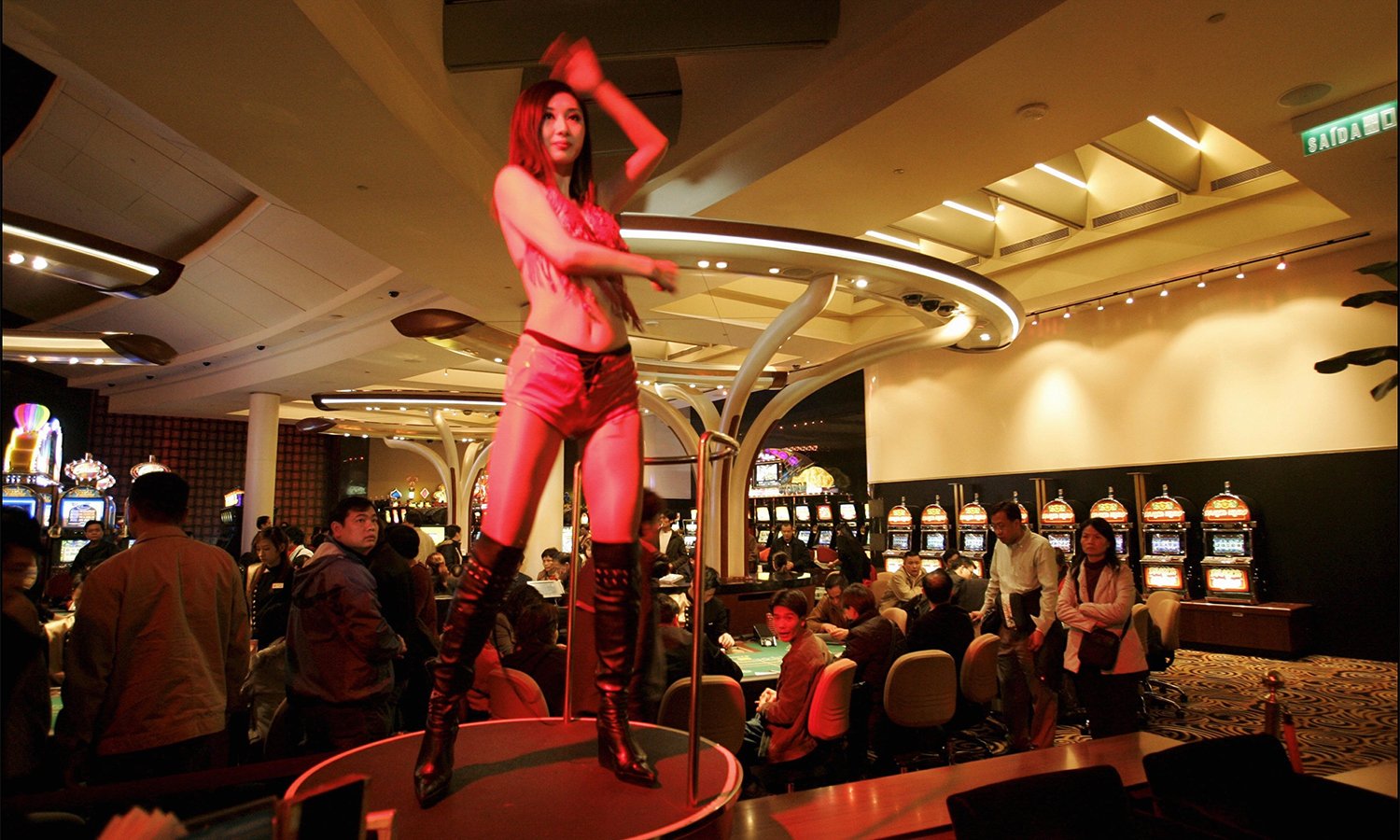 Macau long stood as the glittering savior for the casino industry. Back when Las Vegas was tanking, during the U.S. recession, revenues from the Asian gambling hub provided a much needed lifeline for parent companies in Sin City. Wynn, MGM and Venetian all lived off Macau's prodigious profits. 
These days, however, Macau needs its own form of resuscitation. Revenue in the gambling mecca has fallen for 19 straight months, four new hotels with some 8,000 rooms are coming on board, and the plummeting Chinese stock market is only making things rougher. 
Gaming revenue has tumbled to a five year low, and the Chinese government has responded by clamping down on corruption and issuing fewer visas for its gambling-crazed citizens. Those last two conditions might be good for normal industries, but they're deadly if you make your money in the casino business.
A man who we'll call "Mr. Chow" has been living in Macau since the American casinos began operating there in 2004. He works as a host and lives very well off all the losers from nearby nations who can't bet their money quick enough. But these days, he is starting to worry. 
"I've lost 70 percent of my business from Indonesia and Malaysia," he complains over a choppy phone line. "It's because the Chinese government has cracked down on third parties sending money to casinos. The people I deal with, they don't want a record of their financial transactions; they need other people to send their gambling money" – the strong implication here is that it's because the money has been obtained illegally. 
"They're the kinds of people who hide their cash, and of course they account for a lot of the big players here. Then you have the Chinese government sick of seeing its citizens losing 80 cents on the dollar in the casino, so they're cutting back on visas. 
"Now there are fewer people coming from Mainland China to Macau. Plus the government iin Macau is limiting the number of tables available. All of a sudden they want families. That's ridiculous. Macau is a total gambling town. But if you yell and scream about it, the government here just fucks you. You can't win."
Making things even worse, casino regulators in Macau have decided to get healthy. Back in the day, the air in a Macau casino was an intoxicating mix of cigarette smoke and cheap perfume from the platoons of hookers and "bar girls." Now only the stench of perfume lingers – and, no doubt, even the bar girls are hurting. 
"The new thing is that you can't smoke on the main casino floor," Chow says. "That sucks for us. The biggest gamblers smoke and they want to smoke at the table, especially when they're losing. 
"Now they're going to smoking lounges – like what you see in the airport – or slipping outside. Then they come back from their breaks and all the momentum is gone. The gambling slows down."
Even the poker players are ditching out on Macau, Two of the biggest guns in the high-stakes games – bookies Paul Phua and Richard Yong – got busted in Las Vegas and are now persona non grata in Macau. 
Their poker habits are so rewarding to top pros, that Phil Ivey and Tom Dwan chipped in to help them post bail. As one high-stakes player cracks, "You've got to take care of your customers." 
So the whales who play poker, gamble elsewhere in the casino and attract other degenerate players have left Macau. One casino shut down its poker room entirely; others are barely hanging on.
Their action, like a lot of the other action from players who need to be discreet about money, has moved to new casinos in Manila. I mention this to Chow and I can almost hear him spitting up bile. 
"Manila is the new wild west; it's how Macau used to be," he rails. 
"There are no regulations and nobody cares where your money is coming from. But the problem is that Manila is a complete shit-hole. It's not safe once you leave the two-block radius of the casino. 
"It's like Las Vegas when you wander off the Strip and come up against muggers, rapists and drunk drivers. Here in Macau, it's safe for gamblers. The thieves are all stealing from the junket operators."
Chow takes a breath and acknowledges that Macau does not have to become Atlantic City East. A potential silver lining, as he sees it, is this: "China will wake up and see how much it's losing through all of its regulations and tightening. The country taxes us 39-cents on the dollar. So if we're down, they're down as well. The hope is that it'll make them loosen up." 
Then he groans and admits, "But Beijing has so much fucking money that the people there just do whatever the hell they want." 
He hesitates for a beat, and sounds as despondent as the gamblers whose wallets he is accustomed to draining, before summing up the Macau situation succinctly: "The world is fucked right now."