Will Smith Wishes He Was in 'Independence Day: Resurgence'
The 'Concussion' star is prepared to shed a tear for his role as Captain Steven Hiller.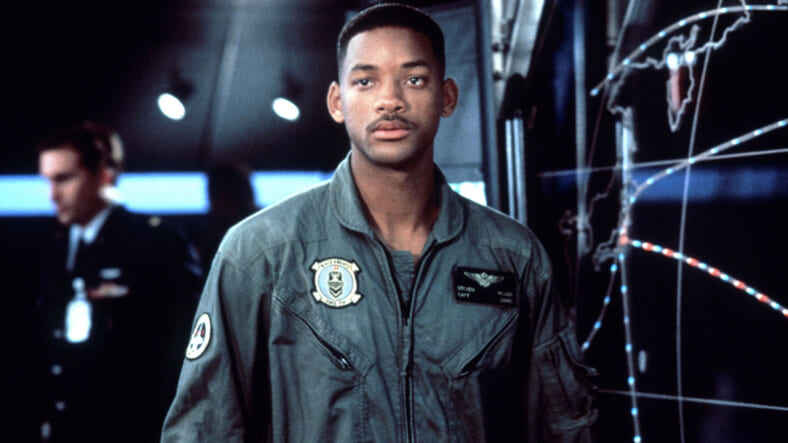 When the first action-packed trailer for Independence Day: Resurgence debuted in early December, we were pleasantly surprised to see Bill Pullman, Vivica A. Fox, and Jeff Goldblum back for another round of alien invasions. What came as a bummer was the lack of Will Smith's presence anywhere in the 2:20 second trailer. With the sequel seeming to follow the same destructive formula as its predecessor, we wondered just how things would continue on without Captain Steven Hiller to save the world once again.
Now, if you've been keeping up with all things Independence Day in preparation for the film's June 24th release, you already know from a promotional tie-in website that Smith's character perished due to an 'alien tech malfunction.' There's been plenty of speculation as to why he wasn't set to appear in the highly anticipated sequel, ranging from money issues to simply avoiding the idea of an unnecessary follow-up. After speaking with Yahoo! Movies, we now know just how the 47-year old feels about his character's demise.
"I was working on 'Suicide Squad' during that time," Smith told Yahoo! in regards to conflicting schedules between the two films. "Roland and I had talked about it. The trailer looks really cool. I'm going to be sitting around with tears in my eyes when that one comes out… It was terrible when I found out my character died."
Even in Hiller's absence, his legacy will live on thanks to the appearance of his son, Dylan (Jessie Usher) set to defend Earth in his place. In addition to the returning Independence Day characters, he will be joined by Charlotte Gainsbourg, Maika Monroe, and Liam Hemsworth. 
Independence Day: Resurgence hits theaters on June 24th, 2016.