Zac Efron Is a Dead Ringer for Serial Killer Ted Bundy In New Biopic
This is spooky.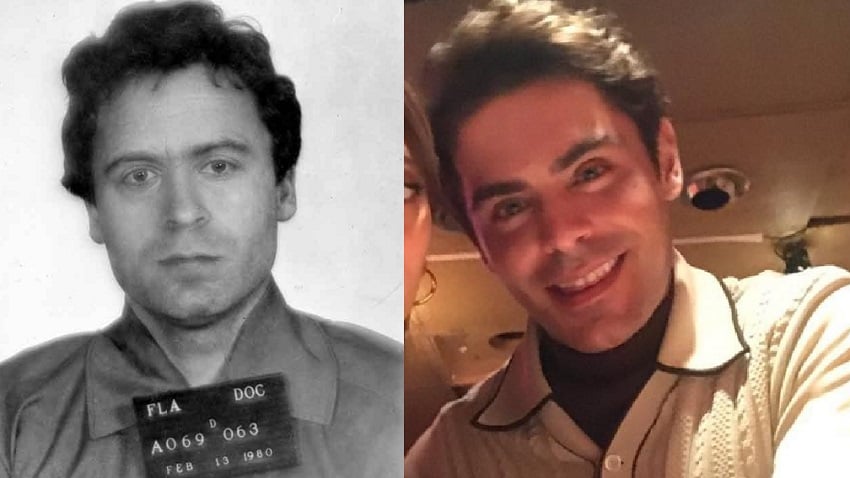 Wikimedia/Angela Sarafyan Instagram
Once the extent of his crimes became known in the late 1970s, one thing stood out about serial killer Ted Bundy: He wasn't some drooling monster; he looked like a normal, even handsome guy. 
When Zac Efron was cast as Bundy in Extremely Wicked, Shockingly Evil and Vile, some might have questioned the former High School Musical star's ability to play a convincing psychopath capable of murdering dozens of women in cold blood. Question no more, because Efron's resemblance—and his demeanor—in photos from the set is already chilling.
" tml-render-layout="inline
Even in a casual selfie made with co-star Angela Sarafyan, when you could assume Efron is not in character, it's hard to ignore the feeling Bundy is back and Sarafayan is just a tasty snack to him. Below is the selfie.
" tml-render-layout="inline
Here's a mugshot of Bundy with another image of Efron cropped to compare.
Someone high five the casting director who went with this choice. In the past Bundy has been played by Mark Harmon—who looked nothing like him—as well as another actor in a B-movie that just dramatized his crimes (in gruesome fashion). That guy didn't resemble the killer either. 
Not that it should matter, of course. A great actor can make anything stick. But looking at Efron compared to real Bundy pics is just straight up eerie. 
https://twitter.com/bruisercake/status/958739355258052609
We're not sure the first Twitter user above would be referring to Bundy as "Daddy" if she really knew what he did—he confessed to necrophilia and cannibalism along with serial rape and murder. But the photo comparison works.
Here's IMDB's brief synopsis of Extremely Wicked, Shockingly Evil and Vile: "A chronicle of the crimes of Ted Bundy, from the perspective of his longtime girlfriend, Elizabeth Kloepfer, who refused to believe the truth about him for years."
We don't yet know how Efron will embody Bundy on the screen. Below is a video of the real man in an interview with a minister just before his execution.
https://www.youtube.com/watch?v=Vlk_sRU49TI
And here's a video of Zac Efron performing a song titled "Scream."
Cross your fingers and hope Efron re-records this song in character as Bundy for a post-credits scene. 
Extremely Wicked, Shockingly Evil and Vile also stars Lily Collins, Jim Parsons, and John Malkovich. The movie is currently shooting in Kentucky, but no premiere date has been set. 
Hopefully the filmmakers will take their time. Because as Ted Bundy himself once said, "When you work hard to do something right, you don't want to forget it."
h/t TMZ