The 10 Best New Bottles For Bourbon Heritage Month
Pick up one (or all) of these incredible bourbons in honor of #NationalBourbonHeritageMonth.
Getty Images
September is National Bourbon Heritage Month, which is essentially a really good excuse to find drink some bourbon, and lots of it. Fortunately, there are plenty of quality new releases to choose from, some expensive and elusive, others more readily available and affordable. Here, ten standout suggestions of new bourbon releases to drink before the end of this month, next month, and all year long.
Old Forester 1910 Old Fine Whisky
https://www.instagram.com/p/B2wpPAHHR_5
Old Forester 1910, the fourth and final expression in the brand's Whiskey Row Series, is back after nearly a year's absence. The original release sold out in just two months last fall, and since then fans have been wondering when it might return. This non-age-statement (NAS) bourbon is double barreled, meaning it's put into new heavily charred barrels for six to nine months after initial maturation. This gives it rich oak and burnt vanilla notes that make it stand out from other Old Forester expressions. $55

Barrell Bourbon Batch 020
https://www.instagram.com/p/BzygZaOJ-hR
Barrell Bourbon's latest bourbon batch is a blend of 10 and 14-year-old whiskeys from Kentucky and Tennessee, bottled at cask strength of 106.7 proof. It has a creamy mouthfeel, with notes of oak, maraschino cherry, and perhaps a touch of George Dickel funk on the palate (This is just a guess as to where the Tennessee whiskey comes from.) Overall, Batch 020 is another hit from the folks at Barrell, who continue to expertly source and blend American whiskey. $80
Four Roses 2019 LE Small Batch
https://www.instagram.com/p/B2htDLGIpR4
It's hard to find faults with any bourbon Four Roses releases, and the new 2019 Limited Edition Small Batch is no exception (although it is pretty expensive). The whiskey is made up of 21-year-old, 11-year-old, and 15-year-old liquid using three of the distillery's recipes: OBSV, OESK, and OESV (Four Roses uses two mash bills and five yeast strains, giving it ten recipes to play with.) This release is non-chill filtered and bottled at 112.6 proof, giving it a bit more heat and depth than your average Four Roses bourbon. $140

Peerless Bourbon
https://www.instagram.com/p/B0s-Y_hnQy5
Kentucky Peerless has become rather popular despite the young age of both the whiskey and the distillery itself. Peerless, which started putting whiskey into barrels in 2015, has released a few rye whiskeys to date, but this past June marked the first bourbon release. It sold out quickly, as did the second batch when it came out this past August. The bourbon is now available outside of Kentucky. There's no question that this is a young whiskey, but it's off to a very good start with bright honey and vanilla flavors that go well beyond the slightly woody nose. $70

Mic.Drop Bourbon 3
https://www.instagram.com/p/B1ZZFd9lMhQ
PM Spirits recently released a third variety of its Mic.Drop bourbon, and this one lowers the age statement and price while still offering a tasty whiskey. This four-year-old bourbon was sourced from MGP with a mash bill of 60 percent corn, 36 percent rye, and 4 percent malted barley. It is unfiltered and was bottled at barrel strength of 56.1 percent. For the full and completely unadulterated story, check out the website, but this is an un-precious whiskey that you can sip, mix, and enjoy any way you damn well choose. $60

Remus Repeal Reserve Series III Straight Bourbon Whiskey
https://www.instagram.com/p/B2YAqbqnwlZ
This new bourbon from MGP comes out in November. It's the third in the Repeal Reserve Series, meant to celebrate Prohibition Repeal Day. The whiskey is a combination of two mashbills from 2007 and 2008 – 12 percent 2007 bourbon (21 percent rye), 78 percent 2008 bourbon (21 percent rye), and 10 percent 2008 bourbon (36 percent rye). So much MGP whiskey has been released by other brands, but it seems the distillery has wisely held onto some high quality liquid to release itself over the past few years. Also look for the Volstead Reserve in November, a bottled-in-bond, 14-year-old bourbon that will sell for $200. $85

Widow Jane The Vaults 2019
https://www.instagram.com/p/B16PX8sHC0w
The Widow Jane distillery is located in the Red Hook neighborhood of Brooklyn, where it sources and bottles aged whiskey while distilling its own young bourbon and rye. The newest release in the former category is called The Vaults. It's a blend of whiskey from Tennessee and Indiana, aged for at least 14 years and drawn from just 20 barrels. This is a deep, dark whiskey with lots of character and just a whisper of smoke on the finish. And it is, like all Widow Jane whiskey, proofed with limestone water from the Rosendale Mines in upstate New York. $150
Old Scout Bourbon 99 Proof
https://www.instagram.com/p/By-ew4unxQA
Three years after it first came out, Smooth Ambler is re-releasing its Old Scout Bourbon 99 Proof. The bourbon, sourced from MGP, basically became more popular than the distillery expected it to be. But now the 99 Proof is back in the fold as a permanent addition to the lineup. The age statement has decreased to five years, which some picky drinkers might have a problem with, but the bourbon is still very good. And with Pernod Ricard behind the distillery now, there should be no problems with stock in the future. $45
Old Soul Blended Straight Bourbon Whiskey
https://www.instagram.com/p/B2PLwcchLlq
Old Soul comes from Cathead Distillery in Mississippi. It's a blend of bourbon distilled in-house and sourced from MGP: 10 percent 2-year-old bourbon (distilled at Cathead), 35 percent bourbon aged four years and three months (MGP), and 55 percent bourbon aged four years and eight months (MGP). The mashbill of all the whiskey is identical, with a 21 percent rye content. This gives the whiskey a slightly immature but formidably spicy palate, with a touch of citrus and dried fruit on the finish. $45
Buffalo Trace Antique Collection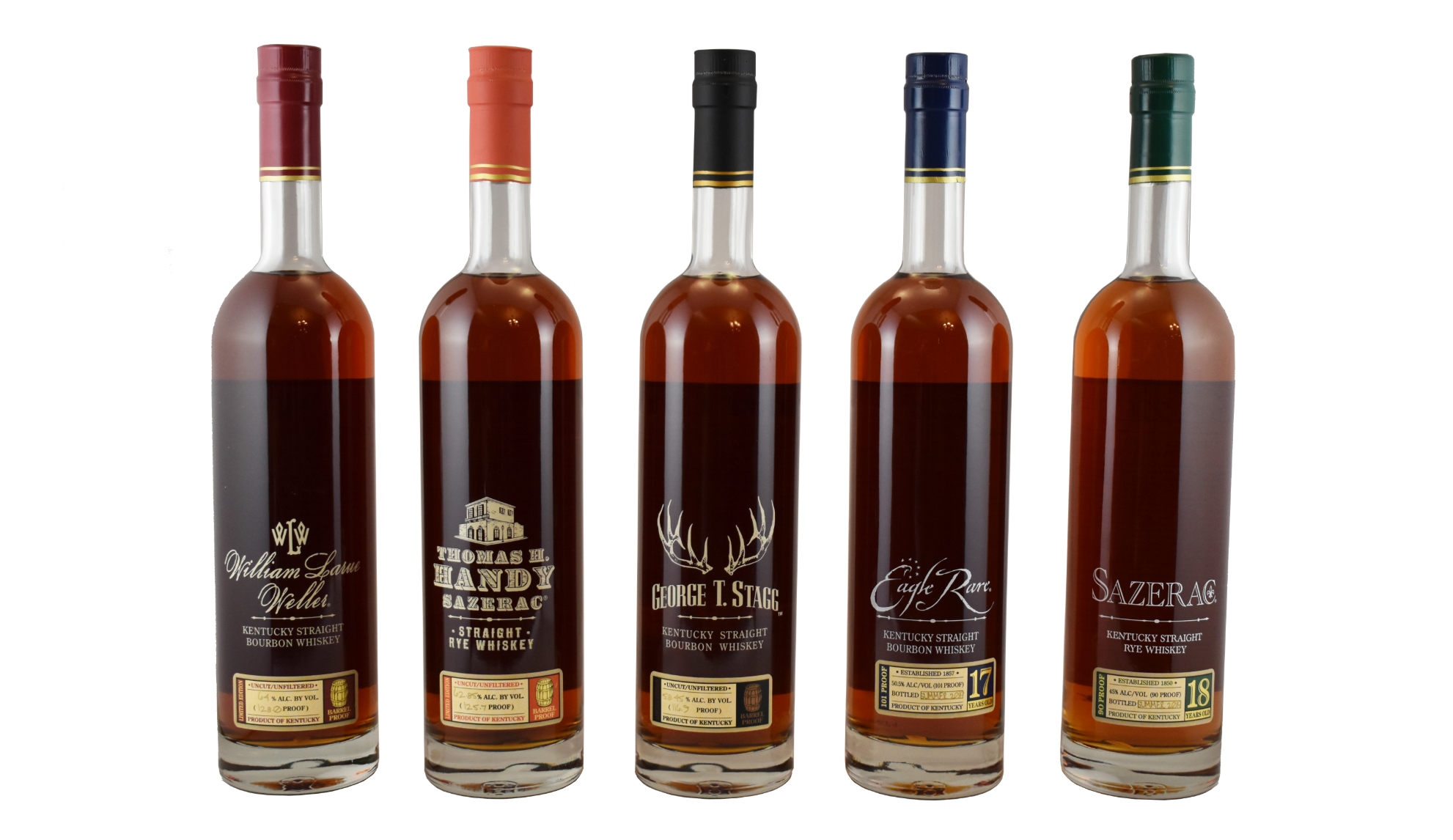 Yes, this annual collection from Buffalo Trace does not consist solely of bourbon, but it still deserves a place on this list. Every year, BTAC sells out fast, regardless of how far above SRP stores actually mark these bottles up. This year's lineup is as follows: George T. Stagg bourbon at 116.9 proof, the lowest ever due to the barrels' lower floor location, according to master distiller Harlan Wheatley; William Larue Weller wheated bourbon distilled in 2007, 128 proof; Eagle Rare 17 Year Old bourbon, 101 proof, distilled in 2002; Thomas H. Handy Sazerac Rye distilled in 2013, 125.7 proof; and Sazerac Rye 18 Year Old. $99 (but really much more)