10 Boozy Holiday Gifts That Go Beyond The Bottle
These intoxicating gift packages feature fine spirits plus extra goodies like luxe glassware, personalized labels, stylish accessories, and more.
Bottles of booze and wine are are perfectly acceptable gifts, make no mistake. But why not step up your game and look for something that goes the extra mile, like a bottle that comes with some special glasses, luxury barware, a tie or sweater, or even does something good for the environment? 
Here are ten boozy gift ideas that will make your friends and family very happy this holiday season.
Billykirk x Cooper & Thief Bartender Bag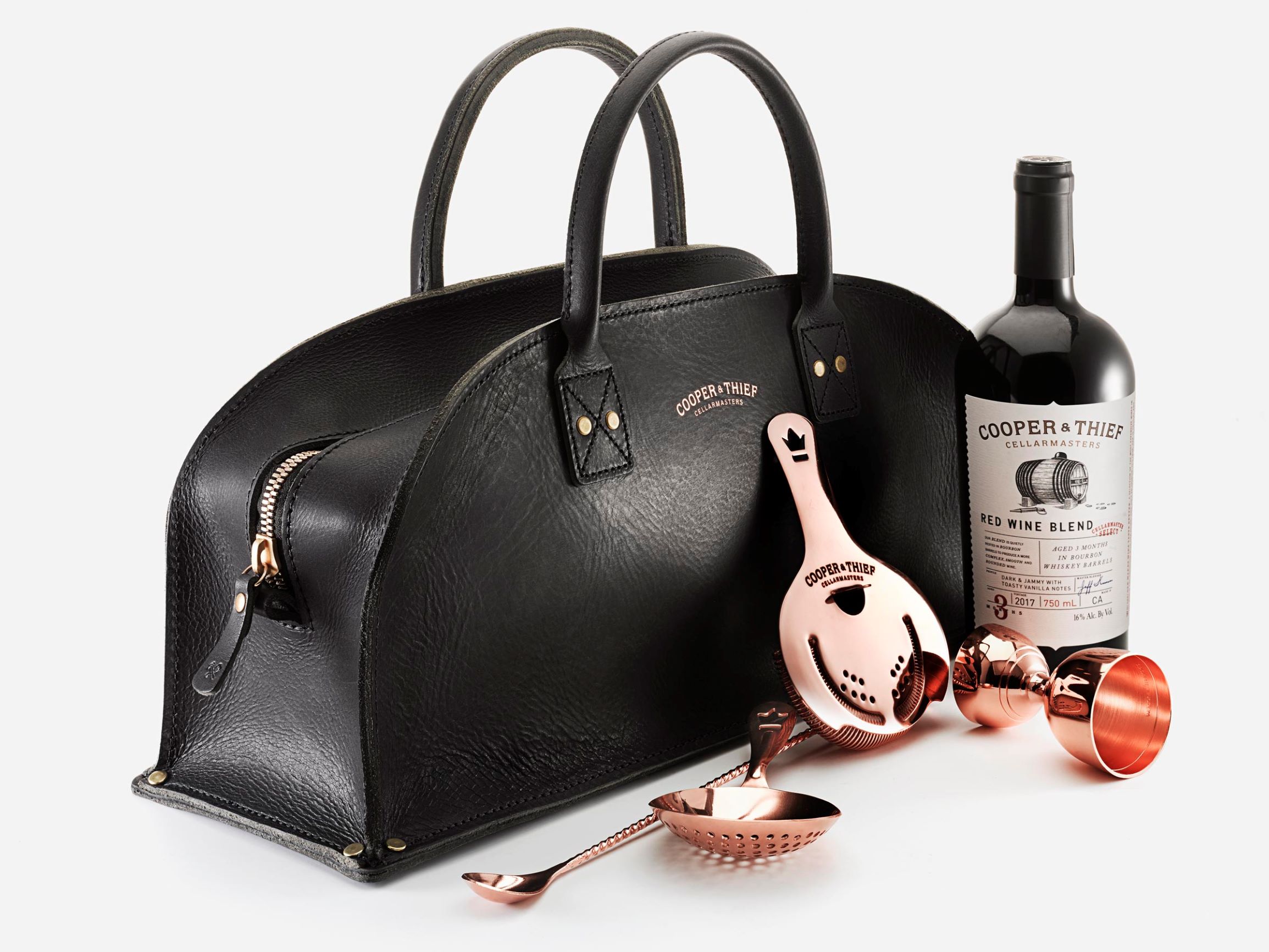 Leather goods company Billykirk has teamed up with Cooper & Thief Wines on this high-end bartender bag, complete with everything you will need to make a decent cocktail – Hawthorne strainer, muddler bar spoon, Julep strainer and jigger. You do need to supply your own booze, but grab your favorite bottle, throw it in, cover it with the secret flap, and bring it to your next party so you'll be ready to make drinks for the whole crew. Order here. $250
Elit Matroyska Doll Cocktail Vessel Gift Package
Vodka isn't exactly the most exciting spirit out there, but despite what the haters say there are actually some good bottles to drink out there. Elit, the premier offering from Stolichnaya, is one of these, with a nice, sweet, grainy flavor. This holiday package from elit includes a metal Russian Matroyska doll with a straw that you can use to sip your favorite cocktail, made with vodka or otherwise. There are four designs available, so you can collect them all if you'd like. Available at liquor stores nationwide. $50

Courvoisier-Public School Collaboration Tie
Fashion brand Public School and cognac house Courvoisier have teamed up to make a sleek black-on-black necktie, which you can find for sale at the Public School website. If altruism is as important to you as fashion, you are in luck – proceeds from sales of this tie will go to the Council of Fashion Designers of America's CFDA Foundation to benefit its diversity and inclusion program for brands and figures in the fashion industry. Order here. $125 
Personalized Engraved Johnnie Walker Blue
There are plenty of high-end bottles you can gift this holiday season, but how about a personalized bottle of Johnnie Walker Blue? This is the most premium expression of the lineup, a blend of older malt and grain whiskies with a touch of smoke and a hint of fruit on the palate. This month, you can order a personally engraved bottles of Blue Label with your message of choice for a loved one, or to treat yourself. If you are having trouble coming up with something, Mindy Kaling has teamed up with Johnnie Walker to offer up some of her own messages, like "Snow much fun, you guys" or "Damn, someone made the nice list" (more info on the website). If you are in NYC, visit the pop-up shop at the Winter Garden at Brookfield Place from 12/11 – 12/24 to get a bottle. Order here. $230
Hibiki Japanese Harmony Gift Pack (30th Anniversary) Limited Edition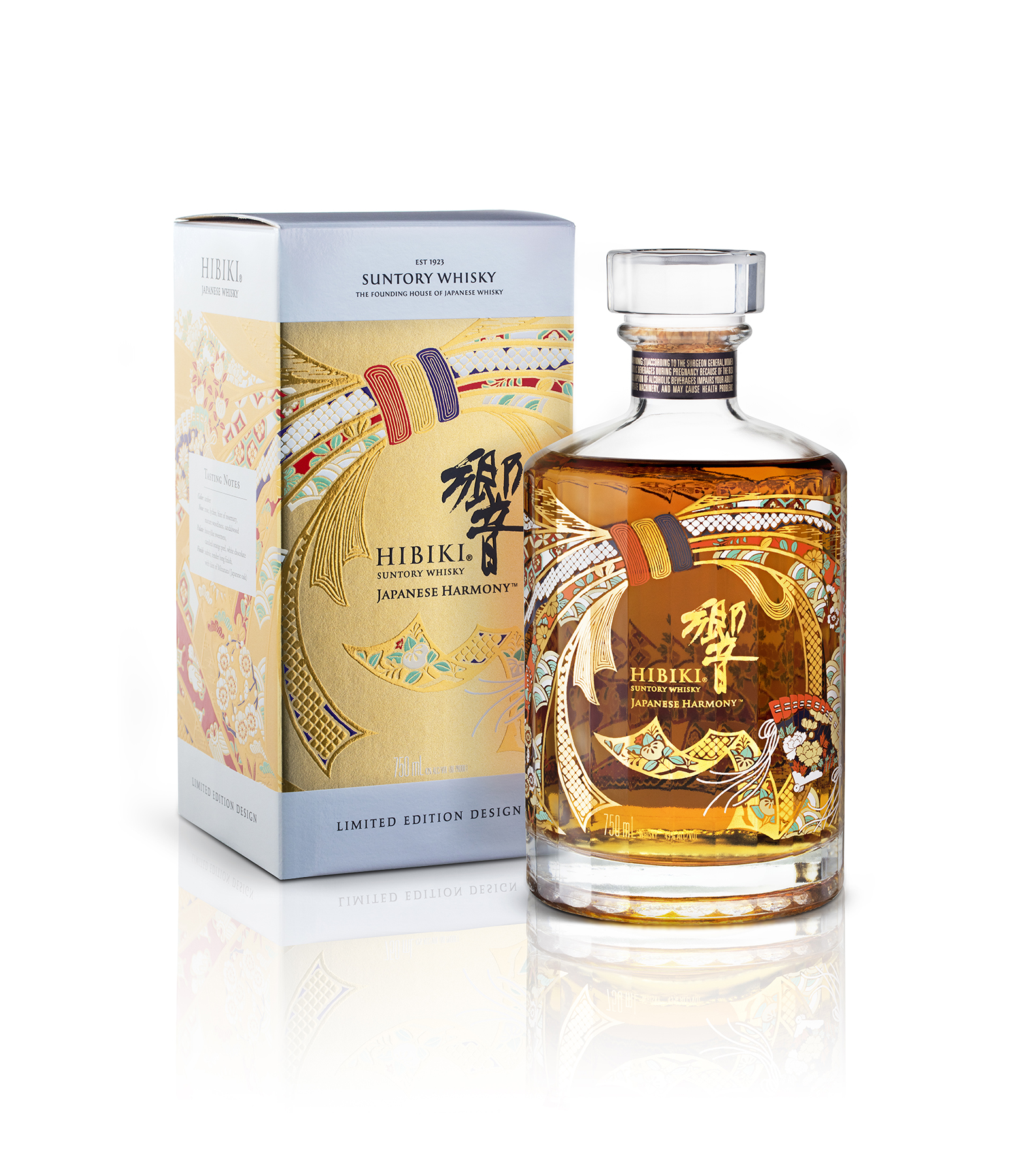 This year marks the 30th anniversary of Suntory's Hibiki lineup, a range of Japanese blended whiskies that are increasingly hard to find and expensive when you do. Suntory released Hibiki Harmony last year, a non-age statement blend that is much more readily available to tide you over until you find that elusive bottle of Hibiki 17. The bottle and box are emblazoned with a "kimono-inspired tabane-noshi pattern, created to represent both celebration and shared happiness," according to the brand. Order here. $100

G.H. Mumm Cloupe Set
Have you ever taken a sip of champagne and thought to yourself, this glass just isn't doing it for me? Perhaps not, but G.H. Mumm wants to change the way we drink champagne regardless and has created a very good gift idea in the process. This gift set comes with a bottle of Grand Cordon along with two Cloupes—a sort of a cross between a coupe and a flute—both of which are acceptable vessels for drinking champagne. Order here. $65

Spirits Network Subscription Box
The Spirits Network is an online "shoppable entertainment network" that is offering two different subscription boxes to choose from. The Enthusiast level includes one 750ml bottle of a premium spirit each month, along with a quarterly gift box made up of various other booze-related things. The Connoisseur level comes with the Enthusiast offerings, along with access to a VIP events calendar and product pre-sales. If you're not interested in gifting a membership, you can buy a one-time gift box for someone. Order here. Enthusiast: $99/month, Connoisseur: $150/month
Mezcal Creyente x Glacce Crystal Ritual Mixology Kit
Let's be clear – there is no such thing as healthy, healing alcohol (though this simple whiskey cocktail has been said to help battle the flu). Even so, Mezcal Creyente has teamed up with Glacce for this mixology kit that is "designed to infuse cocktails with crystal energy," according to the brand. You will find two hand-blown crystal-infused glasses, a glass mixing pitcher, and a crystal stir-rod, all of which is supposed to "elevate negative perspectives to a more enlightened point of view." Of course, alcohol arguably does that already, but why not give this a try? Order here. $500

Air Co. Vodka
Material things are great, but how can you compete with the gift of carbon neutrality? Air Co. is a Brooklyn startup that has just released a carbon-negative vodka, literally created using excess carbon in the air. The company claims that each bottle is the equivalent of the daily carbon intake of eight trees. So if you know someone who likes vodka, or doesn't but is worried about the environment, give them a bottle of this and let them know that they are taking a small step to try to help (or at least do no harm). Order here. $65

Ruffino Prosecco Holiday Six-Pack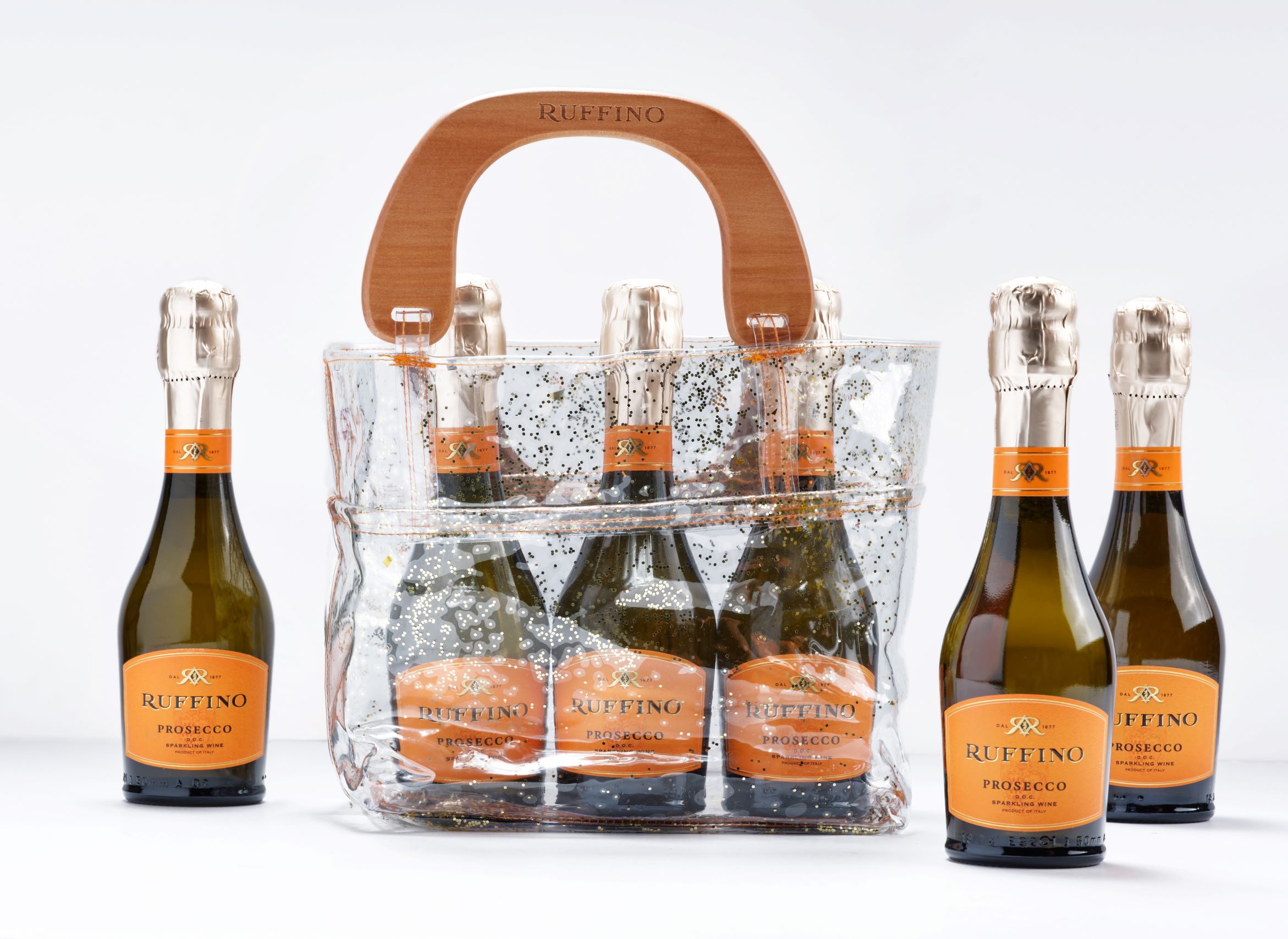 Bringing sparkling wine to a party is a good move, but bringing chilled bubbly is even better. This bag from Brooklyn designer StickyBaby holds six bottles of Ruffino prosecco and is completely waterproof, so you can fill it with ice after you fill it with a half-dozen mini bottles. Order here. $100