10 Beautiful Bucket List Restaurants to Dine at Before You Die
Book a reservation at one of these gorgeous international eateries ASAP.
Left: Scott Wright
If you savor fine dining and life-changing culinary experiences, consider booking a meal at one of these 10 bucket list-worthy restaurants around the world. Selected from Lannoo Publishers' 150 Restaurants You Need to Visit Before You Die by blogger Amélie Vincent, aka "The Foodalist," each high-end eatery is featured with a short description that offers brief overview of the talented chefs, type of cuisine, and why you should make a reservation ASAP. 
Le Louis XV-Alain Ducasse 
Monaco
Le Louis XV-Alain Ducasse is one of the only haute cuisine restaurants in Monaco that's earned three Michelin stars. It's located on the ground floor of the Hotel de Paris. An extraordinary Murano glass chandelier composed of 700 handmade pieces serves as the centerpiece of the interior, which is set in light and gold gives way to a gorgeously landscaped terrace overlooking the yacht harbor and the royal palace. 
Mikla 
Istanbul
Mikla has one of the best views of Istanbul, located on the eighteenth-floor rooftop terrace of the Marmara Pera hotel. The restaurant itself is sophisticated, with sleek minimalist styling, retro flourishes and cozy lighting. You will taste the chef's version of Balik Ekmek, the traditional fish sandwich, in front of unmissable 360-degree views of Istanbul with the Bosphorus strait reflecting with the city lights.
Enigma
Barcelona
Enigma is an anything but conventional restaurant located in a majestic space that combines Japanese minimalism with vintage science fiction. Once a reservation is confirmed, diners receive a code to enter the restaurant, where they will discover the 40 dishes of the tasting menu combining influences from around the world, including Japan, Spain, Korea, and Brazil. Diners are encouraged to move through the seven distinct dining spaces, each with its own theme.
Diverxo
NH Eurobuilding, Madrid
With just 30 seats in the dining room, DiverXO is one of the hottest and most exclusive restaurants in Madrid. Guests make reservations up to 30 days in advance to taste the surprising Spanish-Asian fusion cuisine of chef David Muñoz. He perfected his Asian-inspired kitchen techniques while working at Nobu and Hakkasan in London, which is why hearty Iberian ingredients are combined with the flavors of China and Japan. Like a real performance set in a flamboyant dining room—the walls are decorated with winged pigs—waiters serve the culinary creations on smooth, white ceramic plates, as if they were putting paint on a canvas. 
Nama at Amanpulo
Pamalican Island, Philippines
Nama at Amanpulo is located a few steps from the beach and celebrates Japanese influences with authentic, uncomplicated and elegant dishes. On the remote reef-fringed Pamalican
Island in the Philippines, Amanpulo offers a stunning luxury retreat with snowy white beaches and crystal-clear seas. Amanpulo has its own organic garden that supplies many of the restaurant's
ingredients, while fresh seafood is provided by local fishermen or sourced from Japan. On the menu, sushi, nigiri sushi and sashimi are available alongside signature dishes such as Kobe gyu: a Japanese Kobe Wagyu steak grilled at the table over charcoal and served with 2,500-year-old, seaweed-infused Moshio mineral salt.
Ultraviolet by Paul Pairet
Waitan, District de Huangpu, Shanghai
Ultraviolet is considered by many to be the most avant-garde restaurant experience in the world. Set in an anonymous bunker on the outskirts of central Shanghai, you can experience chef Paul Pairet's excellent menu with precisely choreographed video, audio, bespoke lighting and scents for each course. Diners are driven to the secret location, which is down a dark alleyway in an industrial warehouse space. The dimly-lit dining room is furnished with five chairs set on either side of a communal dining table, with no window. Inside this futuristic set-up, only ten guests per night get to embark on the 20-course culinary experience.
Michel & Sébastien Bras TOYA Japon
Hokkaido, Japan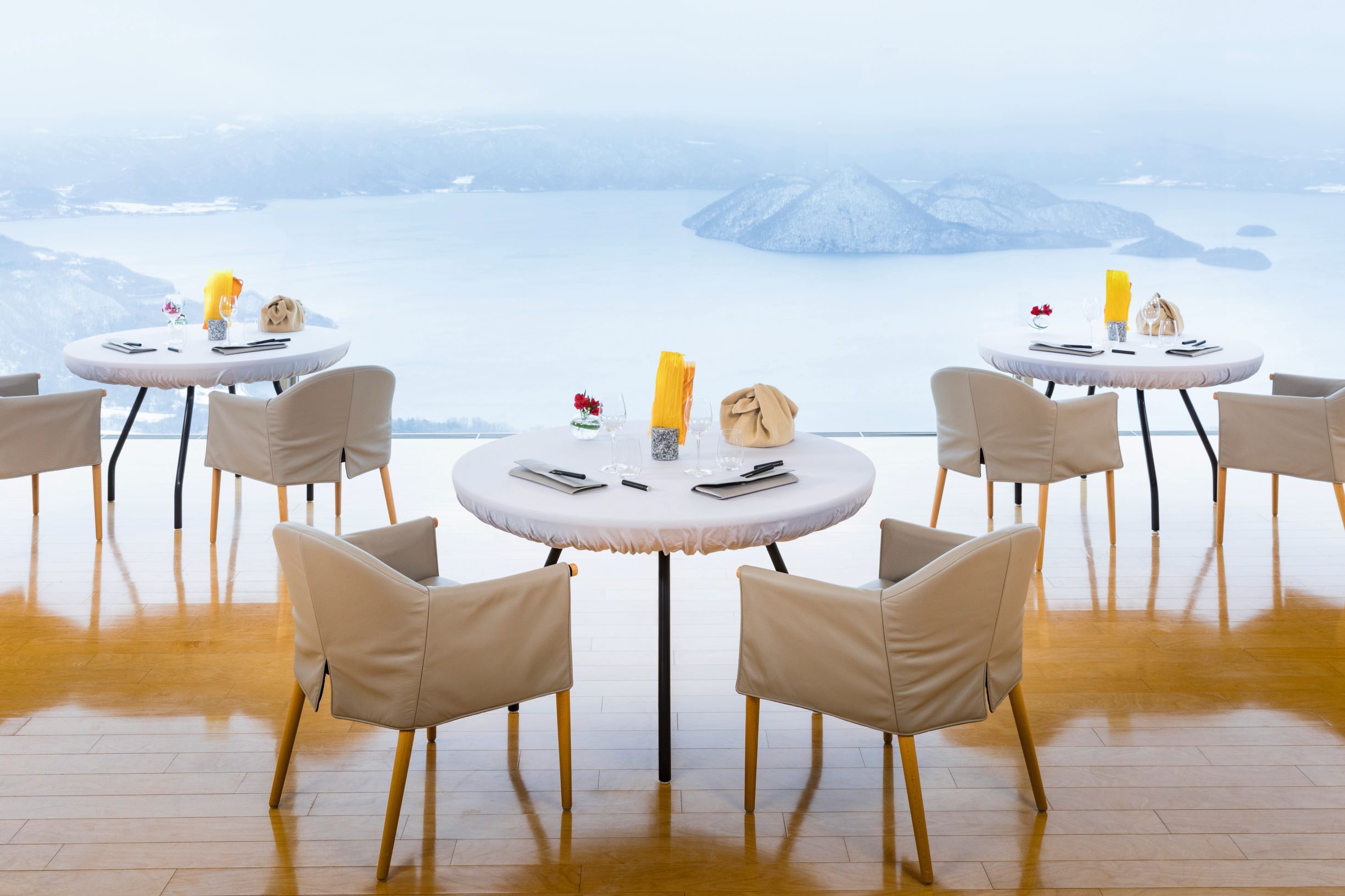 Michel & Sébastien Bras TOYA Japon offers one of the most stunning views of Lake Toya. Stunned by the natural landscape of Lake Toya and its surroundings in Hokkaido, chef Michel Bras and his son Sébastien decided it would be a perfect location to establish their cuisine with a breathtaking view of the region. They visited local farmers to develop the best of the terroir in the brilliant colors, aromas, tastes, flowing movement and sensory elegance of the famed specialty "gargouillou"—the chef's signature vegetable dish.
Bennelong
Sydney
Located within the famous Sydney Opera House,  Bennelong is a fine dining establishment that's become a landmark all its own. The multi-floor restaurant allows visitors to tempt their palettes wherever they please: cocktails at the upper bar, fine dining dishes downstairs, and oysters and champagne at the Cured and Cultured bar counter. According to 150 Restaurants, nobody should leave without ordering the signature treat, a "meringue-based dessert, tribute to Bennelong's incredible architecture."
Soneva Kiri
Koh Kood, Thailand
Soneva Kiri offers a candlelit dinner in a private bamboo pod that hangs 16 feet off the ground. Situated on Koh Kood, the fourth largest island off the coast of Thailand, Soneva Kiri is a remote eco-resort with private luxury villas. Guests come to snorkel amid the reefs, explore the rainforest, or stargaze in the property's observatory. In this paradise setting, the tree house experience is taken to the next level: diners can eat in a eucalyptus tree 16 feet
above the rainforest, sitting comfortably in a steel and rattan pod, overlooking the Gulf of Thailand, while a "flying waiter" travels via a zip wire to serve them. Chef Khun Benz prepares authentic Thai meals based on the freshest catch of the day and the products available in the local markets or the resort's organic garden.
Bhairo
Taj Lake Palace, Udaipur, Rajasthan, India
Bhairo is a rooftop restaurant located at the Taj Lake Palace and is one of India's
most spellbinding places. Framed by the backdrop of the striking Aravalli Hills, the luxurious Taj Lake Palace was built in 1746 by Maharana Jagat Singh II, the 62nd successor to the royal dynasty of Mewar. The unique and opulent marble setting is accessible only by boat, and encompasses four acres of graceful courtyards, pavilions and gardens with a refreshing lakeside pool. At Bhairo, the moonlit view and ambiance are strikingly unique. Linen-dressed tables with wicker armchairs hug the edge of the deck. As birds wing slowly by, and the shoreline begins to twinkle with lights, the atmosphere of this contemporary European-Asian restaurant makes for an unforgettable date night.
Don't forget to check out Lanoo's companion book, 150 Bars You Need To Visit Before You Die, which we covered here last year.