10 Irish Whiskeys Perfect For Celebrating St. Patrick's Day (At Home)
Celebrate St. Patty's in the age of social distancing with these top-shelf bottles.
Left: The Sexton
We love a round of Jameson shots as much as everyone else, but this year for St. Patrick's Day, how about broadening your horizons? 
"It certainly is an exciting time to be a fan of Irish whiskey" says Michael Egan, Beam Suntory's Irish whiskey brand ambassador. "The beautiful thing is that there is an expression or style for every whiskey drinker."
Thanks in part to that huge breadth of styles, Irish whiskey has been flying off the shelves in recent years—the Distilled Spirits Council of the United States (DISCUS) reports a whopping 879.6% increase in sales from 2002 to 2017. Of course, diversity wouldn't matter much without quality, and Irish whiskey offers the types of delicious high-end drams that any bourbon or Scotch connoisseur will appreciate. 
"The recent growth in Irish whiskey is without a doubt being driven by the premium and super premium segments within the market," Egan explains.
It's also a historical throwback to the way the whiskey world used to be. 
"Irish whiskey was the whiskey the world fell in love with before it was on the verge of collapse," says Noli Alngohuro, bar and lounge manager at Ashford Castle in County Mayo, Ireland, which has partnered with Midleton on an exclusive new release. 
https://www.instagram.com/p/BfqPM1ZHJ6n
"And now it's like finding that long lost friend that is familiar but unique at the same time, and is full of character. Bold and deep Irish whiskeys are attainable now thanks to new distilleries popping up everywhere in Ireland, so there are plenty to choose from."
But again, nobody's knocking "Jamo" here.
"Jameson's role in the revival of Irish whiskey has been the most instrumental as a brand—it is often the only Irish whiskey that most people have tasted," Alngohuro says. "While it is a great, lighter blended whiskey, 'Jamo' does not represent the huge spectrum of styles that Irish whiskey possesses."
Egan has a few tips on how you can begin exploring that stylistic range. 
"My recommendation is to find a style that suits your palate. Enjoy that whiskey and take some time to appreciate the various nuances and characteristics associated with the particular whiskey. Once you know your taste preferences, it's easy to discover more brands within that style of whiskey."
Consider this your homework then. Here are 10 unique and exciting Irish whiskeys for you to explore, in escalating order of how much you'll be splurging this St. Paddy's.
Tullamore D.E.W's Caribbean Rum Cask Finish takes the brand's Original whiskey and finishes it in Demerara rum casks. The whiskey debuted this month, just in time for St. Pat's, and is a new permanent edition to the Tullamore portfolio. The rum influence lends caramel and banana notes to the whiskey, along with rich dried fruits, and the Demerara casks were specifically chosen for their contributions of spice and tropical fruits. $25
Bonus: Also keep an eye out for last fall's seasonal release, Tullamore's Cider Cask Finish. $40/1 liter
The Sexton is a four year old, triple-distilled Irish single malt finished in Oloroso sherry casks. The maturation process includes using a combination of first, second and third-fill casks, altering the intensity of the flavors offered. Overall, the Oloroso casks bring red fruits, nuts and dark chocolate to the whiskey. $28
Slane Irish Whiskey comes to the U.S. via a partnership with Brown-Forman (Jack Daniel's and Woodford Reserve) and by way of the Conyngham family and Slane Castle in County Meath, Ireland. The whiskey follows a triple-cask maturation process, using heavily toasted and lightly charred virgin oak from the Brown-Forman cooperage, along with used American whiskey barrels, and Oloroso sherry casks. Each of the three cask styles offers its own flavors, from toasted oak and vanilla, to caramel and butterscotch, and raisin and spice. $30
Ballyhoo is a four year old Irish grain whiskey finished in port barrels. The Connacht Whiskey Company sources the whiskey, made from a mash bill of 93% corn and 7% malted barley. Finishing in the port casks imbues the whiskey with hints of fruit and spice while adding some depth and complexity to the flavor profile of the young grain spirit, which can otherwise be a bit soft. $30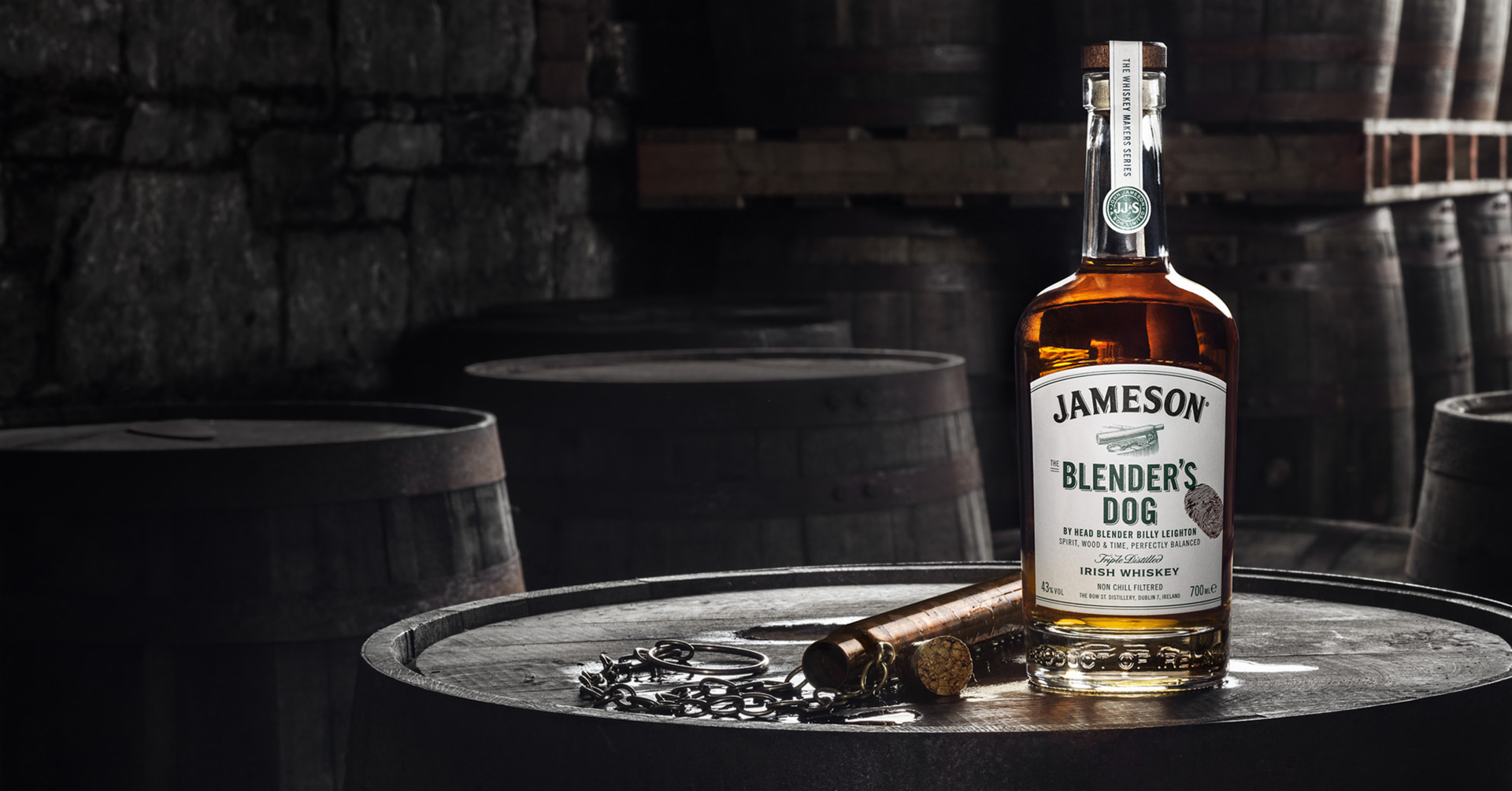 Jameson has been unleashing a range of premium whiskeys to complement the aforementioned regular Jamo we know and love. The Blender's Dog is the second in its Whiskey Makers Series, honoring the craftsmen behind the brand. In this case its head blender Billy Leighton—his "dog" is a tool used to collect samples from casks—with the whiskey showcasing the well-rounded profile you'd expect as such. Look for a basket of fruit notes and creamy butterscotch balanced by oak and spice. $70
Bonus: You can also try the Jameson Caskmates IPA edition, standard Jameson finished in IPA barrels. $30
The Tyrconnell's latest single malt offering is its 15-year-old Madeira Cask. The whiskey is double-distilled—relatively rare in the land of triple distillation—and aged for a full 15 years in bourbon barrels before the finishing process. It's a limited edition member of the portfolio, joining their trio of 10-year-old cask finish whiskeys, and following up on last year's 16-year-old limited edition. The Madeira casks show up in the form of savory, herbal notes alongside red wine and citrus zest.
While much of the new Irish whiskey coming to market is young, The Tyrconnell relishes showing its age. "At the Kilbeggan Distilling Company, we have spent almost 30 years distilling some of Ireland's finest whiskey that is now maturing in our warehouses," Egan says. "It is the combination of that spirit, and our innovative mindset that has allowed us to create a whiskey like this." $100
Green Spot has long been coveted as one of the finest examples of single pot still Irish whiskey. The latest edition takes that heritage and finishes the juice for a year in French oak casks which held Zinfandel from famed California winery Chateau Montelena. This French-Irish-American connection shows a combination of fresh, ripe fruits, dark berries, toasty spices, vanilla, and toffee. $100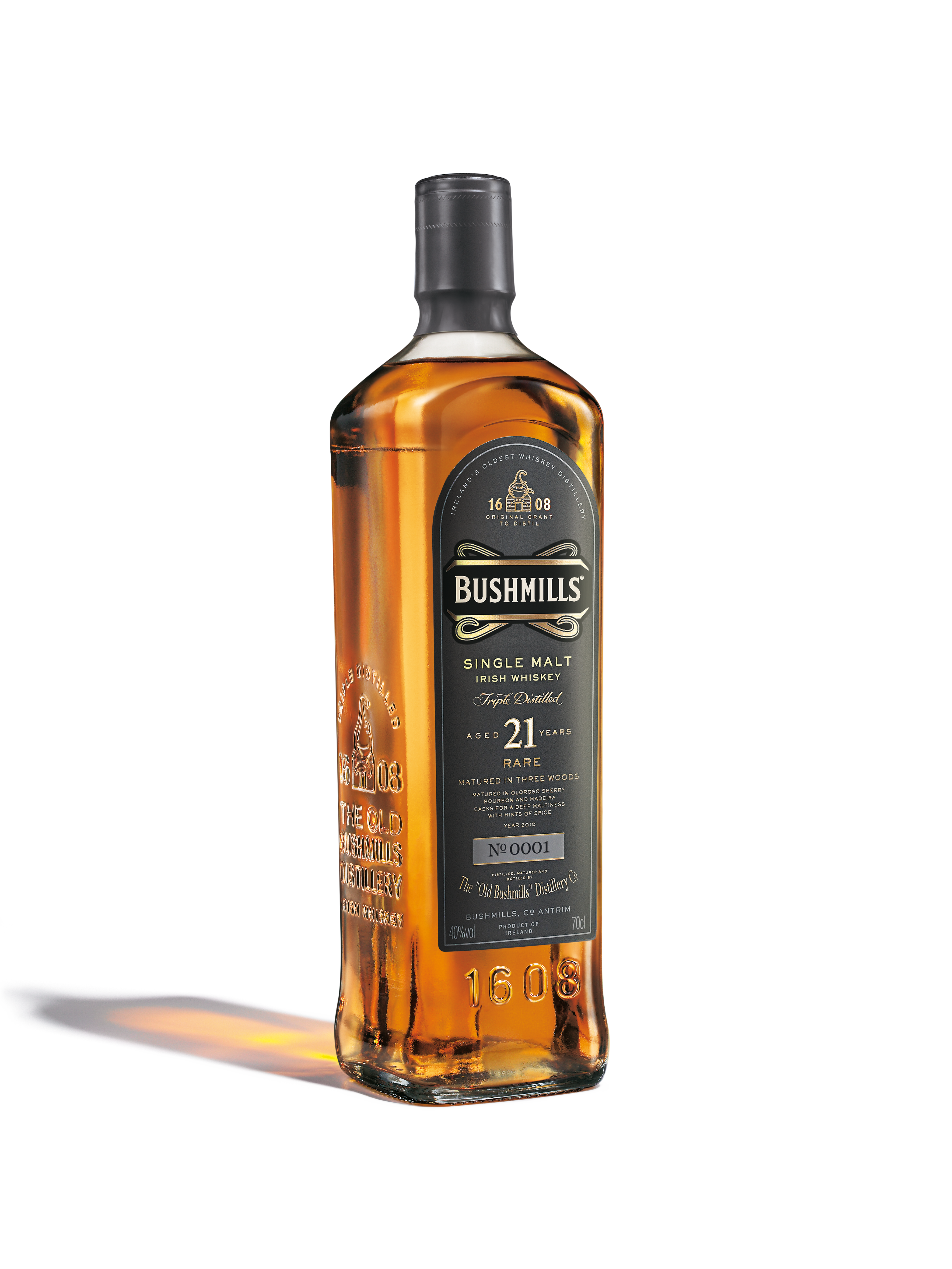 Just as there's more to the Jameson lineup than you may have realized, there's also a world of high-end offerings from Bushmills to explore. At the pinnacle of the portfolio is their 21-year-old single malt. The whiskey is first matured in a combination of bourbon and sherry casks for 19 years, and is then married together and finished in Madeira casks for its final two years of aging. Expect a combination of dried fruits and bold spice, with dark chocolate and creamy vanilla, showing all of the character of the decades-old single malts they make across the North Channel in that little place called Scotland. $249
Midleton's ongoing Dair Ghaelach Virgin Irish Oak Collection highlights the potential of Irish oak while tracking the lineage of that oak to near unparalleled levels. Bluebell Forest is the second edition in the series, and each bottle can be traced to one of six specific 130-year-old oak trees that were harvested for cask production. The whiskey itself is pot distilled and aged for between 12 and 23 years in bourbon barrels before being finished for an extra 18 months in the Irish oak. $300
Bonus: Up top, we also mentioned a special Midleton release in conjunction with Ashford Castle.
 "It is a custom of our guests at Ashford Castle to bring home or be gifted with a little memento of their stay at the castle," Alngohuro says. "For the last four years, we were looking for a whiskey that would do just that, a whiskey that can bring back beautiful memories and experiences at Ashford Castle. So it had to be big, super smooth, complex, and had to have a very long, lingering finish."
The result is a hand-picked single cask release of Midleton Very Rare—Midleton Very Rare Ashford Castle Cask, cask #70,345. Aged entirely in virgin American oak for 20 years, it's bottled at a cask strength of 56% and available only at Ashford and potentially its sister Red Carnation Hotel properties.
"I don't think I can justify the whiskey in words to describe how special a liquid this is," Alngohuro says. "You have to taste it!" And you'll have to visit the Ashford to do so.
Sometimes you just have to go big or go home, so when you're really feeling the luck of the Irish you should go ahead and nab a bottle of the Teeling 34- year-old Vintage Reserve single malt. They reached way back into the depths of the warehouses for this one, aged entirely in a bourbon cask—Family Cask No. 2. Find a spicy flavor profile, with oak, toast, and vanilla, and light floral and fruit notes, along with all the fun that five large will get ya. You won't want to debate the decision too long, as a grand total of 38 bottles were released—they won't be around forever $5,000