10 Great New Irish Whiskeys For St. Patrick's Day
From an Irish whiskey proofed in Boston to experimental bottles finished in wine and Japanese Mizunara casks.
If it seems like more and more Irish whiskeys are popping up on your bar and bodegas shelves, you're not crazy.
Ireland was for a long time the biggest whiskey producer in the world, but after a depression in the mid-1900s bankrupted almost all distilleries the category is enjoying soaring growth this century. And it's only accelerating over the past decade with global sales exploding from five million to 12 million cases between 2010 and 2020. Unsurprisingly, the U.S. is Irish whiskey's biggest market.
The biggest distinction with Irish whiskey is it's normally triple distilled, making it smoother than its Scottish and American cousins. (The Emerald Isle also claims to grow the best barley, but that's up for debate). Another massive trend spurring growth in the last five or so years is the resurrection of famed ghost distilleries and brands from the dead — some of which can be found below.
Here are 10 more of our favorite recently-released Irish whiskey bottles to help you celebrate St. Patrick's Day with a delicious dram. (And check out Maxim's earlier Irish Whiskey roundup here.) Sláinte!
Glendalough 7-Year-Old Single Malt Mizunara Finish
Consider this a marriage of the great whiskey crafting traditions of Ireland and Japan. From deep in the glacial valley of the Wicklow Mountains comes the fairly new Glendalough Distillery, founded in 2011 initially to produce Poitín. Quickly the excellence of Glendalough has found renown, earning New York International Spirits Competition "Ireland's Gin Distillery of the Year 2021"  Icons of Whisky "Ireland Sustainable Distillery of the Year 2021."
Last month they announced the launch of their single malt aged in Japanese Mizunara casks sourced from the remote northern island of Hokkaido. This rare oak is notorious for both its difficulty in coopering and the great flavors it imports on its whiskies, making Glendalough 7-Year-Old Single Malt Mizunara Finish something to search for. It starts with 7-year-old Irish single malt, then ages 3-4 more months in  Mizunara (aka "water wood") that is so soft you can dent it with your fingernail.
The wood takes 3 years to dry. It's so porous that when Glendalough first worked with the oak, their 13-year-old single malt simply seeped through the wood — not between the staves. But they learned a few tricks, and now their Glendalough 7-Year-Old Single Malt Mizunara Finish offers a luscious mouthfeel with Mizunara notes of sandalwood, cinnamon and dark chocolate. Simply a great value. $100 / 46% ABV
J.J. Corry The Gael
J.J. Corry was a renowned blender from the parish of Cooraclare until his company folded in the 1930s. Wanting to honor the legacy of both the brand and Ireland's long history of bonding (essentially sourcing different barrels and making your own blend), Louise McGuane recently resurrected the label to bring back the great, lost Irish art.
The Gael is the first release from J.J. Corry Whiskey, made from whiskey sourced from County Louth. It is a complex blend of 60% Single Malt and 40% Single Grain Irish Whiskey, all juice aged from 9 to 28 years old. Unsurprising that the Gael won Gold medals at both the San Francisco World Spirits Competition and the Irish Whiskey Awards. $90 / 46% ABV
Killowen Bonded Experimental Series Txakolina Acacia 10-Year Old
Killowen Distillery was founded in 2017 on the eastern coast of North Ireland by three friends dedicated to bonding great Irish whiskey. The Mourne Mountain-based craft distillery, Ireland's smallest, just announced their Bonded Experimental Series of malt and grain whiskey blends (75% grain/5% malt from Ireland/20% malt from North Ireland all aged at least 10 years) — the final blend then finished in a half-dozen different casks, each intended to impart a unique twist to their whiskey.
The ones we tried were delicious, but the Txakolina Acacia expression (finished in a Basque sparkling dry white wine cask with virgin Acacia heads) was the winner. Rich in notes of apricot and white fruit like apple and pear, with more stone fruit coming from the wine cask. With no color added and only 490 bottles available, this is truly small batch Irish whiskey. $90 / 52.5% ABV
Clonakilty Single Malt 'Chateau la Cardonne'
The new Clonakilty Single Malt is here, finished in cold-toasted red wine casks from Chateau la Cardonne. Located on the southwestern tip of the Emerald Isle, the Scully family have been farming this littoral land for nine generations but have only fairly recently begun distilling. Utilizing three copper pot stills they've quickly earn a reputation as one of the best new single pot still distilleries — an accolade Clonakilty earned at the 2020 World Whiskey Awards.
Unlike most Irish whiskeys this single malt is only double distilled, meaning more of the flavors are retained while the Chateau la Cardonne wine casks do the heavy lifting in smoothing out the spirit. As one would expect from an Irish whiskey, it has to be smooth. They also credit their Clonakilty Atlantic Ocean warehouse, perched 200-ft above the ocean, as being the ideal locale rich in salt air for maturing and finishing this fine whiskey. $52 / 46% ABV
Two Stacks 'Blenders Cut Apricot Brandy Cask Strength'
A precocious child of lockdown inspiration (only founded in the summer of 2020), Two Stacks comes out of the gates hot with a tasty limited edition whiskey bottled at a punchy cask strength of 63.7% ABV. Their Blenders Cut Apricot Brandy Cask Strength is a rich blend of single pot still, double and peated malt, light and dark grain whiskey, aged in ex-bourbon, virgin oak and ex-Oloroso casks for an undisclosed period. It is then finished for 59 days in French Oak Apricot Brandy casks which add waves of apricot, almond and orange marmalade notes, finishing with a wisp of peaty smoke.
Only 222 individually hand numbered bottles exist, but it's worth looking for at only $100. If you can't get your hands on Blenders Cut Apricot Brandy Cask Strength and want to try Two Stacks' mettle, they've just launched their super convenient "Dram in a Can" — a pocket-sized (100ml) can of light + dark grain, pot still whiskey and peated malt matured in ex-bourbon, Oloroso sherry + virgin oak. It's like a flask of legit quality 86-proof Irish whiskey you can pop at any time — but let's be honest, most likely somewhere you're not supposed to be sneaking in whiskey. $100 / 63.7% ABV
Limavady Single Barrel
Master Distiller Darryl McNally, a descendant of the Limavady Distillery's 18th century operators, is teaming up with Vermont rye maestros WhistlePig to resurrect one of Ireland's oldest whiskeys (originally founded back in 1750). This is delicious single malt, with a touch of smoke to rival its Islay cousins but with a bit more dried fruit sweetness. $45 / 46% ABV
McConnell's Irish Whisky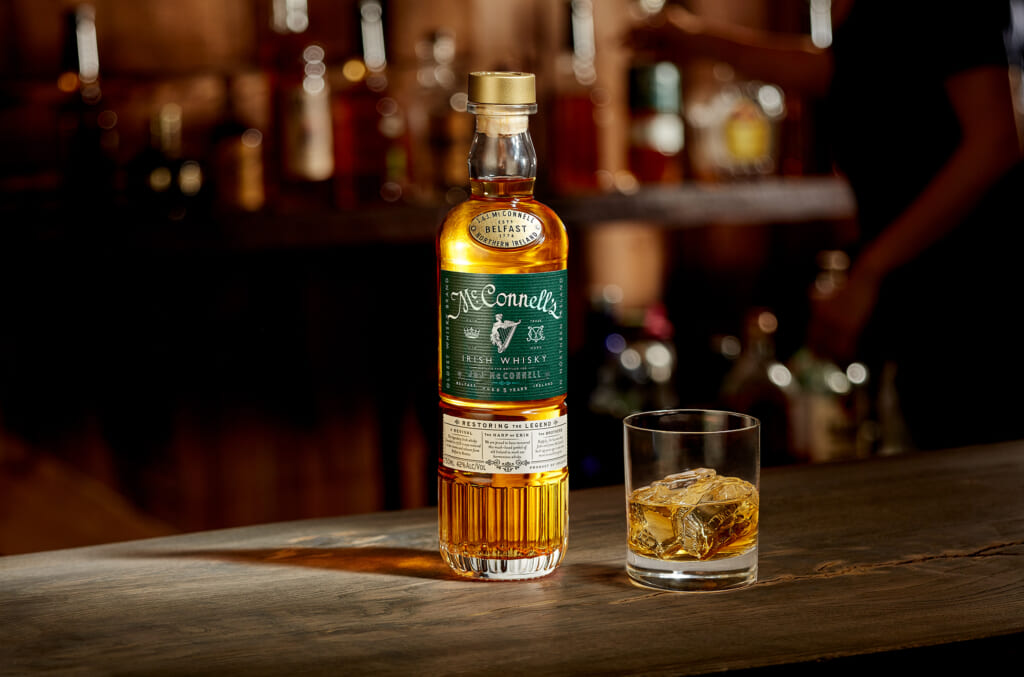 While it's been around since 1776—making it the oldest whisky brand ever to come from Ireland—McConnell's Irish Whisky only recently returned to North American shores after nearly a century away. The Belfast distillery enjoyed great success in America until Prohibition — and then like most Irish whiskey interests fell on hard times, eventually closing its doors in 1958.
Conecuh Brands restored the label and is building a new distillery in Belfast's historic Crumlin Road Jail, but for now is sourcing their juice from the Great Northern Distillery. For the launch they're starting with a blend of Irish malt and grain whiskies aged for five years in ex-bourbon casks. $31 / 42% ABV
Slane Special Edition Irish Whiskey
Slane may be the only Irish whiskey more famous for its concerts than its actual juice. Since 1981 Slane co-founder Alex Conyngham's concerts at his historic Slane Castle have hosted massive artists such as Guns N' Roses, The Rolling Stones, Bob Dylan, Queen, Bon Jovi and U2.
To celebrate the five-year anniversary of Slane Irish Whiskey coming to the America Alex is releasing the Special Edition, a twist on their signature triple casked method by using extra virgin oak casks blended with seasoned barrels and Spanish sherry casks. As a riff on the 45 rpm record single, Slane Special Edition packs a bigger bite at 45% ABV. A bit more toasted oak and vanilla can be found in the sleek black bottle. $42 / 45% ABV
GrandTen South Boston Irish Whiskey
From the Celtics to Whitey Bulger to that guy Fitzy in your fantasy football league with the Brady tattoo, no city outside of Ireland is more associated with the Emerald Isle than Boston. That's what makes GrandTen South Boston Irish Whiskey such an amazing marriage between these two pugilistic locales, and why the New Hampshire Liquor Commission brought it over in the first place.
The whiskey (a mash of barley and corn) is aged three years in Ireland in American oak, then imported to South Boston where its proofed with water from the Quabbin reservoir (rated best tasting water in America) and bottled by GrandTen. Lots of banana and honey sweetness here — not at all like Southie. Winner of a Gold Medal at the 2021 John Barleycorn Awards. $26 / 40% ABV
Egan's Conviction 10-Year
In 1852 brothers Henry and Patrick Egan established P.& H. Egan, Ltd. in the heart of Ireland — Tullamore, County Offaly to be specific. And while like many Irish whiskey interests the Egan distillery shuttered during the dark times of the category (usually around the 1930s), in 2013 Maurice and Jonathan Egan (5th and 6th generation Egans) revived their family's spirit endeavor. Egan's Conviction — which joins the 10 Year, Fortitude and Vintage Grain expressions in the core collection — blends single malt with single grain Irish whiskeys, both aged for at least 10 years.
After marriage the blend is then finished in XO Cognac casks. Conviction's nose is defined by floral cereal grains, honey and dried apricot, and offers flavor notes of new leather, marzipan and hints of ginger. $65 / 46% ABV
Follow Nicolas on Instagram at @nickstecher and @boozeoftheday.