10 Reasons Why Waffle House Is An Iconic Southern Restaurant
From serving A-list celebrities to providing disaster relief, here's why Waffle House is an All-American favorite.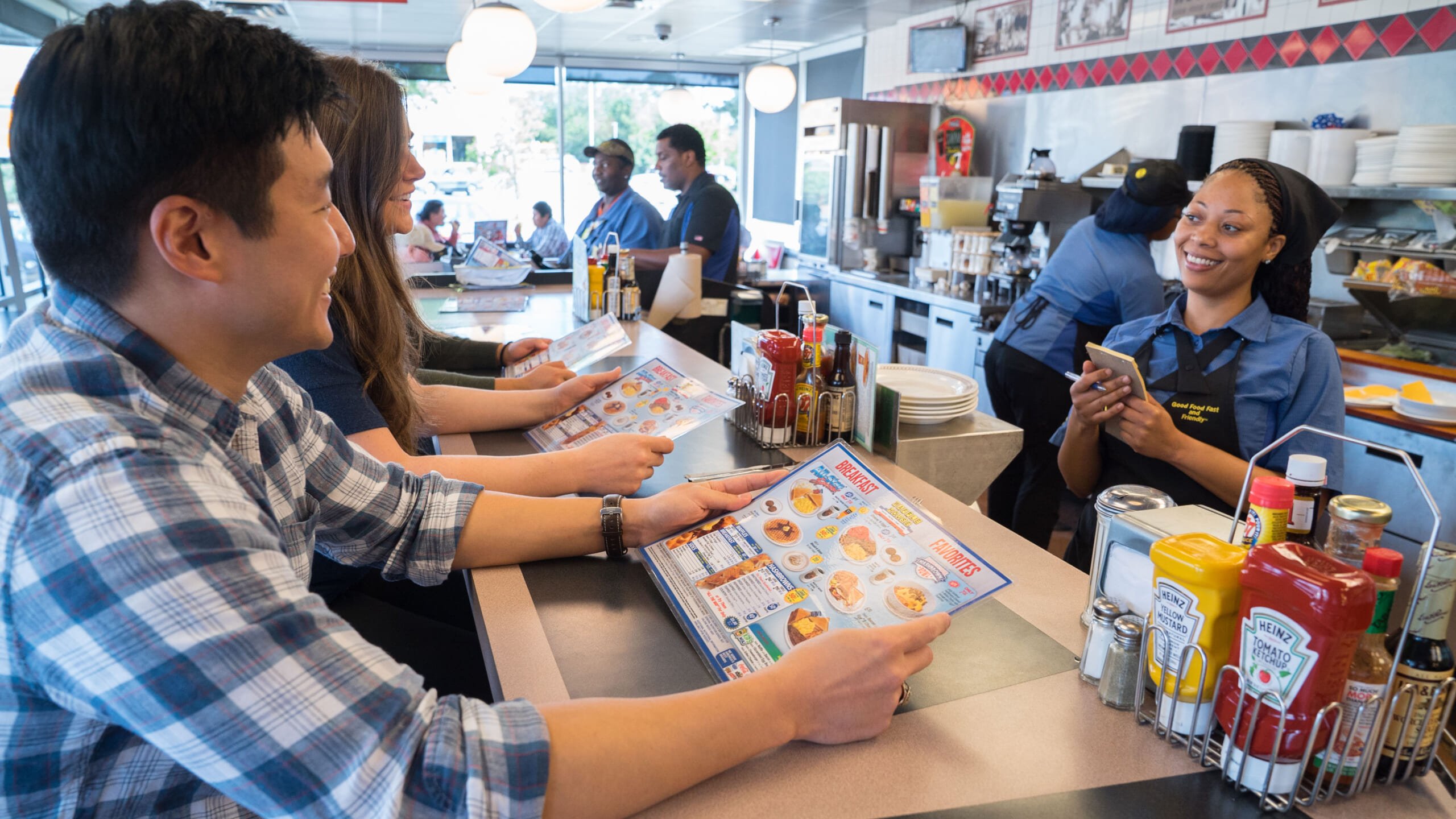 Make no mistake; Waffle House is an American culinary icon. This humble-but-venerated restaurant chain has 1,950 locations in 25 states, in all of which you will find the best elements of an old-school diner, Southern cooking, and comfort food combined into one inexpensive joint that is open 24/7, 365 days a year. 
The numbers are impressive: Waffle House serves 127 cups of coffee, 341 strips of bacon, and 145 waffles per minute. The South in particular loves the House, with 432 locations in Georgia, 280 in Atlanta alone. 
Hungry customers arrive at all hours of the day and night to tuck into plates of steak and eggs, pecan waffles, and of course hash browns served smothered, covered, capped, topped, or "all the way." Here, ten reasons why Waffle House continues to satisfy millions around the country.
Celebrity Sightings
https://www.instagram.com/p/yjd_LFpjff
You may run into someone famous while munching on a Texas Melt. Sean Combs, Kid Rock, Chris Rock, DJ Khalid, Shaq, Dwayne Wade and Donnie Wahlberg (who has left a few $1,000 tips) have all been sighted in a Waffle House.
https://www.instagram.com/p/BXw7AnKB3HK
Hollywood Famous
Waffle House has been featured plenty of TV shows and movies. Due Date, ATL, Tin Cup, Love, Simon, Single Mom's Club and the new Clint Eastwood movie The Mule all feature scenes shot in a real Waffle House.
The Tunies
Waffle House now has its own awards show called The Tunies. More than 30 million songs are played on Waffle House jukeboxes around the country, and the Tunies honors the top tracks. The last show was broadcast on Facebook Live and featured Imagine Dragons and Chris Stapleton.
The Gridiron Connection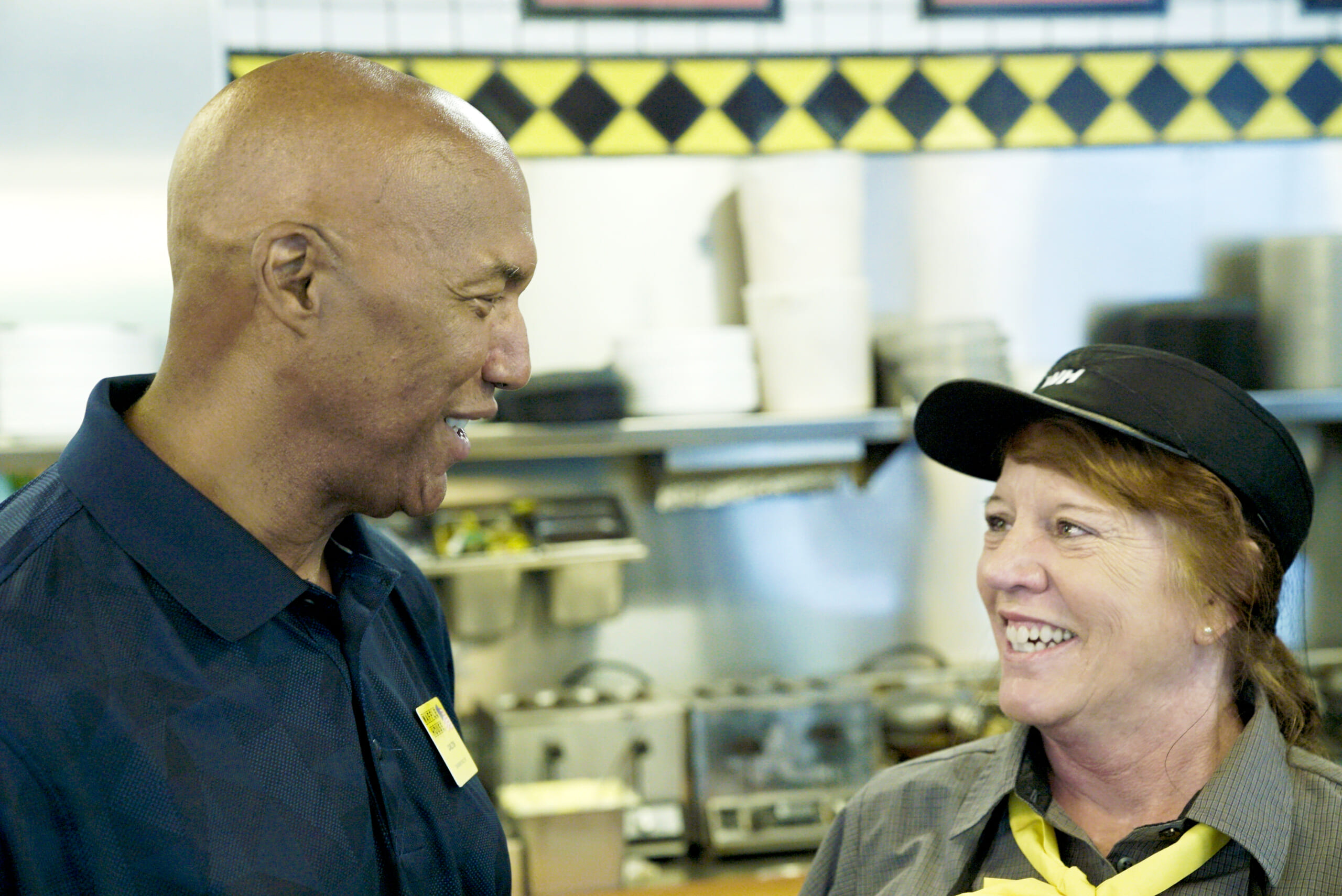 There's a strong football-Waffle House connection. Ex-49er and three-time Super Bowl champ Carlton Williamson worked as senior VP of operations after retiring from the NFL, former University of Georgia star Greg Bright is currently a VP, and former Cornell player Dave Rickell is an executive VP in charge of more than 650 restaurants.
Weddings and Birthdays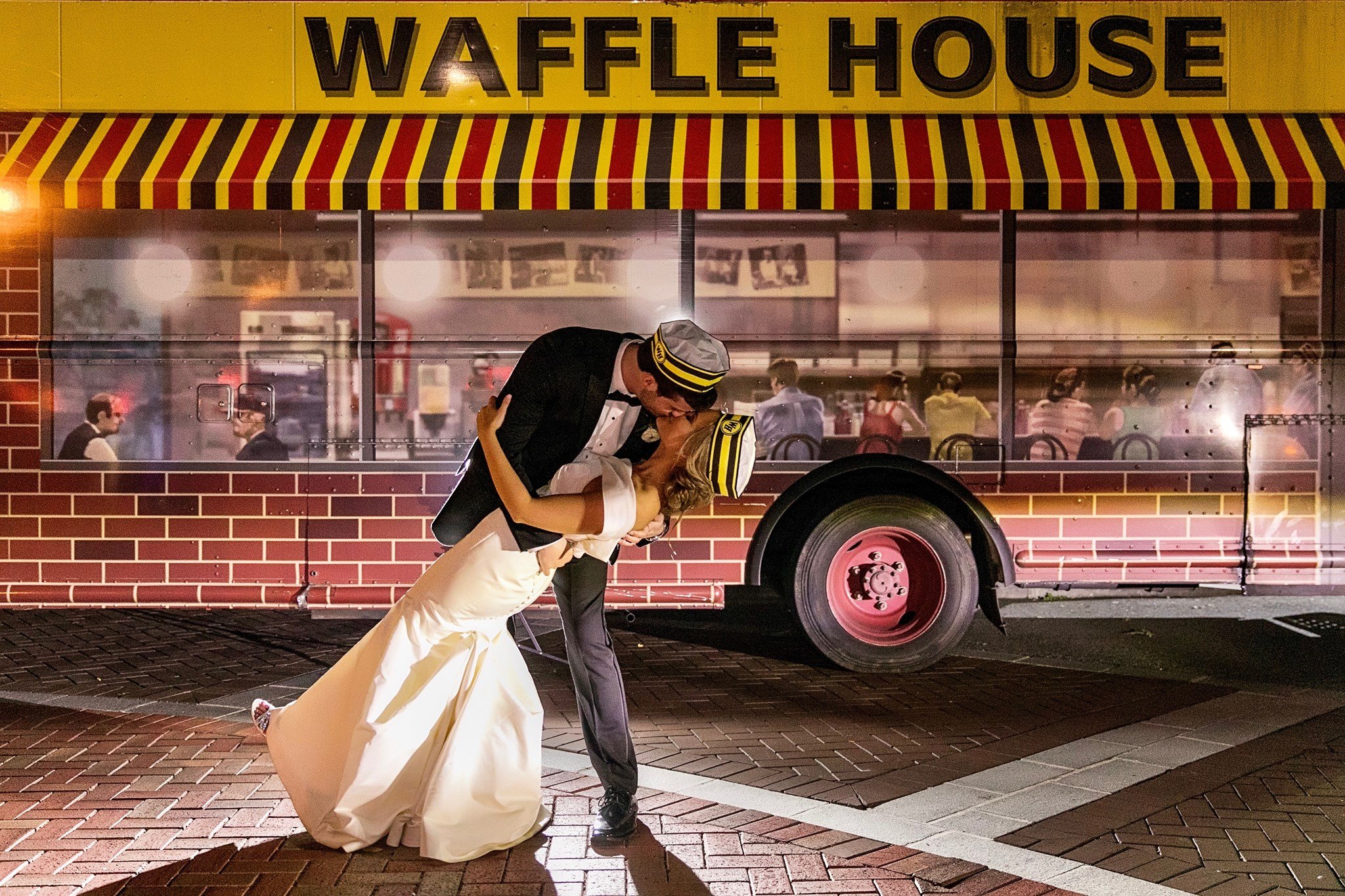 Waffle House is an important component of many people's personal lives. Scott and Katherine Sheely met there one night, got married and had a Waffle House food truck cater their wedding. Zach and Melinda Nichols shot their 2018 Christmas card photos at a Waffle House in Alabama. 
And three-year-old Lawson Cooper insisted on having his birthday party at a Waffle House in Buford, Georgia.
Miles and Miles of Bacon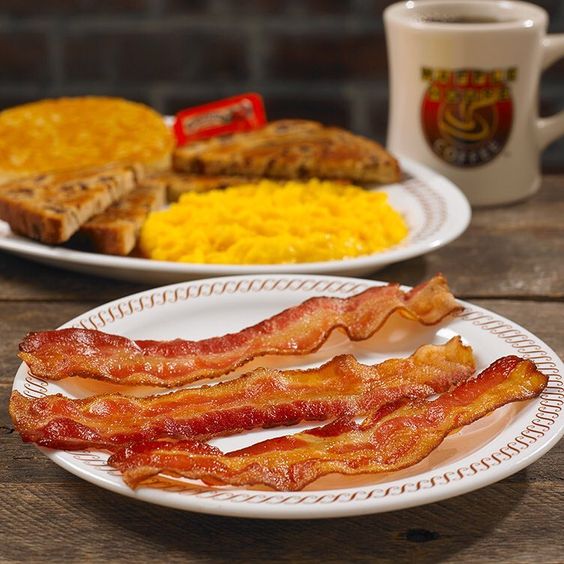 Over the course of one year, Waffle House serves over 25,000 miles of Smithfield bacon, enough to wrap around the equator. Stack all the sausage patties served annually and you'd create a meat tower four times as tall as the Empire State Building. And caffeine is very important here – eight Olympic swimming pools' worth of coffee are served per year.
Billions of Breakfasts Served
https://www.instagram.com/p/Bgqd0-Qnhjt
In Waffle House's more than 60 years of service, the amount of food served is staggering – two and a half billion eggs, 1.8 billion hash brown orders, and about 730 million Cokes. In 2015, Waffle House served up its one billionth waffle to Shanneil McCollum Atlanta.  
Waffle House Museum
If you can't get enough Waffle House, visit the Waffle House Museum in Avondale Estates, Georgia at the site where the original restaurant once stood. Check out all the memorabilia by appointment only – tours are available on Wednesdays at 11 am or 1 pm.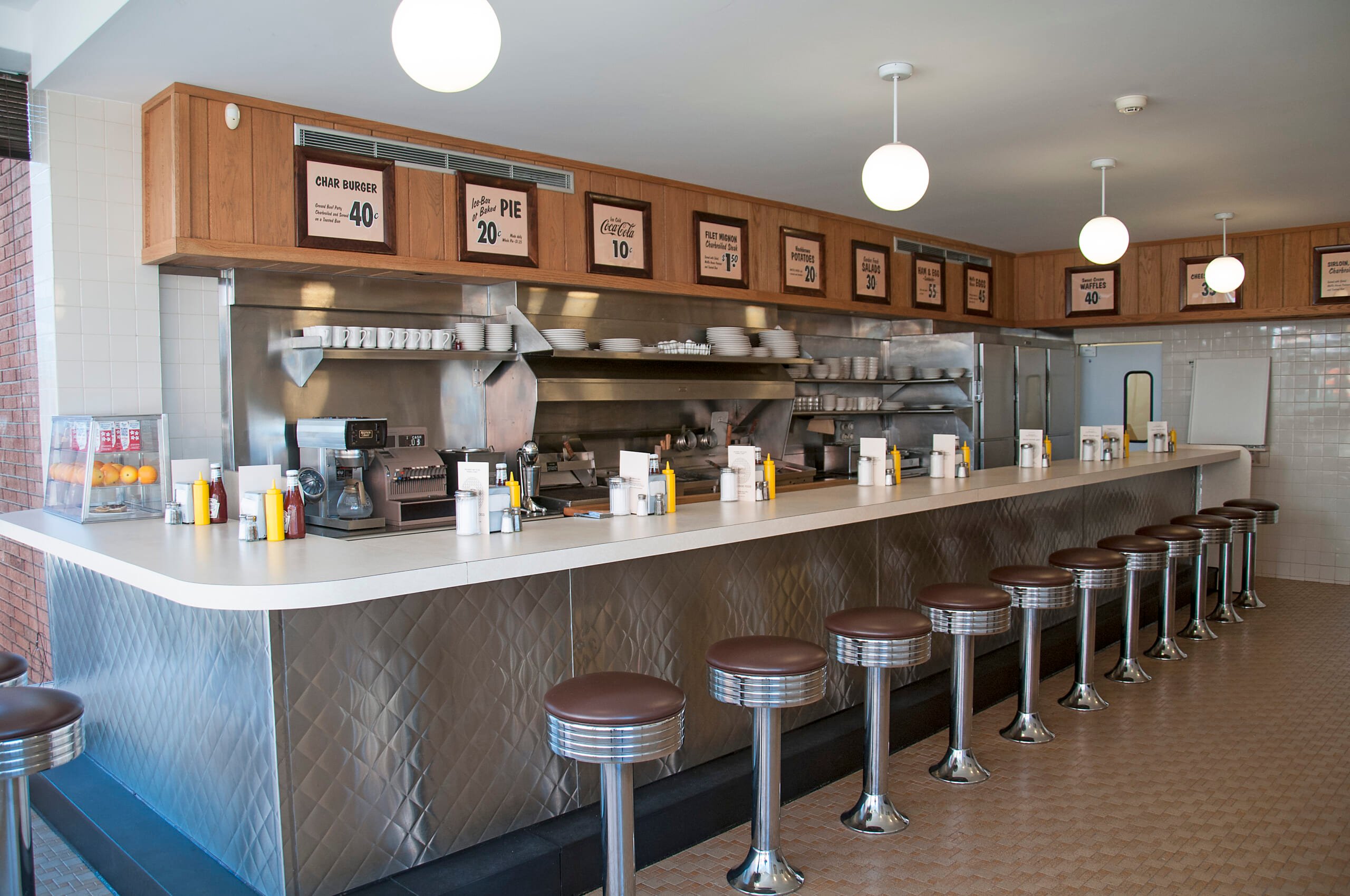 The Waffle House Index
Waffle House locations are open 24 hours and often provide food and resources to first responders in the wake of a natural disaster. 
In face, the Federal
Emergency Management Agency uses a metric called the Waffle House Index to indicate the effect of a storm, tornado or hurricane and the likely scale of assistance that will be needed for a community to recover.   
"The Waffle House test just doesn't tell us how quickly a business might rebound – it also tells how the larger community is faring," a FEMA blog post from 2011 reads. "The sooner restaurants, grocery and corner stores or banks can reopen, the sooner local economies will start generating revenue again – signaling a strong recovery for that community."
The People Behind the Food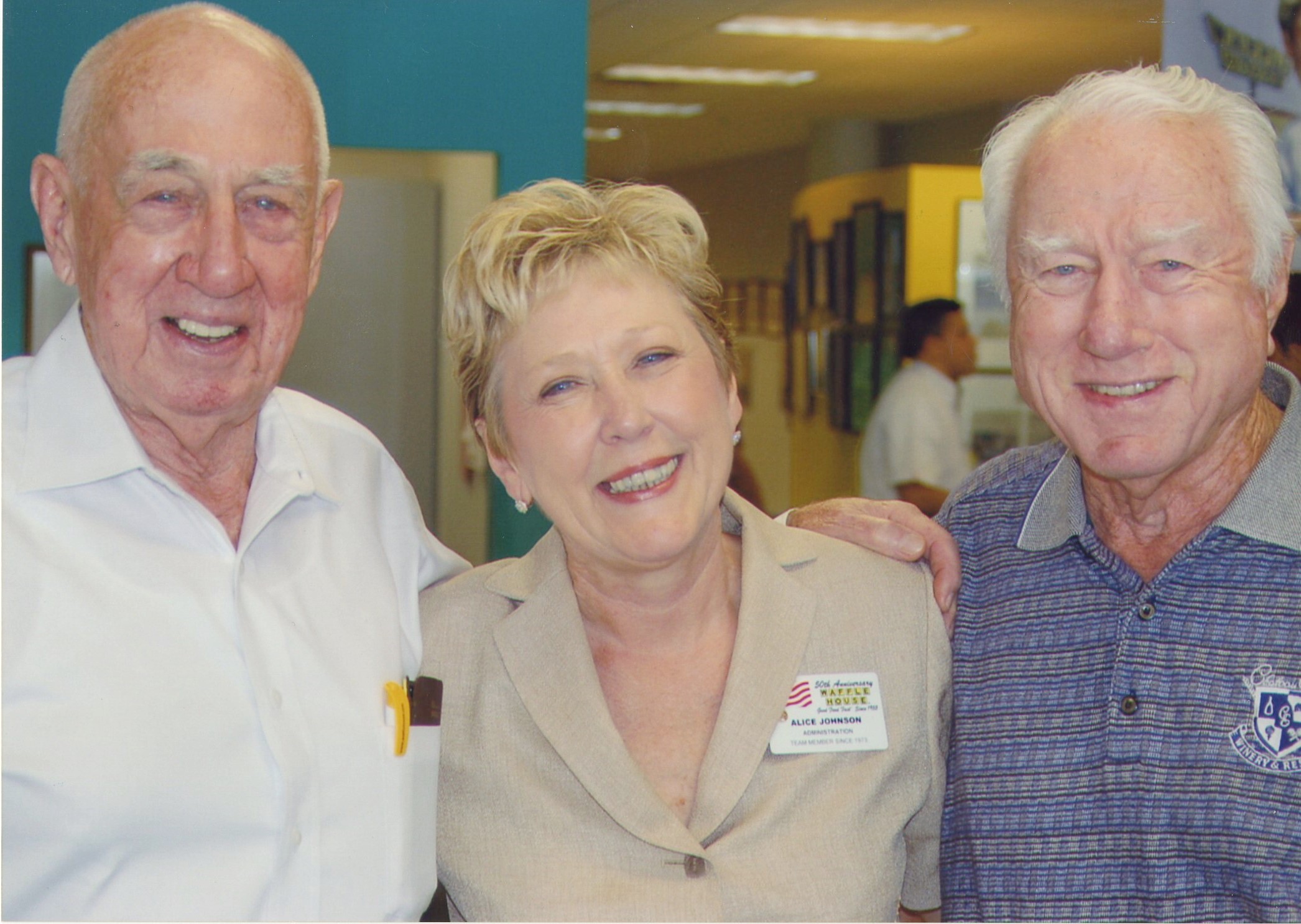 Some of the menu items are named after real people who worked there, like Bert's Chili and Alice's iced tea.