12 Great Global Whiskeys To Drink Right Now
Celebrate International Whiskey Day with these standout bottles.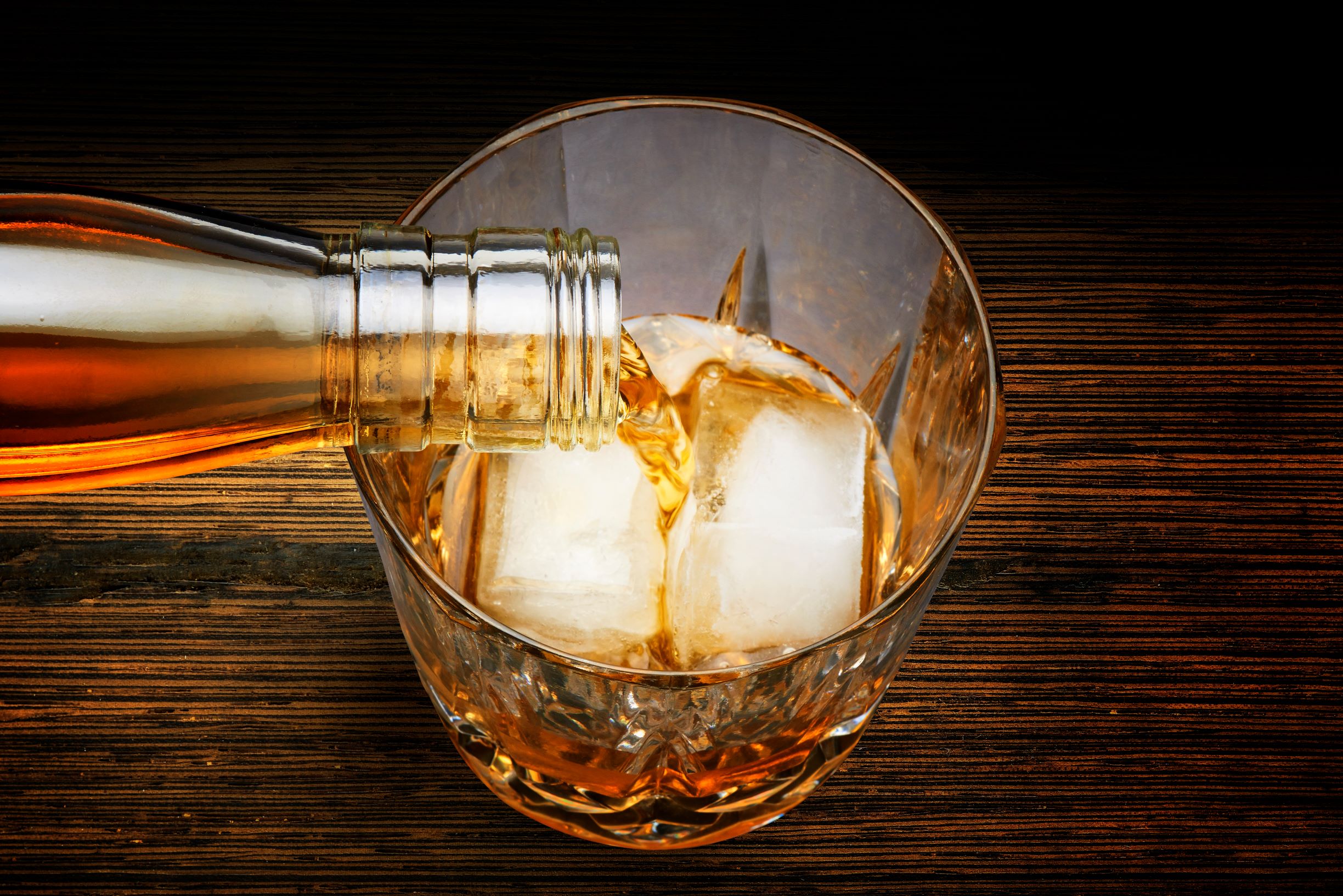 Friday, March 27 is International Whiskey Day, celebrating brown spirits from around the world. 
There are plenty of reasons to celebrate, with new offerings from the usual suspects – the U.S., Scotland, Ireland – as well as familiar classics and recently released expressions from Asia, Europe, and Canada. 
So go ahead and enjoy a dram, or two, or three this Wednesday night, or put together a flight of these essential whiskeys that will take you on a gustatory voyage around the world
America
Booker's Bourbon 2019-01 "Teresa's Batch"
The first Booker's release from 2019 is called Teresa's Batch, named after employee Teresa Wittemer who was hired by the legendary master distiller Booker Noe more than three decades ago. 
Wittemer helped Noe and his son Fred select the liquid that would become Booker's over the years, including this batch – she signed off on it and created the tasting notes. The bourbon is aged for six years, three months, and one day, and bottled at 125.9 proof (typical for this barrel-proof release). 
Now, I love Booker's, but the truth is that there are usually fairly small flavor variances that define each release. So in this case, look for classic notes of nuts, vanilla, and brown sugar, along with that instantly recognizable Booker's alcohol burst, and then get as creative as you'd like with your tasting notes. $80 
Cooper's Craft Barrel Reserve
https://www.instagram.com/p/BveHtJLlTOx
Brown-Forman's Cooper's Craft Bourbon was released in 2016 as an inexpensive but solid whiskey that you can use to make a decent cocktail without spending a boatload of money. Now the brand has a new whiskey out called Barrel Reserve. 
This bourbon ups the original 82.2 proof to 100, amplifying the flavor along the way. The gist of this release is that it's a celebration of the cooper's craft (hence, the name), so the whiskey is aged in specially "chiseled and charred" barrels for four to six years, according to the brand. 
The result is an unremarkable but enjoyable bourbon for your drinking pleasure. $30 
Bulleit Rye 12-Year-Old
Bulleit Rye is a staple at any bar worth its mettle nowadays. The brand is ubiquitous, and for good reason – both the bourbon and rye are affordable, satisfying options that helped introduce many new whiskey drinkers to the category. 
The newest member of the Bulleit family is this 12-year-old version of the classic 95 percent rye. Expect the signature spicy, fruity tingle on the palate that the original brings to the table, along with a deeper, vanilla and oaky undertone from those extra years spent inside a barrel. $50   
Scotland
Ardbeg Drum
The 2019 Ardbeg Day release (out June 1) is called Ardbeg Drum, which has a Caribbean influence not normally found in this favored smoky Islay single malt. With the concept of Carnival in mind, the whisky was aged in ex-bourbon casks before being finished in ex-rum barrels from the Caribbean. 
According to distillery manager Mickey Heads, this brings tropical flavors like banana and pineapple into the mix, which play well with the typically intense Ardbeg peatiness. The whisky is non-chill-filtered and bottled at 92 proof. $110 
BenRiach Sherry Wood Aged 12 Years
https://www.instagram.com/p/BvDK0VRHn0h
The latest addition to the BenRiach range is the new 12-year-old Sherry Wood, a single malt aged in sherry casks before being finished in both Pedro Ximenez and Oloroso sherry casks. 
This unassuming Speyside distillery makes some very good whisky that is gaining in popularity in the U.S., as it is now part of the Brown-Forman family (Woodford Reserve, Jack Daniel's, Slane Irish Whiskey). The Sherry Wood 12 is more subtle than the sherry bomb you might expect, with hints of chocolate, tropical fruit, and cherry syrup bubbling up with every sip. 
The Sherry Wood 12 will only be available in the U.S. until supplies run out, so grab a bottle while you can. $50 
Dewar's Double Double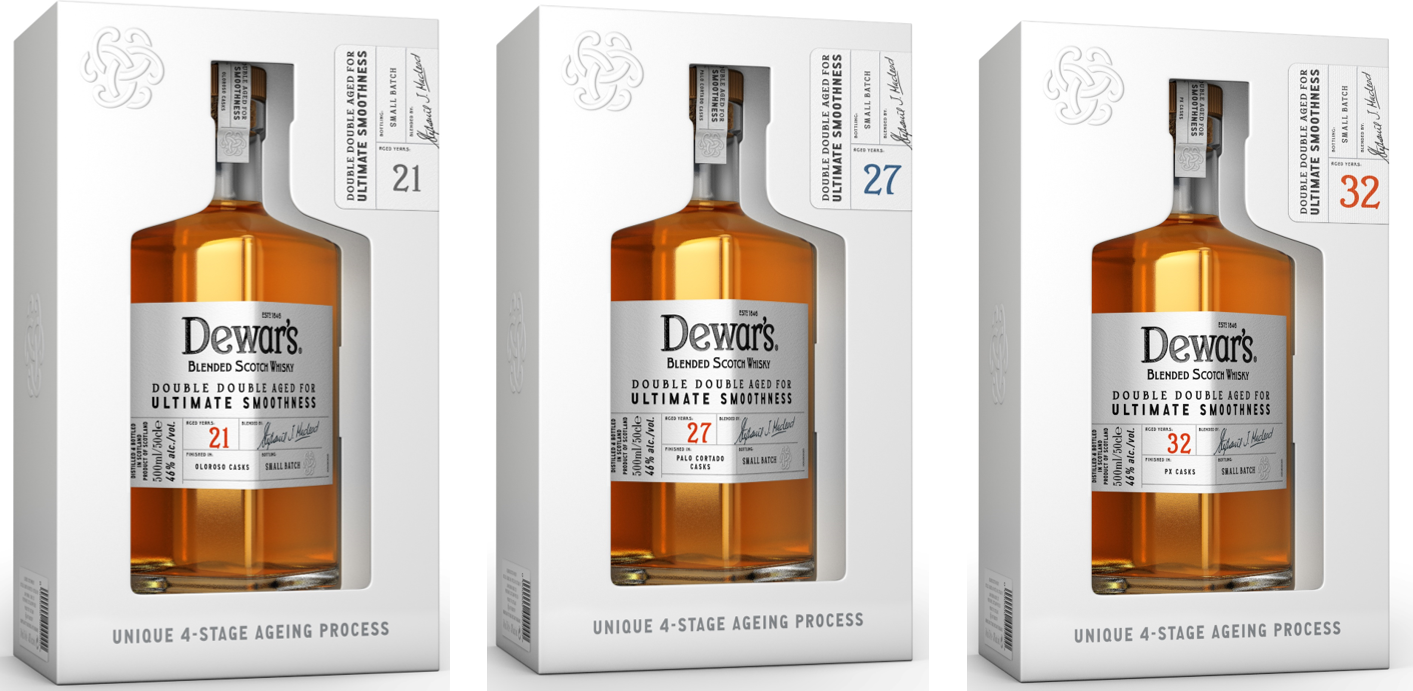 Blends remain the most popular category of scotch, and Dewar's continues to release new expressions to match the demand. The brand-new Dewar's Double Double is now available as three different age statements – 21, 27, and 32 – that go through a four-step aging process. 
Barrels of malt and grain whisky are matured separately, then they are blended by style and aged some more, then malt and grain are blended together and put into barrels, and finally they are finished in various sherry cask types. 
The 21 is finished in Oloroso, the 27 in Palo Cortado, and the 32 in Pedro Ximenez. Right now, Double Double is available only in Global Travel Retail shops, but a global expansion will be announced soon. $90 (21YO), $160 (27YO), $250 (32YO)

Japan
Meiyo Honor 17 Year Old Single Grain Whisky
https://www.instagram.com/p/Bu-NhzDloxJ
Japanese whisky is literally on everyone's lips these days, as the category has exploded in popularity over the past few years. So what's a whiskey drinker to do when bottles of Hakushu and Yamazaki 12 have disappeared from the shelves? 
Well, how about trying something completely new – even if it's a rice whisky, which will surely rankle a few folks. Meiyo Honor is a 17-year-old rice whisky aged in bourbon barrels that definitely does not taste like the shochu some people will undoubtedly compare this to. 
Go ahead, give it a try – even if the price tag is a little steep, this might be easier to find than any age statement bottle out there from Nikka or Suntory. $400
Ireland
Roe & Co Irish Whiskey
Looking for a new Irish whiskey? This one came out just after St. Patrick's Day, so you might not have read about it in all those Irish whiskey roundups that came out earlier this month. 
Roe & Co is a new Irish whiskey from Diageo that was created with the help of some of Dublin's best bartenders. This 90 proof blend of over 100 malt and grain whiskeys is a hell of a lot better than certain other recent similarly priced Irish offerings, with a nice balance of sweet and fruit on the palate. 
The whiskey, which is currently sourced, is named after Irish distiller George Roe. A new distillery is opening in the old Guinness Power House and will commence production later this year. $33 
Taiwan
Kavalan Distillery Select
Taiwan has become a whisky destination thanks to Kavalan, a distillery that keeps releasing well-received and award-winning bottles of single malt, often finished in a variety of casks. 
The newest member of the Kavalan family is Distillery Select, a no-age-statement release that is matured in "malt neutral casks" to highlight Taiwan's sub-tropical climate "without too much influence from the wood," according to master blender Ian Chang. 
Expect big fruit notes here from this whisky that is meant to be enjoyed neat, on the rocks, or mixed into a cocktail, from a simple highball to something a bit more complex. $60

France
Brenne French Single Malt Estate Cask
The French do a lot of things right when it comes to food and drink, and while some might not be aware of it, single malt whisky is no exception. Brenne is a grain-to-glass operation located in Cognac. 
The barley is harvested from the area surrounding the distillery, the whisky is distilled in copper alembic stills using a cognac yeast strain, and it's aged in new French Limousin oak and ex-cognac barrels. 
All of this results in a very light whisky that is still full of flavor. And each batch has its own unique characteristics, as all releases are single barrel expressions. $60 
Canada
Gooderham & Worts Four Grain Whisky
New to the U.S. market this April comes Gooderham & Worts' Four Grain Whisky. This Canadian whisky is part of the Corby Northern Border Collection, and is made from a blend of corn, wheat, barley, and rye whisky, all of which are distilled and aged separately before blending. 
The Gooderham & Worts name has been part of Canadian whisky distilling for nearly two centuries, and the whisky is currently produced at Hiram Walker and Sons in Windsor, Ontario. 
According to master blender Dr. Don Livermore, Four Grain is bottled at 44.4 ABV to highlight the characteristics of each grain used in the blend. $45 
Crown Royal Blender's Mash
Crown Royal ran into a little bit of controversy when they released a whiskey called Bourbon Mash last year. There was an uproar from American whiskey fans and the brand changed the name to Blender's Mash. But the product remains the same – the Canadian equivalent of "bourbon" (which can only be made in the U.S.). 
The whiskey is made from a mash bill of 64 percent corn, 32 percent rye, and four percent malted barley, kind of like a very high rye bourbon. Of course, it still has that creamy Canadian mouthfeel and soft flavor profile. 
Controversy aside, it's not a bad whiskey, and well worth it for bourbon fans to try side by side with the American product they know and love so well to compare. $30