13 Delicious Gin And Tonics to Try Right Now
Upgrade your G&T game with the best spins on this classic cocktail.
One of the reasons that the gin and tonic is such a universally appreciated cocktail is its innate and refreshing simplicity. Grab a bottle of gin and some tonic, plus a slice of lime, and you're good to go. 
Yet nowadays there's a massive array of gins showcasing different flavor profiles, and within the past few years there's also been a proliferation of unique tonics to choose from as well. That means it's time for some experimentation. 
When you're ready to change things up you can put the following combinations to use, with gins hailing from London, the U.S., Scotland and beyond, alongside all manners of tonics, garnishes and complementary flavors to consider.
1. Bluecoat Gin + Q Original Tonic
2 oz Bluecoat American Dry Gin

3-4 oz. Q Original Tonic

Garnish with orange twist

This is the All American Gin & Tonic from Bluecoat's founder Andrew Auwerda. He suggests the orange slice as opposed to the more typical lime to bring out the American sweet orange peel notes found in his gin. The choice of the Q tonic meanwhile offers a complementary American brand to his gin. The only thing more 'Merican than this G&T would be to visit the Liberty Bell with a cheesesteak in hand and then order one of these at the bar of Philadelphia Distilling's new jaw-dropping home in the city's emerging Fishtown neighborhood.
2. District Distilling Checkerbark Gin + Indi & Co. Tonic
2 oz. Checkerbark Gin

3 oz. Indi & Co. Tonic

Garnish with lime wheel and rosemary sprig

Matt Strickland uses a variety of different junipers in the creation of his lineup of gins at District Distilling. The end results then work well with different cocktails. "The Alligator Juniper in our Checkerbark Gin has a very savory and slightly vegetal character so I use it in small amounts to boost the complexity of the spirit," he explains. "And it's interesting when we discuss this stuff in relation to cocktails because these wild junipers really do change the type of cocktails the gins work best in. Those savory notes in our Checkerbark Gin pair really well with tonic and makes one of the best G&T's I've ever had."
3. Sipsmith Gin + Fever Tree tonic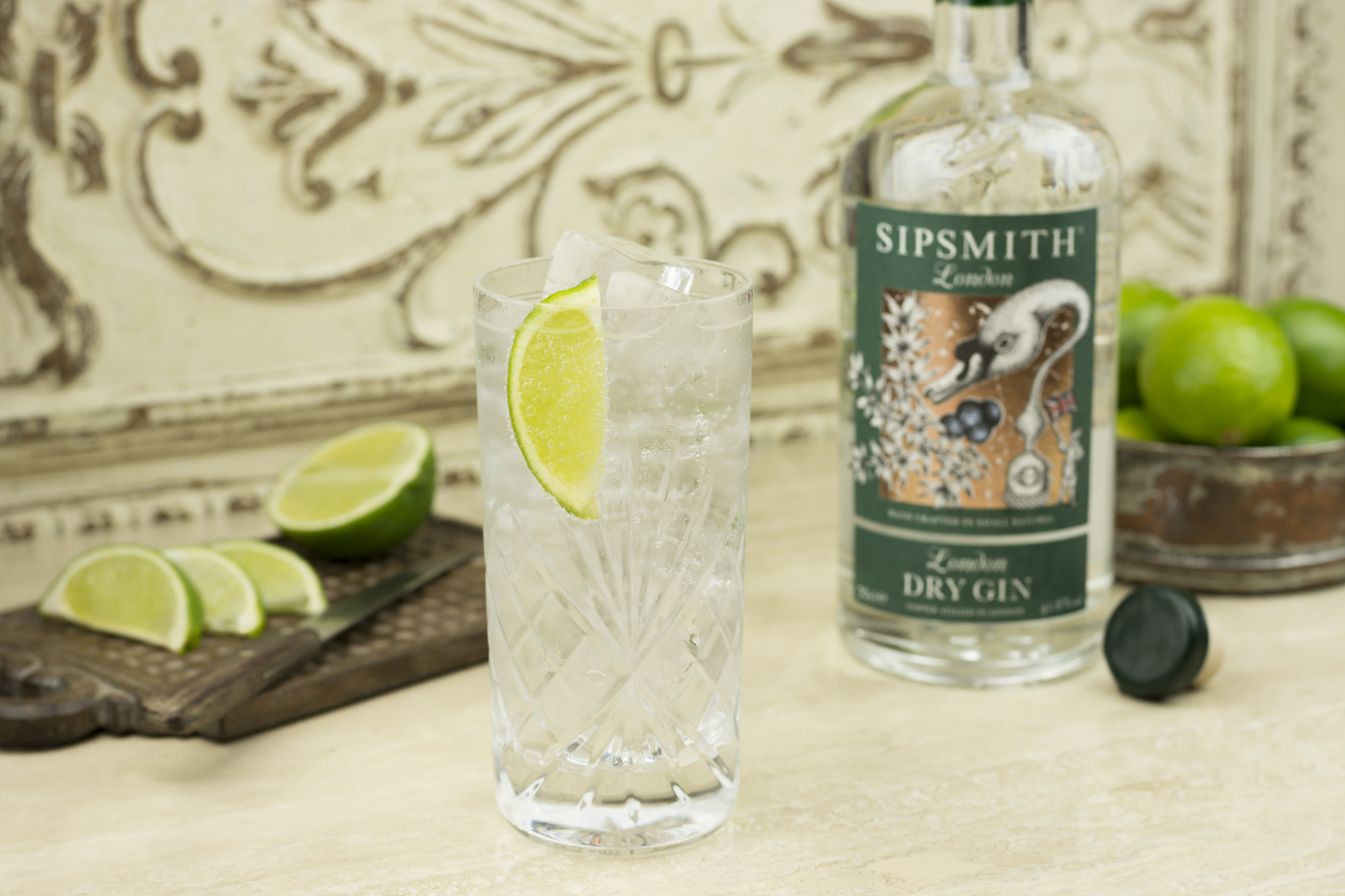 1.5 oz. Sipsmith Gin
Top with Fever Tree tonic
Your choice of garnish: Lime, star anise, vanilla pods, or frozen peaches
Jared Brown, master distiller of Sipsmith, likes to start simple with his G&T's. "The majority of London Dry gins have complex palates that feature a prominent array of citrus notes," Brown says. "We find that the addition of lime juice and zest beautifully balances this bouquet of flavors."
But from there, he may riff with the addition of one of several different garnishes, starting with star anise. "Not only is star anise an incredibly versatile spice, it works well in both sweet and savory contexts and has a bit of a menthol kick to it, but it's also one of the prettiest," Brown says. "Throw a few in your glass for a G&T that's pretty as a picture."
Another choice to consider is vanilla pods. "Save this one for a special occasion," Brown says. "Vanilla works well with gins that have luscious, buttery mouthfeels, and adds both sweetness and sophistication to a G&T." Or get festive with frozen peaches. "What about a garnish that also doubles as a cooling agent, and which won't lead to over-dilution? We love swapping out a bit of ice for frozen peach wedges in our summery G&T's."
4. Junipero Gin + Fever Tree Tonic
2 oz. Junipero Gin
4 oz. Fever Tree tonic
3 Tonic water ice cubes
Freeze tonic to create ice cubes, garnish with choice of rosemary, basil, lavender and edible flowers, in addition to a citrus twist
This Junipero Gin and Tonic fights off dilution by actually using tonic water in its ice. So no matter how leisurely you sip on your refreshing libation, it'll stay perfectly tasty. It's also a smart choice thanks to the robust qualities of the spirit itself, unfiltered and bottled at 98.6 proof (49.3% ABV). Junipero is, aptly enough, a juniper-forward gin, but still bright and fresh, and its 12 botanicals work well with herbal garnishes such as rosemary and basil.
5. Pomp & Whimsy Gin Liqueur + Q Original Tonic
1.5 oz No. 209 gin
.25 oz Pomp & Whimsy Gin Liqueur
.25 oz Giffard Pamplemousse Liqueur
2 oz. Q Original Tonic
Garnish with grapefruit peel rosette and sprig of lavender
Pomp & Whimsy is a unique gin liqueur that's begging to bring your old school G&T's to life. Flavored with ingredients such as grapefruit, lychee, lavender, and jasmine pearls, in addition to classic gin notes such as juniper, coriander, and angelica, this is a fruity and floral liqueur ideal for the warming weather. Try the above Pomplemousse and Tonic from Megan Daniel, bartender at San Francisco's gin palace, Whitechapel. "This gin and tonic highlights the botanicals with Pomp & Whimsy giving it extra floral notes, as well as some added grapefruit," she says. "Refreshing and bright, perfect for the season."
6. Conncullin Gin + Fever Tree Mediterranean Tonic
1.5 oz. Conncullin Gin

2 to 3 oz. Fever Tree Mediterranean Tonic

.25 oz simple syrup

3 thyme sprigs

Garnished with lime wedge. (Muddle the thyme with the simple syrup before shaking and straining

This Mediterranean Gin & Tonic appropriately matches Fever Tree's Mediterranean Tonic with Conncullin gin, adding more herbality with the addition of fresh thyme. "I paired the Conncullin gin with that tonic because it's very herbaceous, which pairs beautifully with the berry botanicals of the gin," says Katie M. Loeb, a Philadelphia-based mixologist. "The garnish is so you can smell the thyme as you raise the glass toward your nose. It's super refreshing and a burst of fresh springtime scents and flavors."
7. Damrak Gin + John's Premium Tonic Syrup
2 oz. Damrak Gin
5 oz. Soda water
3-4 dashes of John's Premium Tonic Tincture
2 dashes Angostura
2 dashes Bitter Truth Grapefruit Bitters
Garnished with 3 cucumber slices, 1 raspberry, 6 desert juniper berries, and edible desert flowers, and served in a large wine glass
The Ocotillo Spanish Gin & Tonic, served at the Ocotillo in Phoenix, comes from David Johnson. He stays true to Spanish style with the large serving, assorted garnishes and bright presentation of this G&T riff. "John's is an amazing concentrate made right in here in Phoenix," Johnson says. "The heavy dose of dry quinine is followed up by citrus notes that meld perfectly with the citrus notes in Damrak… This refreshing and bountiful beverage is luscious on the palate and fragrant for the nose. It gives a bit of our local 'valley of the sun' flair to an amazing gin like Damrak."
8. Hendrick's Gin + Q Original Tonic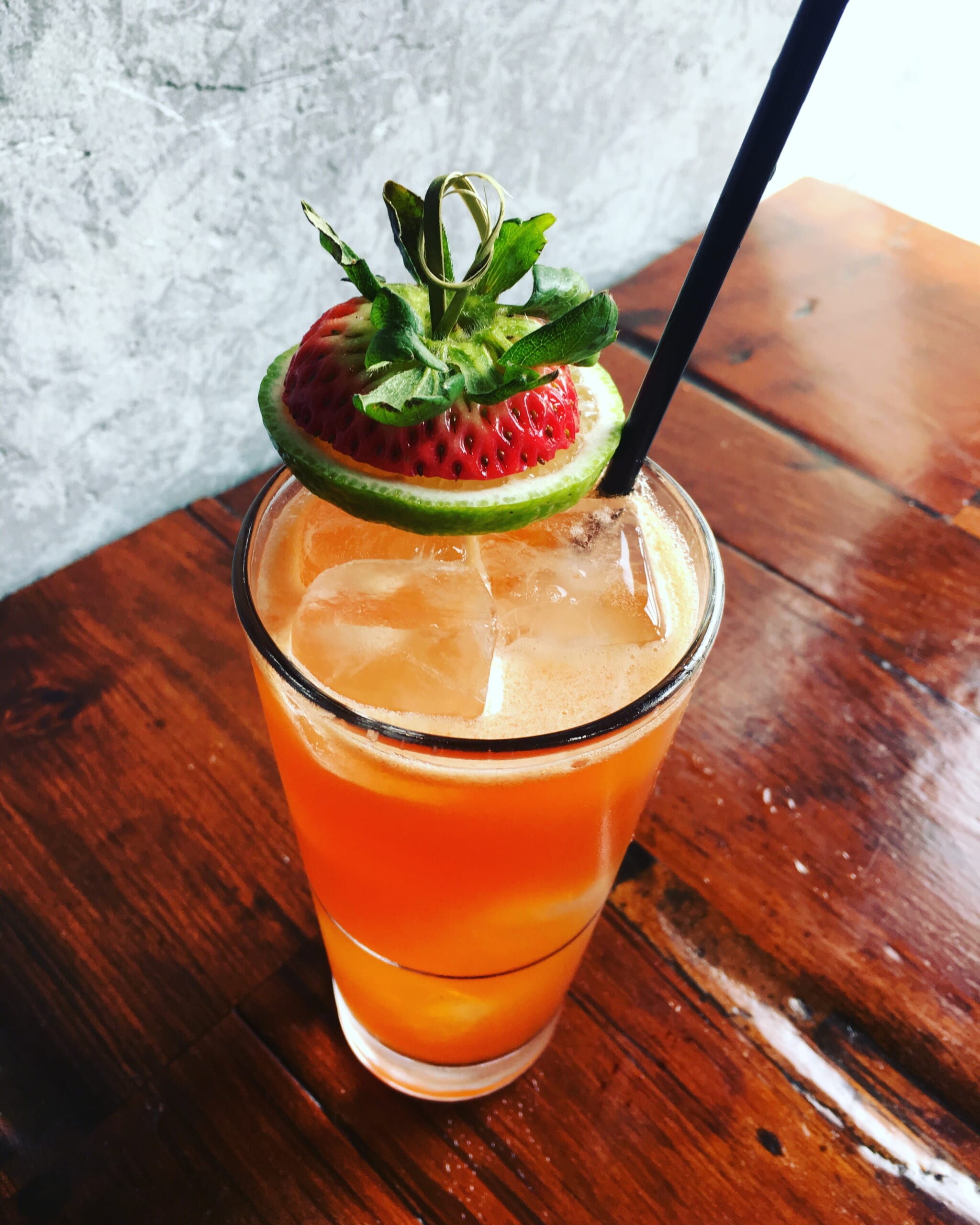 1 large muddled strawberry
.25 oz. lime juice
.25 oz. light agave
.25 oz. Zucca Rabarbaro
1 oz. Hendricks Gin
3 oz. Q Original Tonic
Garnished with cucumber
The Fresco G&T comes from Brynn Smith of Sotto in Los Angeles. "I am a huge fan of Q mixers and tonics so putting it with the cucumber and botanical forward Hendricks is a no brainer," Smith says. "The normal G&T is boring to me and I always crave a little added flavor but nothing too sweet or overpowering so that I don't feel like I am not having a G&T. Since it's spring now and summer is soon approaching I added some of my favorite flavors –strawberry and rhubarb–to liven this cocktail up."
9. Brooklyn Gin + Q Indian Tonic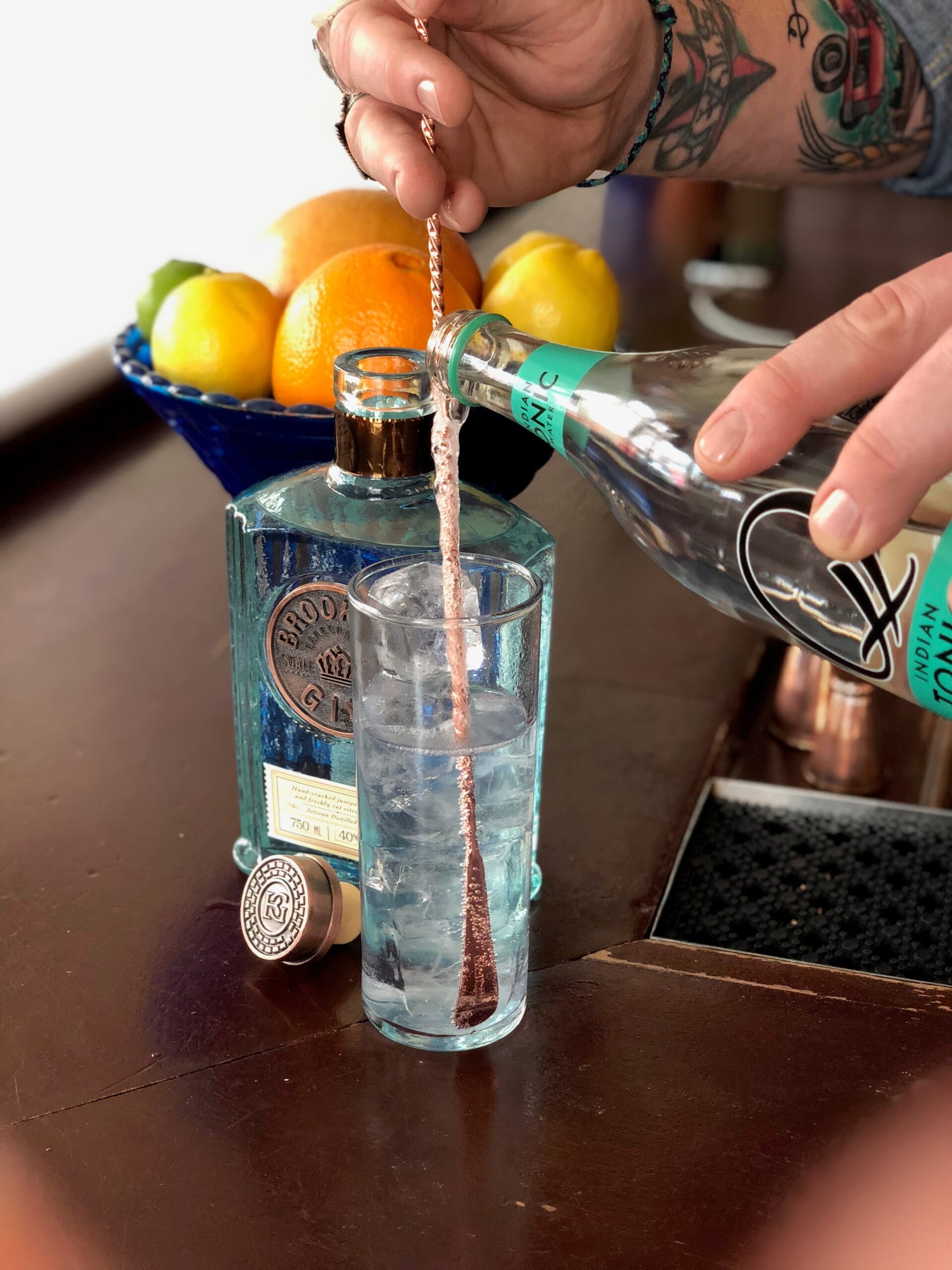 1.5 oz Brooklyn gin
Topped with Q Indian Tonic as desired
Garnish with citrus of choice
Damon Boelte from Brooklyn's Grand Army turns to a local favorite for a bright and citrusy G&T. "Brooklyn Gin is a handmade American gin produced with fresh citrus peels," he says. "Q Indian Tonic is dry, citrus forward, with vibrant bubbles so it's fresh-on-fresh perfection in a gin and tonic."
10. Bombay Sapphire + Fever Tree Lemon Tonic
2 oz. Bombay Sapphire Gin
1 oz. Martini & Rossi Rosso Sweet Vermouth
3 oz. Fever Free Lemon Tonic
Garnished with orange and lemon wedges, and served in copa de balon or large wine glass.
Sam Carter created the Gin & It Fizz using Bombay Sapphire while incorporating a touch of sweet vermouth in a nod to other classic cocktails. 
"In a nutshell, gin and vermouth are best mates, they always have been," Carter says. "Think about the original Martinez cocktail, the famous Dry Martini that James Bond enjoys so much, the delicious Negroni cocktail and this, the Gin & IT, meaning Gin and Italian Vermouth. The reason they go together so well is because they share many of the same botanical ingredients and are very mixable and versatile." 
"Our expression of a Gin & It is long and refreshing because it incorporates Lemon Tonic Water, or Bitter Lemon, making it essentially a modern riff on the classic G&T."
11. The Botanist Gin + Fever Tree Tonic
1.5 oz. The Botanist Gin
Fever Tree Tonic
1 Bosc Pear slice (preferred, or whatever is freshly available)
Garnished with a cinnamon quill
Dominic Alling of The Botanist Gin puts a pear to use as a unique fruity add-on in The Poached & Tonic. 
"The Botanist Gin features 22 locally foraged botanicals from the Scottish island of Islay in each bottle, making it ideal for experimenting with cocktails using fresh local ingredients, such as pear or cinnamon quill," he says. "The Poached & Tonic is a great example of a classic gin and tonic with a twist that infuses fresh, locally-sourced ingredients. And I like Fever Tree because of its simple and refreshing taste that perfectly complements The Botanist."
12. Beefeater Gin + Yeoman's Tonic Syrup
2 oz. Beefeater Gin
.5 oz. Yeoman Tonic Syrup
3 oz. Q Soda water
Shaun Cole of The Edmon in Hollywood uses a concentrated tonic syrup with soda water for the house Edmon G&T. 
"Yeoman Tonic Syrup from Small Hand Foods was created to pair with Beefeater London Dry and they did a masterful job in pairing the two," he explains. "Yeoman comes from the ceremonial guards at the Royal Palace and were originally called Yeoman Warders of Her Majesty's Royal Palace and Fortress the Tower of London which are popularly known as 'Beefeaters.' It's less bitter than a traditional tonic water and it boosts the citrus found in Beefeater, but the allotment of cinchona bark gives it its backbone and pronounced amber glow."
Cole further opts specifically for Q soda water due to its trace amounts of Himalayan salt, "which pulls out the flavor in spirits, similar to the way salt pulls out flavor in a steak."   
13. Bulldog Gin + Q Original Tonic
https://www.instagram.com/p/BhMu6rHjahU
2 oz. Bulldog Gin

Bottle of Q Original Tonic

Pour the gin over an ice ball, garnish with your choice of lemon peel, coriander, cassia, Marcona almond, and lavender

"Bulldog gin's botanical flavor from the Chinese lotus leaves, Turkish white poppy, and Chinese 'Dragon's Eye,' combined with the subtlety of Q Tonic, create a uniquely sweet approach on the classic G&T," says Daniel Marohnic mixologist for ARIA. "The floral and citrus notes really come to life with the addition of the garnishes."
Don't skip the ice ball, either. "For this, the quality of the presentation is as important as the ingredients."