15 Great Whiskeys To Try in 2018
Because you can never have enough good whiskey.
Left: Bruichladdich
Fall is usually prime whiskey season, with new releases being dropped seemingly every week from distilleries large and small. After the holidays, things often quiet down a bit, but this winter it seems like the momentum has not decreased very much. 
There are a slew of interesting recent and forthcoming releases in all brown spirits categories, from Irish to bourbon to single malt to rye. It's hard to keep up, so we've compiled this list of notable new whiskey bottles that you should start looking for now and in the coming months.
When it comes to cheap but dependable rye, there are really two options you should consider – Rittenhouse Rye from Heaven Hill, and Old Overholt from Beam Suntory. For some, Rittenhouse has had the edge over Old Overholt because it's bottled-in-bond, meaning it's 100 proof and aged for four years compared to Overholt's 80 proof and three-year age statement. But that's all about to change, with the brand-new release of Old Overholt Bonded Rye, a 100 proof, four-year-old product as mandated by the Bottled-in-Bond Act of 1897. This rye whiskey has all the spice and char that made the original such a favorite, but with a little more heat from the higher proof and extra time in the barrel. $25
2. Aberlour 16 Year Old Single Cask
Aberlour's new 16-year-old single cask whisky is an Illinois-exclusive release, but word from the distillery is that this could possibly be the first of more single cask releases in the future. So, if you live in or happen to visit Chicago or any other Illinois town with a good liquor store, look for this whisky aged for 16 years and 9 months exclusively in second fill bourbon casks (this is a bit different for Aberlour, which usually incorporates sherry casks into the mix). The whisky is non-chill-filtered and bottled at just under 100 proof. Look for notes of tropical fruits, vanilla, and honey – and write to Aberlour and tell them they should release some single cask whisky in your town next. $250
Glen Grant is a bit underappreciated here in the U.S., but this dependable single malt scotch has been making more of a push here over the past year or two. The flavor profile is a bit lighter than many of its competitors, making it easily drinkable and approachable while still being complex and flavorful. The latest release from the Speyside distillery is Glen Grant 15, newly available in America. It was aged exclusively in first-fill ex-bourbon barrels, it's not chill-filtered, and the palate is bright and citrusy with a little hint of dry spice on the finish. $77
Barrell Bourbon always seems to be working on something new, sourcing select bourbon, rye, and rum from noted distilleries around America and the world. The folks at the Barrell just finished blending their latest bourbon release, Batch 015, which is due out this March. It's 9.5 years old and bottled at 107.6 proof, with a low rye mash bill (the majority of barrels used for the blend were about 12 percent rye) using whiskey from Kentucky and Tennessee. Founder Joe Beatrice describes the palate as having notes of apple, nutmeg, and cardamom. $90
Glenmorangie's latest offering employed an almost unheard of practice in the malt whisky maturation process – this NAS single malt was aged exclusively in ex-rye whiskey casks imported from Kentucky instead of bourbon or sherry barrels. This is a first for the distillery, and it's the ninth entry in the Glenmorangie Private Edition series. Spios is Gaelic for "spice," which makes sense as the barrels impart some of the rye's spicy, peppery flavor into the smooth malt backbone. $100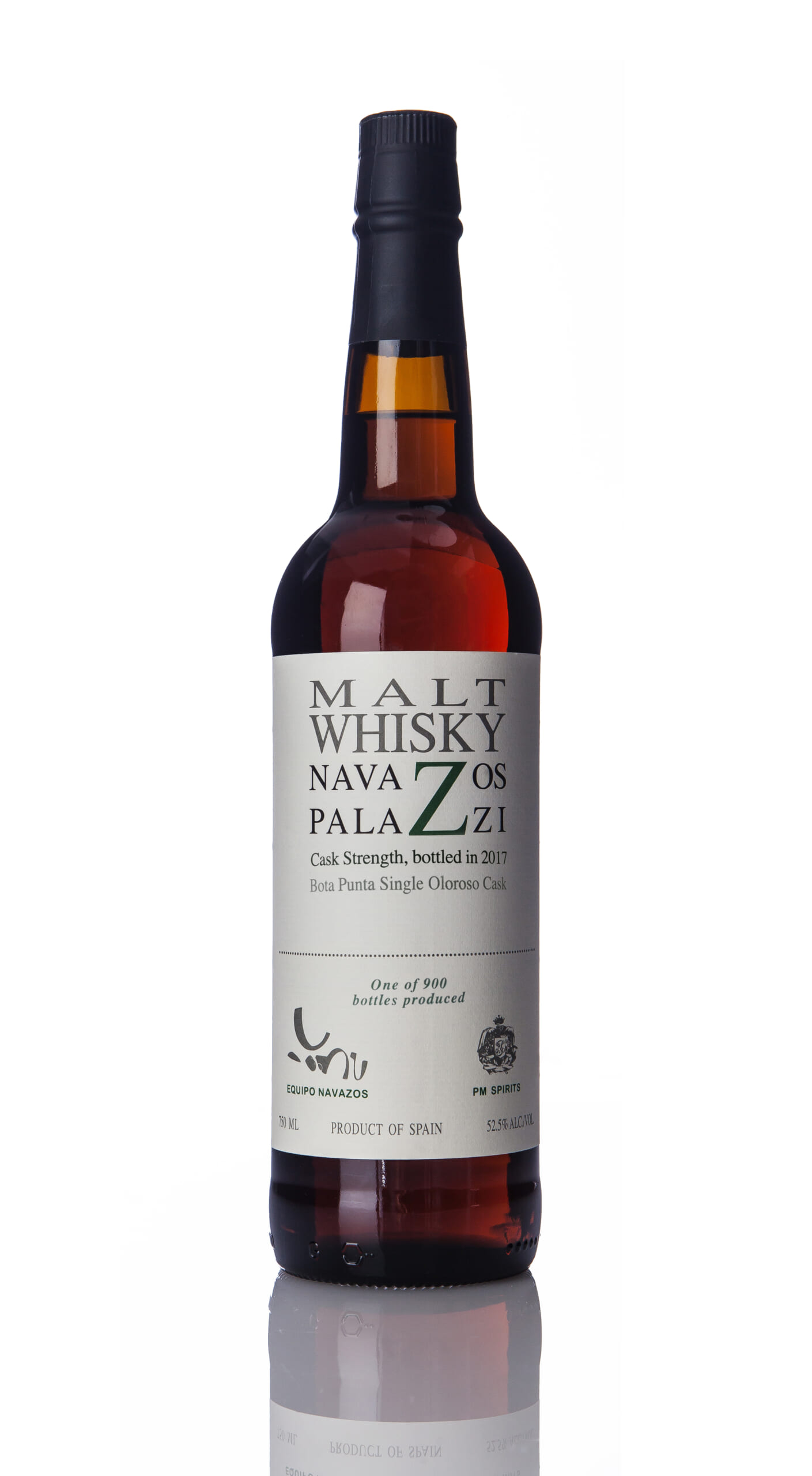 This whisky is the result of a partnership between Nicolas Palazzi, founder of Brooklyn-based PM Spirits (self-described "provider of geeky spirits"), and Spanish winery Equipo Navazos. Bota Punta was released at the very end of 2017. It's a ten-year-old malt whisky distilled in Spain from 100 percent Spanish barley and aged in Oloroso sherry casks. The name refers to the first cask in the bottom row of barrels in the solera aging system, which supposedly ages faster because of the amount of light and air it gets. This is a rich, creamy, sherry-forward malt whisky that would make a nice after dinner dram. $100
This is the fifth release of Bourye from Utah's High West Distillery, a blend of sourced bourbon and rye that tastes pretty damn good every year it comes out. The exact percentages are a secret, but the whiskey contains bourbon and rye that are at least ten years old that were sourced from MGP in Indiana – a whiskey factory that knows its shit. Blending these two whiskey types is still relatively uncommon, although some other brands are trying it now as well (see Redwood Empire American Whiskey, for example). This year's release comes out on February 3, and will hopefully have the same sweet and spice pairing that past bottlings have highlighted so well. $80
Bruichladdich is sort of the odd distillery out on Islay. It releases several non-peated whiskies, and it also produces some of the most heavily peated whiskies available (see the Octomore series and get ready to have your taste buds smoked out). This brand-new release is distilled from 100 percent organic Scottish barley, it's unpeated, and was aged for eight years in ex-bourbon and Tennessee whiskey barrels. There are only two other organic single malts available from Scotland at the moment – Benromach Organic and Deanston Organic 15 – putting this release in rather rare company. Can you taste the difference? Well, the power of suggestion can't be underestimated… but you should certainly feel good about drinking whisky that's also environmentally friendly. $100
9. The GlenDronach 24 Year Old Grandeur Batch 8
New from Highlands distillery The GlenDronach is the 24 Year Old Grandeur Batch 8. Whisky blender Rachel Barrie personally selected the liquid for this release from The GlenDronach's Oloroso sherry casks. The distillery has been around since 1826, but has been gaining more attention recently with its release of high-end whiskies (and acquisition by spirits juggernaut Brown-Forman) – The Kingsman Edition 1991 came out this fall as a tie-in with the movie Kingsman: The Golden Circle. Also, a 26-year-old bottle signed by Donald Trump sold at auction last year for about 6,000 pounds, so there's that. This is a rich sherry cask whisky that's described as having notes of fruitcake, raisin, and chocolate. $750
10. Laphroaig 10 Year Old Cask Strength Batch 9
Laphroaig is one of the most recognizable names in peaty, Islay single malt scotch. You can find a bottle of the classic ten-year-old at almost any bar that serves whiskey. So if you are a fan of the smoky, iron-infused, iodine-forward, and sometimes polarizing flavor of the classic 10, look for a bottle of the Cask Strength when it's released this February. It's filtered only to remove barrel char, and no water is added to cut the ABV. This means bottles will range somewhere between 114 and 117 proof, with huge bursts of smoke, oak, and vanilla. Adding a little water of your own to your dram would not be a bad idea. $70
The Dead Rabbit was voted World's Best Bar in 2016. Though it dropped to number five last year, the quality and variety of cocktails there are still some of the best. Now the Irish co-founders of The Dead Rabbit have teamed up with Liberties Distillery in Dublin to create The Dead Rabbit Irish Whiskey. It's a sourced blended whiskey aged for five years in bourbon casks before being finished in smaller virgin American oak barrels. The Dead Rabbit co-founders boast that their bar has one of the largest Irish whiskey collections in the country, so presumably they know a thing or two about their native spirit, which will be available starting February 12. $40
Tin Cup 10 is not bourbon. Instead, it's an American whiskey made from a mash bill of 2/3 corn, 1/3 rye, and a bit of malted barley. It was distilled at MGP in Indiana, aged for ten years and cut with Colorado water. And it's very good, with a long smooth finish, a nice pop of sweetness, and just a hint of dry spice. Colorado whiskey is a force to be reckoned with these days, as distilleries like Stranahan's and Leopold Bros. put out some interesting and tasty juice. Although Tin Cup is not actually distilled in Colorado for the most part (there is a little bit of Stranahan's blended into the core expression), the 10-yaer-old is a good bottle to keep on your shelf. $55
13. Jim Beam Distiller's Cut
This new offering from Jim Beam was released in the final months of 2017, and is the best new bourbon in the regular Jim Beam lineup since Bottled-in-Bond. The difference between this and Jim Beam White Label seems small, but it makes a big impact. Distiller's Cut is 100 proof (compared to White Label's 80), and it has not gone through the chill filtration process. Chill filtration is purely cosmetic, removing fatty acids that can make the whiskey look cloudy when it gets cold, but it also removes a little bit of flavor from the liquid. Distiller's Cut is like White Label dialed up to 11, with bigger, bolder flavors at about the same price point as the original. $23
14. Ballyhoo Irish Whiskey
This new Irish whiskey will arrive just in time for St. Patrick's Day this March. Ballyhoo is a four-year-old grain whiskey sourced by The Connacht Whiskey Company in County Mayo. The liquid, made from a mash bill of 93 percent French corn and 7 percent malted barley, was aged in bourbon casks before being finished in port barrels, giving it a slight reddish color and a bit of fruity sweetness. The Irish whiskey category continues to rapidly expand, and Connacht is taking advantage by sourcing and finishing whiskey for various releases while it waits for its own distillate to age until it's ready for bottling. $30
15. Booker's Batch 2018-01 "Kathleen's Batch"
Every year, several batches of Booker's are released. Each bottling of this beloved cask-strength member of the Jim Beam bourbon family is slightly different from the last. The liquid that goes into some releases is decided at a "Booker's Roundtable," and the first one of the year will take place on February 6 (full disclosure: I will be participating for the first time). Batch 2018-01 will be called Kathleen's Batch as a tribute to Kathleen DiBenedetto. She worked with former master distiller Booker Noe as the brand manager for the Small Batch Bourbon Collection back when it launched in the early '90s. This release is due out in March, and will hopefully meet the high standards of previous batches. $70