World's Most Expensive Bottle of Scotch Whisky Sells For $1.5 Million
That's nearly $90,000 per pour.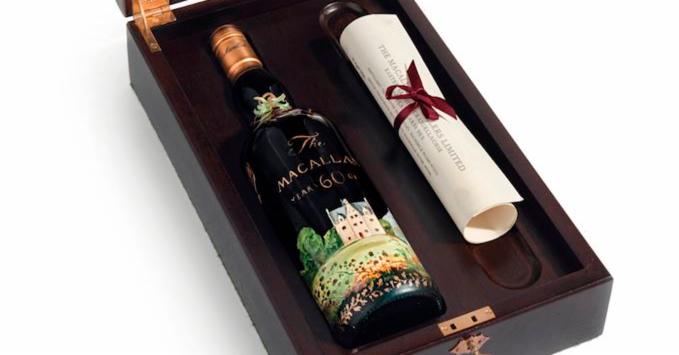 Christie's
Another 1926 Macallan has reset the world record for the world's most expensive bottle of of Scotch whisky ever sold. 
Christie's auction house announced that the ultra-rare spirit, which is contained in a unique bottle painted by Irish artist Michael Dillon, fetched a truly staggering $1.53 million at auction. 
Another Macallan expression of the same vintage set the record at $1.1 million just last month. 
CNN has further details on the coveted scotch's rich history: 
The Macallan 1926 60-Year-Old was bottled in 1986, having spent six decades maturing in ex-sherry casks at The Macallan distillery near the River Spey in north-east Scotland.

But while Blake and Adami each produced labels for 12 individually numbered bottles, Dillon hand-painted a single bottle, depicting Easter Elchies House at The Macallan distillery, against the backdrop of the Scottish Highlands.
This particular example hadn't been seen in nearly two decades. 
"The Macallan were unsure that this bottle still existed," said Tim Triptree, Christie's International Director of Wine. "It was last seen at Fortnum & Mason in London in 1999—and it is quite excited that the buyer has kept hold of it." 
Should the new owner decide to shirk their investment by popping the cork, they can expect a sip like no other. 
"It's going to be incredibly complex," Triptree said. "The flavors are going to be so concentrated, and it's going to have so many aromas, that each time you get to the glass I'm sure you would be smelling and tasting something different."
At nearly $90,000 per pour, it goddamn better be.