Behold, the 20 Coolest Beer Labels of All Time
How many of these badass brews have you tried?
Left: Rogue Ales
Though we're always told not to judge a book by its cover, we frequently do just that, particularly when we're stocking up on booze. The truth is that the right beer label can make or break the product, particularly at a time when the Brewers Association cites over 6,300 operational craft breweries in the country.
A select few beer labels have survived the decades to become iconic and instantly recognizable, and other newer entrants have already forged bulletproof brand images. Meanwhile, a growing number of beer labels appeal to one or another of our obsessions, from Star Wars to Sriracha, and others are just freaking cool to look at.

With that in mind, here's a lineup of 20 of the coolest beer labels of all time.
Delirium Tremens – Brewery Huyghe
The pink elephant of Delirium Tremens is known around the globe, standing out over its mysteriously opaque white bottle. Brewery Huyghe has ridden that pink elephant to global acclaim, and be forewarned, at 8.5% ABV the risk of pink elephants popping into your peripheral vision is legitimate. When you visit one of the worldwide Delirium Cafe locations, the beer list features color-coded elephants in terms of beer potency, with red being the strongest.
Stone IPA – Stone Brewing
Stone Brewing says that their now-famous gargoyle helps them ward off the "evil spirits" of beer, including cheap ingredients and chemical additives. Even if not, when I see the label, I know I want to do two things: find old clips of that Gargoyles cartoon show from the '90s, and grab a Stone IPA as my viewing companion.
Folklore – Stillwater Artisanal Ales
Brian Strumke bills his Stillwater Artisanal as "more of an art project/collective" than simply a brewery. Label art has been designed by tattoo artist Lee Verzosa, and Michael Van Hall's "The Committee on Opprobriations," with Folklore just one of many standout examples.
Funky Jewbelation – Shmaltz Brewing Company
He'Brew beers from Shmaltz Brewing, dubbed as "the chosen beer," offer an endless line of puns and creative shtick. There's a line of Star Trek beers, there's Pastrami Pilsner, and there are beers ranging from Genesis to Messiah. But perhaps Funky Jewbelation takes the (chocolate babka) cake. Just look at this psychedelic, afro-sporting dude. L'chaim, sucka.
Ganko Milk Stout & Tsuyoi Strong Ale – Ippon Matsu Beer
The 2011 tsunami wiped out an entire forest in the city of Rikuzentakata in Japan, save for one tree, which become a symbol of hope. "Ippon Matsu" translates to "one pine tree," and all of the limited edition beer's proceeds were donated to the city's recovery efforts. The minimalist design evokes that imagery, as well as Japan's traditional negative space heavy artwork, sometimes known as "Ma."
Guinness Extra Stout – Guinness
The Guinness label debuted in 1862 featuring three key elements: the harp symbol, the name, and the signature of Arthur Guinness. Those three elements remain to this day, while the overall look and feel of the original is intact as well. Classic, understated cool.
Hell or High Watermelon – 21st Amendment Brewery
Made in San Francisco, and believing in the principles of independence and innovation, Hell or High Watermelon showcases Lady Liberty lounging on the Golden Gate Bridge. The design is one of a dozen similar comic book style standouts paying homage to good ol' American ideals, from depictions of Mount Rushmore to FDR's fireside chats. In case you're stumped—the 21st amendment repealed Prohibition.
High Life – Miller Brewing
https://www.instagram.com/p/BX31cHKDCGF
High Life dates all the way back to 1903, and the Champagne of Beers tagline was born just years later, although originally touting High Life as "The Champagne of Bottle Beer." Whether you enjoy it ironically or not, the bottle label, as well as the separate can design, remain classic.
Imperial Stout Trooper – New England Brewing
Who isn't a sucker for Star Wars references? Imperial Stout Trooper from New England Brewing delivers on our thirst for all things from a galaxy far, far away. The label has evolved over the years, though, thanks in part to a cease and desist order being tossed in their direction with more accuracy than your typical storm trooper.
Lazersnake – 3 Floyds Brewing Co.
With popular beers such as Arctic Panzer Wolf, Permanent Funeral, and Space Station Middle Finger, 3 Floyds Brewing has the wild labels to match, veering from futuristic fever dreams to dark and disturbing in design. As one case in point, check out Lazersnake, with artist Phineas X. Jones and designer Zimmer-Design bringing the concept to life.
Mc Chouffe – Brewery Achouffe
If the cheerful Brasserie D'Achouffe gnome doesn't get you in the mood for beer drinking, then what will? (Maybe the brewery's accordion-laden, gnome-friendly theme music.) Beers include the unfiltered brown Belgian ale, Mc Chouffe.
Noa Pecan Mud – Omnipollo
Stockholm's Omnipollo, from Henok Fentie and Karl Grandin, showcases wacky, experimental recipes made at different breweries around the world. They "aim to change the perception of beer" and do so in part with Grandin's label artwork, ranging from minimalist to psychedelic daydreams. Scope out the full, odd assortment here.
Pink IPA – Brewdog
Brewdog has made no bones about their willingness to walk right up to the line of what they think they can get away with, or in some cases, erasing the line, running past where it was and refusing to look back. Sometimes though they get things just right. Consider Pink IPA, satirically dubbed "Beer for Girls," a limited run of their flagship Punk IPA which donated 20% of its profits to charities addressing the gender pay gap, while also being served to females at its pubs for 20% less.
Raging Bitch – Flying Dog Brewery
Ralph Steadman, the noted illustrator for Hunter S. Thompson's works, including "Fear and Loathing in Las Vegas," has created all of Flying Dog's labels since 1995. In turn, the brewery's most well known beer showcases its most recognizable label, with Steadman's nightmarish interpretation of the raging bitch.
Spruce Tip Stout – BC Craft Beer Collaboration
Five Vancouver breweries, all from the city's Brewery Creek District, teamed up for the creation of Spruce Tip Stout for BC Craft Beer Month in 2013. Brewed with foraged spruce tips, the beer featured a removable embroidered badge as a label, designed by St. Bernadine. If you own one of these patches you have a true merit badge for your Canadian craft beer devotion.
Sriracha Hot Stout Beer- Rogue Ales
Rogue has a history of eye-catching label design, from the sloth on Kulture Clash to many of their seemingly Communist propaganda-inspired labels. But it doesn't get better than the Sriracha Hot Stout Beer, made in partnership with the Huy Fong brand, and therefore mimicking the famous red rooster appearance.
Stella Artois – Stella Artois Brewery
Not only will you and all of your friends recognize the Stella Artois label, you'll recognize the beer's gold-rimmed glass chalice featuring the same design. Older iterations of Stella glassware in Belgium featured raised text and were so widely used that local devotees could pick up a glass with their eyes closed and know what they were holding.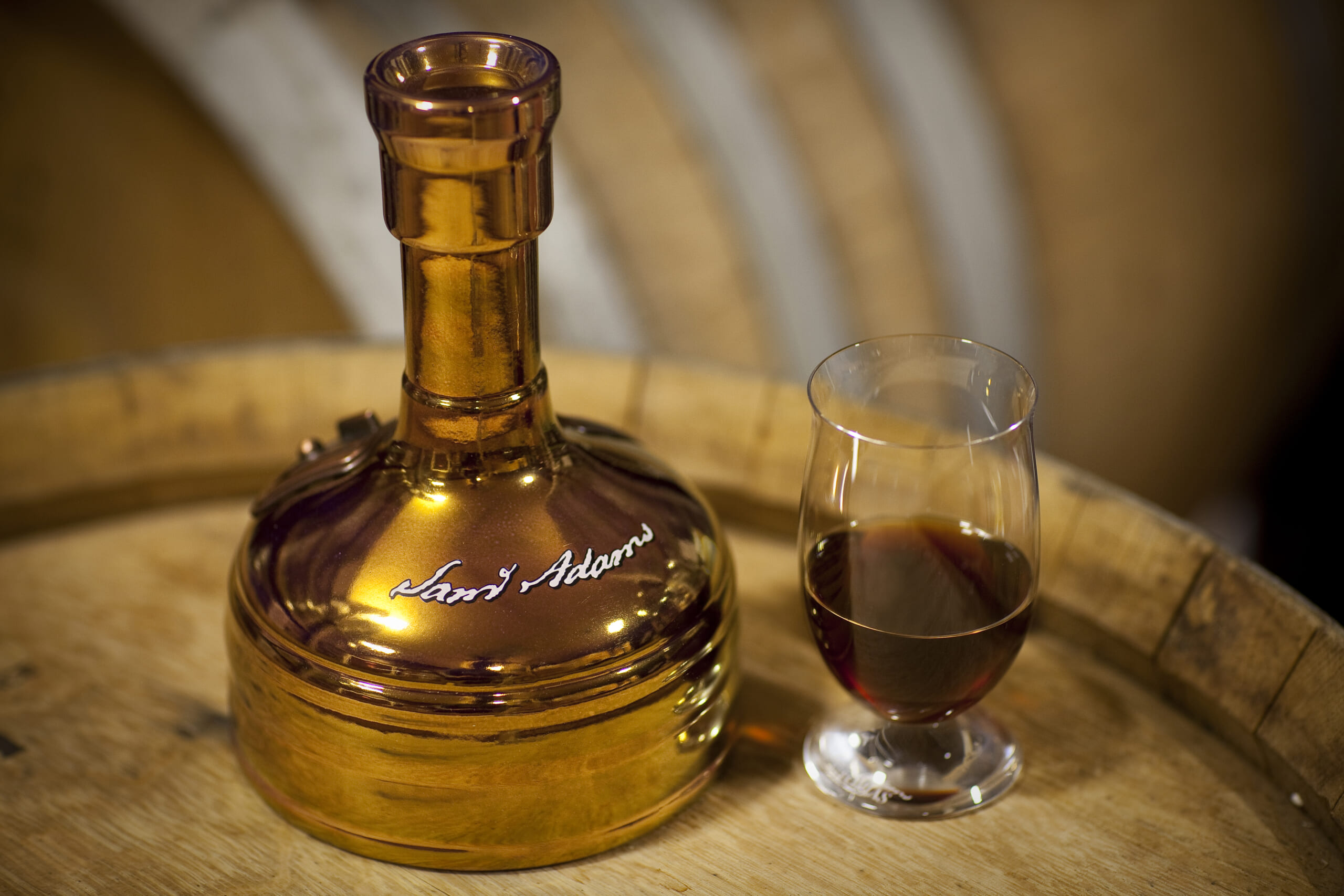 Utopias from Samuel Adams—infamously illegal in certain states—doesn't showcase a label as much as a top to bottom ceramic bottle makeover in the form of a copper brew kettle. The 2017 release was the 10th release of this extreme barrel-aged beer clocking in at a mind-melting 28% ABV, and matured in a smorgasbord of casks, including components aged for up to 24 years.
Vinyl – Magic Hat Brewing Company
Magic Hat has been dedicated to art since the brewery's debut in 1994—its brewery visitor center is dubbed The Artifactory, and features an Art Space showcasing local artists. The brewery is also proud of its Vermont roots, and therefore has even collaborated with Phish concert poster artist Jim Pollock, including for the label seen on Vinyl, a spring seasonal beer. 
Anchor Steam – Anchor Brewing
Fritz Maytag is one of the godfathers of American craft beer, and his Anchor Steam debuted in 1971 (some 100 years after the original brewery that became Anchor was founded, while the brewery cites the San Francisco heritage of this beer as dating to 1896). The new label from artist Jim Stitt is a refresh of the original, created by Bill Hyde, and has only morphed slightly over the decades.