The Best Ultra-Aged Scotch Whiskies to Drink Right Now
At 50 years old and up, these exquisite scotches will blow your mind.
Getty Images
When it comes to whiskey, there's an important truism that should not be forgotten: age doesn't necessarily equal quality. People often equate elevated age statements with increased flavor and stature, viewing it as a mark of "a very fine spirit that should be treated with great respect." 
We've all been there. When you see a 12-year-old single malt next to a 20-year-old, most of us probably just assume the older option is better. But that's not always the case, as there are many other factors that determine a whiskey's quality aside from age – casks used for maturation, types of stills, the climate it's aged in, etc. A four-year-old whiskey can be truly excellent, and a 25-year-old whiskey can taste like ash and bad breath.
There are, however, some very special (and very expensive) ultra-aged whiskies available these days that are delicious and worth a try… if you can actually afford them, as bottles often run into the tens of thousands of dollars. 
The fact of the matter is that whiskey aged for five decades or more can be overly oaky, and sometimes barely tastes like whiskey at all after so much time spent in a barrel. But in Scotland, where most of this extra-mature whiskey comes from, distilleries painstakingly watch over and sample select casks over many decades, ultimately releasing truly delicious expressions that are also exorbitantly expensive based on the limited quantities left after years of the angels taking their share.
"We sample every suitable cask, nosing each one until we have selected the casks with the most flavorsome nose and taste," says Kelsey McKechnie, the new apprentice to The Balvenie's long-tenured malt master David Stewart. 
At 25 years old, McKechnie is only half as old as The Balvenie's latest 50-year-old release, but the training and skill she has accumulated during her time working on various William Grant and Sons projects is evident in her work. 
"As the liquid ages, the intensity of the oak character deepens and naturally the spirit develops a lot more complexity," she says. "There isn't one specific flavor that we are looking for, so it's truly fascinating nosing and tasting each cask after 50 years of maturation." 
"The release of a cask of 50 years is very rare and only happens when we have identified a suitable cask that is capable of maturing to this milestone," McKechnie added. 
Sometimes a cask that is meant to be bottled after a few decades just tastes like it's going to be something special, and the distillery decides to let it continue aging (monitoring it closely all the while). According to Macallan brand education and prestige manager Nicolas Villalon, that was the case with the distillery's 50-year-old. 
"The one cask that makes up this expression is extraordinary in the sense that it was initially intended to be bottled at 30 years old," he says. 
"Upon revisiting the cask sample at time of bottling, our whisky making team decided that this exceptional liquid could mature further and develop even more incredible complexity. As it turns out, they were right and the whisky was able to develop over an extra two decades to reach its peak maturity."
In whiskey making, as in life, patience is definitely a virtue. Reap the rewards with these five half-century-old (or older) whiskies that you can try now.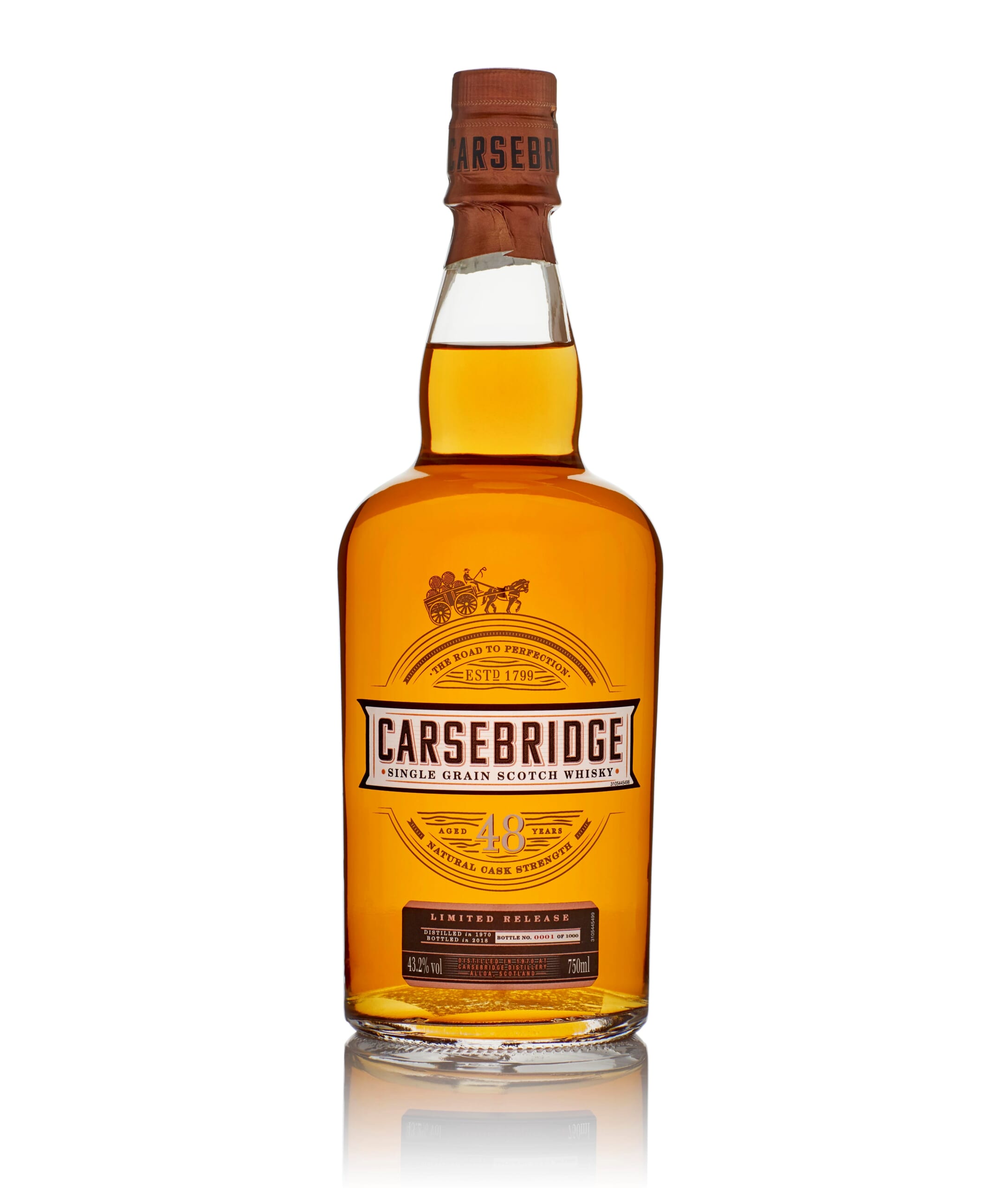 The entire lineup of this year's Diageo Special Releases is pretty spectacular, but one of the surprises of the bunch has to be this single grain whisky from the long defunct Carsebridge distillery. 
At 48 years old, it's not quite at the half-century mark, but close enough. The whisky was distilled in 1970, matured in refill American oak hogshead casks, and bottled at 43.2 percent ABV. This liquid has been used as a key blending component for Diageo scotches for years, but it really shines on its own with notes of fruit, vanilla, and black pepper. 1,000 bottles are available. ($988)
Only 274 bottles of this Highland Park single malt are available around the world, with 77 reaching the U.S. The liquid comes from two sherry-seasoned hogshead casks that were filled back in 1964. 
The distillery team claims to have come across the casks in 2008 at the back of a warehouse, and was astonished by the quality of the whisky after half a century quietly aging in the far north of Scotland. The casks were brought separately to Glasgow where they were married and aged for an additional eight years, resulting in a 42.5 percent ABV whisky with notes of black cherry, fried fruit, and a deep ruby color. ($15,000) 
This new half-century-old release from The Balvenie (there have been several others over the years) is named in honor of the year malt master David Stewart started working at the distillery – September of 1962. 
The whisky comes from four American oak casks and was bottled at 41.6 percent ABV. Apparently, the angels took more than their fair share, as there are only 110 bottles of this whisky available. The bottle comes in a wooden tube made of 50 layers, 48 from walnut and two from brass, created by wood craftsman Sam Chinnery. Expect notes of toffee, ginger, and brown sugar. ($38,000) 
This whisky is the oldest ever released by The Macallan, a distillery known for releasing luxury whiskies upwards of half a century old. For example, The Macallan 50 was recently made available, and The Macallan 1926 (a 60-year-old whisky originally released in 1986) is set to go to auction this month and may smash whisky sale records. 
The 72-year-old was distilled in the 1940s, and is full of strong notes of oak and fruit with a slight undercurrent of peat that was used in production at the time. There are 600 of these beautiful Lalique crystal decanters available, 156 of which will reach the U.S. ($65,000—Email inquiries.us@themacallan.com to inquire about purchasing) 
Bowmore is an Islay distillery that has released several ultra-aged whiskies over the past few years as part of the Vaults Legends Collection. The most recent of these came out last year, a 50-year-old whisky that spent its life aging in Bowmore's No. 1 Vaults. 
74 very rare and very expensive bottles came from this single cask, resulting in an oaky, complex whisky filled with tropical fruit notes and traces of smoke. ($65,000)