6 Refreshing Twists on the Italian Aperitivo, the Ultimate Summertime Cocktail
Mix up these light, delicious drinks at your next backyard barbecue.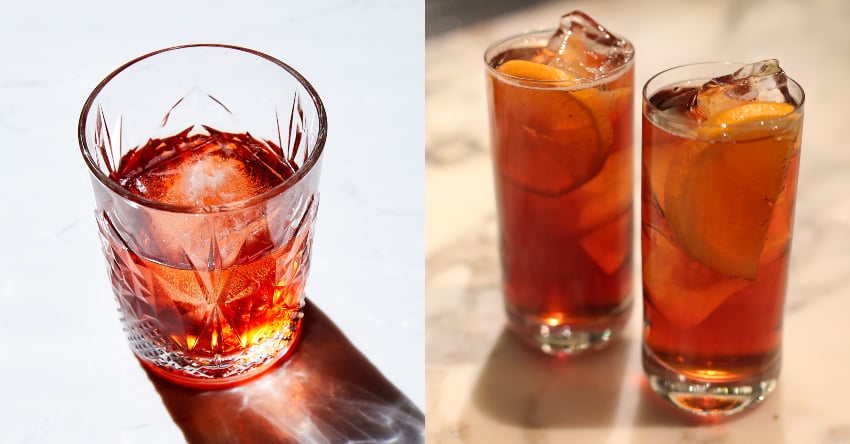 Courtesy
Aperitivo culture has caught fire across the country, and for good reason: The drinks are delicious, meant to be shared in good company, and they are "sessionable"—meaning you can drink a bunch of them over long periods of time and not be falling out of your chair. 
"Aperitivi [plural for Aperitivo] are super low-ABV (alcohol by volume), so I think that the realization that you can crush a bunch of these refreshing drinks and still be conscious for dinner and your night out is pretty appealing," says Brady Sprouse, bar manager at Barnacle—an amaro/bitter-focused bar in Seattle.
An Aperitivo bitter is typically defined by its bright red or orange hue, are traditionally drunk before dinner as a way to stimulate appetite, and are more often mixed with other ingredients—like sparkling wine, or vermouth, or both—rather than drunk on their own. (Campari and Soda, and the Aperol Spritz are two of the most popular in this drink style.) 
While you will begin to find more of these cocktails at watering holes across the country, we sourced some of the most noteworthy Aperitivo recipes from top bars that are easy to make, and are perfect to help you wind-down from your day, and lift you up for the night ahead. (Note: Some Vermouths and Aperitivi can be substituted with other brands that are more accessible in your region.)
Fiore Americano by Pete Stanton (Bar Fiori at The Langham, New York)
"This is a more floral version of the classic Americano with darker undertones of baking spices and burnt citrus. It's geared toward the guest seeking something more dry and bitter."–Pete Stanton, head bartender at Bar Fiori.
1.5 oz Forthave "Red" Aperitivo
1 oz Berto Rosso Vermouth
.75 oz Gancia Americano Aperitivo
Top with club soda or seltzer
Build Vermouth and Aperitivi in a highball glass; fill with ice and top with club soda, then garnish with a clementine (or orange) wheel.
Andante by Nathan Elliott (Il Solito, Portland, OR)
"This cocktail embodies the concept of aperitivo culture, which is ultimately to slow down and enjoy the moment. Andante means 'at a moderately slow tempo,' which is how I would like to see this cocktail consumed. It's soft, bitter and subtly sweet with beautiful aromatics."–Nathan Elliott, head bartender at Il Solito PDX.
1 oz Gin
.75 oz Aperol
.75 oz Calisaya
.5 oz Cocchi Americano
Add ingredients to a mixing glass with ice, stir until chilled, then strain into a double old fashioned over a large rock. Express orange peel and discard for garnish.
Second Holiday by Christine Kang (Lemon's at The Wythe Hotel, Brooklyn, NY)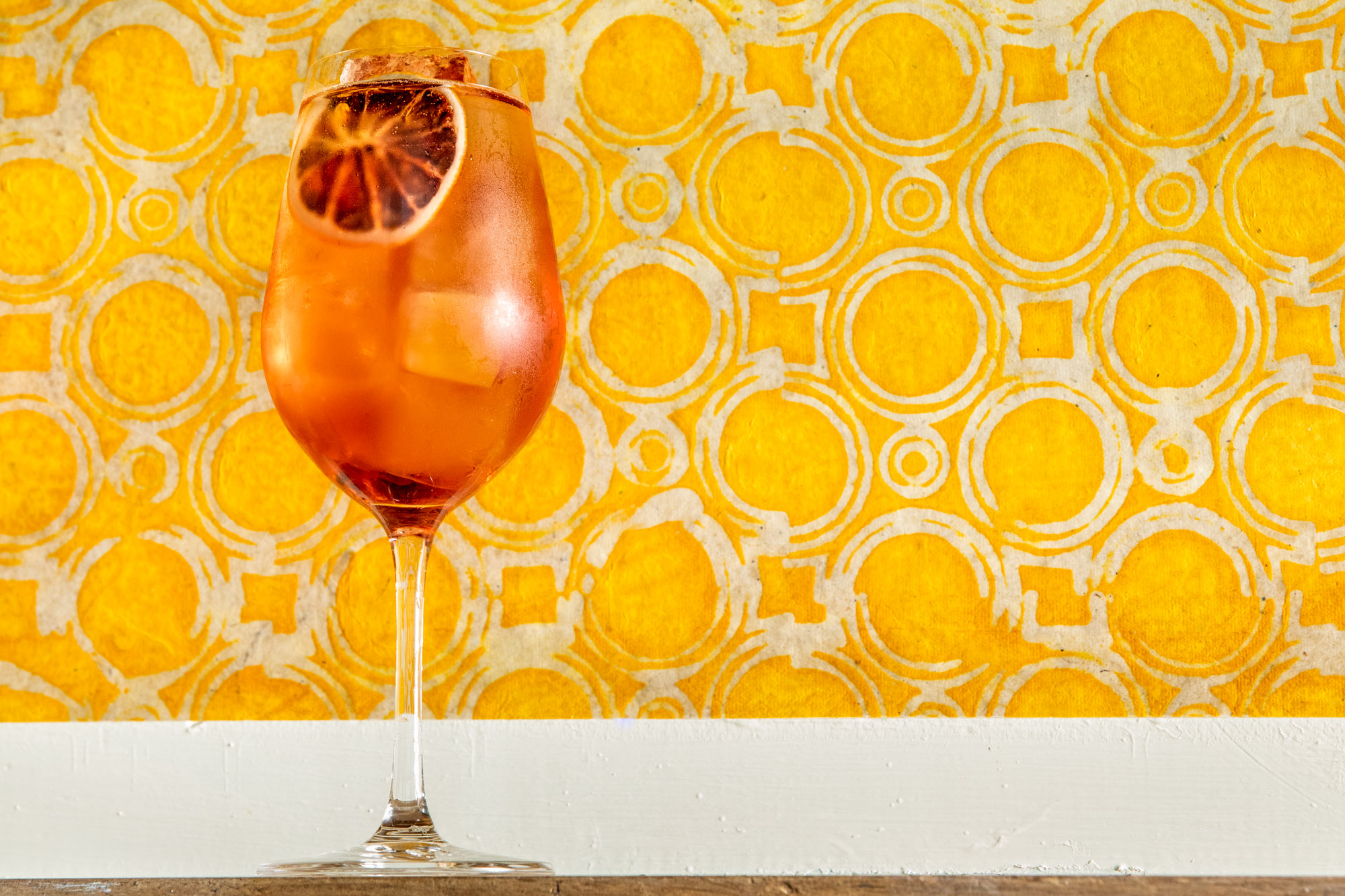 "The light citrus notes of the grapefruit oleo and the Italicus play off of each other and bolster the hint of peach in the cocktail. Meanwhile, the vermouth, Italicus, and pineau de charentes form the base of the drink, while the Tonic plays off the grapefruit, vermouth, and Italicus, bringing a quenching, slightly bitter dryness to the finish, essentially making it a fortified wine, aperitif-style spritz."–Jim Kearns, bar consultant at Lemon's.
.5 oz Sweet vermouth
.5 oz Italicus
.75 oz Pineau de charentes
1 oz Lemon
.25 Grapefruit oleo
.25 Creme de peche
Add ingredients to a shaker; shake, then strain into a wine glass and topped with tonic. Garnish with a lemon wheel.
Golden Sbagliato by Naren Young (Dante, New York)
"This is one of the best and most famous riffs on the Negroni…[it] is utterly delicious and fits in perfectly with our concept. We add a tiny bit of Italicus liqueur to ours which adds a floral citrus kick from the bergamot and also some edible gold which makes for a mesmerizing presentation."–Naren Young, creative director at Dante.
1 oz Cappelletti Aperitivo Americano Rosso
1 oz Cinzano 1757 Rosso Vermouth
.25 oz Italicus Rosolio di Bergamotto
Topped with Prosecco
1 barspoon edible gold flakes (optional)
Add the Cappelletti, vermouth, Italicus to a small wine glass filled with ice. Top with prosecco, and garnish with an orange wedge.
The Venetian Spritz (Cecconi's DUMBO, Brooklyn, NY)
"It [Select] is recognized as the classic Venetian aperitif and the essential ingredient in the Venetian Spritz…Traditionally consumed as an aperitif, it's the ultimate go-to summertime libation."–Alex Smith, bar manager, Cecconi's DUMBO
3 oz Prosecco
2 oz Select Aperitivo
Splash of soda water
Add Select Aperitivo to wine glass, then add ice; top with prosecco, and soda water, then garnish with a large green olive.
The Fixx by Brady Sprouse (Barnacle, Seattle, WA)
"For The Fixx we chose to go a little on the bitter side with a 50/50 blend of Campari and Rinomato Americano Bianco to highlight the light, bitter and vegetal notes of the gentian that is featured prominently in the in both."–Brady Sprouse, bar manager at Barnacle.
1 oz Campari
1 oz Rinomato Americano Bianco
Topped with 1oz soda and 3 oz dry lambrusco (sparkling wine)
Build Campari and Rinomato in glass; add ice; top with soda and sparkling wine, then garnish with an expressed orange twist.