The Best Bars in the World to Visit Before You Die
Bucket list alert.
When it comes to the best bar in the world, your guess is as good as mine. The "best" bar on the planet is a maddeningly ephemeral concept that lies entirely in the eye of the imbiber. It's not so much about the cocktails, the crowd, the decor, and the vibe as it is about the unique magic and memories that are created for each bargoer.
So, for example, even though Seattle's Tiki-chic Navy Strength was recently crowned America's best new cocktail bar at the highly-esteemed Tales of the Cocktail conference, there's no guarantee it's the very best watering hole in the land, like, right now. Simply because you or I might prefer to be somewhere else.
Having said that, let's still raise a glass to those tasked with crafting definitive lists of the world's top swilleries, like in the new book, 150 Bars You Need to Visit Before You Die. It focuses on striking visuals and exotic locales ("from Hong Kong to New York, from Singapore to London") as much as it does cocktail geekery and boozy history. 
The coffee table tome's lavish photography will likely inspire a little wanderlust in globe-trotting tipplers everywhere. Plus, there are 18 cocktail recipes inside that you can make at home, should you decide to not even leave the living room. 
Here, 10 bars spotlighted in the book, along with blurbs from author Jurgen Lijcops about what makes each uniquely appealing:
The Alchemist, London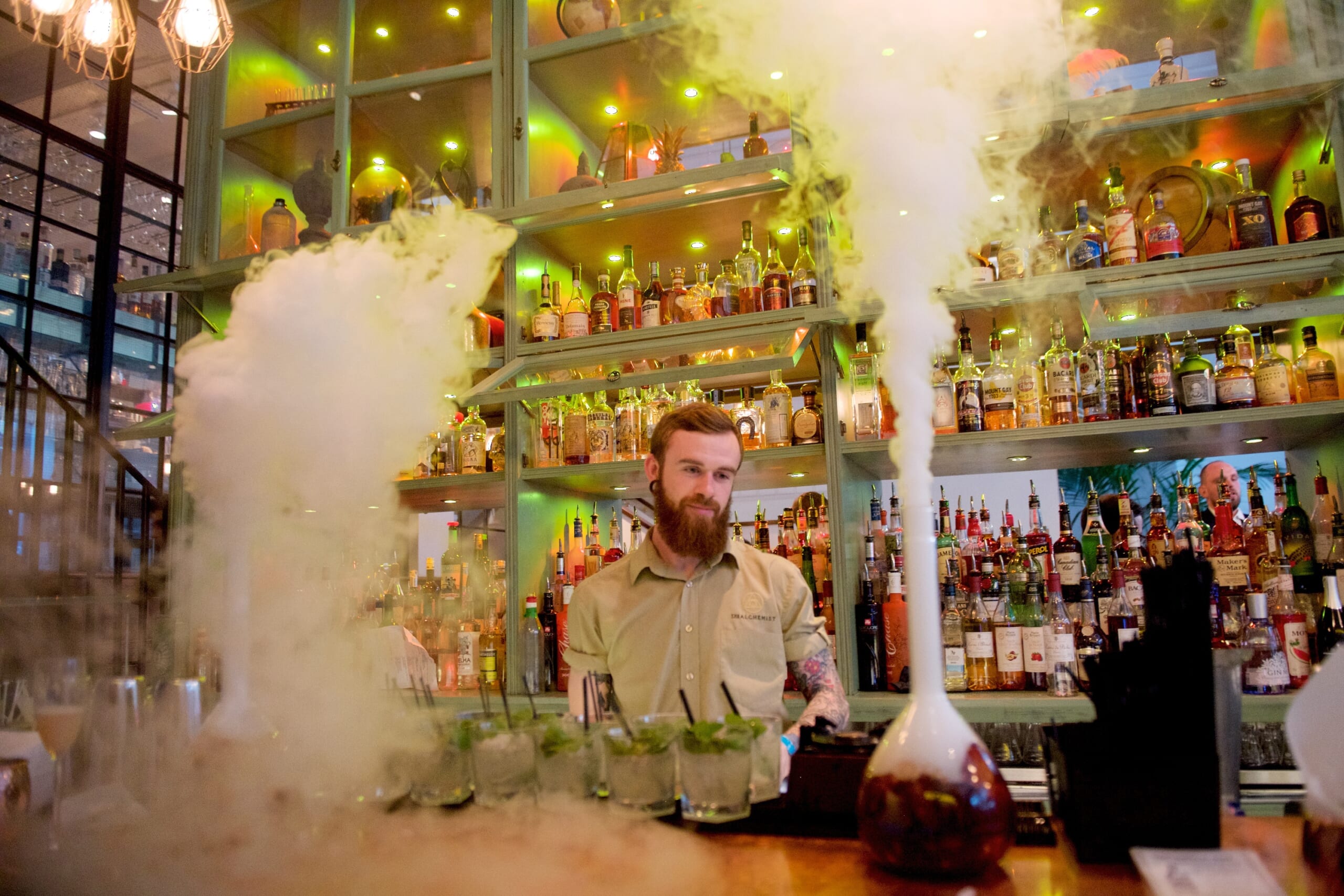 The Alchemist in London is a "link" in an inventive cocktail chain that has several venues in the United Kingdom. The bar's name refers to its use of molecular mixology. The Alchemist is located in the heart of London, a stone's throw from 30 St Mary Axe, known as the Gherkin.

Its light-filled interior is modern and the cocktail menu very diverse, ranging from classics like the mojito to house-made drinks that spark the imagination. The Alchemist is proud of how it works magic with ingredients, often surprising and confusing tipplers. Rare ingredients, chemical reactions, cocktails served in refillable hip flasks … anything goes. They also teach master classes, and their restaurant serves excellent food. 
Bar Raval, Toronto
El Raval, a neighbourhood in Barcelona that is renowned for its nightlife and cabaret, is a cultural melting pot with a vibrant atmosphere, just like Bar Raval in Toronto. Enter here and you will feel like you have been transported to a typical Spanish tapas bar, with various small dishes lining the counter. The tapas are best accompanied with the perfectly paired vermouth-and sherry-based drinks that make up most of the well-thought-out drinks list.

You also have the unusual option of choosing 'low-octane' cocktails; that is, cocktails low in alcohol. Alternatively, may we suggest the surprising 'Canyonero' agave cocktail with its Siete Misterios Doba-Yej mezcal, Los Altos Plata Blanco, RinQuinQuin à la Pêche, lime, agave and Angostura bitters
Dante, New York City
Dante is an iconic bar. It opened its doors in 1915 and has been a favorite with celebrities and artistic souls ever since. The walls are lined with pictures of Patti Smith, Ernest Hemingway, Robert Mapplethorpe, Bob Dylan and Al Pacino, all of whom have at some point consumed cocktails at Dante. While this world-famous establishment has received a makeover, the past has been preserved with respect. 
Dante is especially known for its negroni and the many variations on this classic drink's original recipe. In fact, the original negroni with gin, vermouth and Campari is dispensed on tap, as is vermouth. The menu is also graced with seasonal cocktails made with fresh fruit, juices, vegetables and herbs. But the evening starter or night closer for many fans is the temptingly simple and lovingly presented 'Garibaldi', with its fresh orange juice and Campari.
Untitled Supper Club, Chicago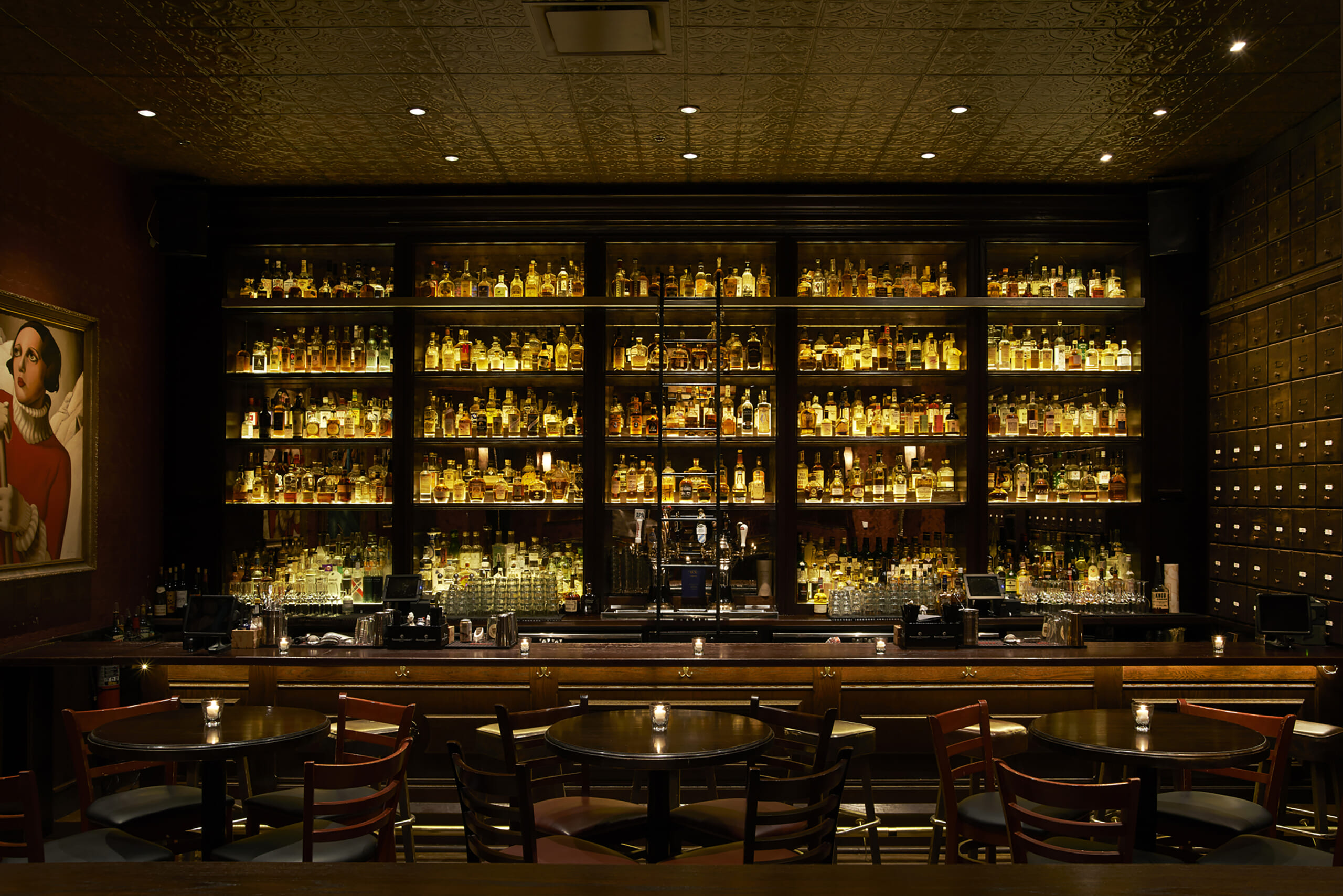 This bar looks a bit like a maze. Walk around and discover something new around every corner. The biggest space has live music and entertainment five nights a week. Next door you have a restaurant – five-times Michelin Bib Gourmand – headed by executive chef Frank Munk, a Champagne Room, Whiskey Library and several other bars.

Untitled Supper Club boasts one of the largest selections of American whiskies and has special lockers for regular clients to store their bottles in. The menu lists about 15 knockout cocktails ranging from classics to contemporary mixes.
Beaufort Bar, London
The Beaufort Bar in London's Savoy Hotel is famed for its theatrical drinks and breathtaking art deco decor. The drinks menu itself also appeals to the imagination, taking the form of a beautifully illustrated tunnel book that pays homage to the history of the Savoy. Chief bartender Kyle Wilkinson and bar manager Anna Sebastian created this menu, whose 20 cocktails each tell a different story about the hotel through the accompanying illustrations.

The first one is about Fred Astaire dancing on the roof of the hotel. The story's cocktail, 'Under the Stars', mixes Woodford Reserve Bourbon and Rye, chestnut, champagne syrup, sherry blend and bitters. Other stories with respective cocktails include a bellboy's first day on the job, the hotel's relaunch in 2010 and the cocktail shaker that lies buried in the American Bar. The drinks' unique tastes and ingredients make you feel like you are part of the story. 
Blackwell Rum Bar, Negril
This hotel bar is a pleasure to the eye. It is literally located inside the volcanic rocks of Negril's picturesque West End. The ocean view is complimentary. The Blackwell Rum Bar is a dramatic, beguiling space equipped with tables, benches and stools made of pieces of rock hewn out of the cliffs by local stonemasons.

Needless to say, if nothing else, what you order here is a drink made with Blackwell Rum, the brand of music producer Chris Blackwell, who breathed new life into his grandfather's recipe. Order it pure or go for the simple 'Goldeneye', which mixes it with fresh orange juice, pineapple juice and ground ice. 
Gianni Bar, Los Angeles
The Gianni Bar opened at the beginning of 2018. It is located inside the NoMad Los Angeles Hotel, which was once the head office of the Bank of Italy. In fact, the bar is named after Amadeo Gianni, the bank's founder. Head bartender Leo Robitschek has composed a bar menu containing a wide range of cocktails, from all-time classics to fancy modern versions. This stylish lobby bar will really impress your date.
Gold on 27, Dubai
Gold on 27 in world-famous Burj Al Arab, Jumeirah, is definitely worth a visit. Expect pure luxury, gold leaf and progressive drinks that are unique in Dubai. Using premium brands and unusual ingredients, including saffron, truffles, goat's-milk cheese, charcoal and foie gras, the Gold on 27 mixology team has created an imaginative menu replete with contemporary twists, all named after local traditions and sayings.
Djapa Bar, Hong Kong
Djapa Bar lies in Wai Chang, in the heart of Hong Kong. It is a fairly new bar, but one that is still guaranteed to provide a unique experience. The interior playfully combines typical Japanese art and colorful Brazilian wall paintings.

You can enjoy exceptional fusion cuisine on the first floor, and then go up one level and sit at the bar. Brazilian-inspired cocktails alternate with over 300 types of exclusive Japanese whiskies as well as a selection of fine Japanese sakes. The kitchen, too, combines the finesse and freshness of Japanese cuisine with the bold and hearty flavors of Brazil.
Dogma, Antwerp
Dogma is one of Antwerp's best-known cocktail bars. With a decor consisting of vintage leather seats and an equally eye-catching bar counter, it has a mainly retro look with a heavy dose of rock 'n' roll. Owner and mixologist Didier Van den Broeck is well known both in Belgium and abroad. He won third place in the 2014 Diageo World Class Belgium competition and the 'Best Bartender' award at the 2016 Venuez Hospitality Awards.

Van den Broeck's abundant creativity and know-how leap from the menu with his own versions of classics and his daring signature cocktails, such as the 'Aix en Provence' with its apple brandy, honey, thyme, orange, lemon, IPA and goats-cheese foam. Dogma has, without a doubt, put its mark on the Belgian cocktail scene since 2013, proudly using only the highest-quality ingredients and providing service worthy of a Michelin-starred restaurant.
To see all 150 bars, you'll just have to order the book…