The Best CBD For Dogs Products To Try This Year
Your dog will absolutely love these tasty, healthy CBD treats.
Verma Farms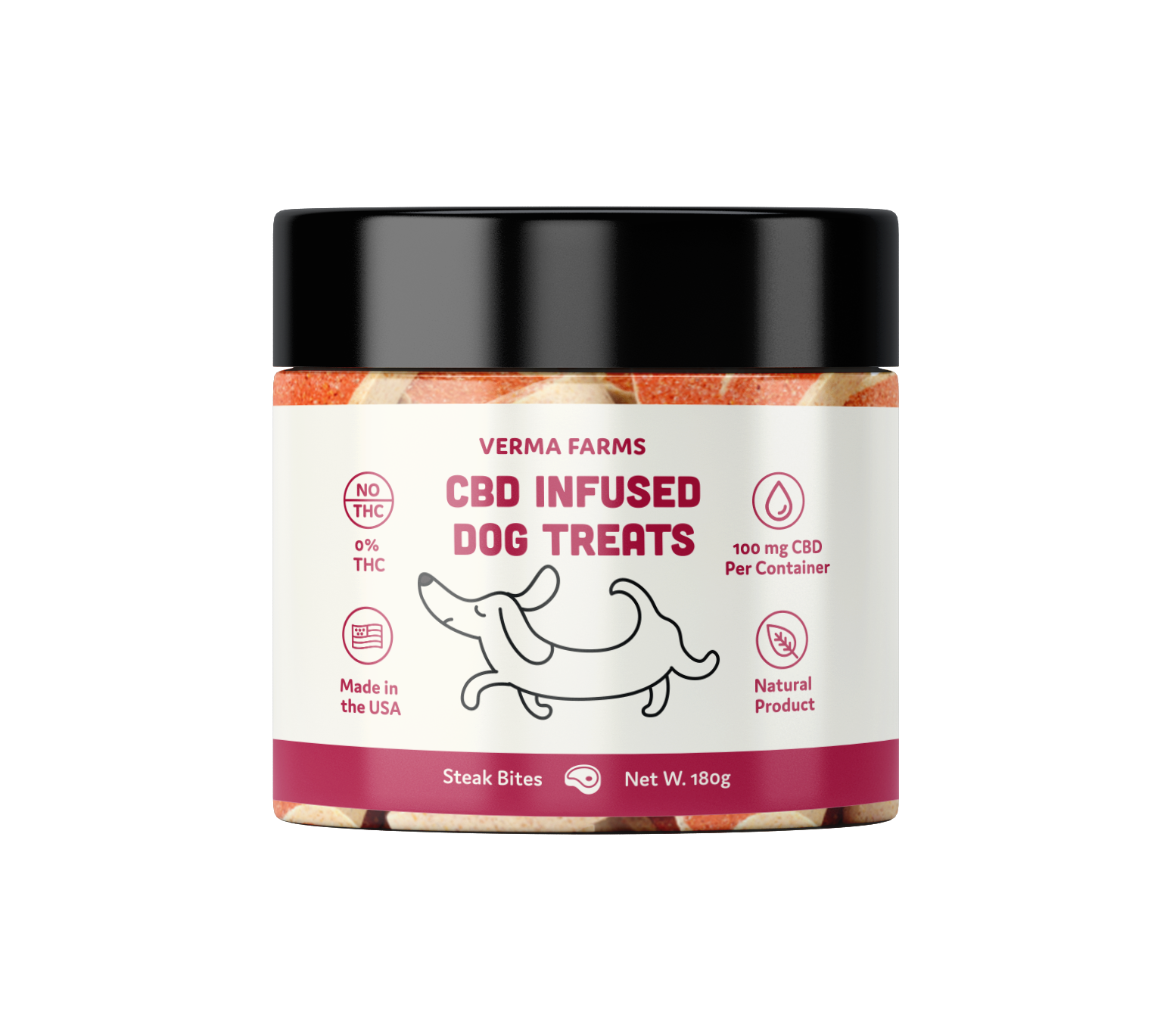 Presented by Verma Farms
Giving CBD to dogs is relatively uncharted territory. Most CBD solutions for canines are specifically designed for their respective body types and complications, but it's still a relatively new field that's full of uncertainty. And while many of us would probably feel that CBD could ultimately help our pets, it's important to find the right brand for the right solution.
Here is a list of the very best CBD products to consider giving your dog, which could provide a great long-term solution to various doggie ailments ranging from anxiety to pain.
Verma Farms
Topping the list is Verma Farms, which has recently earned a reputation as a top producer CBD for dogs. Founded with an approach to hemp that is inspired by the natural beauty of Hawaii, the brand aims make the world as a better place for both humans and man's best friend. Cultivating organic CBD that's pure from plant to product, Verma creates top-tier products, including their latest offering of dog treats. 
Verma offers Steak Bite CBD for dogs, a CBD-infused treat that your pet is bound to love. Offering 5mg per piece, the dosage is relatively on-point for what we'd want to give our furry friend, and so far, sales have indicated massive popularity. As fans often comment that the CBD they give their dogs is usually rejected, Verma's treats have been praised by pet fans as being delicious and easy for dogs to digest. Providing serious value $46.99 for one pack or $99.99 for three, Verma delivers a bargain for the quality of CBD, and definitely something your dog will love.
PureKana
As a name synonymous with the best CBD Oil, PureKana comes in at number two on our list of CBD products for dogs. Taking an ethos-based approach to the natural benefits of CBD and a healthy lifestyle, PureKana quickly gained a name for themselves in the industry, especially after the 2018 Farm Bill passed. What's kept them in the game, however, is their dedication to quality and consistency, with this lineup of dog treats to match.
PureKana has been expanding their list of dog treats for a while now, which is starting to pay off for consumers with regard to selection. Currently, the flavors they offer are Blueberry & Chicken, Steak & Sweet Potato, and Peanut Butter & Pumpkin, which are all available in sizing for large and small dogs. As pricing starts at $29.99 and tops out at $34.99, this is one of the more affordable options for quality CBD snacks. Check them out if your dog is a picky eater, as the variation between flavors is definitely something to take note of.
Honest Paws
Honest Paws is a reputable name in CBD for dogs, which is why it makes sense to feature their lineup. Offering an array of products, Honest Paws was one of the first companies to see the potential of CBD as a treatment for dogs. Now a name that's synonymous with CBD and dogs in tandem.
Honest Paws has designed solutions oriented towards your pet's needs. Their Bites include come in Calm, Relief, and Wellness flavor—Calm is great for dogs who get anxious during thunderstorms, for example, while Wellness is tailored to older pets. With pricing that's affordable, it's clear that Honest Paws is a company made by pet owners, for pet owners. Check them out for one of the more comprehensive lineups of products on the market today.
HolistaPet
Another great company that's specifically designed for pets, HolistaPet doesn't just focus on dogs, but all the way up to horses as well. Clearly a brand that aims to take a holistic approach to CBD snacks for animals, HolistaPet has been growing a name amongst CBD dog owners for a while, honing in on organic, vegan ingredients any of them will love. Aimed to provide natural remedies for your pets, HolistaPet has a fair amount of products we think you'll find a good fit, depending on the size and age of your dog.
For dog treats, in particular, HolistaPet breaks down a lot of their edibles into different usages per what the dog needs. This includes the combination of Stress & Anxiety, Mobility, and Heart & Immunity, which all hit on the main points that dog owners are looking for out of their CBD treats. With affordable pricing in individual or bulk rates, HolistaPet offers solutions that help dog owners provide their pets with the specific treatment time and time again, giving this brand a lead as one of the frontrunners in CBD dog treats.
KarmaPets
Although KarmaPets only offers one selection, it's one of the most popular in CBD for dogs. Their flagship product, Calming Treats, has been renowned as a top solution for dog owners whose furry friend experiences stress and anxiety. As a vegan, naturally-flavored treat, it comes at a reasonable price of $34.99. Flavored with Peanut Butter, we haven't heard many pet owners complaining about KarmaPets, and quite frankly, it's easy to see why.
Built on a brand that's dedicated to pets, KarmaPets has put a lot of time and effort into their treats. Their product aims to give the full CBD effects without making your pet drowsy and balancing its brain chemistry. Although there isn't a ton of research to back their claims, the effort has seen word-of-mouth results.
King Kanine
As one of the biggest names in pet wellness, King Kanine certainly has earned its name. Motivated by the close connection between pets and their owners, King Kanine's passion is in promoting alternative health solutions for pets, and in particular, to promote their well-being. Aiming to become trailblazers in the industry, King Kanine certainly has one of the more diverse lineups for dog offerings than a lot of the competition across the board.
If there's one thing that King Kanine gets over other brands with CBD offerings for dogs, it's that pets are unpredictable. With King Kanine, they not only have a lineup of treats and tinctures, but balms, mite spray, and shampoos. Furthermore, everything is meticulously dosed out for different sizes of dogs. All-in-all, King Kanine has one of the more diverse lineups for pet CBD options.
Canna-Pet
Dedicated to designing products specifically for pets, Canna-Pet really dives into the details. Breaking everything down from different breeds and their specific problems to ailments and what can be done to help, Canna-Pet is one of the more comprehensive resources in CBD today. Specifically offering an array of solutions for dogs, Canna-Pet is a force to be reckoned with.
Currently, Canna-Pet has a few different varieties for dogs including capsules, liquids, and treats. Their pricing is incredibly competitive, looking to hold true on giving every pet owner equal access to treatment. Additionally, they also creatively have designed solutions that our dogs will genuinely enjoy, such as organic Peanut Butter and Apple biscuits or some flavored as Maple Bacon. It can be hard to please (as well as treat) a dog, but Canna-Pet gets it right every time.
Healthy Hemp Pet Co
With the goal of offering solutions a paw above the competition, Healthy Hemp Pet Co is a dog-exclusive CBD company that offers some unique solutions. In particular, their CannaShroom solution aims to offer Immune support via their five mushroom blend. Outside of the immune support, Healthy Hemp Pet Co also has a lineup of treats and oils, with many of them coming in flavors and varieties your furry friend will love. And with affordable pricing, Healthy Hemp certainly knows how to keep the balance indeed, healthy.
Founded by a dog owner, Healthy Hemp Pet Co's mission was discovered after the owner noticed its dog was having problems in keeping up with its sibling. To combat this, he started exploring what exactly hemp and CBD could do for their dog, and specifically, how it could help with mobility. Now delivering on products that are ailments for a whole array of issues, Healthy Hemp has developed a formula they trademark as CannaNatural, providing a natural solution to your dog each and every time. Check them out if you're looking for a CBD dog treat made by those inspired by their personal pets.
Fab CBD
As one of the bigger names in CBD on this list, Fab CBD has a dog treat that holds its own among the best. Staying true to their mission of offering quality CBD across the board, Fab doesn't hold back on our furry friends, offering a solution that's both flavorful and effective. Coming with the flavors Calm & Cool (Peanut Butter Apple), Skin & Coat (Salmon), and Active Immunity (Chicken), it's clear that Fab CBD has dog owners' intentions in mind with these solutions.
Fab also aims to establish the mold for what responsible CBD administration should look like, their CBD treats for dogs honestly help establish precedents for use-cases of CBD for pets. Additionally, Fab puts a lot of research into how each and everything they offer has a specific solution for their end-user. Yes, Fab CBD doesn't just offer fabulous CBD, but a great experience for all who take it.
Just CBD
Rounding out the list is Just CBD, which has been featured just about every other CBD roundup around. Beyond their ubiquitous presence, Just CBD is a powerful force in the industry because of its lineup of quality products. Even for pet products, Just CBD not only holds its own but offers solutions to a lot of pet-centric companies don't even capture.
Coming in with a lineup of treats and tinctures, Just CBD has a lot to unpack. For their treats, the sale price of $19.99 for 100mg CBD infused dog treats is a bargain, offering pets big and small a reputable solution. Additionally, their tinctures are some of the most palatable, ranging in an array of flavors many have noted mix great with other foods (such as Tuna, Salmon, and Chicken). All-in-all, Just CBD's namesake rings true for pets as well, delivering on an all-killer, no-filler solution that's as pure as they come.
A Final Note On CBD For Dogs
While CBD can be a great solution for dogs, the topic needs to be discussed with your veterinarian. Especially since we can't communicate fully with our animals, we need to be mindful of how they try to reach us, their needs, and what expert opinions. 
Ultimately, all of us get into the idea of CBD for dogs because we care about our furry friends, but that's not without doing our background research and due diligence first. Remember, CBD is about health, which is why learning about what's best for your dog is the top concern. Doing so will not only lead to a more productive experience with CBD for your dog but also put you at ease.