The Best Ways To Try Pappy Van Winkle Without Actually Buying a Bottle
Here's how to track down a taste of America's most sought-after cult bourbon.
Michael Corrado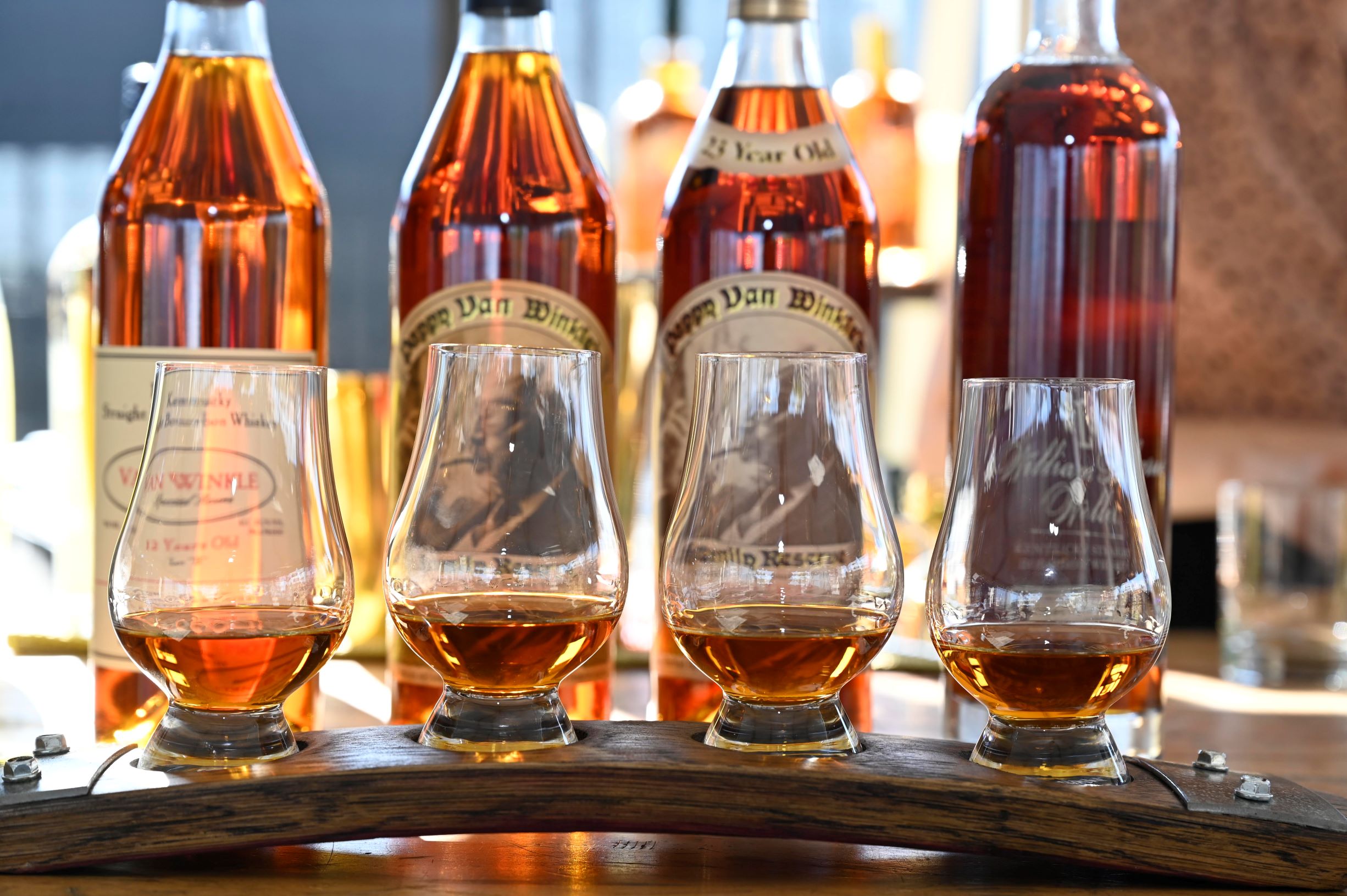 Make no mistake: we are still crazy about Pappy Van Winkle. This beloved cult bourbon continues to be coveted by the whiskey-drinking world, with bottles selling for thousand of dollars in liquor stores and on the secondary market, if you can actually find one.
For the unfamiliar, Pappy is a wheated bourbon, which means it's made using wheat as a secondary ingredient in the mash bill instead of the more common rye. It's currently distilled at Buffalo Trace, and is released in small allocations. The Pappy craze is circular – it's hard to find, which makes it popular and expensive, which makes it harder to find, which makes it more popular and expensive, and so on.
It also happens to be a pretty tasty whiskey, especially the 12 and 15-year-old expressions. The 23-year-old is the most expensive, but can be a bit oaky and tannin-heavy for some bourbon fans. It may be too difficult to get your hands on a bottle of your own, but there are other ways to taste this highly prized bourbon.
On a recent September night at the Northwell Health at Jones Beach Theater, VIP guests mingled at a pre-show event. The Who would take the stage later that evening, but first there was some expensive bourbon to drink. The tasting lineup consisted of Pappy 12, 15, and 23, as well as William Larue Weller, which is part of the Buffalo Trace Antique Collection.
2014 American Bartender of the Year Sean Kenyon and curator of the 2019 Live Nation Venues cocktail program mixed up some excellent drinks and even showed the small crowd how to make an Old Fashioned. Buffalo Trace barrel select manager Beau Beckman, who also happens to be a descendant of the legendary Col. Edmund Haynes Taylor Jr., led the tasting. 
The crowd was enthusiastic if not exactly well-versed in bourbon – one woman with a thick Long Island accent kept asking which whiskey was closest to "Double Black" (presumably Johnnie Walker Black). No matter; the point of the evening was to learn something about whiskey while drinking some top shelf liquid.
Live Nation plans on putting on more events like this at its nearly 60 venues around the country to create a more memorable concert experience. These could include future whiskey tastings, wine pairings, special chef menus, and more. 
As for Pappy, here are some other ways to taste this famously elusive bourbon without having to spend thousands of dollars or wait on line for a week to get your own bottle.
New Hampshire Liquor Commission Raffle
The NHLC has a raffle going on through October 4 where you have a chance to win a whole lot of Pappy by purchasing a $100 ticket – not a bad investment if you get lucky. There are 2,000 tickets available, which should raise $200,000 for the charity Best Buddies. The full, awe-inspiring prize is as follows: one bottle each of the entire Pappy range, one bottle each of the entire Buffalo Trace Antique Collection, and airfare and accommodations in Manchester, NH to attend a Pappy Van Winkle tasting dinner on November 5, along with other events.
Cayman Cookout Pappy Van Winkle Dinner
On January 15, 2020, there will be a Pappy dinner event at the Cayman Cookout at the Ritz-Carlton on Grand Cayman. Preston Van Winkle, fourth generation family member, will host the tasting of the 10, 12, 15, and 20 year old expressions, along with food from Thomas Seifried, chef de cuisine at Blue by Eric Ripert. Tickets go on sale October 1.
Beaumont Inn Van Winkle Flight
The Beaumont Inn in Harrodsburg, Kentucky is celebrating 100 years this year. Dixon Dedman operates the bed and breakfast, and also owns a popular whiskey brand called Kentucky Owl that is building a large distillery in the area. As if he wasn't busy enough, he also leads personalized bourbon tastings at the inn, including one where you can sample Pappy 20 and 23 ($70 per person). You can also order a Van Winkle Flight ($150) at the Old Owl Tavern to try the entire Pappy range.
Harlem Whiskey Festival Pappy Dinner
This year's Harlem Whiskey Festival takes place from September 29 – October 5. One of the featured events is a Pappy tasting dinner that is part of the Cornbread x Whiskey Dinner Series. Author and bourbon personality Fred Minnick will host this special event for 30 guests, which will include a special menu, a tasting of the entire Pappy range, and cigars to end the meal. Tickets are on sale now.
Bourbon With Julian Van Winkle
From December 4 – 8 this year, Julian Van Winkle III, president of the Old Rip Van Winkle Distillery company, will host a series of conversations and tastings at the luxury Blackberry Mountain resort in Tennessee. These workshops are available for guests to book, offering a chance to sip some bourbon and talk to a family member who's an important part of the Pappy legacy.