The 10 Best Bourbons to Pair With Burgers
These bourbons take burgers to the next level.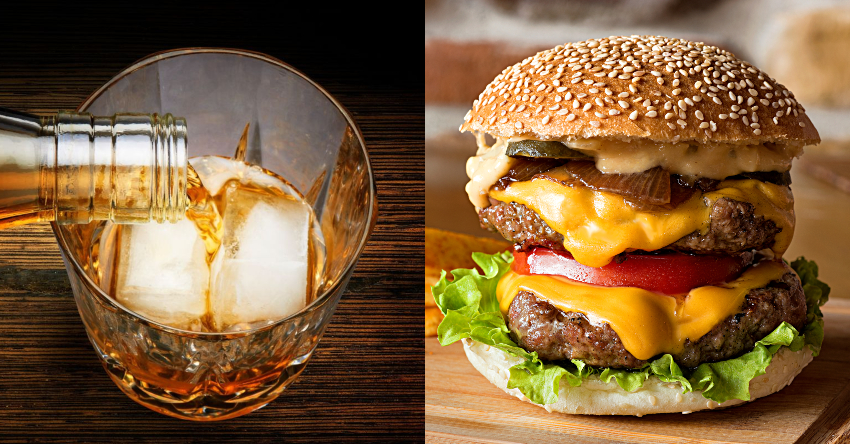 Getty Images
It's July already, and that means it's time to clean the cobwebs out of the grill and start cooking up some burgers. 
Summertime is barbecue season, particularly during the week of the Fourth of July when the air everywhere around the country seems to be permeated with mouthwatering meat smoke. 
And there's nothing better to drink on this quintessential American holiday while eating a classic American hamburger than an utterly American spirit like bourbon. There are plenty of options, both old and new, to choose from, but we tried to whittle it down to ten stellar brands. 
The only criteria here was that the whiskey could hold its own when paired with the strong flavors of an expertly cooked burger topped with a stack of veggies and condiments. So no 80-proof bourbon here—only spirits with a higher ABV for some extra flavor.
Maker's Mark
Maker's Mark is a wheated bourbon, meaning wheat is used as a secondary grain instead of the usual rye. This means that this whiskey is creamy and flavorful, with the appropriate touch of heat at 90 proof. 
There are a few other expressions to explore in the Maker's range, but the original bourbon is a classic for a reason – it's inexpensive and sips just as well neat as it does in a cocktail. $25
Rabbit Hole Bourbon
The big news from Rabbit Hole is that French beverage giant Pernod Ricard recently acquired this new distillery, which opened its doors just last year in Louisville. Rabbit Hole has been contract distilling up to this point, and it'll be a few years before whiskey made at the distillery is released. 
While the bourbon still tastes a bit young, it shows promise. It's made with an unconventional four grain mash bill that includes corn, malted wheat, honey malted barley, and malted barley, giving it a subtle fruity flavor. $50
Evan Williams Bottled-In-Bond
Regular black label Evan Williams, distilled at Heaven Hill, is a good, inexpensive bourbon. But the bottled-in-bond version is even better at 100 proof. 
The BIB designation also means the bourbon is at least four years old, and black label is generally in the 4-5 year range anyway. But the significant increase in proof makes this bourbon worth seeking out. $20
Eight & Sand Blended Bourbon Whiskey
MGP's new release, Eight & Sand, is a blend of bourbon and other whiskeys (corn, rye, light) distilled at this massive Indiana distillery, best known for making rye whiskey for a variety of other brands like Bulleit, Templeton, and more. 
Don't expect the flavor of a straight bourbon; this is rounded out and easy drinking, something someone with little-to-no bourbon experience might appreciate. $30
Garrison Bros. Balmorhea Twice Barreled Bourbon
Texas is a legit source of whiskey these days, with distilleries like Garrison Bros. leading the charge. The new Balmorhea, bottled at 115 proof, consists of bourbon that was aged for four years in new charred oak barrels before being put into another set of new oak barrels for an additional year, infusing the whiskey with a fresh round of flavor. 
It's a rich, dark-colored bourbon with brown sugar and oak notes for days. Exactly 504 bottles were released at the distillery this past May, with another 5,500 sent out to other states. $140
Wild Turkey 101
It's hard to find many faults with Wild Turkey 101. Sure, this venerable Kentucky distillery has a bunch of other bottles that will make you very happy, but the dependable 101 is unassumingly wonderful. 
This is the heart and soul of Wild Turkey – no need to mess around with the 81 proof stuff. Look for caramel, corn, char, and vanilla flavors and a nice burst of heat in every sip. $25
Bulleit Barrel Strength
https://www.instagram.com/p/BeYb6BXHU8Q
Bulleit is something of a marketing success story in the bourbon world, as its "Frontier Whiskey" labeling and old-timey bottle design helped make it a favorite among consumers around the world. 
The fact is, although a distillery opened in 2017 and a new visitor experience just launched, this whiskey has always been sourced from other distilleries. It's hard to complain about the flavor, and that's what really counts. Try the barrel-strength version, which is like regular Bulleit on steroids, with a proof that usually hovers around 120. $60
Four Roses Small Batch Select
Four Roses added a new expression to its already solid lineup this spring, the first addition in more than 12 years. 
Small Batch Select is a very nice new option, a non-chill filtered whiskey aged between 6 and 7 years and bottled at 104 proof. This release uses six of Four Roses' ten recipes, and has notes of berry, stone fruit, and vanilla running throughout. $60
Old Forester 1897 Bottled In Bond
Old Forester's Whiskey Row Series has four high quality bourbons to choose from, but if you have to pick one start with the 1897 BIB expression (the second in the series). 
It's bottled at 100 proof, as mandated by law, and fits right in with the brand's self-designation as "America's First Bottled In Bond." 1897 BIB is a vibrant whiskey, and makes a classic bourbon cocktail taste that much better. $50
Barrell Bourbon Batch 18
Barrell Bourbon Batch 18 was sourced from Kentucky and Tennessee distilleries, and includes whiskey aged 11, 14, and 15 years. It's bottled at about 111.5 proof, but actually drinks a little less hot than Batch 19, which came out right after this one. 
The Barrell team has a lot more on the way this year, so keep an eye out for new bourbon batches, a rum release, and even an American malt whiskey blend. $90