Colonel E.H. Taylor Drops 18-Year Bottled-in-Bond Bourbon Blend
Limited-edition 100-proof Kentucky whiskey.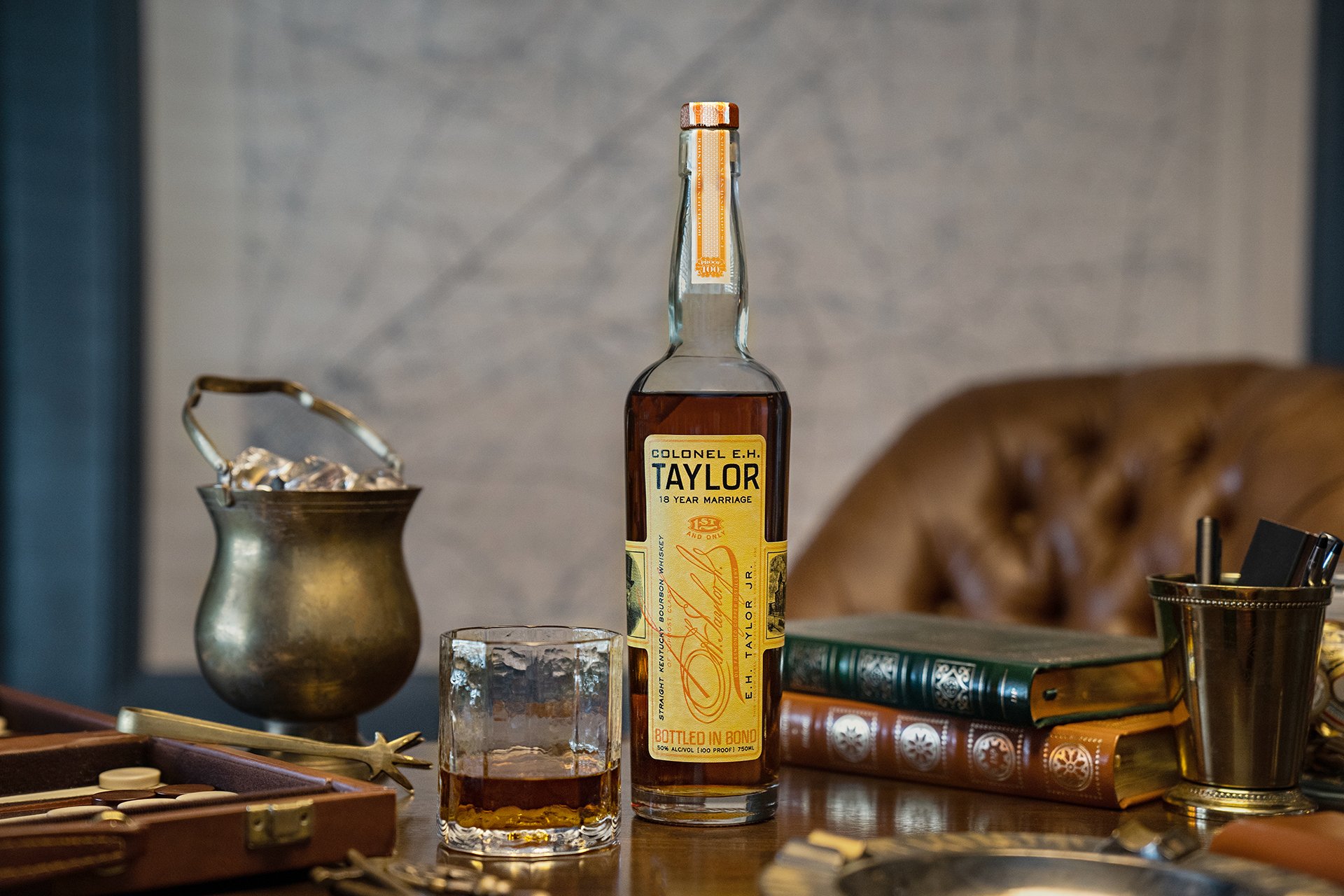 Buffalo Trace's limited-edition Colonel E.H. Taylor, Jr. 18 Year Old Marriage bourbon is the latest bottle to honor the original distillery's first owner. 
In addition to having purchased the Frankfort, Kentucky-based whiskey maker's historic Old Fire Copper (O.F.C.) Distillery, Taylor also pushed for the passage of the Bottled-in-Bond Act of 1897, which federally regulated the production of spirits to ensure quality. 
In accordance with the 123-year-old legislation, the latest small-batch release in the Colonel E.H., Jr. collection is bottled at 100 proof, or 50 percent ABV. The honey-hued blend was crafted from a "marriage" of three different Buffalo Trace mashbill recipes—wheated bourbon, rye bourbon #1 and rye bourbon #2, all of which were aged for 18 years. 
Tasting notes describe a nose of vanilla butter cake, caramel and cinnamon flavors, and a finish of toasted oak, cinnamon, and a hint of spearmint. 
18 Year Old Marriage is presented in a distinct canister that harks to Taylor's whiskey package from over 100 years ago. Six-bottle shipments will arrive in Prohibition-style wooden crates that Buffalo Trace first used to package 2015's Cured Oak release. 
If the name "Colonel E.H. Taylor, Jr." sounds familiar to even the casual whiskey sipper, it could be because a previous limited release from the same collection, Colonel E. H. Taylor, Jr. Four Grain Bourbon, was named World Whiskey of the Year by Jim Murray's Whisky Bible 2018.
Priced at $69.99 per bottle, Colonel E.H. Taylor, Jr. 18 Year Old Marriage Bourbon Whiskey hits stores in June in very limited supply.