Bulleit Frontier Whiskey is Taking 3D-Printing To The Next Level
Bulleit enlisted leaders in design and tech to create a 3D-printed bar, 3D-printed cocktails and a truly immersive experience that celebrates collaboration and artistry everywhere.
Presented by Bulleit Frontier Whiskey
Bulleit Frontier Whiskey is blending whiskey, art, design, music and technology for the Bulleit 3D Printed Frontier, a groundbreaking traveling experience that heroes a 3D-printed bar, 3D-printed cocktails and immersive art.
The award-winning Kentucky distillery is curating a series of private events where attendees can enjoy a completely unique, 3D-printed drinking experience. The visually striking bar was created in collaboration with award-winning architecture firm FAR and fabricated by design studio Machine Histories, and is a part of the Bulleit Frontier Works platform, which honors and celebrates artists everywhere, and particularly those who push boundaries on the modern cultural frontier in order to re-imagine convention.
The bar's first event took place at the historic Sixteenth Street Station in Oakland, and will travel to Austin, Texas next in 2019.
To create this mind-bogglingly complex bar, FAR first studied the iconic Bulleit bottle label to gain creative inspiration. But instead of working from a traditional drawing for the bar's design, FAR used a freaking algorithmic script that defines the geometry of the piece through a series of digital data sets. Nope, this wasn't your typical woodshop build. Not by a long shot.  
Anyways, the bar's copper surface was inspired by the distinctive amber hue of Bulleit Bourbon. Which is always a good idea, considering how much everyone loves bourbon. But picking the bar's color was the easy part. Taking the project from design to production was a seriously intense challenge due to the intricacies of the fine lattice structure inherent in 3D-printing. 
FAR and Bulleit collaborated to design the lattice structure in more than a dozen different ways that not only maximized visual impact, but also catered to the functional needs of the bartenders who are the backbone of the Bulleit brand. Because no matter how pretty a bar is, at the end of the day it has to be designed well so bartenders can serve drinks quickly and efficiently to customers.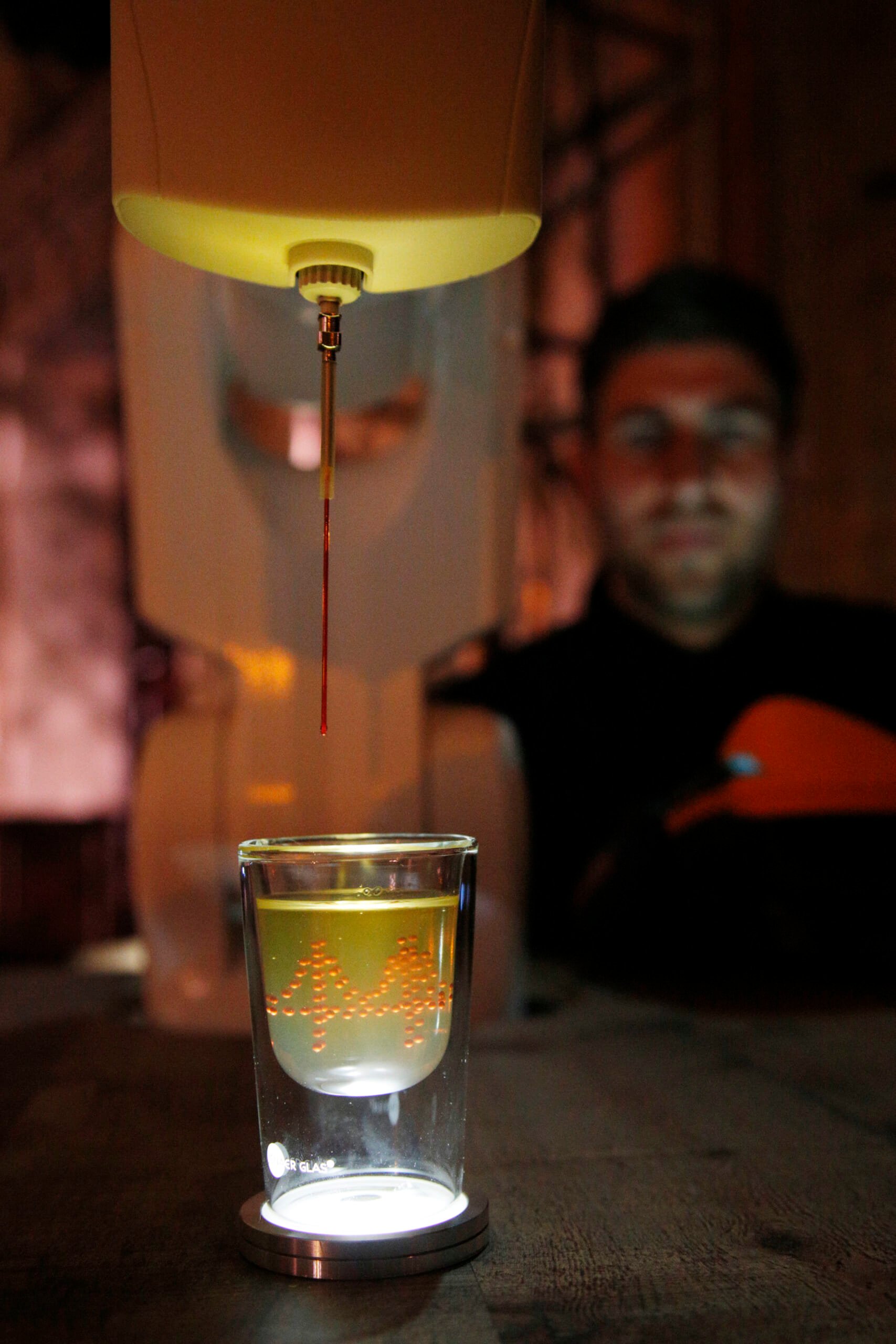 From there, Machine Histories then actually 3D-printed the bar–a painstaking process that took hundreds of hours to create. And that's not even including the hundreds of hours invested in designing and engineering the ultra unique creation. 
Some of the most technologically advanced 3D-printing equipment in the world produced the roughly 3,000 3D-printed components, 1,700 struts, and over 1,300 nodes in this one-of-a-kind design. The bar is printed from glass-filled nylon using SLS (selective laser sintering, in case you didn't know).
The Oakland event featured 3D-printed cocktails created through a collaboration between robotics pioneer Benjamin Grimeil and mixologist Elmer Mejicanos. Guests also enjoyed 3D-printed light bites and performances by local artists.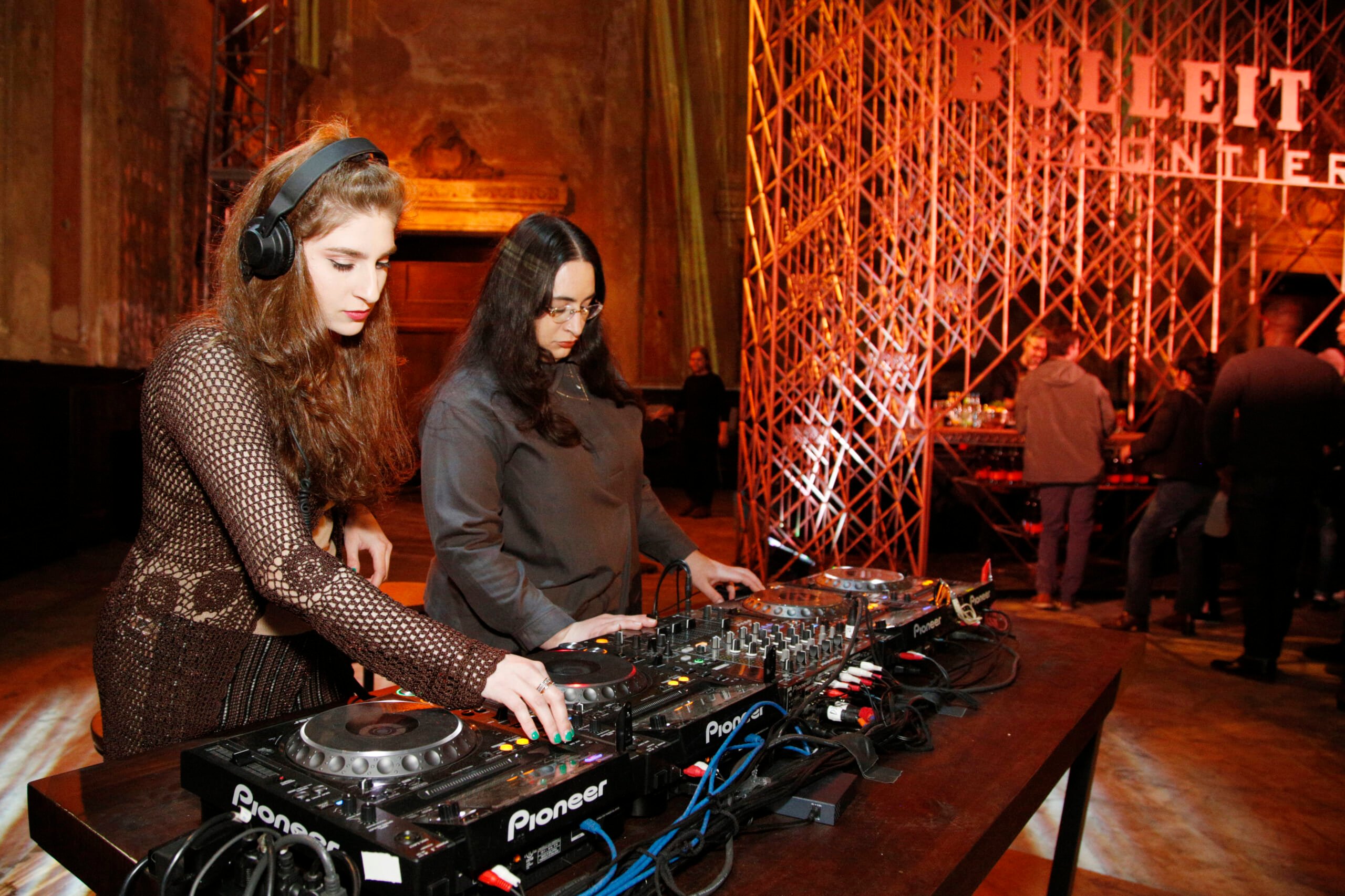 The musical entertainment was provided by Meklit Hadero—a renowned singer whose beats, lyrics and rhythms are derived from the environment using star mapping technology—and Club Chai DJs 8ulentina and Foozool—who spun set lists inspired by the frontier spirit and cultural heritage of Oakland. 
The entire 3D Printed Frontier is enhanced by the visual magic of Tanya Orellana and Elaine Buckholtz—a highly awarded lighting and projection team that leveraged the latest in technology to create a unique ambiance fit for this frontier experience.
"From reimagining what a bar could be, to partnering with cutting edge mixologists and robotics pioneers to print 3D cocktails, this experience defies convention in order to redefine tradition, taking people on a journey that explores new frontiers," said Sophie Kelly, Senior Vice President of DIAGEO North American Whiskeys. 
In addition to occupying the Sixteenth Street Station for the Bulleit 3D Printed Frontier, Bulleit will also make a monetary donation to BRIDGE Housing, the nonprofit affordable housing developer that owns the Station, which helps revitalize the West Oakland area through culturally inclusive programming.
After its time in Oakland, the 3D Printed Frontier experience will embark on a national tour beginning with Austin in 2019, before settling in its permanent home inside the new Visitor's Center at The Bulleit Distilling Company in Shelbyville, Kentucky. 
For more information about the Bulleit 3D Printed Frontier, adults over 21 can check out @Bulleit on Instagram to learn how makers, artists and whiskey lovers can get involved and create their own cultural frontier.