Carve Turkey Like a Boss With This Chainsaw-Style Electric Knife
Thanksgiving is about to get way more awesome.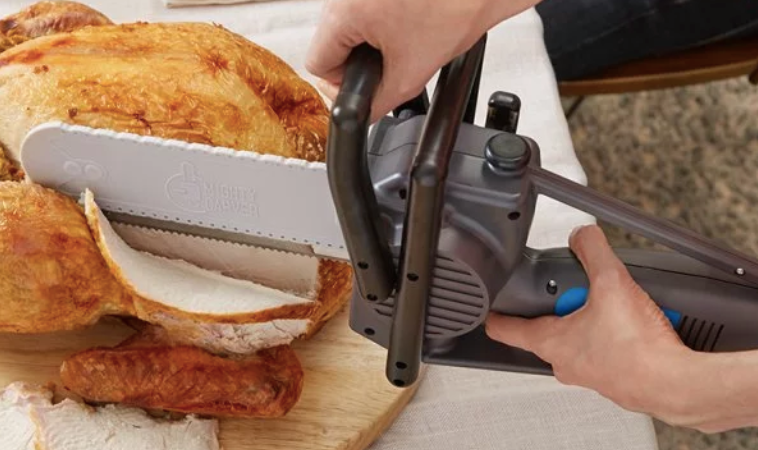 LanKim LLC
Electric carving knives have been a reliable turkey-carving tool for decades, but using one that looks like a chainsaw is truly taking things to the next level.
The Mighty Carver by Lankim not only looks like something that can saw through logs and will likely get plenty of wine-fueled laughs at Thanksgiving and Christmas, but it's also a practical tool for the turkey carver who wants some extra oomph while slicing up a holiday bird.
This chainsaw-style beauty has a cleverly designed ergonomic handle that allows for plenty of control, and the stainless-steel blades can cut through just about anything you need. It's also dishwasher-safe.
There's a bit of a trick to operating the Mighty Carver, though.
As illustrated here, this isn't a knife you handle like that old fashioned static blade. From The Grommet:
Instructions: Plug in and move knife through food, do not use a back and forth sawing motion. Do not attempt to slice through bone or through frozen foods. Unplug when cleaning or changing blades. For more detailed instructions please see manual
Ergonomic handle for comfort and control
Great for slicing meats, melons, tomatoes, pineapples, potatoes, loaves of bread and more
Please note: Blades are sharp, handle with care. Always handle knife by the plastic guard. Do not let cord hang over edges of surfaces where it can be pulled on by children or tripped over
Warning: Keep out of reach of children. Do not use outside in wet conditions. (Needless to say, kids playing with this thing in the rain is probably a really bad idea.)
Buy it from The Grommet for 79.95. And if you didn't score one in time for Thanksgiving, hey, Christmas is less than a month away.