How To Make a 'Champagne Pina Colada'
This decadent hybrid cocktail is a great way to ring in 2019.
(Photo: Courtesy of Coupette)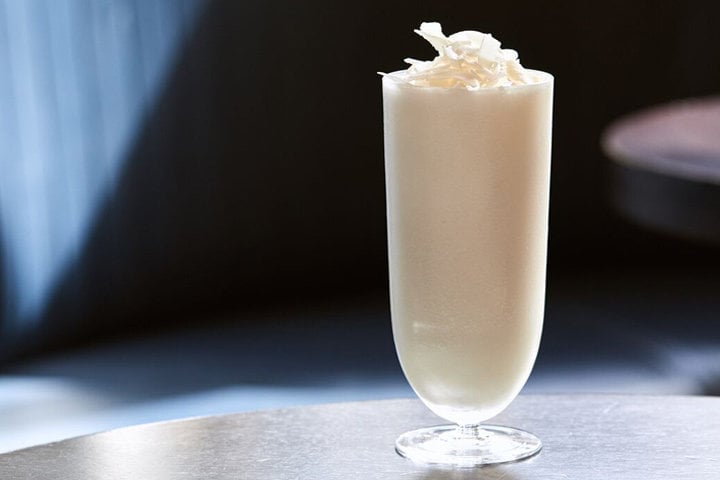 There's Champagne, and there's Pina Coladas, and never the twain shall meet. Until now. Hot London swillery Coupette has been serving up a hybrid of Champagne and Pina Colada called–what else?–the Champagne Pina Colada. 
If you've got some legit drinks-making chops and want to take your New Year's Eve party to the next level, why not try and whip up this frothy, freaky cocktail for your guests? Here's how:
Champagne Pina Colada
5/6 oz Havana Club 3 Year 
1/6 oz Trois Rivieres Blanc
2/3 oz Pineapple Juice
1/2 oz Champagne 
1 1/2 oz fresh pressed pineapple juice 
2 scoops of Coconut Sorbet (blend 6 oz of coconut milk and 6 oz of coconut water on medium speed until fully mixed then pour into an ice cream maker to chill and churn until desired consistency)
1 1/2 oz Champagne
Directions: 
Blend first six ingredients with a 4oz scoop of crushed ice (including the 1/2 oz of champagne) and pour into a chilled glass which has been pre-charged with the 1 1/2 oz of chilled champagne. Garnish with raw coconut or coconut flakes.
If you don't feel like making the Champagne Pina Colada yourself and won't be in London anytime soon, there's still hope. A Coupette bartender is making them at Diego bar at the Public Hotel in Manhattan through December 31.