Foodies Are Pigging Out At America's Most Prestigious Heritage Pork Cook-Off
Cochon555 is a snout-to-tail celebration of the incredible flavor of heritage pigs.
All rights reserved Cochon555.com
On September 30th, Grand Cochon, a celebration of all things porcine, popped off in Chicago. The event was a massive culinary competition featuring ten chefs from various cities in the U.S. and Canada who came to show off their skills by cooking every part of a heritage breed pig, literally from snout to tail, for an audience of over 850 guests.
Leading up to the grand finale (the "Super Bowl of Swine," according to founder Brady Lowe) were Cochon555 events in 20 cities, with competitions featuring five competing chefs cooking five pigs along with five winemakers. The ten finalists all competed in the finale, and also received four-day trips to Rioja, Spain.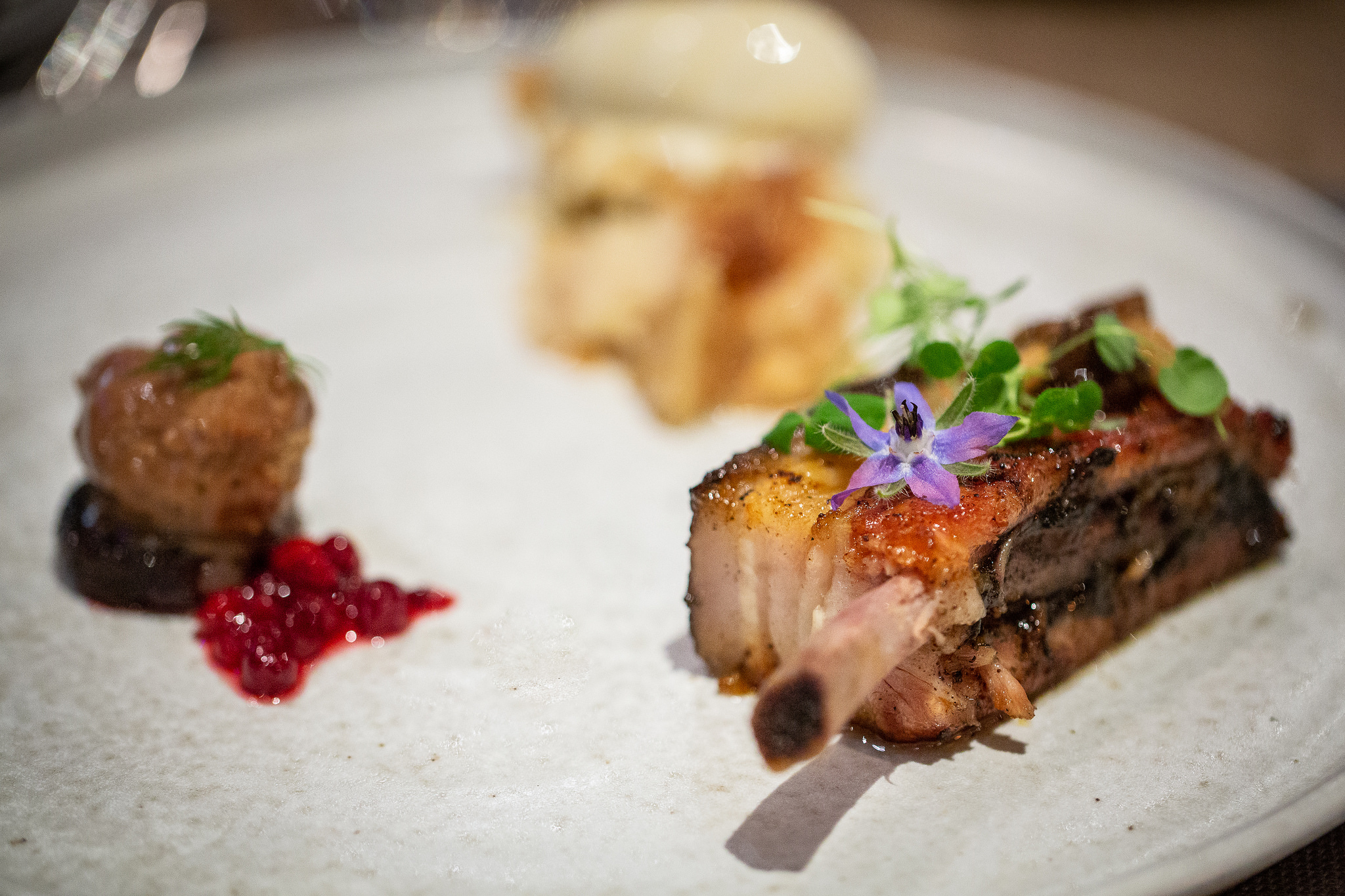 This year's Grand Cochon winner, dubbed the "Queen of Pork", was chef Karyn Tomlinson of Minneapolis' Corner Table, who served three bites that blew away the judges: holiday spare rib with black poplar conserva, Swedish Meatball with blood pudding, blood sauce and pickled lingonberry, and lard and apple pie with liver ice cream. 
Brady Lowe founded Cochon 555 with the express purpose of showcasing heritage breed pigs in the United States and educating chefs and diners about why these animals are both important and delicious.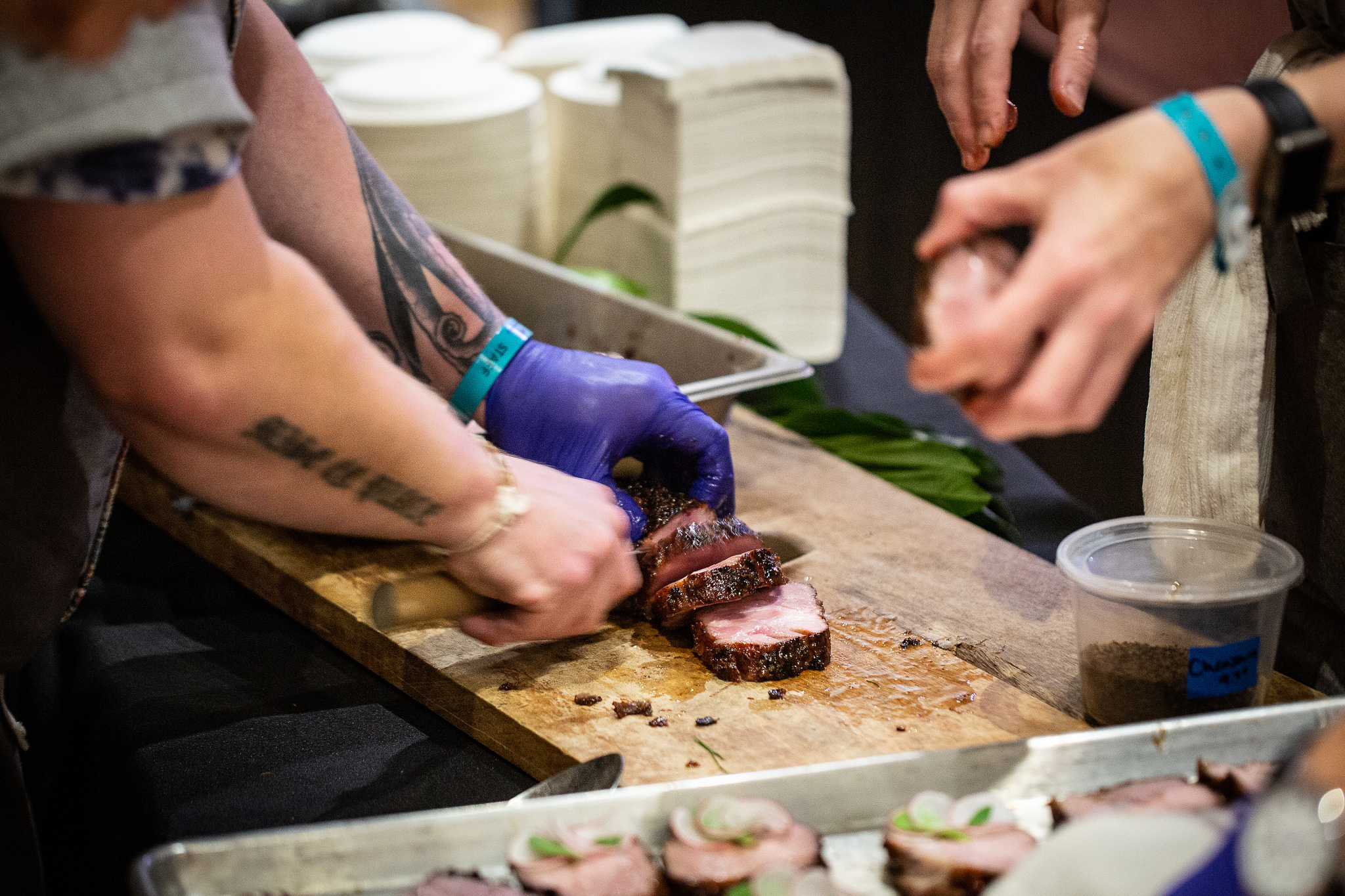 "The event was designed as an education model to put the focus back on the farmer and create a safer, more honest food future for our next generation," Lowe said.
"We showcase the flavor benefits of buying gourmet pork from farmers raising endangered heritage breeds that only thrive in small independent farm settings."
This year, Grand Cochon celebrated a decade of promoting heritage breed pork. Even after ten years, Lowe has no shortage of appreciation for the animals that are showcased in the competition. 
"First off, it's a magical animal, from head to toe, and we consume every part," he said. "It's a renaissance protein. For decades, people were taught to abandon their lust for real pork flavor." 
"Heritage pig has been that trigger for me to dig flavor-stripped lives and start a robust conversation and reminder of what true American-raised heritage pork tastes like."
To that end, Cochon555 also has several Heritage Fire events throughout the year, where chefs cook whole pigs outdoors over fire in several cities throughout the country. At each event, over 3,000 pounds of heritage pig is cooked and served to hungry crowds.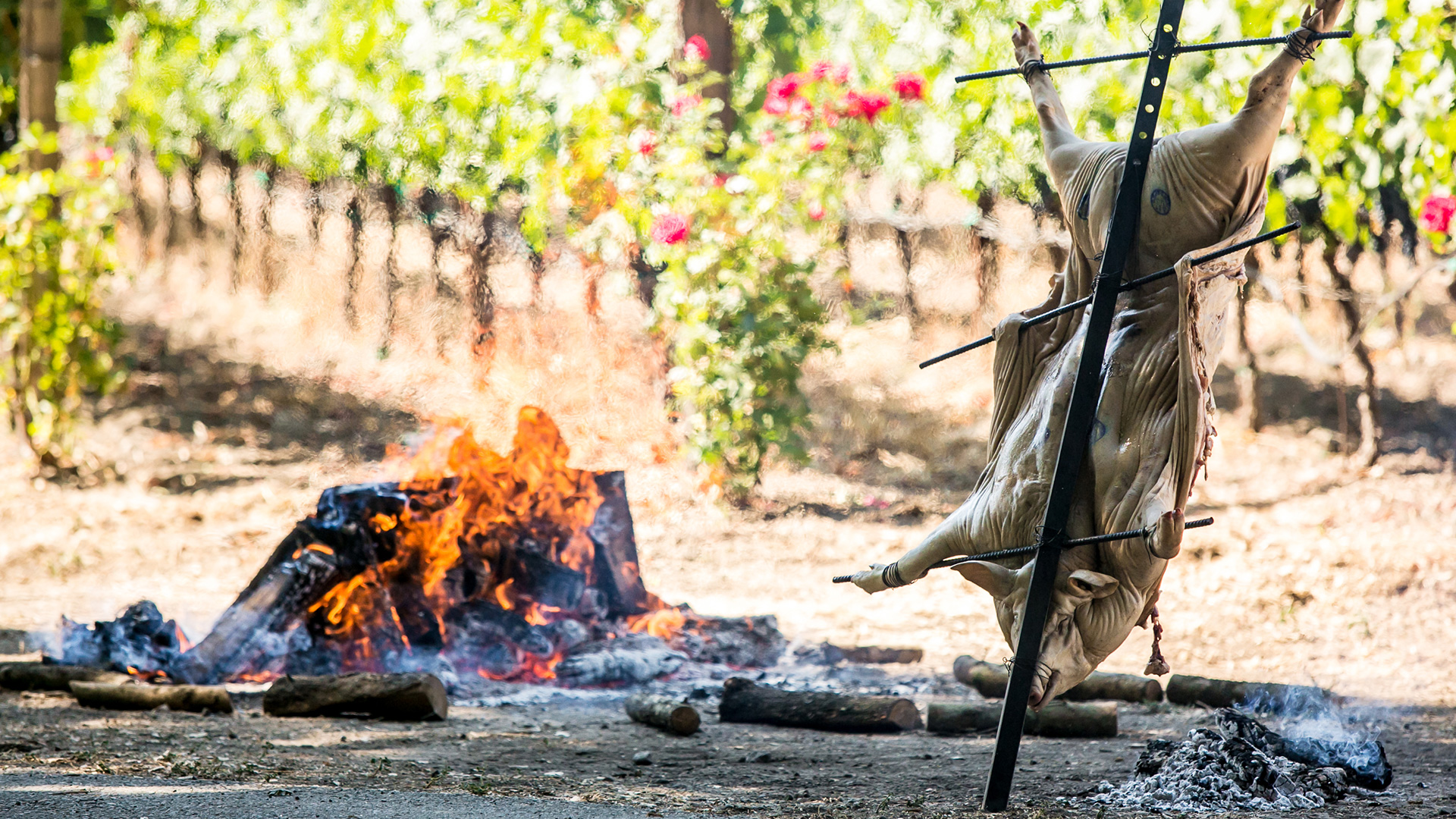 In addition to serving up some amazing pork dishes at Grand Cochon, there was a dessert bar, a cheese bar, and a butchery demo. The booze was also flowing, with a bar devoted to Manhattans, and other inventive cocktail creations from a group of extremely talented bartenders. 
The Punch Kings Tequila Invitational found top mixologists using El Tesoro tequila to make large format cocktails that are perfect for parties. 
Dustin Nguyen of Minneapolis' Martina took home the gold with his El Tesoro Golpe de Leche, made with ingredients including processed pulque and whole milk. And two sommeliers took top honors at the Grand Somm Smackdown, winning a trip to Italy for their vino expertise.
Throughout its lifespan, Grand Cochon has drawn some of America's top culinary talent to its events and signature competition, attracting like-minded spirits who are interested in both flavor and tradition.
Chefs and food personalities like Tyler Florence and Andrew Zimmern, both fans of heritage pigs, have participated in the past. But, according to Lowe, the real stars who have helped elevate the cause are the amazing participating chefs—who might not have name recognition but are brimming with talent—and the dedicated farmers who are spending the time and effort to raise heritage pigs. 
https://www.instagram.com/p/BkLuXn5DZJm
The event also raised $6,000 for Piggy Bank, a Missouri kickstarter focused on helping family farms prepare for natural disaster like flood or fire. 
"We aim to create moments of inspiration, and to engender discussion and action," said Lowe, "to buy, cook, shop, and donate in the name of safe, honest food."
"Bottom line, we are educating the nation, one bite at a time, and these bites taste really good."
For more on the glorious nature of heritage pork, watch the video below: