Disneyland's New 'Star Wars' Cantina Will Feature the Park's First-Ever Alcoholic Drinks
The happiest place on Earth just got happier.
(Photo: Disney/Lucasfilm/Disney Parks Blog)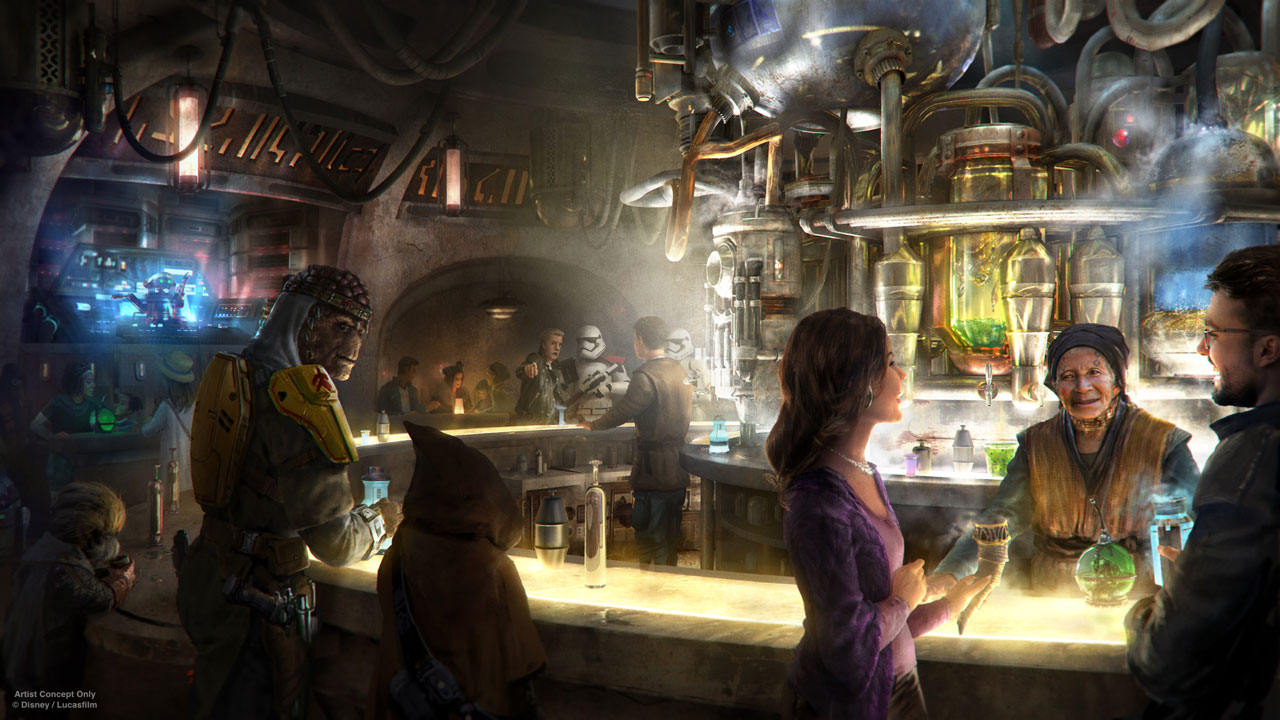 If there's one thing we already knew about Disney's upcoming Star Wars: Galaxy's Edge attraction, it's that it's going to be absolutely epic. Basically its own theme park, the new Star Wars land will have its own hotel, insane rides, and a village called Black Spire Outpost on the planet Batuu. Siiiiick.
However, one very important question has been lingering ever since the first concept art was released last year: Will there be a cantina? Can you get drunk there???
Well, my fellow Star Wars fans, the answer is YES. There will be a watering hole called Oga's Cantina, and you can get lit at the new Star Wars land. Praise the Disney engineers for making the happiest place on Earth just a little happier.
In a blog post, Disney announced that "No self-respecting remote outpost on the edge of the galaxy would call itself a smuggler's planet without a cantina, and Black Spire Outpost is no exception." Damn right!
Oga's Cantina is the kind of establishment that attracts some of the most interesting and disreputable characters in the galaxy. And you never know when a stormtrooper or a familiar face will show up. Patrons of the cantina come from across the galaxy to sample the famous concoctions created with exotic ingredients using "otherworldly" methods, served in unique vessels. With choices for kids and libations for adults, the cantina will make for a great stop!
In other words, you'll be able to experience this, but a PG Disney version:
https://www.youtube.com/watch?v=g6PDcBhODqo
Plus, here's some more fun news: The droid RX-24 from the original Star Tours ride is now Oga's Cantina's official DJ, bringing you the best beats from a galaxy far, far away.
Are you excited? Good! Star Wars: Galaxy's Edge is scheduled to open at Disneyland next summer, and Disney World in fall 2019.
H/T: UPROXX/Disney Parks Blog)