Watch This Shocking YouTube Reveal of The 'Diseased' Tobacco Inside Fake Cuban Cigars
Don't buy these phony stogies.
Still: YouTube/Cigar Obsession
Cuban cigars are some of the highest-quality stogies in the world, but counterfeits are often absolute shit—literally. 
The above video from Cigar Obsession features the dissection of a confirmed fake Montecristo Open Eagle supposedly made Havana, Cuba.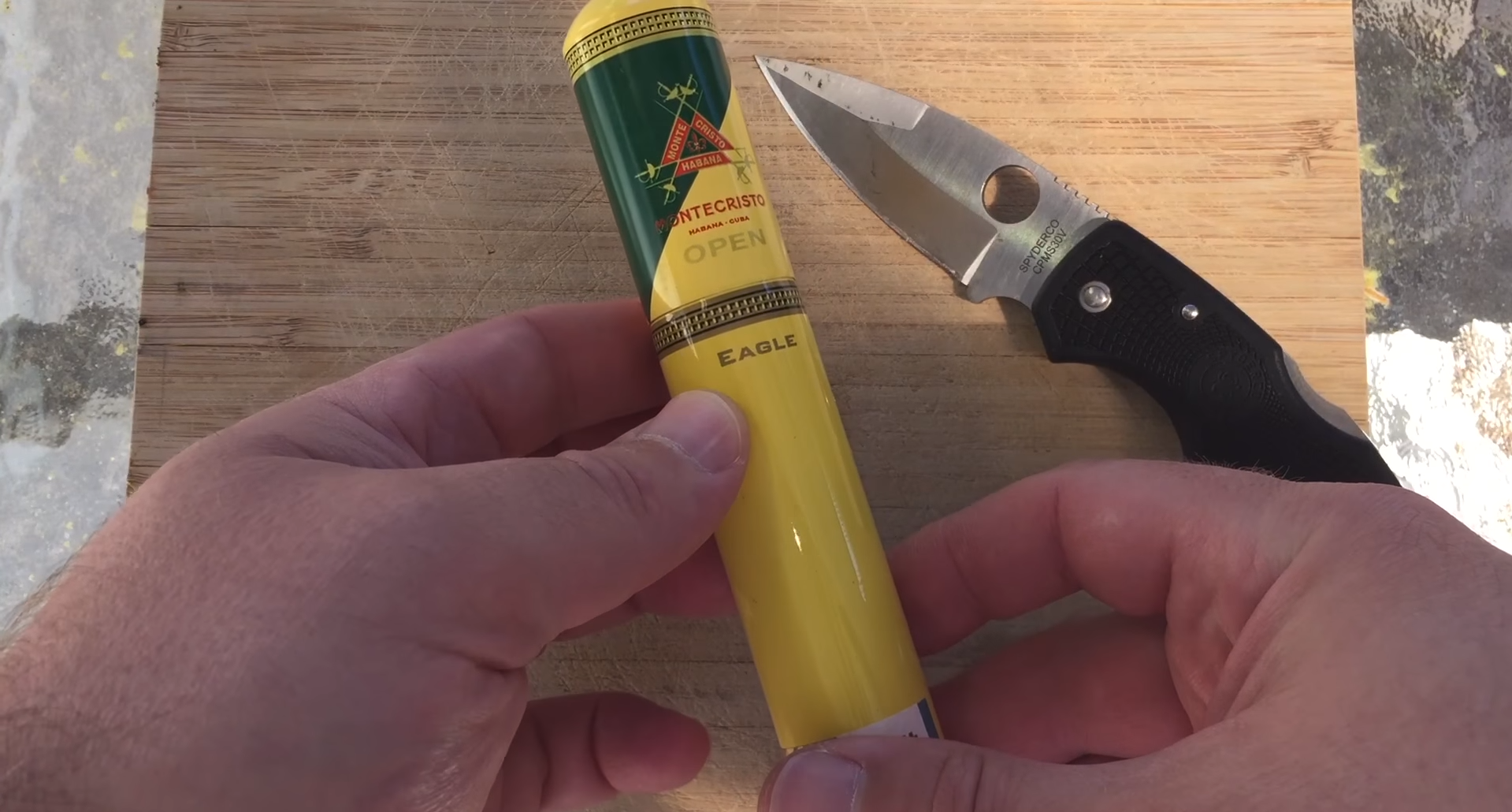 While it's packaged in a slick aluminum tube, the first red flag wafts through the air around the YouTuber as soon as he breaks the seal. 
"Wow, this smells like very heavy, potent… [like] latakia pipe tobacco. If you want to know what it smells like, think wet campfire. Not especially bad." 
That smell is a sign of things to come. He breaks the seam on a passable outer wrapper, revealing the next layer of binders that, while substantial, aren't rolled correctly. 
"This guy is like a rolled up wet paper towel. It's bunched."  
This is where it gets seriously gross. The next piece of tobacco is covered in sickly spots—not something you want anywhere near your mouth, let alone inside your lungs. 
"Look at all of these spots. That just looks diseased. That is disgusting." 
Finally, we come to the smelly meat of the cigar, which consists of dried cutting room floor sweepings. He finds dirt in this example, but it's just one of many unsavory ingredients used in fakes… including what he says might be actual shit. 
"You can find anything in here. It's a factory floor in a third-world country. You've got shit, you've got dead animals, you've got dead insects, you've got hair." 
As you wander through towns in Cuba or the Caribbean, there's one thing you can do to avoid getting duped with a fake: refuse the hustle. 
Per Cigar Advisor: 
The line these hustlers use to close the sale is usually something like, "My brother works at the El Rey Del Mundo factory. . . yadda-yadda-yadda."

The sucker who thinks he's getting Montecristo, Romeo y Julieta, or Cohiba cigars is more likely getting cigars rolled with cheap tobacco that didn't even come from said factory; they may even be machine-made cigars.  
Smoke smart, people.