Häagen-Dazs Launches 7 Booze-Infused Ice Cream Flavors
CHEERS.
(Photo: Häagen-Dazs)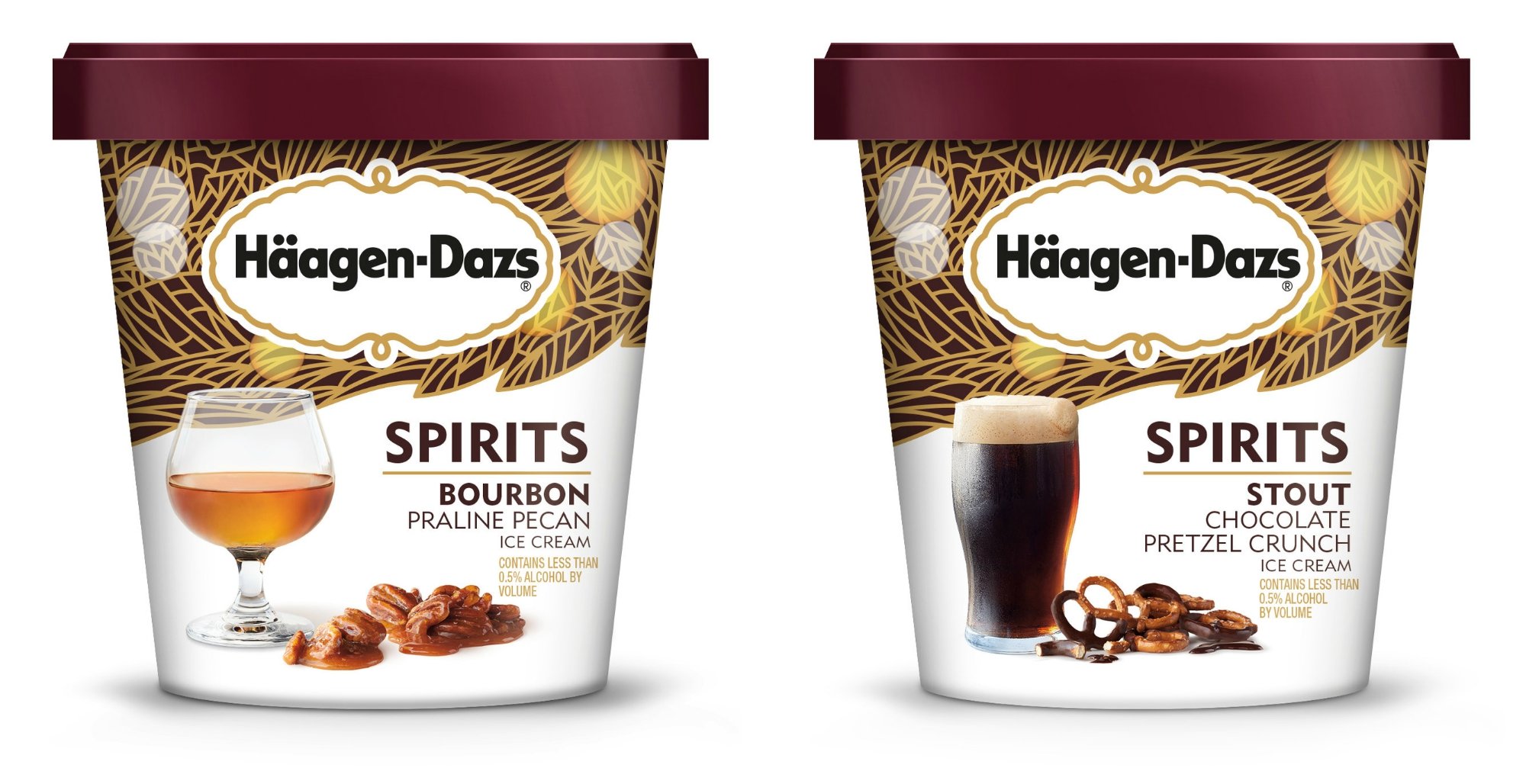 If you've ever poured some kind of liquor over ice cream, you already know how delicious it is, so prepare to get psyched about Häagen-Dazs rolling out a new booze-infused Spirits collection, with seven deliciously drunken flavors like Stout Chocolate Pretzel Crunch, Bourbon Praline Pecan, and Rum Tres Leches.
The Spirits line has seven flavors, and frankly, all of them sound worthy of trying at least once. The full line of flavors are:
Irish Cream Brownie: Irish Cream-infused ice cream with chocolate brownie pieces and a fudge swirl.
Rum Tres Leches: The Latin American-inspired flavor is infused with rum, ribbons of dulce de leche and chunks of Tres Leches cake.
Bourbon Vanilla Bean Truffle: The vanilla bean ice cream has chocolate truffles and finished with a spicy bourbon swirl.
Stout Chocolate Pretzel Crunch: The stout-infused chocolate ice cream with notes of toasted malt includes chocolate-covered pretzels and fudge swirls.
Bourbon Praline Pecan: The bourbon ice cream is infused with brown sugar bourbon swirls and the praline pecans.
Non-Dairy Amaretto Black Cherry Almond Toffee: Sweet black cherry jam and almond toffee pieces are folded into the nutty Amaretto-infused non-dairy dessert.
Irish Cream Cookie Squares: Chocolate cookie topped with Irish Cream-infused ice cream dipped in dark chocolate.
Rachel Jaiven, Häagen-Dazs brand manager, says: "The Spirits Collection was expertly crafted to offer new, extraordinary ways to indulge," Jaiven said. "Each flavor is perfect to pair with your favorite cocktail, elevate a boozy float or simply enjoy on its own."
Javien says she expects the most popular flavor will be the Irish Cream Brownie, and adds that "it was one of the most popular bring-back requests from our consumers. It's a nod (to the old version), but we've also enhanced it."
The flavors were developed by Aaron Butterworth, who, according to Esquire, says the concept was sort of a science experiment, and the Stout Chocolate Pretzel was particularly a bit of a risk. 
Butterworth admits she was skeptical of adding the maltiness to an ice cream, but that the salty pretzel and sweet chocolate will create the perfect balance.
Unfortunately, though, these boozy flavors won't actually get you drunk…nor will they get you even the tiniest bit tipsy. With an alcohol content of less than 0.5 percent, this ice cream will only give you the flavor profile of the liquors in them. Sorry. 
"You can indulge freely without any concerns," Jaiven said.
All seven flavors will hit stores nationwide in April, but starting Match 1st, the Irish Cream Brownie and Vanilla Bean Bourbon Truffle flavors will be available at Häagen-Dazs shops.