5 Killer Cocktails Inspired by Hendrick's New 'Gin Palace'
These badass botanical riffs on the martini, G&T and more were created at a madcap temple devoted to all things gin.
Hendrick's Gin
The new Hendrick's Gin Palace is unlike any distillery you've seen before. It's a madcap temple devoted to gin and the botanicals that flavor it, with a cheeky Victorian theme throughout (fancy a ride on a penny-farthing? There are a few parked out front). 
It's located at the Girvan distillery, where Hendrick's parent company William Grant & Sons makes grain whisky for its blended malts like Clan MacGregor and Grant's, as well as many other brands that the whisky is sold off to. 
The Gin Palace, which opened last fall, feels a world away from the rest of the factory-like grounds. It's not currently open to the public, although that could possibly change sometime in the future.
Instead, this is where Hendrick's invites bartenders and media to discover the magic and science behind the gin-making process and get some one-on-one time with master distiller Lesley Gracie, who was instrumental in creating Hendrick's back in 1999. 
The gin is made with many familiar botanicals, including juniper (by definition this must be the most prominent ingredient), coriander seed, and orange peel. But what sets Hendrick's apart is the use of cucumber and rose essence as flavor components, which was unheard of at the time.
Gracie clearly takes great pride in showing off the facilities. The original stills are located in a room just off the lobby behind a huge glass wall. There are two types of stills used to make Hendrick's. Botanicals are added directly into the Bennet still (built in 1860) to be steeped like tea before distillation. 
In the taller Carterhead still, which dates back to 1948, the botanicals are steamed in a basket as the alcohol vapor rises before being condensed back into liquid form. There's another smaller still that matches the Bennet called the Carrick, which was built in 2015. All three stills are doubled in another area of the distillery to increase production.
This allows Hendrick's to make two very different distillates. Although the proportions are kept secret, Gracie and her team combine liquid from the stills at a very high ABV (about 70 percent). This high-proof gin is then blended with neutral grain spirit, at a ratio of 1:9 (gin:spirit) before being proofed down and bottled.
Upstairs from the stills there's a bar where you'll find not just Hendrick's but other spirits from the William Grant & Sons portfolio (Glenfiddich, The Balvenie, Milagro Tequila, etc.), and, on a good day, a bartender making any number of excellent cocktails.
On either side of the main lobby, there are greenhouses that offer a bit of respite from the dreary Scottish countryside. One maintains a tropical climate, with pineapple, mango, and orchids popping up in bursts of color. 
The other is a cooler (but still warmer than Scotland) Mediterranean climate; step inside and inhale air scented with citrus, passion fruit flowers, and even some agave. These greenhouses are important to Gracie, who frequently visits to harvest botanicals that she brings back to her lab to experiment with.
Gracie's labor has been fruitful, as two more expressions have been added to the Hendrick's lineup. At the end of last year, Orbium was released in the U.S. This expression adds extracts of quinine, wormwood, and lotus blossom to the Hendrick's flavor profile, bringing flavors of tonic and vermouth into the mix to suggest classic cocktails like the gin and tonic and martini.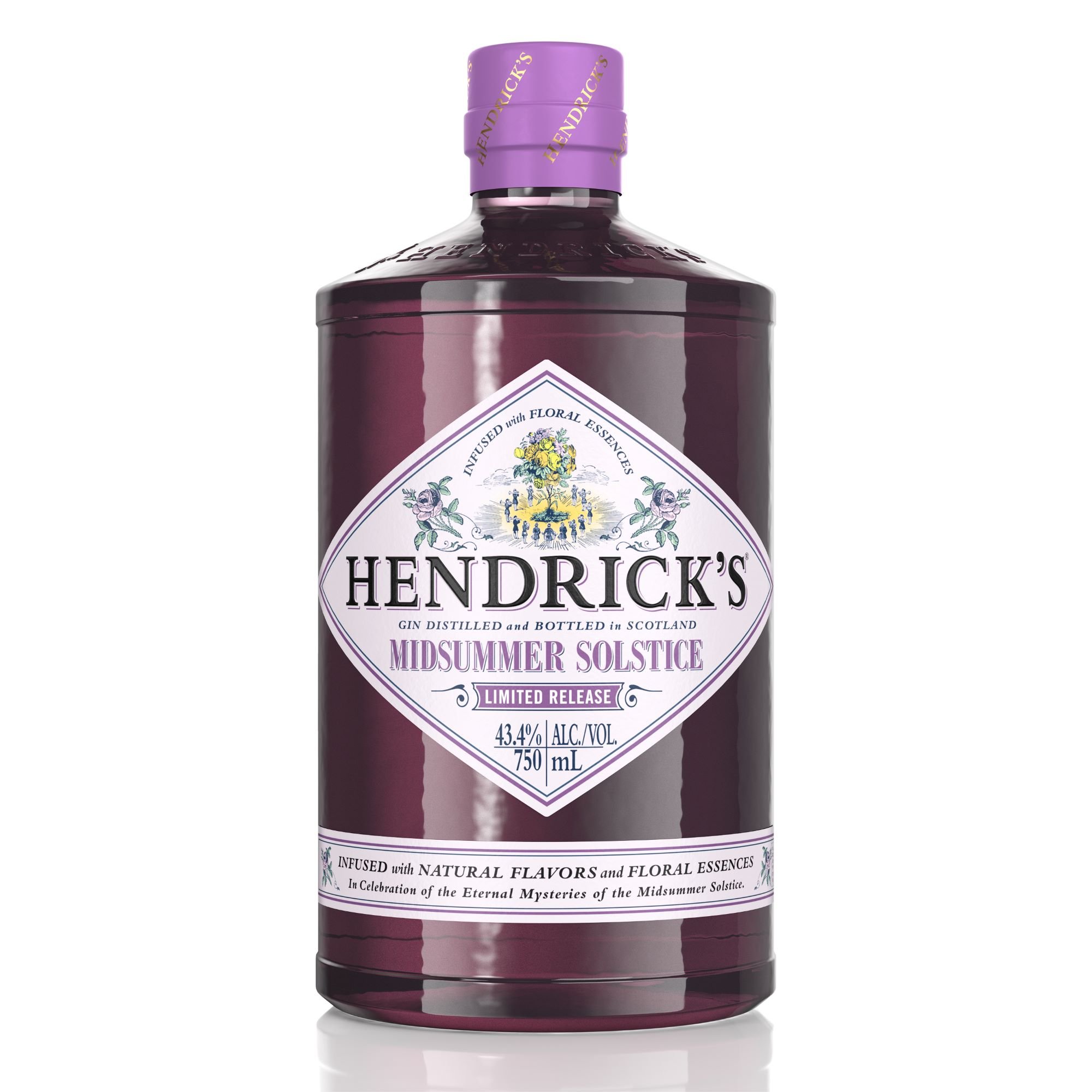 The newest member of the Hendrick's family, available in limited quantities this May in the U.S., is called Midsummer Solstice. Gracie found inspiration for this gin in a former Hendrick's brand ambassador's wedding bouquet, and extracted the essence of a secret mixture of flowers to use as flavoring. It's a little bit sweet and floral, with a burst of berry notes on the palate.
Here are some gin cocktails you can make with Hendrick's (or another gin if you prefer) that are perfect for the warmer weather of the spring and summer.
Dressed & Dapper
Created by Mattias Horseman, Hendrick's Ambassador
1 part Hendrick's Gin
1 part Aperol
1 part Yellow Chartreuse
1 part fresh lime juice
Shake and strain into a chilled coupette.
Midsummer Spritz
Styled by Sebastien Derbomez, Hendrick's Ambassador
1 ½ parts Hendrick's Midsummer Solstice
½ part elderflower
Top with soda
Squeeze of lemon
Build in a wine glass. Garnish with flowers and cucumber.
Orbium Martini
As prepared by Erik Andersson, Hendrick's Ambassador
2 ½ parts Orbium
½ part Dolin Blanc
Combine ingredients in a martini glass and stir. Pour cocktail into a coupe and garnish with a lemon twist discarded and cucumber slice.
Hendrick's & Tonic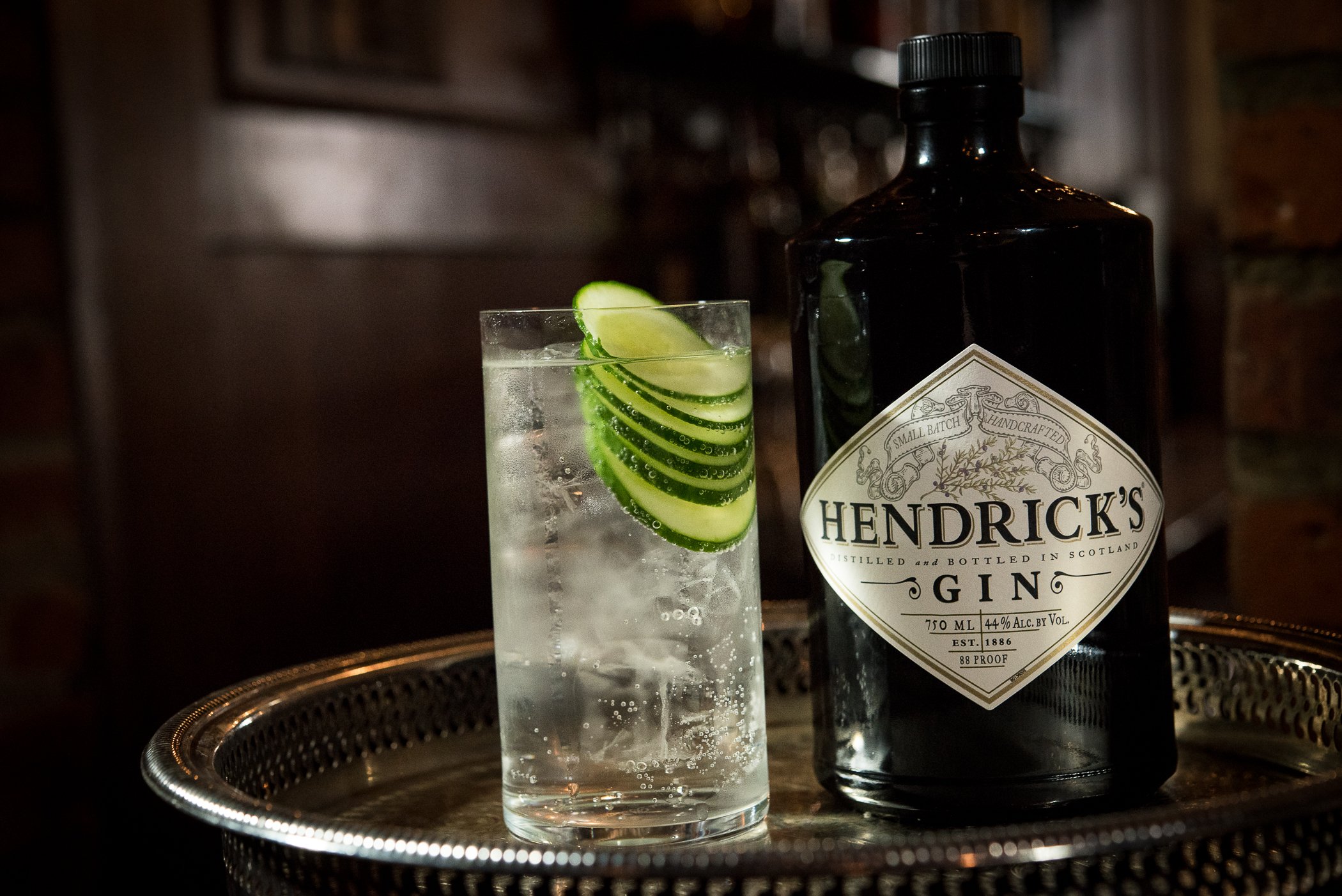 1 part Hendrick's Gin
2 parts tonic water
3 fine cucumber slices
Fill a highball glass with good cubed ice. Combine all ingredients and give a gentle stir. Finish with 3 fine cucumber slices to garnish
Cucumber 75
1.5 parts Hendrick's Gin
.5 part fresh lemon juice
.5 part simple syrup
Dry sparkling wine
Cucumber slice
In a mixing glass muddle Hendrick's, lemon, simple and cucumbers. Ice, shake well and fine strain into a flute. Top with sparkling wine. Garnished with a cucumber slice.