Hennessy and Street Art Star Vhils Unveil 'Very Special' Collector's Cognac
This beautiful limited edition bottle is a work of art you can drink.
Presented by Hennessy
Earlier this year famed French cognac house Hennessy unveiled an impressive collaboration with white-hot street artist Vhils on a limited edition version of its iconic V.S (Very Special) expression. 
The Hennessy V.S Limited Edition by Vhils featuring custom artwork by the rising star – known for the enormous portraits he carves in bas-relief directly into plaster and brick on walls in cities around the world – has been a hot seller and quantities are getting scarce (you can still score one here).
At Art Basel Miami however they just upped the ante with an even more exclusive edition that easily ranks as one of the coolest collaborations ever between the worlds of art and spirits. 
That's because the Hennessy Very Special Collector's Edition by Vhils is a true work of art in its own right. Only 100 examples of the unique sets, comprised of a collector's edition bottle and a one-of-a-kind display box, are being made at $1,000 apiece, available to order via Clos19, LVMH's e-commerce site dedicated to the "Art of Hosting" (order yours here).
No two of the stunning pieces are exactly alike, and each is hand-signed and designed using Vhils' world-renowned "Making the Invisible Visible" technique. As the artist debuted "Ethereal," his first-ever solo show in Miami at the GGA Gallery inside the Wynwood Walls (running through February), on the eve of Art Basel Hennessy invited VIPS including its "Wild Rabbit Ambassador," hip-hop icon Nas, and supermodel Chanel Iman to get a first look at the Collector's Edition and celebrate the partnership.
"I've been a loyal fan of Hennessy for years," Nas relates. "I even mention the brand in the very first track of my first album 'Illmatic.' I drink and support the product because it's inspirational; that's what I love about Hennessy and the brand's ongoing Wild Rabbit campaign. There's a real inspirational and aspirational message behind it. They're asking people to push the limits of potential, which is what I drive to accomplish on and off the stage in my life."
More than a few of the limited edition bottles were already spoken for by the end of the intimate, star-studded event – not least because those who had been to the gallery first noticed that Vhils' works of art were selling quickly at upwards of $50,000 a pop. With an artfully-designed menu complete with bespoke Hennessy cognac cocktail pairings and a crowd drawn from many different creative fields including art and fashion, it was one of the most coveted invitations of the week.
Beyond some very beautiful bottles of the world's best-selling cognac however, Hennessy and Vhils, who hails from Lisbon, have created "immersive new art experiences" in cities such as New York and Chicago as well as overseas. 
In every region they visit Vhils and Hennessy will highlight "musicians, artists, and socially engaged individuals working to promote creative expression in their communities," while the very story of Vhils, who has gone from obscure graffiti artist to art world superstar, is an inspiration to all.
The collaboration with Vhils "opens an exciting new page in Hennessy's longstanding tradition of artistic partnerships" which goes back to the 19th century, the brand notes, but in recent years has included collaborations with the likes of Futura, Shepard Fairey, Ryan McGinness, Marc Newson, A$AP Ferg, and others. 
To create the layered composite artwork for the original edition bottle's label and gift box, as well as the much more elaborate Collector's Edition, Vhils first traveled to the Hennessy chateau and maison in Cognac, France and selected hallmarks from the Hennessy archives as elements to incorporate.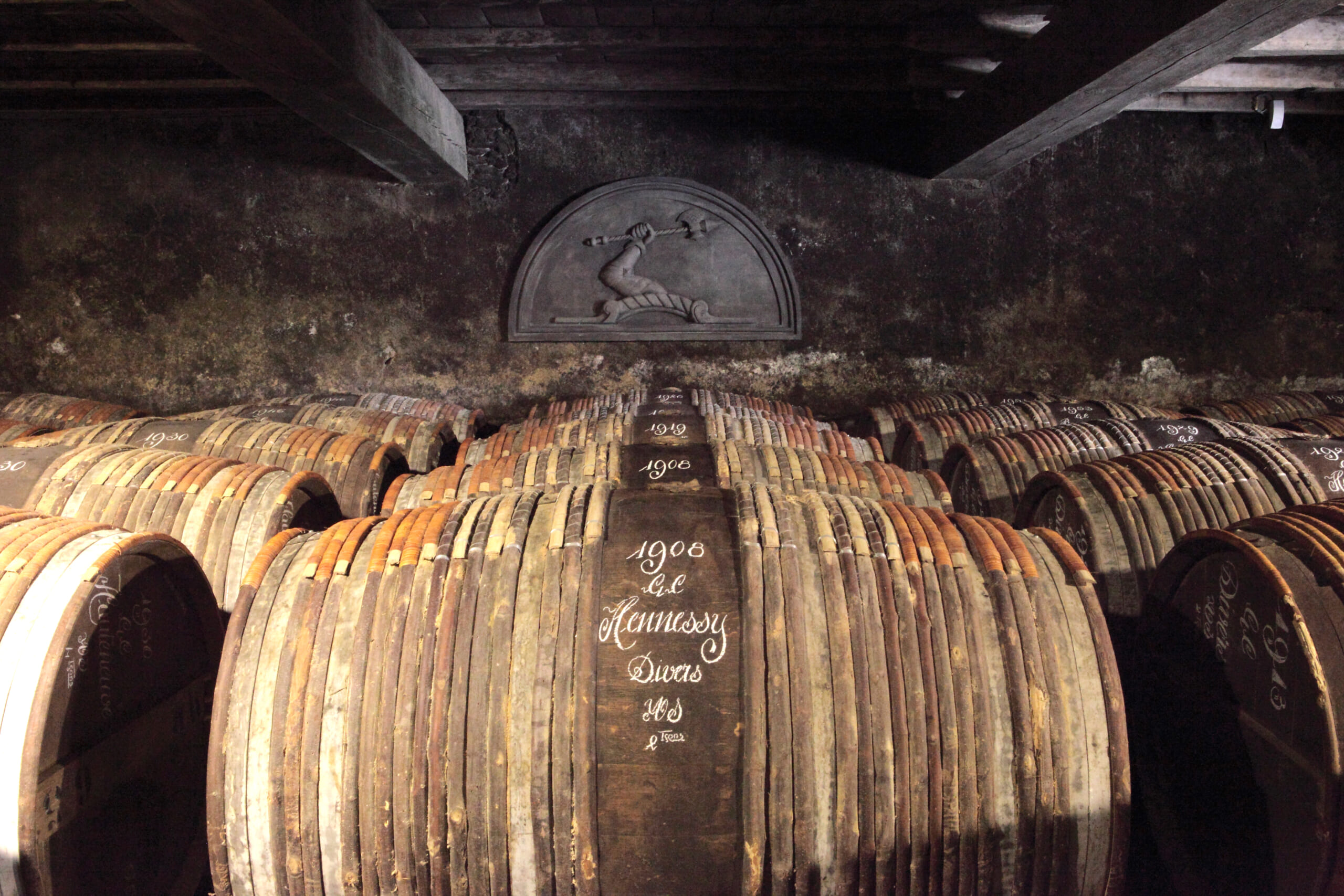 Since its creation in 1765 Hennessy's mission has been "unique savoir-faire, a constant quest for innovation, and an unwavering commitment to creation, excellence, legacy and sustainable development." 
Since 1987 it has been a cornerstone of the LVMH luxury goods empire, and over its two-and-a-half centuries Hennessy cognac has been a favorite of everyone from emperors and kings to rap moguls and Wall Street tycoons. Like Jay-Z making a video at the Louvre, thanks to collaborations like this one it's imbued with centuries of art and culture but at the same time extremely cutting-edge.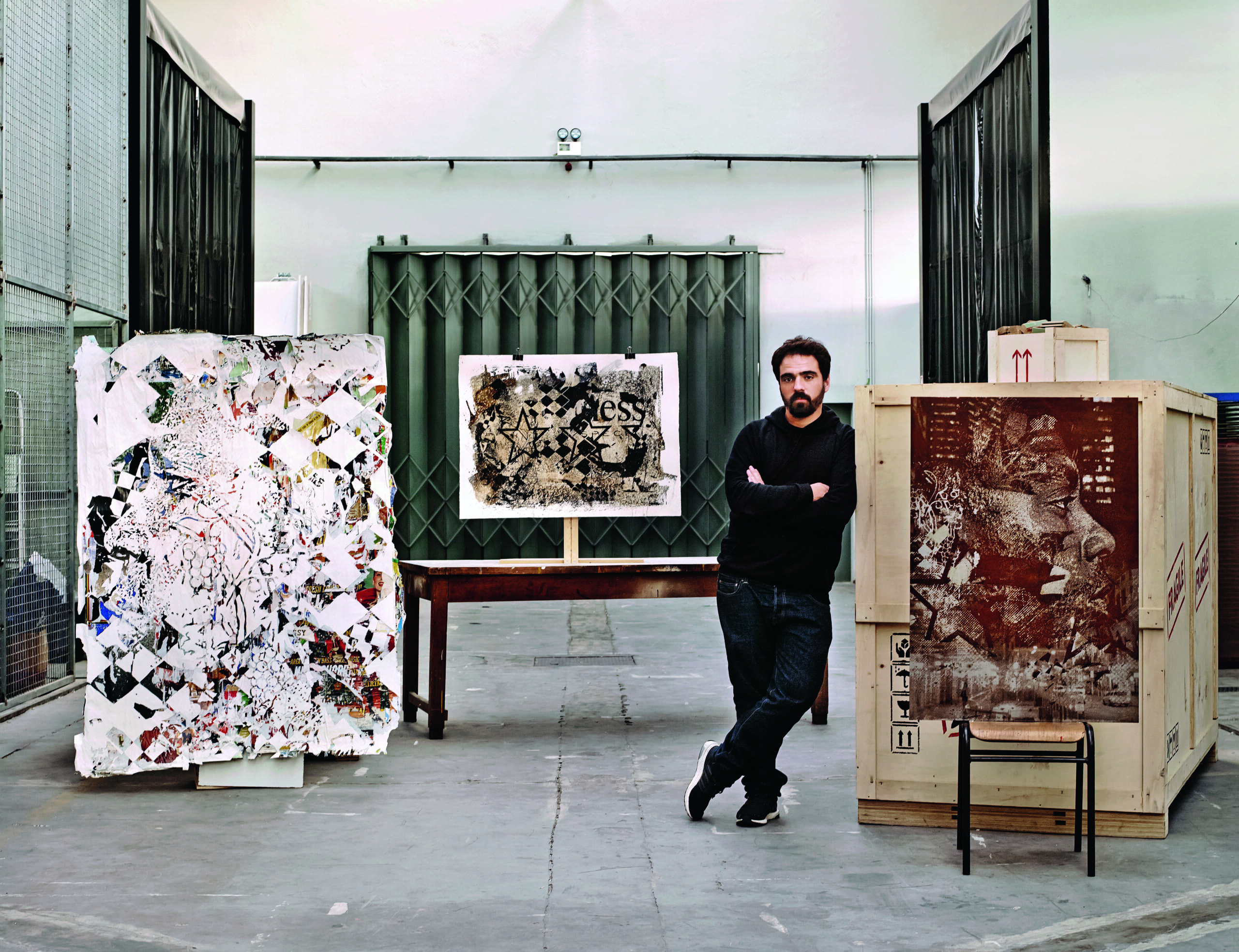 "I grew up looking at the giant murals of Lisbon from the '70s," Vhils relates. "I saw them be covered over with billboards. And then graffiti, sometimes my own. The city was changing right before my eyes and I wanted to bring attention to that. 
"I started making these giant portraits from built up layers of paint and paper, stone and steel, wood and concrete. I cut, I chiseled, I even used small explosions" to create his works of art, hence, making the invisible visible. "I knew Hennessy from before because they've always been big supporters of the hip-hop scene. And we both do something that takes a lot of time. You have to wait, let it do its thing, and then give it shape."