Jack Daniel's Launches Tennessee Apple Whiskey
The 70-proof hooch tastes like "a freshly-picked apple in glass of Jack."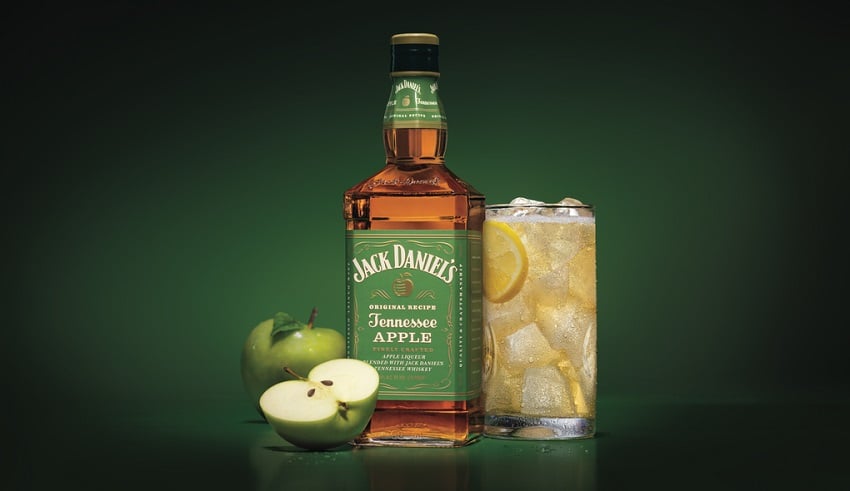 Jack Daniel Distillery
A lot of people love the fall. It's that cozy season, time to pull out the hoodies, watch football and take the family apple-picking. 
Jack Daniel Distillery, with pitch-perfect timing, has decided to use this time of turning leaves to introduce Jack Daniel's Tennessee Apple, perfect for sipping around that first October campfire. 
Tennessee Apple has been created with oak barrel-matured and charcoal-mellowed Jack Daniel's Whiskey and apple liqueur. It has that unique JD signature flavor with extra citrus snap that Jack Daniel's Master Distiller Jeff Arnett says  "couples the character of our Jack Daniel's Tennessee Whiskey with the taste of crisp, green apples."
Arnett makes it just a little more irresistible by adding that it's "like a freshly picked apple in a glass of Jack."
Jack Daniel already has some cocktail recipe ideas to go with this new offering like the simple Jack Apple Fizz–just combine two ounces of Jack Daniel's Tennessee Apple with 1/3 oz of lemon juice. Then pour over ice and top it off with soda and a lemon garnish.
This blend of green apples accompanied by that rich, sweet Jack Daniel's boldness is 70 proof and available as of October 1st wherever JD is sold. 
It comes in 50 ml, 375 ml, 750 ml and 1-liter bottles for a suggested retail price of $26.99.