Knob Creek Celebrates 30th Anniversary With Its Oldest Kentucky Bourbon Yet
The limited edition, 100-proof whiskey—aged twice as long as Knob Creek's standard bourbon—smacks of caramelized oak and sweet vanilla.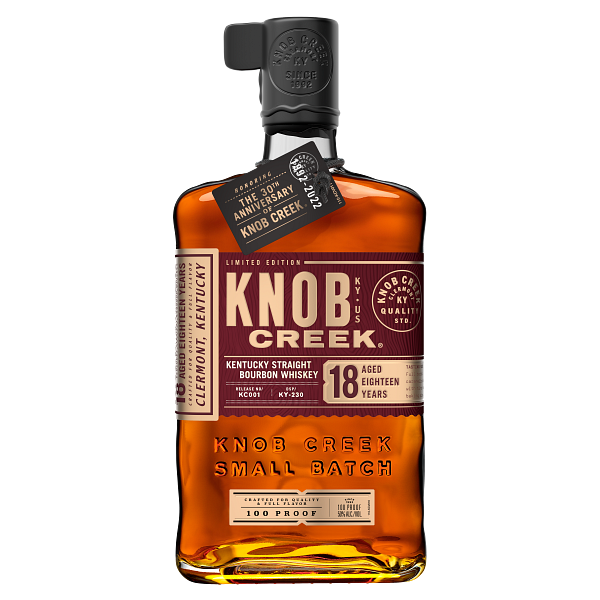 Knob Creek is celebrating its 30th anniversary with the release of its oldest Kentucky straight bourbon yet.
Knob Creek 18 Year Old is aged twice as long as the company's flagship bourbon and clocks in at a suitably stiff 100 proof. The well-aged bourbon boasts a rich copper color and complex flavor profile that delivers "notes of caramelized oak and sweet vanilla with a warm finish," according to tasting notes from the brand.
Booker Noe, grandson of Jim Beam and Sixth Generation Master Distiller, set out to make the best pre-prohibition style Kentucky bourbon he could when he made the first Knob Creek whiskeys 30 years ago, and the Kentucky company seeks to celebrate his legacy with its latest release.
"As we celebrate 30 years of Knob Creek, it's clear to me that Dad was ahead of his time in creating innovative expressions with big, bold flavors that defined pre-prohibition whiskey," said Fred Noe, Booker Noe's son and a seventh-generation Master Distiller.
"This new 18 Year Old liquid is a nod to his vision and commitment to quality and craftsmanship, and I know this is a whiskey he'd be proud to serve. I'm honored to further his legacy with Knob Creek's oldest and boldest expression yet."
Knob Creek 18 Year Old is now available nationwide in limited quantities from $169.99 per 750mL bottle.