Bottle of Macallan 1926 Scotch Sells For $1.9 Million, Setting New World Record
It's the most expensive bottle of booze ever sold at auction.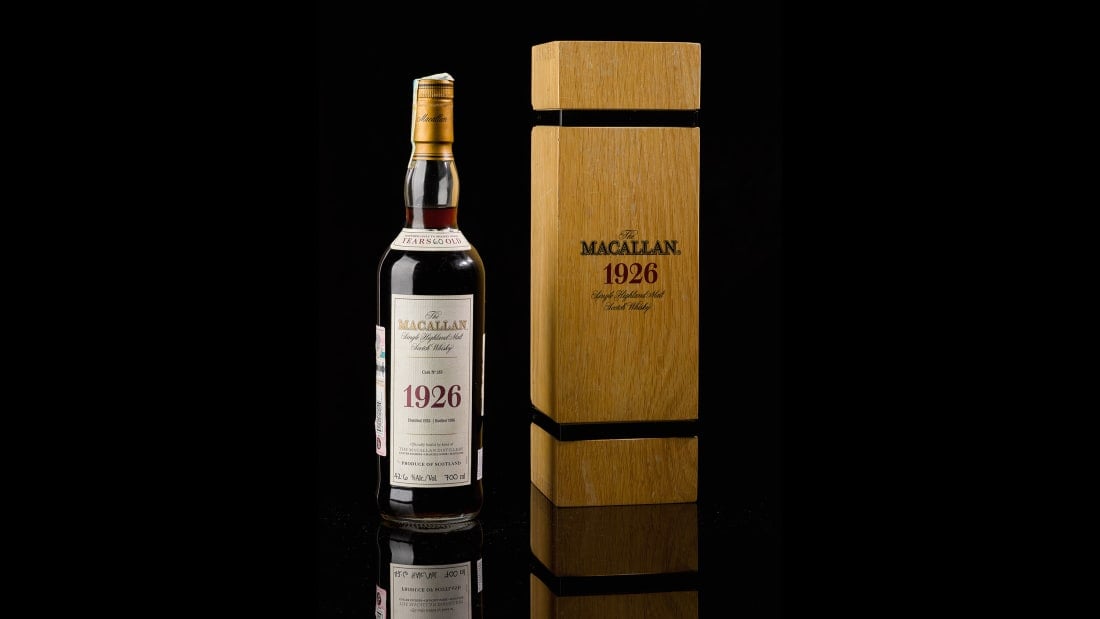 Sotheby's
It happened again: Impeccably aged Macallan scotch whisky has blasted through previous records for individual bottles sold at auction. Just as interesting is the fact it is the second bottle from the same batch to achieve such a record.
The spirit in question is the 60-year-old 1926 Macallan Fine and Rare, distilled that year and aged in cask 263. On October 24, Sotheby's managed to pull in a cool $1.9 million for the whisky, blasting the previous record set when Christie's sold another bottle of 1926 for $1.2 million. 
" tml-render-layout="inline
Only 40 bottles were ever pulled from the cask, reports CNN, and of those 40 Macallan only labeled 14 as Fine and Rare. 
Here's more from CNN:
"The electricity in the auction room was palpable," said Sotheby's Spirits Specialist Jonny Fowle in a statement. "There were cheers when the hammer fell on the Macallan Fine and Rare 1926, in what has to be one of the most exciting moments in the history of whisky sales.

"The 700 ml bottle contains about 45 pours of 15 ml each, breaking down to about $42,000 a pour for its lucky new owners.
There were 460 bottles up for auction, all reportedly from a single connoisseur's collection. Altogether, the entire lot sold for $10 million. 
Cask 263 has been something of a scotch gold mine, according to CNN—it "has produced six record-setting bottles beginning in 1986." 
In a history of those million-dollar bottles for Scotchwhisky.com, Richard Woodard writes that the cask was a lucky find when it was sussed out in the Macallan distillery, Speyside in the 1980s. 
A team of distillery employees, writes Woodard, were determined by 1986 to change Macallan's reputation from a mere producer of "blender's malt" and they started picking through warehouses full of casks aged 25 to 50 years. While trying to determine whether the 50-year-old was even worth bottling, someone noticed cask 263. 
One of the tasters from the time gave an intriguing description of his first experience with 1926: "Two of us had the hairs standing up on the backs of our necks because we were so amazed that it could last for 60 years in a cask and it was still so good." 
At a staggering $42,000 a pour, it damn sure better be.