The Maxim Guide to Morocco
From five-star stays and fine dining in the kingly city of Marrakesh to glamping amid Saharan sand dunes in Erg Chebbi, this is how you explore the North African nation in style.
Few places on earth evoke mystery, romance, and wanderlust quite the way Morocco does. Vibrant cities like Marrakech, Fez, and Rabat beckon with old-world charm, cultural heritage sites, traditions of artisanal cuisine and handmade goods, and ancient neighborhoods in which getting lost is part of the adventure.
The magnificent dunes of the Sahara are a must-visit in their own right and ideal for an overnight stay. Here, our insider's guide to the wonders of the North African jewel.
Marrakech: Fit for a King 
To begin to comprehend the intoxicating and contradictory city that is Marrakech, you need a metaphor. And these days the handiest is what you drive—or, more accurately, what you're being driven around in. 
You could take the high road, and survey the Red City in the cosseted
privacy of a Bentley from the Royal Mansour's fleet. Or you could go adventurously low and hire a Russian-made Ural motorcycle from tour outfitter Marrakech Insiders and observe the sensory onslaught of the
city from a low-slung sidecar. 
Either way,
Marrakech will make its mark on you. The cacophony of hagglers and
shoppers just steps from the silence of an opulent private courtyard underscores the city's timeless tension between artistry and chaos. And increasingly, luxury abounds, making it a ripe time for a visitor wanting to live like a king while experiencing a city that resists oversimplification. 
Arabian, African, and European influences make for a heady mix that's drawn in everyone from the hippies to Yves Saint Laurent and now celebrities like David Beckham (who celebrated his 40th birthday here) and pop stars such as Usher. While well-resourced travelers might come looking for the perfect imperfections of ancient handmade wares, the city may also reward them with a refinement they hadn't expected. 
This is a city with a kingly influence felt acutely, thanks to, well, the king. Specifically, King Mohammed VI, who has thrown money and resources into developing the country's tourism infrastructure, with a grand Plan Azur turning the western beaches into coastal resorts and increasing the country's visitors year by year. 
But the gateway city, accessible to Europe and dense with cultural and architectural riches, is the best introduction, with ever more hotels, luxury riads (traditional Moroccan houses built around courtyards), restaurants, and a growing nightlife boom that sizzles despite being behind fortified walls. 
The Royal Mansour Marrakech,
commissioned by King Mohammed VI himself, remains the palace to beat, with over 50 individual riads hidden in a vast resort that is a fantasia of tile work, carved woods, meandering pathways, and lush plantings, with the requisite restaurants and spas and a cigar bar stocked with Cohibas and Romeo y Julietas. 
Each riad is three stories high, with its own private patio,
ornate tile work, plunge pool, and your own slice of Moroccan sky. Within the medina, this is a respite of the highest order—it has reportedly hosted everyone from heads of state to John Legend—and it is discreet:
Privacy is well-guarded, as befits the dignitaries, artists, and moguls who book here. 
For all of the city's kingly appointments, it's the poets and musicians and the fashion crowd from France and beyond who mined Marrakech for inspiration and in turn
made a mark that remains to this day.
No outsider has left as indelible a stamp on both the city and the global traveler's imagination as French fashion icon
Yves Saint Laurent, who came here in 1966 and made the city his second home. 
Late 2017 saw the opening of the Musée Yves Saint Laurent Marrakech, which gives anyone with a taste for luxury a crash course in the inner workings of the man behind one of the most enduring fashion brands. It houses archival pieces from the YSL collection, the designer's sources of inspiration, sketches, a screening and
performance space, and a library of volumes focusing on Berber culture. 
As Marrakech grows, one need not decamp to the Atlas mountains to escape the sensory overload of the city. While one doesn't normally associate golf with
Marrakech, just over five miles from the medina you can hit the links in one of
the world's most unique settings. 
To say you've played golf in Marrakech is an
impressive enough boast on its own, but
at Al Maaden Golf Resorts, the backdrop
is the snow-topped Atlas mountain range. On and around the course itself is a
sculpture garden with large-scale installations that take advantage of the natural topography.
Continue your regal indulgences several miles southwest of the city center at the Selman Marrakech, a luxury
hotel that doubles as a stud farm breeding award-winning Arabian thoroughbreds. Here the romance of the Arab equestrian
tradition endures as you dine on tagines in the gardens and observe a parade of
thoroughbred horses. 
It's a reminder that puts the grand scale and epic timeline of Marrakech in perspective: Before the kings of the world were transported by Bentleys and the rogues rode in motorcycle sidecars, Marrakech inhabitants explored the city on Arabian horses of the finest breeding. 
NIGHTLIFE 
While concierges might point you to more traditional, albeit packaged, versions of Marrakech nightlife, with the requisite belly dancers and fez-hatted waitstaff, the city yields more authentic pleasures, ranging from the subtle to the sybaritic, to those who know how to seek out the subcultures and scenes that keep this city's nightlife vibrant and modern. 
Contemporary mixology has made its mark on Marrakech at Baromètre, a restaurant and bar whose interior is inspired by distillery and apothecary design, with brewery piping as an architectural flourish and glass jars behind the bar. 
Here you can order Instagram-worthy cocktails poured into creative glassware and finished with elaborate garnishes: Drinks are served in vessels such as pipes designed for two or Campbell's soup cans. 
For the best mix of locals, expats, and in-the-know travelers, Bô & Zin is the latest insider nightlife institution; it's so of-the-moment it has its own SoundCloud station pumping out grooves. The design is low-key but sultry, mostly subdued taupes and tans with touches of red, and modern lines.
 Dine in the candlelit glow of the garden lined with cactuses and bamboo. As the evening progresses, locals get up from the tables and start dancing in the true fashion of a house party. Or make that a riad party. 
For a Francophile take on the city, head to Le Palace Marrakech in the neighborhood of Hivernage, a modern luxury zone that's home to shops like Louis Vuitton and other storied
brands. 
Le Palace is a tasteful, clubby restaurant that successfully channels the Morocco of the YSL era: carved wood panels and photos of Saint Laurent, all set in a romantically lit, opulent Parisian boîte sort of way. It offers bistro and brasserie food for when you're not feeling like b'stilla and tagines. 
One of the most thrilling surprises in Marrakech is that travelers can gamble here, and the Casino de Marrakech is where they
can turn to the pleasures of the poker table or the randomness of roulette. Located at the Es Saadi Marrakech Resort in Hivernage, this is not only a stop on the World Series of Poker International Circuit, but also home to the decadent nightclub Theatro, with a calendar of DJ nights and dance parties where light shows, dancers, and even bottle service bring a bacchanalian vibe to this
otherwise staid city. -Hugh Garvey
Rabat 
In its more than eight centuries of existence, Rabat has seen it all. 
From its founding by Almohad caliphs, eager to utilize the city's proximity to Iberia for raiding, to its time under the control of Barbary pirates looking to dominate local shipping routes, Rabat has held strategic importance in the region. 
When France created a protectorate in Morocco in 1912, the seat of government was moved back to Rabat from Fez, in partnership with Sultan Yusef Ben Hassan, an Alaouite who claimed the throne when his brother abdicated following the French treaty. When Morocco finally achieved independence in 1956, then King Mohammed V (grandfather of the current king, Mohammed VI) decided to keep his capital at Rabat, where it has
remained ever since. 
While Rabat is filled with archaeological wonders, it is worth noting that non-Muslims aren't permitted inside the majority of Morocco's mosques. But that doesn't stop tourists from beholding the historical and aesthetic wonders of such sites as the Hassan Tower and the Mausoleum of Mohammed V, near the Bou Regag river. 
A minaret from an
incomplete mosque whose construction began in the late 1100s, Hassan Tower survived a devastating earthquake in the 18th century, and now serves as a guidepost for the entire city. Meanwhile, the Mausoleum houses the tombs of Mohammed V and his two sons; be sure to take in its design flourishes, such as exquisite tile mosaics, marble floors, and ceilings crafted from cedarwood and gold leaf. 
For a more immersive experience, don't miss the Chellah, a Roman settlement and later a Muslim necropolis, with some ruins preserved for more than a thousand years. The site has now been restored as a beautiful garden and tourist attraction, and has hosted the superb Jazz au Chellah music festival since 2005. 
Nearby, take a little time to explore the Oudayas Kasbah, with its laid-back vibe and central location. It is such an inviting area that many foreigners are putting down roots there. To escape the hustle and bustle of the metropolis, nothing tops the Andalusian Gardens, a tranquil respite right in the city that is just as popular with locals and their families as it is with Instagram-snapping tourists; the Botanical Gardens are worth a visit as well. 
In fact, Rabat has been touted as a "green city" for its focus on environmental issues and the creation of copious verdant space. But as the capital city of Morocco, Rabat
is also home to the king's nominal residence, known as Dâr-al-Makhzen or El Méchouar Essaïd palace. The current impressive compound was built in the mid 19th century, utilizing the
finest French and local design concepts.
https://www.instagram.com/p/Br04j59FCLs
Unless you're very well-connected, your visit will be akin to seeing the White House from Pennsylvania Avenue; you won't get on the grounds, but a talented guide can still provide a memorable experience with tales of historical and modern importance. 
Luxury accommodations abound. Euphoriad offers authentically Moroccan design and decor, with massage treatments in a carved marble hammam overlooking the Rabat medina. At Sofitel Rabat Jardin des Roses, a Moroccan feel prevails, but with every possible modern luxury amenity on offer. While it's tempting to stay in your suite, the on-site garden is an attraction in its own right. 
Finally, for unmatched luxury service, Hôtel La Tour Hassan Palace is a must. With an aesthetic that balances the chic and the traditional, you'll never want to leave, which works out nicely, as the property has a handful of restaurants in addition to the laid-back yet refined Piano Bar; there's also a VIP lounge, ideal for an evening of dancing for those still energized after a day exploring one of Morocco's most fascinating destinations. -Keith Gordon
Casablanca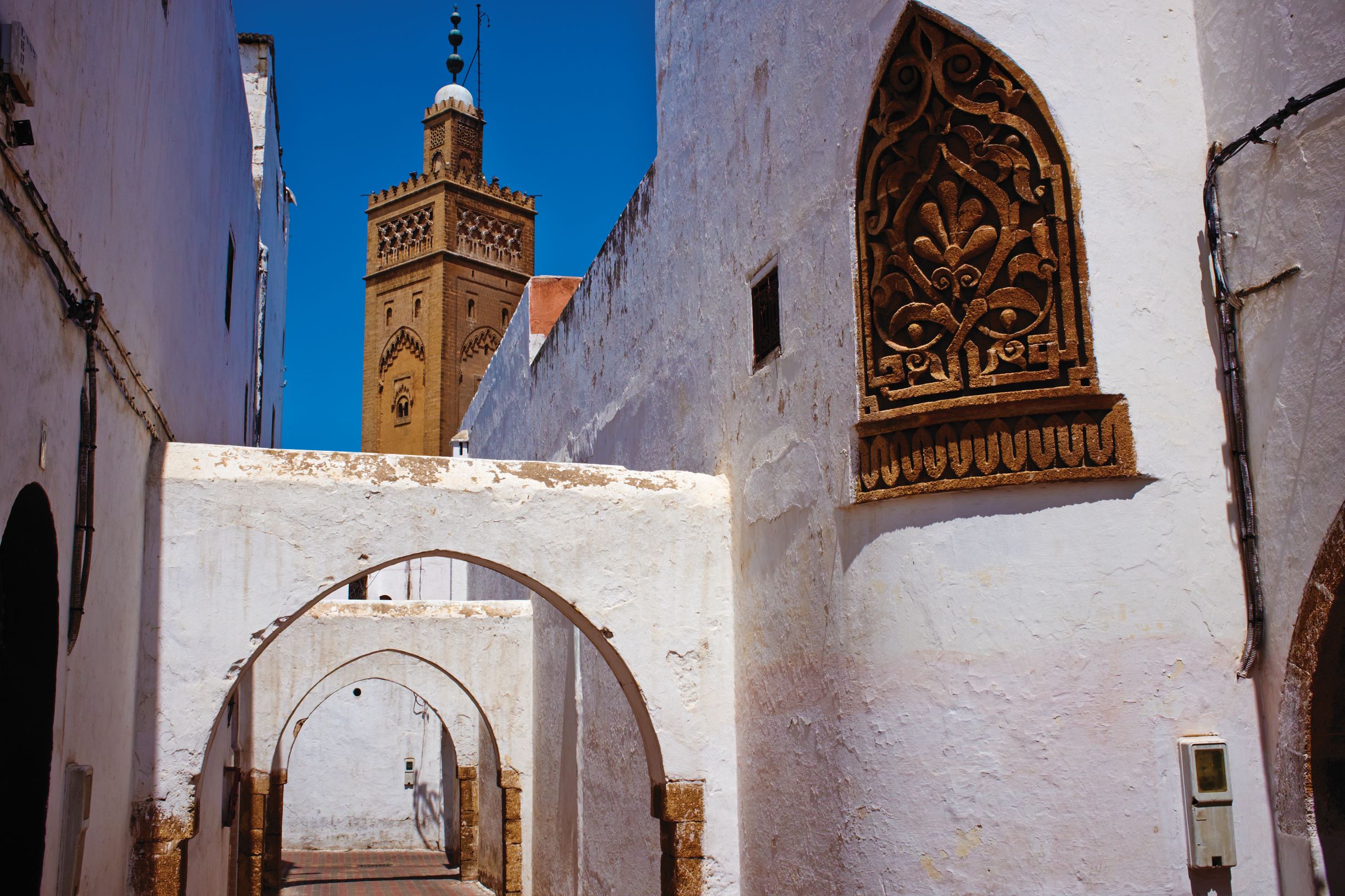 Casablanca. The name alone evokes images of beautiful, mysterious expats having passionate affairs and leading thrilling lives, but the true identity of the city today bears little resemblance to the Casablanca so many of us imagine. 
There's a Rick's Café, opened in 2004 and designed to resemble its namesake from the film, but to enjoy the city it's probably best to erase any preconceptions. While cities like Fez or Agadir may have more charm or personality, it's Casablanca, with more than three times the population of
Marrakech, that is Morocco's economic and industrial powerhouse, and the backbone of the country. 
Still, it is well worth a visit. One can stay at the Four Seasons Hotel Casablanca, which combines the opulent luxury of the hotel chain with all the Moroccan style, design, and culture one could wish for. Make it your beachfront home base, then check out the Old Medina neighborhood, with its winding streets and alleys, plus unique crafts. 
The nearby Marché Central is good for an array of spices and foods that will have your nose, and taste buds, encouraging you to experience Moroccan street fare at its finest. One should also schedule some time for a tour of the Hassan II Mosque. 
Not only is the mosque an exquisite modern representation of Islamic architecture, but upon its completion in 1993, it became the largest mosque in the nation. It's also the largest in Africa as of this writing, and one of few mosques in Morocco that allow non-Muslims to enter, offering guided tours throughout the day.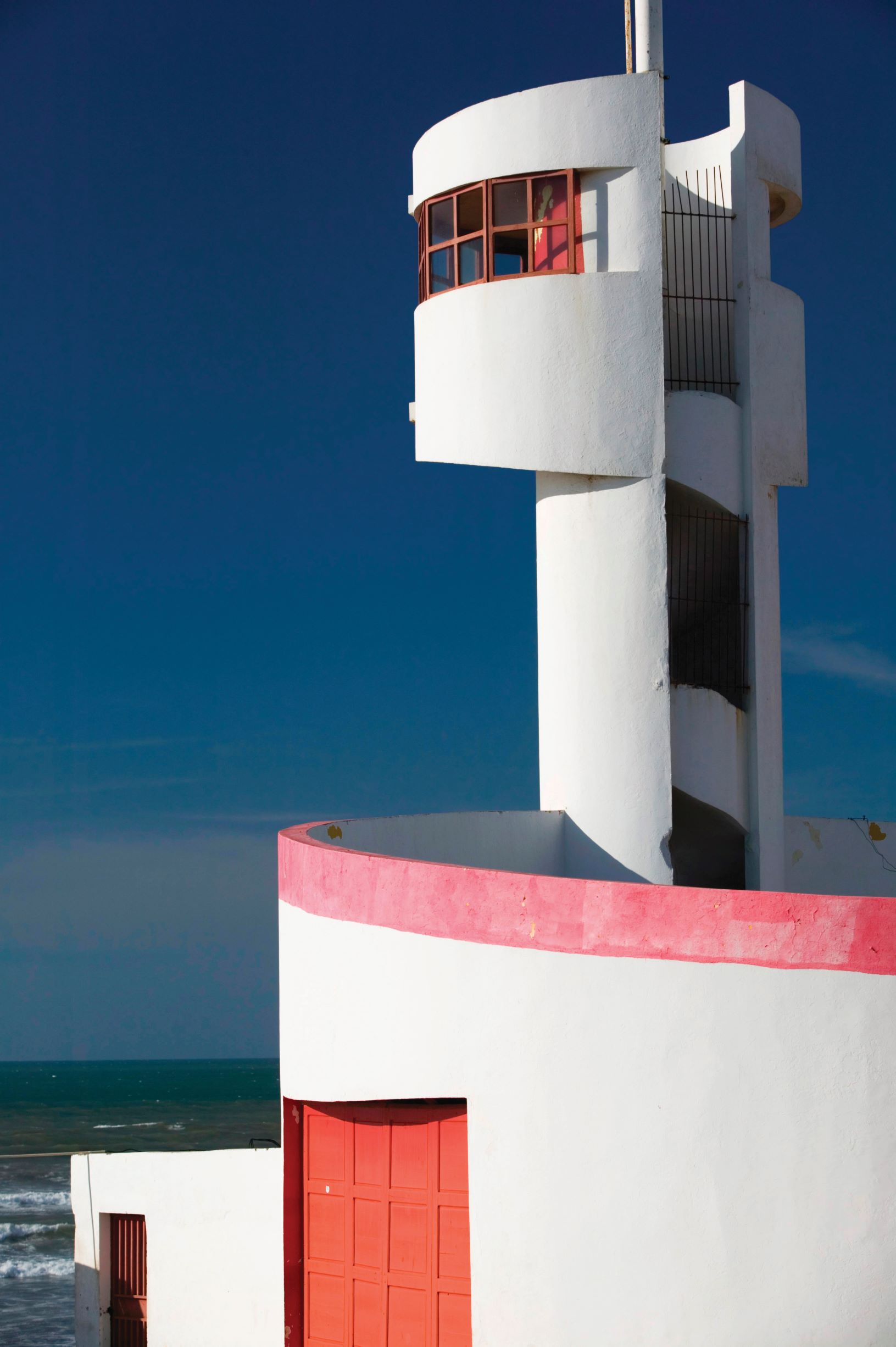 So while the
Casablanca you visit today might not match the city you've imagined since first seeing the Humphrey Bogart and Ingrid Bergman film all those years ago, it's got its own allure, and makes a great launching point for the rest of your Moroccan adventure. 
-Keith Gordon
Fez 
For all that the world's great cities promise a well-traveled man, there's nothing that can pop the bubble of a fully transporting experience far from home like bumping into overt reminders of what you left behind. 
In this place, free of Gucci and Prada and theme-y Moroccan restaurants, it's easy to recall that the truest luxury is the absence of off-the-rack ideas of luxury. Fez is a profoundly cultured city, with traditions of craft and beauty and layers of history that give it heft and depth. 
This is the city with the oldest university in the world, where tile work and architecture reach a pinnacle of elegant and compressed adornment, and where the best thing is frequently not the latest but the oldest, where a mindful evolution is in the making. 
Fez is rightly famous for being home to the most perfectly preserved medina in the country; Al Quaraouiyine, the aforementioned longest-running university in the world; and the ornate Bab Boujloud gate. But when someone does try something new, it's rooted in the city's tradition of refinement and exquisite craft. 
So it's no surprise that Fez is home to Nur, perhaps the most ambitious Moroccan restaurant in the world. Nur's Najat Kaanache worked under Ferran Adrià at Spain's legendary El Bulli, and she now oversees the kitchen at this restaurant, serving local ingredients like pigeon but in preparations that might include a chocolaty mole, all in a minimalist, black and white
dining room that offers a respite from the sensory overload of the streets. 
While there are no shortages of
traditional Berber poufs, rugs, and antiques competing for your attention in the medina, the appointment-only Artisan Project, run by an L.A. expat, Nina Alami, sells handwoven textiles and other works by local
artisans (including a former Maison Margiela designer), with an emphasis on fair trade and sustainability.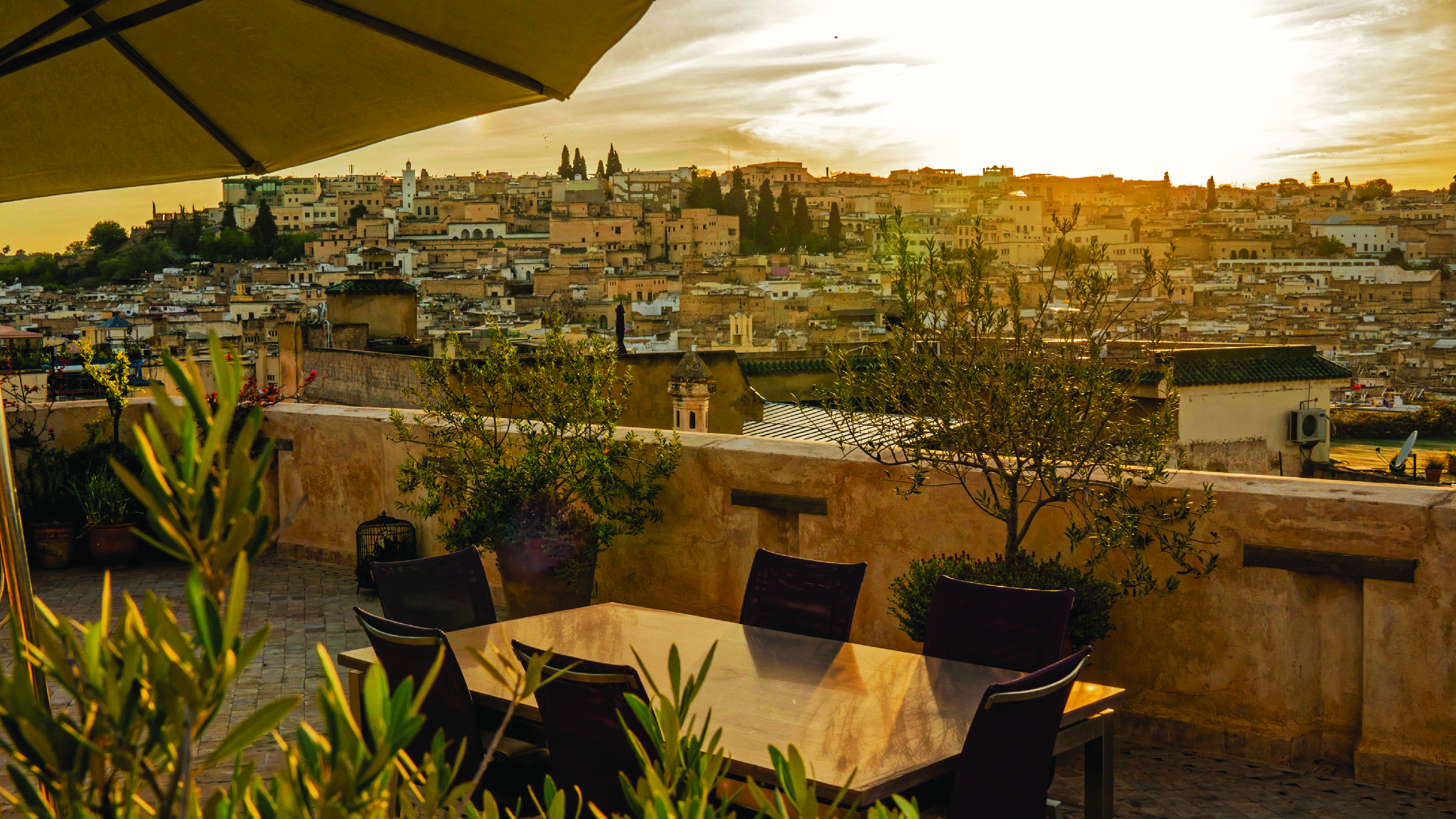 For those who want a truly bespoke cultural experience, the Arti
san Project also organizes sourcing services in the surrounding area. Fez is also home to Karawan, one of the country's most elegant and modern riads. The 300-year-old structure has been stunningly reimagined with a soaring multisto
ried courtyard, painted ceilings, hand-carved woodwork, and glazed mosaic tile. 
Modern-day pashas can rest in luxury while steaming in the hammam at the property's Ottomanstyle Leelah spa and contemplate their place in the history of this grand city. -Hugh Garvey
Agadir
It's uncommon for a modern city built largely in the past half century to have an extensive and fascinating history, but little about
Agadir is commonplace. Located on the shores of the Atlantic and one of the most visited towns in southern Morocco, it is a true tale of two cities: the one before 1960 and the one after. For it was in 1960 that a massive earthquake essentially wiped Agadir off the map, causing unprecedented destruction and erasing centuries of cultural and
architectural history. 
The main draw of laid-back Agadir
today is the city's easily accessible and tranquil beach, whose blue-green water, raw natural beauty, and cleanliness attract visitors in spades. It's a must-see spot when in Agadir, especially when the waves reach epic heights, perfect for both adrenaline-junkie surfers and beach strollers looking for some entertainment. 
But there's much more than just the beach to discover. For one, enter a city
hammam, especially if you want to relax and socialize but need a break from the North African sun. These bathhouses are a cornerstone of Moroccan culture and community where visitors can receive worldclass pampering or simply converse with locals and fellow travelers. 
While each has its own personality and amenities, the most luxurious experience can be found at the Argan Palace, which specializes not only in hammam bath treatments but services like a traditional Berber massage. And there's nothing quite like an argan oil massage in the place that gave the popular elixir to
the world. 
For more relaxing luxury, there are a number of hotels in Agadir to choose from. Yet the Sofitel Agadir Royal Bay Resort offers the ideal balance of modern refined luxury and casbah-style design and architecture. 
With a full array of offerings, from water sports at the beach to golf, and environs punctuated with bright, colorful fabrics and elegant fountains, the place is a feast for the senses. While the rooms and suites are stellar, treat yourself to the Premium Deluxe villa, with three bedrooms and full butler
service. The property's four restaurants and nightclub may convince you to never leave during your stay. 
But exploring Agadir is a must, and one stop has to be La Médina d'Agadir. A full-scale, open-air reconstruction of the city's former medina, which was destroyed by the earthquake, the new version was built using traditional techniques and serves as a museum, a piece of art in and of itself, and a way to look back in time at the magnificent city before the tragedy of the 1960 earthquake.
To learn more, stop by the Mémoire d'Agadir, a museum set amid gardens that's close to the beach and the city center. Though it lacks the modern, interactive exhibits typical of most museums, this one has walls plastered with photos, newspaper clippings, and other media instead, all of which allow visitors to fully grasp how different the
city was before the quake and how that event changed it forever. 
Finally, it may be tempting to eat
nonstop as you stroll through the Souk El Had d'Agadir, Agadir's bustling marketplace. But just as with its architecture and design, Agadir's finest Berber cuisine bears witness to the French influence that has
inflected Moroccan traditions for centuries. 
Countless choices are available,
but if you want to skip the line and hit up the very best, make a reservation at Pure
Passion. While gourmet menu options like foie gras and a Chateaubriand for two are
enticing, the truly special offerings are from the sea. 

Exceptional shellfish of every sort is on offer, but make sure to try the oysters au gratin with smoked-salmon Mornay sauce, which may make you rethink your definition of great seafood. -Keith Gordon
Erg Chebbi
Much of Morocco is about color and vibrancy, the energy of an ancient culture brought into the modern age. But one part of the country remains exactly as monotone and eerily quiet as it has been for centuries: the sand dunes that take up huge spaces between the cities and towns spread across the nation. 
Perhaps the most well-regarded of these is Erg Chebbi, still the home of Berber nomads who have inhabited the area for generations. With unique, orange-colored sand and dunes that can rise to nearly 500 feet, it's
exactly the image many have in mind when visiting Saharan Morocco. 
The adventurous traveler can explore the dunes on an all- terrain vehicle or 4×4, or strap a sandboard to
your feet atop one of the hills and do your best to make it to the bottom, like a snowboarder in a T-shirt and shorts. A more traditional trek involves a sunset or sunrise camel ride, a surprisingly fun and relaxing way to see the exotic beauty of the dunes in as authentic a manner as possible. 
The only drawback is the location; Erg Chebbi isn't close to any of the major towns or cities you're likely to visit. Which means one thing—an overnight visit. For an area largely empty of civilization, there are a surprising number of places to stay, ranging from modern, high-end hotels to small campsites with traditional Berber
hospitality. 
Either of these might fit your
travel style and expectations, but we highly
recommend you combine the two and check out the Desert Luxury Camp. This oasis in the desert offers deluxe accommodations that will change the way you think about camping. 
The main camp offers five luxury tents and a fascinating social experience, while private camps are ideal for those desiring their own personal retreat. But for desert camping at its finest, the property's Royal Camp is a must. 
With the desert stretched out to the horizon, the Royal's massive tents, complete with toptier amenities like handmade Moroccan rugs, comfortable king-size beds, full bathrooms, and a designated area for the group to eat, are the perfect places to relax and be pampered by the staff. -Keith Gordon