The Maxim Guide to Switzerland, Europe's Luxury Ski Destination
Everything you need to know about one of the hottest vacation spots on earth.
(Photo: Getty Images)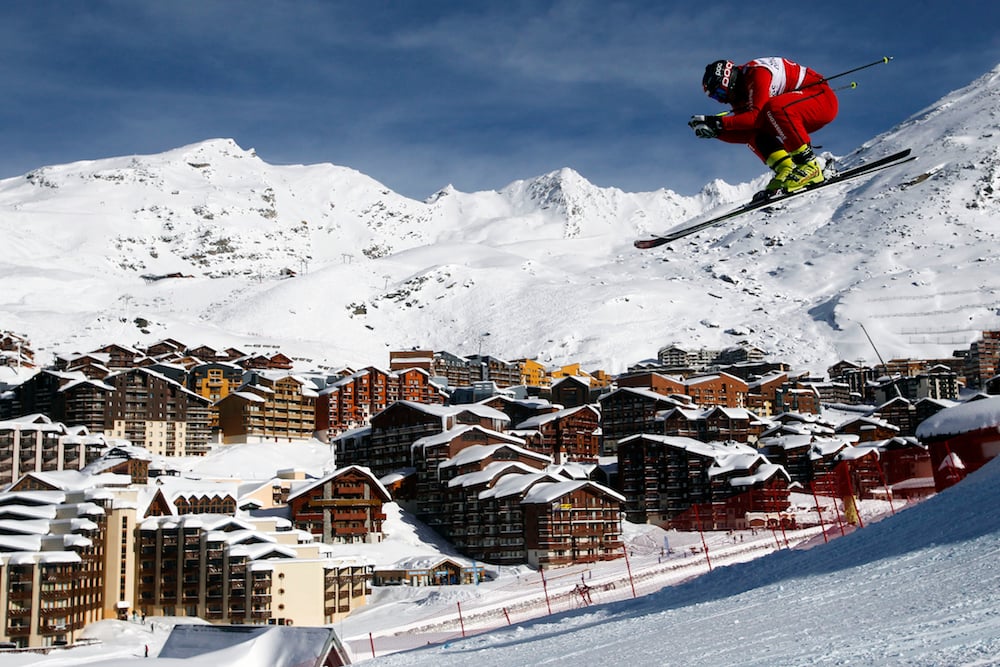 The Swiss Alps may be known as a playground for the global elite, a winter wonderland famous for its world-class ski slopes and five-star luxury hotels. But the Alps are incredible all year-round, and even if you don't arrive on a private jet in the middle of January, you can expect unparalleled levels of luxury and adventure that are as impressive as the region's breathtaking peaks and valleys. Here, our insider's guide to one of the most amazing places on earth.
St. Moritz: Über-Luxe Offerings and Breathtaking Views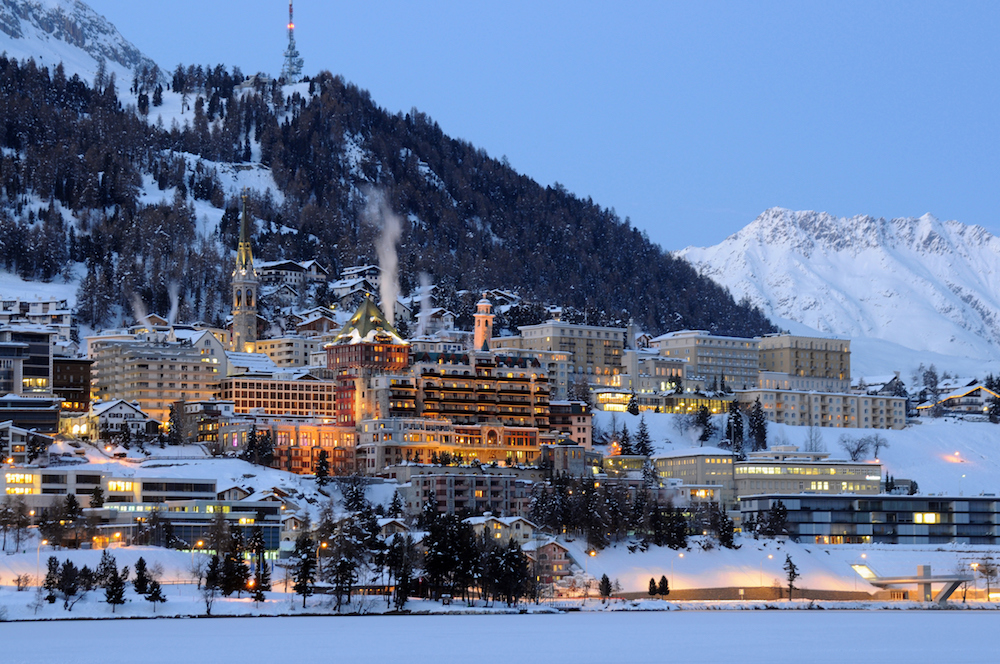 Beyond its well-earned reputation as one of the most exclusive destinations in Europe today, St. Moritz has an equally impressive history. It was here, more than a century ago, among the 10,000-foot peaks, that British tourists extended their stays beyond the traditional summer season and helped popularize many of the winter sports that still bring visitors to the Alps each season. The town has even hosted the Winter Olympic Games twice (1928 and 1948), and still offers world-class, adrenaline-packed outdoor fun like bobsledding and downhill skiing.
But St. Moritz is, first and foremost, a pillar of luxury and a favored destination of the world's billionaires and celebrities. Five-star hotels populate the region, including the iconic Badrutt's Palace. Set on a hillside overlooking the town, the property is beautiful enough to compete with the surrounding natural wonders for visitors' attention. Offering 120 rooms and 37 exquisite suites, the hotel supports guests with elite concierge services, eight restaurants to choose from (including the Michelin-starred IGNIV by Andreas Caminada), and pampering in the Palace Wellness spa, one of Europe's finest.
Suvretta House provides similar luxury, albeit in a more reserved style. Its 171 rooms and 10 large suites showcase the "discreet luxury" that is the property's calling card. Standards are still sky-high across the board, including for the numerous culinary and drinking experiences on offer, such as the Grand Restaurant (mind the dress code), Suvretta Stube, or the Chef's Table, where executive chef Fabrizio Zanetti will prepare an exclusive dinner for your party inside his kitchen so you can watch him work.
The town has culinary hot spots to rival those of the aforementioned hotels, many of which are Michelin-starred eateries. There's Talvo by Dalsass, serving classic, no-nonsense Mediterranean cuisine in a 1658 farmhouse; Cá d'Oro, focused on a contemporary, modern menu, refined service, and a stellar wine list; and Da Vittorio, a jaw-dropping Italian restaurant from chefs Enrico and Roberto Cerea that opens as a pop-up each winter within the Carlton Hotel St. Moritz (it's a seasonal spin-off of their lauded Brusaporto, Italy-based establishment).
Of course, the opportunity for adventure is as important as the accommodations when enjoying St. Moritz. During the winter, visitors need to remember only one name: Corviglia. While the surrounding area offers dozens of pistes and ski areas, Corviglia offers the widest range of slopes for varying skill levels, as well as winter sports like sledding, and sporting events including fan favorites like skijoring (a race in which a horse pulls a skier over a frozen lake), ice cricket, or snow polo.
During the summer months, enjoy Lake St. Moritz, where one can lounge the day away on a small boat, get in a workout via paddleboard, or keep the adrenaline flowing by learning how to kite-surf. The surrounding mountains offer world-class hiking and mountain biking, with trails suitable for novices and experts alike. Or get a real nature experience and go for a horseback ride through valleys and over hills that will make it feel like you fell right into The Sound of Music.
–Keith Gordon
Gstaad: Five-Star Hotels and VIP Treatment
If the Swiss Alps are known for luxury, then Gstaad represents the pinnacle of what the region has to offer. A longtime haven for celebrities and business titans alike, Gstaad offers an array of accommodations, nightlife, and culinary experiences to satisfy even the most discerning guest's desires.
The first challenge in a jaunt to Gstaad is choosing where to stay. Home to some of the most luxurious and iconic properties on the continent, the options for high-class accommodations are seemingly endless. Gstaad Palace, a 105-year-old towering structure set on a hill overlooking the town, tops the list: This fairy-tale castle of a hotel offers 90 exquisitely appointed rooms, including the three-bedroom Penthouse Suite. With five restaurants, two bars, and a nightclub to choose from, guests don't even have to leave the premises, but we recommend you do—at least to experience the Palace's helicopter lunch tour, which flies you around the Matterhorn for a Champagne toast before landing atop Glacier 3000, one of Europe's largest glaciers, for a gourmet meal at Refuge l'Espace.
But the options don't stop there. The Alpina Gstaad may be a relatively new arrival on the scene, yet it has certainly left an impression. Within the "five star superior" hotel (a notch above five-star), you can find the world-class Six Senses Spa and two restaurants, Sommet and Megu, that have earned Michelin stars already. For those who prefer a boutique hotel, a strong choice would be Ultima Gstaad. With only 11 suites and six private residences, it offers all the luxury and service of its bigger rivals but with a more personalized, attentive approach that lends an added sense of privacy and exclusivity.
For elite culinary experiences, Gstaad offers a vast selection of worthy candidates. As an alternative to the Alpina's Michelin-starred gems, both Leonard's and Chesery, Gstaad icons inside Le Grand Bellevue hotel, have earned the prestigious star and are must-visits on any trip to the town. Both focus on using the finest ingredients to make simple yet refined dishes that combine modern and traditional techniques. At Leonard's, go for the Zürcher Geschnetzeltes, veal in a creamy mushroom sauce, and do not miss the Nantais duck at Chesery, part of a mouthwatering tasting menu.
Once the sun sets, it's time for aprèsski. Gstaad is a mecca for post-skiing celebrations, and options abound. Within the Hotel Olden you can find Pinte, which is exactly what you'd expect from a Gstaad après-ski legend: fine cocktails, a warm and welcoming ambience, and a crowd as alluring as the surrounding scenery. Then head over to the more raucous scene at the famous GreenGo. Located within Gstaad Palace, this club draws rich, beautiful, and eager-to-party guests from around Gstaad and the rest of Europe. Top DJs perform all night while guests move to the music on a dance floor floating above a swimming pool. Gstaad is not a place for half-measures, and the party scene is no exception.
–Keith Gordon
Where to Aprés-Ski
If a shotski is the first thing you picture when you hear the term après-ski, you've clearly never raised a glass after schussing in the Alps. Drinking after skiing may be a simple concept, but its evolution is a case study of man's eternal quest for maximizing fun—elevation, borders, and freezing temperatures be damned. And this nearly 200-year-old drinking tradition is better than ever today, with every imaginable variety of post-slope indulgence available in the country where the concept originated, from Aletsch to Zermatt.
While the pioneering alpinists of Telemark, Norway, are credited with starting the tradition (presumably toasting their success upon inventing the cambered ski in the 1850s with a "Skol!" and a schnaps), it was the Swiss who perfected the art in the grand hotels of the Alps. The modern formula for après-ski at its best can be traced back to the Kulm Hotel in St. Moritz, whose owner, Johannes Badrutt, had the brilliant idea in the mid-1800s of keeping the summer luxury resort open in the winter. Wealthy Brits longing to escape their dreary winters came in droves, and luxury alpine leisure was born. The business model was then rapidly replicated throughout Europe, including in Chamonix, France, where the sexy moniker was invented ("etter ski" doesn't quite roll off the tongue the same way). American ski resorts soon followed, and the international passion for aggressively skiing—and then aggressively drinking thereafter—became a global indulgence, but the Swiss Alps remain the spiritual home of après-ski.
Some 160 years later, the Kulm is still thriving—thanks in part to Badrutt's brilliant move—and has refined its après-ski game over the years, with the old days of schnaps and aquavit giving way to modern craft cocktailing. The hotel's elegant Altitude Bar has joined the mixology revolution; its drink menu now boasts an extensive gin collection and features pre-Prohibition-era cocktails like the Sazerac. The resort's Sunny Bar has long been the place where the daredevil skeleton toboggan racers congregate to drink after a run, but these days, thanks to a modern Peruvian reboot, they do it over pisco sours.
For those who prefer disco to pisco, the Alps increasingly offer more late-night clubbing options after a day on the slopes. St. Moritz is also home to Badrutt's Palace (Mr. Badrutt's son Caspar, too, was a prolific hotelier), where the King's Club opens its doors at 10:30 p.m. and stays open until the sun rises over the Engadine Valley. In past years, it has played host to the Summit electronic music series, which claims be the highest-altitude music festival in the world. Across the Alps in discreetly luxurious Gstaad, things can get a little… indiscreet at the legendary nightclub GreenGo at the Gstaad Palace.
Although the club's go-go interior has been renovated, it feels largely unchanged from its debut in 1971. Over the years it has attracted a celebrity clientele, arcing from Sophia Loren and Madonna (and Madonna's daughter Lourdes) to Bono, and has become a stop on the international DJ circuit, booking top talent like David Guetta. You might call this latest iteration of the Alpine tradition après après-ski.
—Hugh Garvey
The Hottest Ski Spots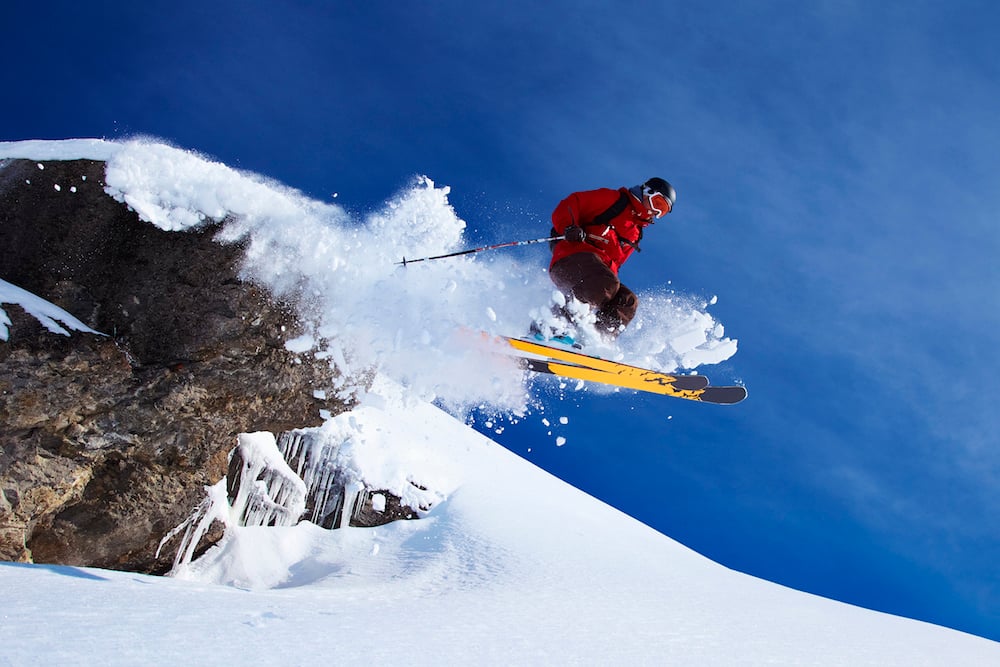 When someone talks about the Swiss Alps, you probably picture a winter wonderland of snowcapped peaks and immense glaciers, and imagine yourself racing downhill. But the fact is that the area is a hot spot of outdoor exploration and adrenaline-pumping action all year-round: When the skis and snowboards are put away, residents and visitors can experience the beauty and scale of the Alps by bike, foot, or even helicopter.
Of course, there's a reason winter comes to mind when thinking of the Swiss Alps: It is a world-class destination for winter sports. Around Gstaad, the options seem endless, with countless nearby peaks including the Rinderberg, Lengebrand, and the Wasserngrat, with its famous Tiger Run, a legendarily steep slope. But the king of the hills has to be Glacier 3000, just outside of town, where one can ski from late October through early May surrounded by some of Earth's most awe-inspiring vistas. Helicopter tours are widely available and an unforgettable way to explore the majesty of the Alps as you climb over mountain peaks or descend through stunning valleys that are just as enjoyable in the warmer months as they are during the peak of winter.
It would be folly for adrenaline-seeking visitors to consider the Alps only during the winter, when the region can offer just as many options for warm-weather action. Around Gstaad, more than 185 miles of trailways entice hikers and mountain bikers alike, with paths carving through lush green valleys and over towering peaks and ridges. Traditional summer staples like fishing, camping, and rafting are options, but so are more extreme outings, such as hot air ballooning, paragliding, and grass skiing (yes, that is exactly what it sounds like).
Like the area around Gstaad, St. Moritz, one of the highest-altitude resorts in Switzerland, has no shortage of winter playgrounds. While some skiers or boarders will swear by Corvatsch, Zuoz, or Diavolezza, the must-visit on your Swiss Alps ski itinerary is Corviglia. Offering everything from wide, gentle pistes for beginners to World Cup–quality downhill runs that will push even the best to their limits, Corviglia is a snow-covered paradise. It's also the only part of the region that offers more than 215 miles of piste, enough to keep any skier busy for a lifetime. And don't forget the world's only natural ice bobsled run—the oldest operating run on the planet—where a professional pilot will take you down the 2,368-foot run at speeds reaching more than 80 mph. Finally, check out Lake St. Moritz, which, when frozen, hosts everything from ice-skating to horseracing, and even polo.
St. Moritz also has plenty of warm-weather options for adventure. Start on Lake St. Moritz. Gone is the ice and snow, replaced by a flotilla of leisurely rowboats and sailboats as well as standup paddleboards. After a relaxing morning out on the water, head to Corviglia, which transforms each spring from a top ski resort to a world-class mountain biking venue. It offers trails for every skill level, and is the gateway to the entire Engadin region's extensive bike trails. For a slower pace, check out the breathtaking hiking trails that crisscross the entire region. But do your research before you head off on the trail, as some can be physically challenging and dangerous, even for those in good shape.
—Keith Gordon
Where to Booze in Style in the Swiss Alps
Spending time in the Swiss Alps is all about style: the palatial hotel you're staying in, the head-turning car you're driving, the debonair clothes you're wearing—and yes, the list should include what you're drinking, too.
Gstaad is no place to indulge your penchant for Pabst. What you'll find instead is a collection of swanky bars featuring some of the most indulgent spirits and wines the world over, as well as authentic Swiss specialties such as schnaps. Not that schnapps. "In the U.S., there's the affiliation with the sugary peach and peppermint schnapps, which are very different to the European style," explains Silvan Kraemer, coowner of Stable, Washington, D.C.'s first Swiss-American restaurant.
True schnaps are high-quality, distilled eaux de vie (clear, unaged fruit brandies). "In Switzerland it is either served neat, chilled, or in coffee, and is very often used to flavor desserts," Kraemer says. "Also, it is something that is generally sipped and not drunk like a shot." He's introducing his customers to the spirits by using them in a broader range of applications, though, including craft cocktails. Kraemer suggests looking out for brands like Etter and the Willisau line from Diwisa distillery, both available in the U.S., as well as Morand, Fassbind, and Dettling.
But for those lucky enough to enjoy these spirits in the place they were created, local options abound. At the Alpina Gstaad's sleek Alpina Lounge & Bar, you'll find more than a dozen varieties of eaux de vie on the menu, and a knowledgeable bar team eager to help guide you through the selection process. "These are mostly sold to locals rather than international clients," notes bar manager Daniele Barberis. In other words, you're sure to impress by making a savvy, Swiss-approved imbibing decision.
Or perhaps a prestige whisky is more up your alley, in which case you can select from stellar options like Glenfiddich 40, Yamazaki 18, or drams from defunct-but-beloved Scotch distilleries such as Port Ellen. Showy bottles of bubbly are also on offer, including Krug Clos du Mesnil 2000 and Louis Roederer Cristal Brut Rosé 2006. The hotel even offers its own vintage of wine, created in conjunction with 2017 Swiss Winery of the Year Les Frères Dutruy, in honor of the hotel's fifth anniversary.
Whisky also takes center stage at the Hotel Ermitage's One Million Stars. The appropriately glitzy and shimmering bar, decked out with a million Swarovski crystals, pours an assortment of over 60 whiskies, including a handful from Switzerland and neighboring Liechtenstein. When you're craving gin, head to the Huus Hotel Gstaad, whose bar boasts 450 spirits. The lineup includes a comprehensive gin-and-tonic menu, where you can mix and match from among 40 gins and 15 tonics to find your perfect combination.
At Le Grand Bellevue's Bouquet, you'll find a range of diversions, from hands-on mixology classes to late-night DJs and themed burlesque and masquerade nights. It's all within a decadent setting that manages to combine the floral House of Hackney wallpaper, plush velvet couches, and burgundy drapes befitting a château's sitting room with the black ceilings, colored lighting, and bottle service of a downtown disco.
Consider a cigar to end the evening—the Alpina, Ermitage, and Bellevue all have dedicated cigar lounges, and they'll even customize a drink pairing based on your cigar selection. "We aim to educate the palate of our guests to combine different flavors and provide them a unique experience," Barberis says. Only the best in Gstaad.
–Jake Emen
Experience Understated Luxury in Davos
Money does not grow on trees in Davos, despite its reputation as a global center of finance and commerce. Hosting the annual World Economic Forum has put a spotlight on the town, but Davos is more than just a place for international financiers and political leaders to meet.
Davos, the town with the highest elevation in Europe, has been an escape for the Continent's elite since the mid–19th century. Originally a center for spas and other wellness-focused properties, Davos inspired Thomas Mann's 1924 Nobel Prize–winning novel The Magic Mountain after Mann's wife sought treatment in the town's well-regarded healthcare facilities. Tourists soon flocked to Davos and brought with them winter sports to enjoy during the colder months, including one of the first sledge (sled) runs, the first T-bar ski lift in the world, and eventually, snowboarding—at one of the first ski resorts to welcome the sport.
Today, Davos provides the ultimate balance between business and pleasure. Five-star hotels like the InterContinental Davos host business leaders one day and Alpine vacationers the next, treating both with equal levels of unrivaled comfort, especially in the Presidential Suite, featuring modern design with Swiss flair. The Hotel Seehof offers residents (and guests) a lengthy list of experiences ranging from exotic culinary happenings to curated summer and winter outings into the surrounding mountains, and is conveniently located near the cable car that will take you to the nearby ski slopes.
Trains (regular and mountain-ascending versions) run throughout the region; cable cars, ski lifts, and gondolas enable visitors to explore nearby Klosters, one of Europe's top winter sports destinations. A classic Swiss village, Klosters is a downhill skier's paradise; and while service is paramount, the town forgoes showy displays of wealth: It is low-key, and returning guests place a high value on this village-wide attitude of discretion, which is perhaps why the town has remained the ski destination for the British royal family for decades.
Diners with both extravagant and simpler tastes will enjoy Davos, from the menu at Glow, featuring local seasonal produce, to the immense wine list at La Vetta—both establishments have been honored with a Michelin star. For après-ski, stop by Ex Bar for a drink to recover from a day on the moguls, and then check out the late-night scene at Pöstli Club, a place ideal for people-watching and rubbing shoulders with other partygoers—and maybe a royal or two.
—Keith Gordon
Where James Bond Stayed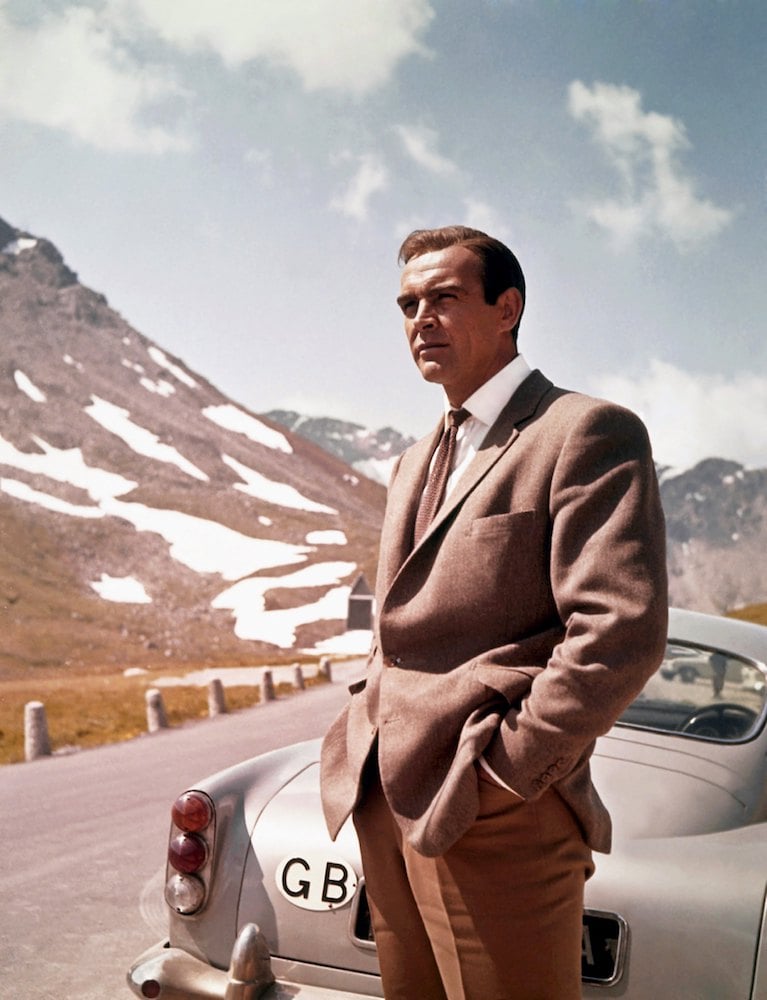 One of the cornerstones of the James Bond film franchise has always been the exotic locales to which 007 travels to track down his adversaries, hell-bent on world-domination (or destruction). But other than his home base of London, no place on earth has been featured in more "license to kill" adventures than the Alps. Classics like Goldfinger, On Her Majesty's Secret Service, For Your Eyes Only, GoldenEye, and The World Is Not Enough all had scenes shot among these majestic peaks, expansive valleys, and winding mountain roads.
The franchise has filmed extensively in Switzerland, specifically in the area south of Interlaken, and Goldfinger's car chases took place on the Furka Pass and the harrowing mountain roads near the small village of Realp. But perhaps no location is more iconic and representative of Bond's Swiss adventures than his visit to the lair of villain Ernst Stavro Blofeld in On Her Majesty's Secret Service. For this legendary scene, producers selected the rotating Piz Gloria restaurant atop Mount Schilthorn. The restaurant completes a full rotation every 45 minutes, providing jaw-dropping 360-degree views for guests, complete with more than 200 picturesque peaks in all directions, including Mönch, Jungfrau, and the infamous Eiger.
To celebrate its cinematic legacy, Piz Gloria highlights its role in the 007 universe with attractions like Bond World 007, a Bond-themed multimedia museum full of interactive games, adventures, and memorabilia. Visitors can experience the 007 Walk of Fame, which documents the film's stars and locations, or visit the movie's heliport (now a sun terrace). The theme continues through the Piz Gloria menu, where guests can find a James Bond spaghetti, a 007 burger, and a Skyfall beef entrecôte. Of course, there's also a James Bond–themed bar, where you can order a martini prepared however you'd like it—shaken or stirred.
—Keith Gordon