Where to Eat, Stay and Play in the Bahamas
The Caribbean island paradise boasts beautiful beaches, luxury hotels and a new wave of celebrity restaurants.
By air and sea, via superyacht, private jet or the more prosaic cruise ship, the number of visitors alighting in the Bahamas is growing at a staggering pace. The archipelago saw its highest number of international arrivals ever in 2018. 
And yet the most desirable destinations among its many places to stay have retained the air of exclusivity that has made the Bahamas a haven for celebrities and the moneyed elite for many years. 
With more than 100,000 square miles of ocean, 700-plus islands and more than 2,000 rocks and cays—many of them private—the number of high-end resorts is more than equalled by the secluded enclaves of the wealthy and publicity-shy; Private Islands Inc. currently has 60 Bahamian cays and islands listed for sale at prices ranging from $700,000 to around $60 million. 
With real estate prices on the rise, thanks in part to the area's reputation as a safe haven for foreign investors, adding one to your portfolio seems like a wise move. 
And with incredible natural attractions, including some of the clearest water on the planet and a number of unspoiled ecosystems; celebrity chefs cueing up at your doorstep [see sidebar below]; first-class facilities for owners of private yachts and aircraft; and hidden treasures including the world's third-largest private wine collection [see sidebar below], along with its proximity to the United States—Miami is a mere 180 miles from the Bahamian capital of Nassau—there's no mystery to its ever-increasing appeal. 
The Bahamas became a British crown colony in 1718, imparting a measure of civilization to what had been a haven for pirates, and Nassau, on the island of New Providence, has always retained its British colonial flair; in 1973 the country became an independent Common – wealth under the official reign of Queen Elizabeth II. 
While cricket remains the national pastime and many of the grander resorts still serve afternoon tea, that's not to say there's anything fusty about the luxurious accommodations on offer, as evidenced by the recently opened $4.2 billion Baha Mar complex, home to stunning Rosewood and SLS resorts. 
An even more exclusive experience awaits just over the bridge to Paradise Island. In 1939, Swedish industrialist Axel Wenner-Gren, one of the world's wealthiest men, was sailing by in his yacht when he discovered the five-mile long stretch of fine white sand. Deciding to build an estate there, he spent the next two decades-plus transforming it into a tropical paradise complete with gardens inspired by the Palace of Versailles. 
In 1962 Wenner-Gren's escape became the fabled Ocean Club resort, one of the world's most celebrated beach retreats, and an 18-hole golf course was added to the property. In 2017 management of the Ocean Club, which was featured prominently in the 2006 James Bond film Casino Royale, was taken over by iconic luxury hospitality firm Four Seasons Hotels and Resorts, ushering in a new chapter at the storied location. 
Should you decide to visit you might well wish to acquire your own piece of paradise nearby. Luckily there are now properties from Ocean Club Estates, Paradise Island, Bahamas which occasionally come to market; one of the most attractive was listed at the time of this writing for $29.9 million. 
"The ultraluxury market in the Bahamas tends to be driven more by a desire for privacy, as opposed to the 'trophy property' market" in places like Miami, notes Nick Damianos, a Nassau-based estate agent with Damianos Sotheby's International Realty, who has the Ocean Club Estates among others on his books. 
"As you would expect, beach frontage is the most sought-after amenity, followed by dockage for large yachts, either right at the property or very nearby." 
He points to Harbour Island, "long a 'secret' spot for the rich and famous" as one of the most desirable locales, where the likes of Diane von Furstenberg, Elle Macpherson, and apparel executive Mickey Drexler, all have holdings.
And those are just a few of the boldface names who have maintained properties, and in some cases whole islands, in the Bahamas. Others includes Lenny Kravitz, Tiger Woods, Mariah Carey, Sean "Diddy" Combs, Sean Connery, Bernard Arnault, Bill Gates, Michael Jordan and John Travolta. 
Celebs of this caliber often arrive via private jet of course, and increased demand has led Jet Aviation Nassau, a member of the Air Elite Network, to establish a new FBO (fixed-base operation) in Nassau with full executive privileges that can accommodate everything from a small plane up to a Boeing 747-800 or even the recent arrival of a Boeing 777 corporate jet. 
Franz Bowe, General Manager of Jet Aviation Nassau's FBO, explains to Maxim the extent to which his company oversees not only the standard FBO services (arrival and departure logistics, plane maintenance, etc), but work to fill whatever needs or desires their clients may have during their time on the islands. 
"We are a one telephone call for absolutely anything that someone visiting the Bahamas would ever need," Bowe proudly explains. "Anything. Anything from servicing the aircraft to coordinating yachts, charter seaplanes, homes. Anything that a client needs we have the capability to deal with in-house." 
As for the popularity of the Bahamas as a private jet hotspot, Bowe points out "Nassau is the number one, high-end tourist destination in the Caribbean and it's only getting better. Last year was pretty much a record year for everyone involved and this year coming up is going to be the same. We've had more private yachts, more private jets in Nassau last year than we've seen in many years." 
And as for what separates his outfit from the other options for those flying into Nassau, nothing is unattainable for Jet Aviation Nassau's clients from the moment  they touch down in Nassau until their departure. The company's philosophy truly comes down to one word for Bowe, "No." As Franz boldly and confidently shares the outfit's mantra, "The word 'no' does not exist!" 
It's also a word you don't hear much the The Albany. In addition to a luxury hotel, Albany has residential estates which are "owned by some of the globe's richest few (think: power figures, A-listers and sports professionals alike)," according to Forbes.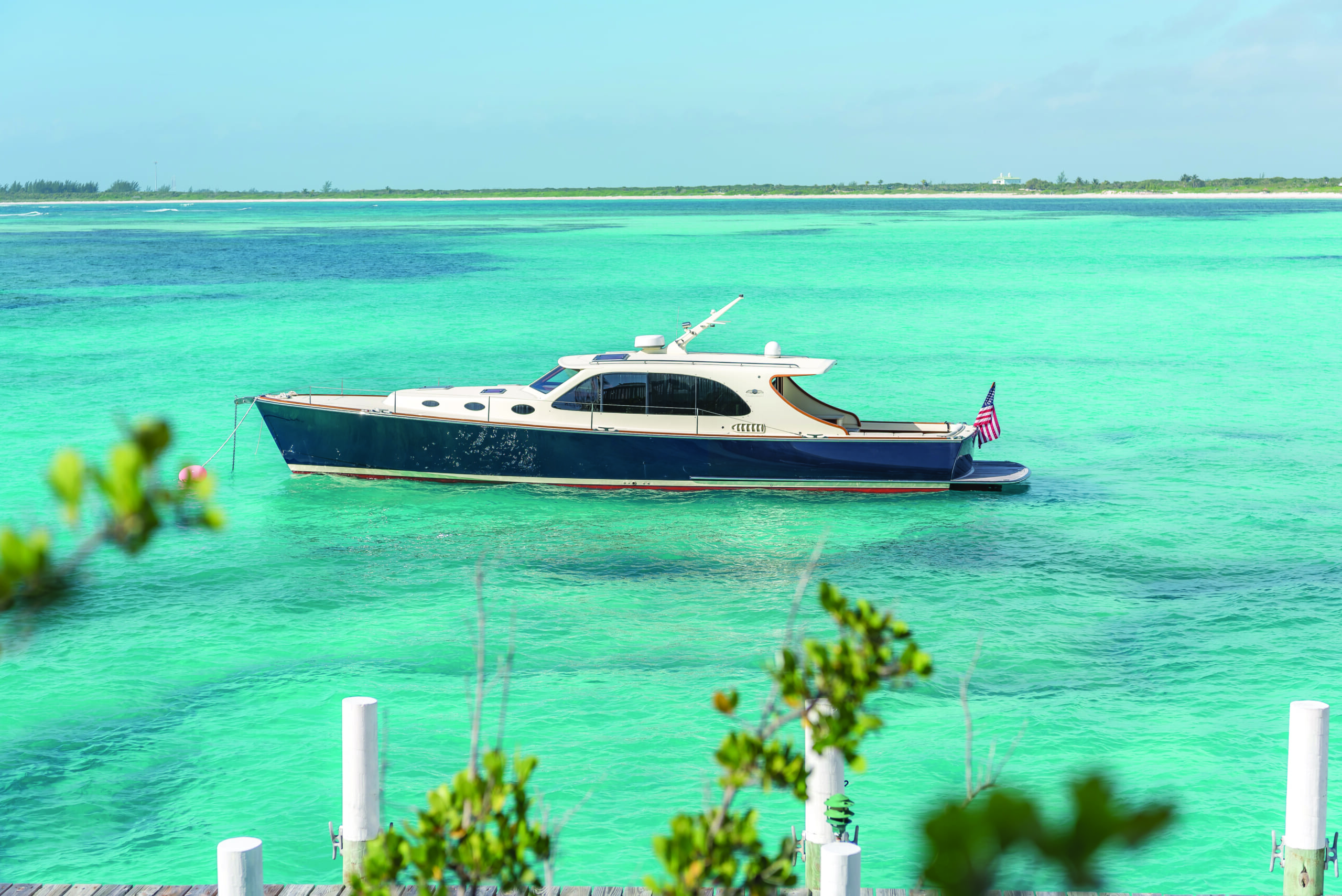 And while you might expect the usual British Colonial-influenced Caribbean architecture, the extensive Albany property actually features some extremely cutting-edge structures (some still in development), including designs by OOAK Architects, a Swedish architecture studio; the award-winning Bjarke Ingels Group (BIG), which is designing Google's new campus in California; and Morris Adjmi Architects, which designed Brooklyn's hip Wythe Hotel. 
In a more laid-back vein, the 600-acre Abaco Club on Winding Bay on Great Abaco island is also a major golf destination for affluent visitors. The luxurious private members' club with five-star amenities is home to villas and guest cottages of various sizes, some of which can be rented, and is sited on one of the Bahamas' most beautiful beaches. 
Massachusetts-based developer David Southworth, founder of Southworth Development, acquired the prized property in 2014 and has been implementing a multimillion-dollar renovation scheme in several phases. 
"I was always a fan of the Bahamas but didn't really feel it was a good place for investment until about 20 years ago," Southworth tells Maxim. "It seemed a little 'Wild West' prior to that. Although it was a great place to visit back then, it was clearly lacking the structure needed for these size investments." 
Southworth plans to put another $20 million or so into the Abaco Club including the addition of a new yacht club. 
"I love spending time in Abaco and in fact have made it my winter home," he says. "The people are so loving and genuine and of course the surroundings are fabulous. My soon-to-be-wife and I really enjoy the outdoors so the boating, the golf and tennis, the fishing and just being with friends and neighbors on the beach are all amazing experiences."
Southworth says that what "well-heeled visitors and residents appreciate about Abaco… is the security, safety and peace of mind the island offers—along with the fact that you really don't have to sacrifice any creature comforts while here. The island has some great restaurants, some wonderful doctors and several stores and services that are on par with the States. Combine that with all the scheduled airlifts into the island and private air travel facilities and it all adds up to [very] easy living." 
While Nassau and New Providence remain the center of attention, less-known but equally appealing and more intimate islands such as the Abacos, Cat Island, the Exumas and Eleuthera are growing in popularity. Visiting them can often be a gateway to acquiring a private island of their own for high-net worth individuals.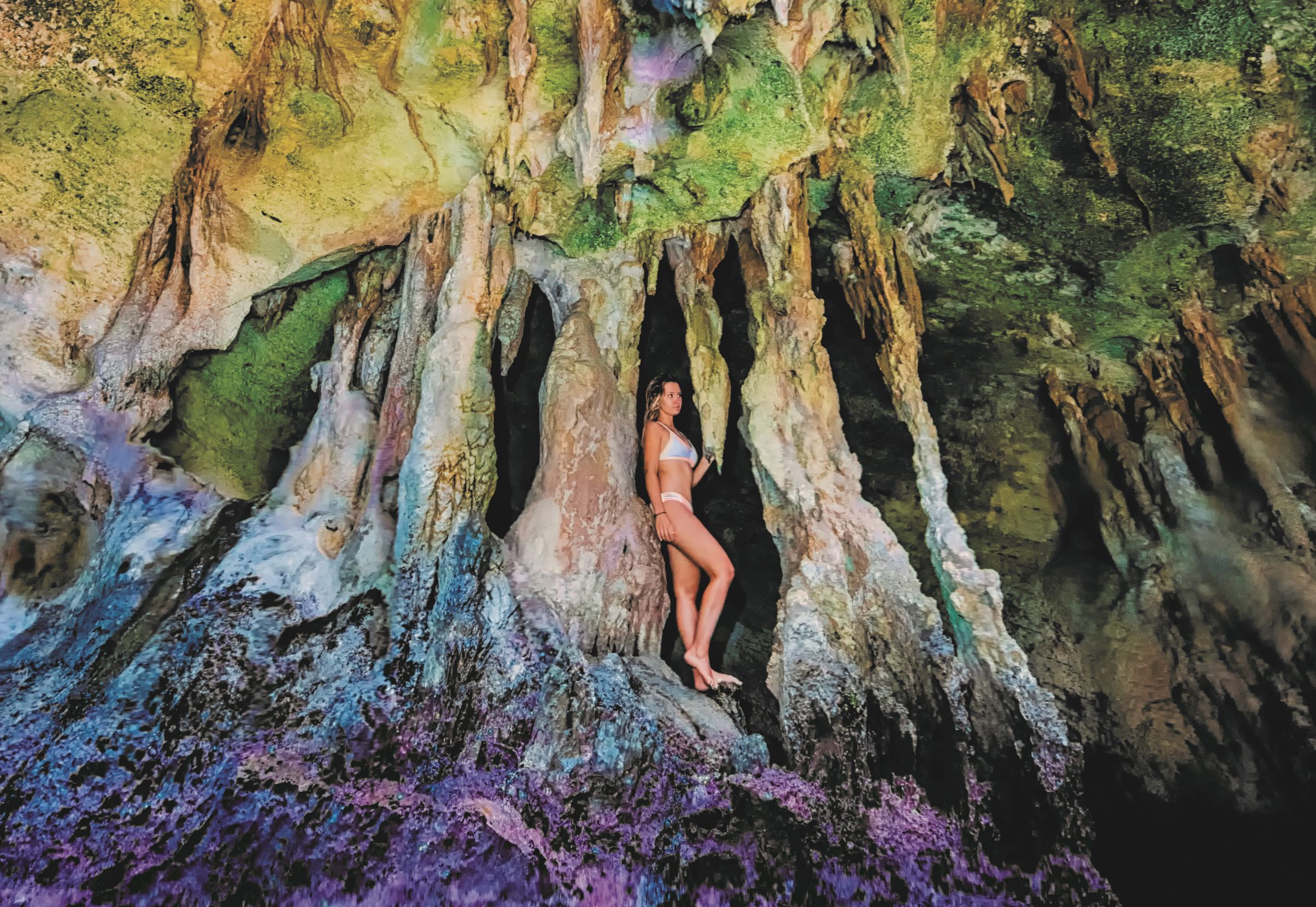 Fittingly, the largest private island in the Bahamas, the 700-acre Blue Island in the Exumas, is also the only one where you can land a private jet directly on the property. And it can be yours for $95 million. 
"This isn't like real estate anywhere else in the world," as the property's listing agent Steve Donovan told the Robb Report. 
"You can't compare comps, or even features and acreage, because this isn't like any other place on Earth. It's an event, a moment, an emotion, and bragging rights." 
In other words: the best of the Bahamas, in a conch shell. 
Dream Kitchens 
The Bahamas' Celebrity Chefs Are Cooking Up a Storm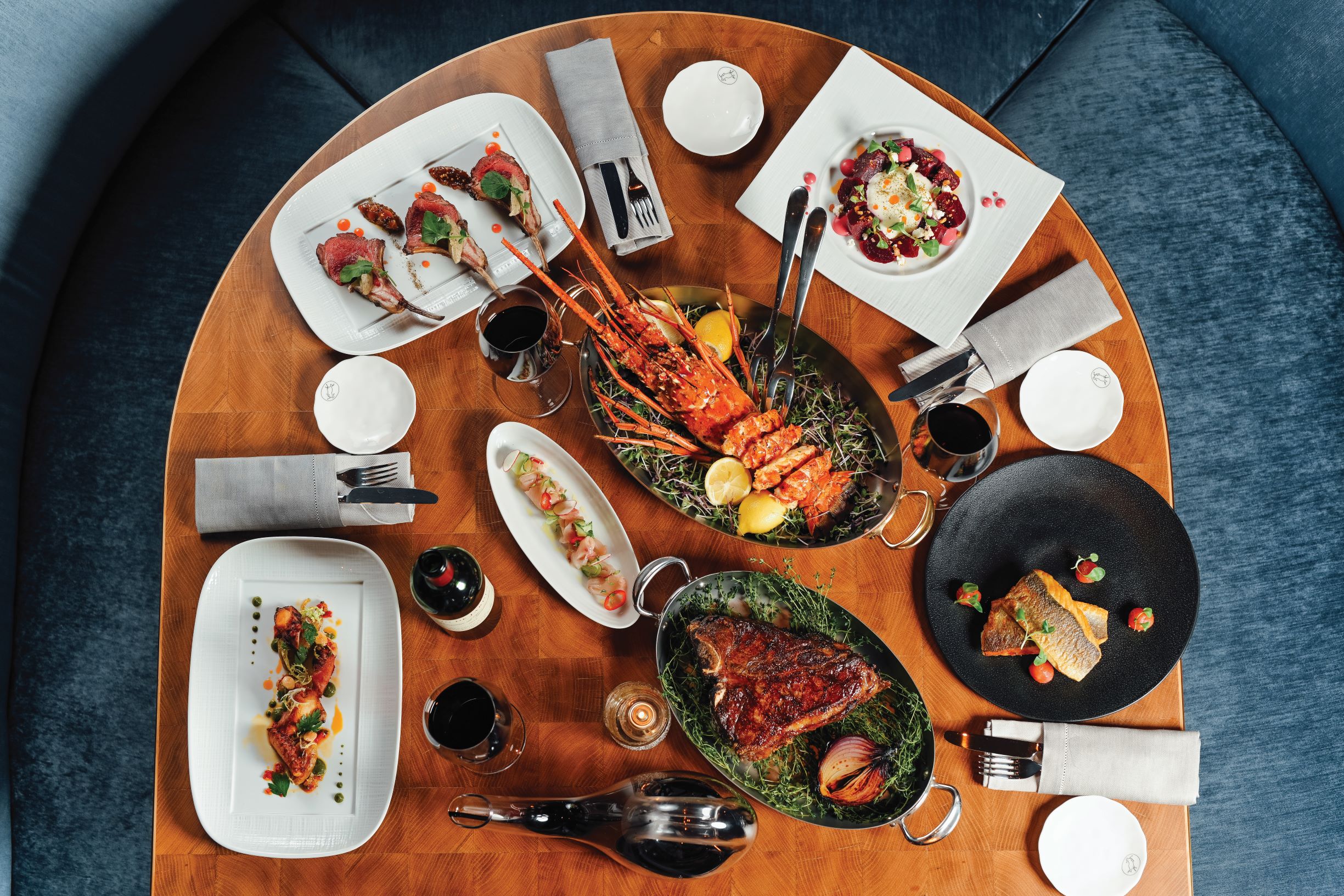 The Bahamas' best luxury resorts have lately been showcasing a spate of top shelf celebrity-chef eateries that would be the envy of Las Vegas' most decadent casinos. 
The increasingly popular tropical paradise is doubling down on luring the same high-rollers that Sin City covets, and is likewise catering to their outsized appetites. The poshest Bahamas hotels now boast boldface name-branded steak, sushi and sustainable seafood spots to supplement the roadside conch shacks and spiny lobster specials most often associated with local island cuisine. 
The latest big-deal eatery is Carna by Dario Cecchini, a sleek new steakhouse by the charismatic Tuscan butcher frequently credited with kickstarting the nose-to-tail movement. He recently launched his first restaurant outside of his native Italy at Nassau's $4.2 billion Baha Mar luxury resort destination. 
"Bringing Carna by Dario Cecchini to the Bahamas means choosing this beautiful place to launch a message of sustainability, respect and responsibility [for] animals," Cecchini tells Maxim. 
"At Carna, I try to express my work regarding animal well-being, through the idea of guaranteeing them a good life, a compassionate death, and using everything well—from nose to tail." 
Cecchini, who was profiled on the latest season of Netflix's foodie favorite Chef 's Table, says it was a no-brainer to open his meat mecca at Baha Mar, just a dice throw's distance from the biggest casino floor in the region. 
"I decided to open my first restaurant outside of Italy in the Bahamas because I found heart, passion and commitment there, like I have never found anywhere else." 
Cecchini is hardly the first famous figure to take a gamble on a namesake Bahamas eatery. Last year Spanish superchef José Andrés opened the sustainability-focused Fish by José Andrés in The Cove at Atlantis, a luxe resort on Paradise Island. 
The signature dish is a simply prepared, fried local lionfish, an invasive (but tasty) species that has been multiplying at a dizzying rate in the Bahamas, where it has done irreparable harm to the ecosystems of coral reefs. 
And well before that French culinary genius Jean-Georges Vongerichten debuted Dune on a sandy hideaway at what is now the The Ocean Club, a Four Seasons Resort, which offers jaw-dropping sunset views and specials like grouper, red snapper and triggerfish. 
And O.G. Japanese sushi-slinger Nobu Matsuhisa oversees all manner of raw fish delicacies at his well-established Nobu outpost, also at Atlantis on Paradise Island, which houses an impressive sake cellar. 
Whatever your hunger demands these days, it seems like there's a buzzy Bahamas restaurant to satiate it.
—Chris Wilson  
Graycliff: The Essence of the Islands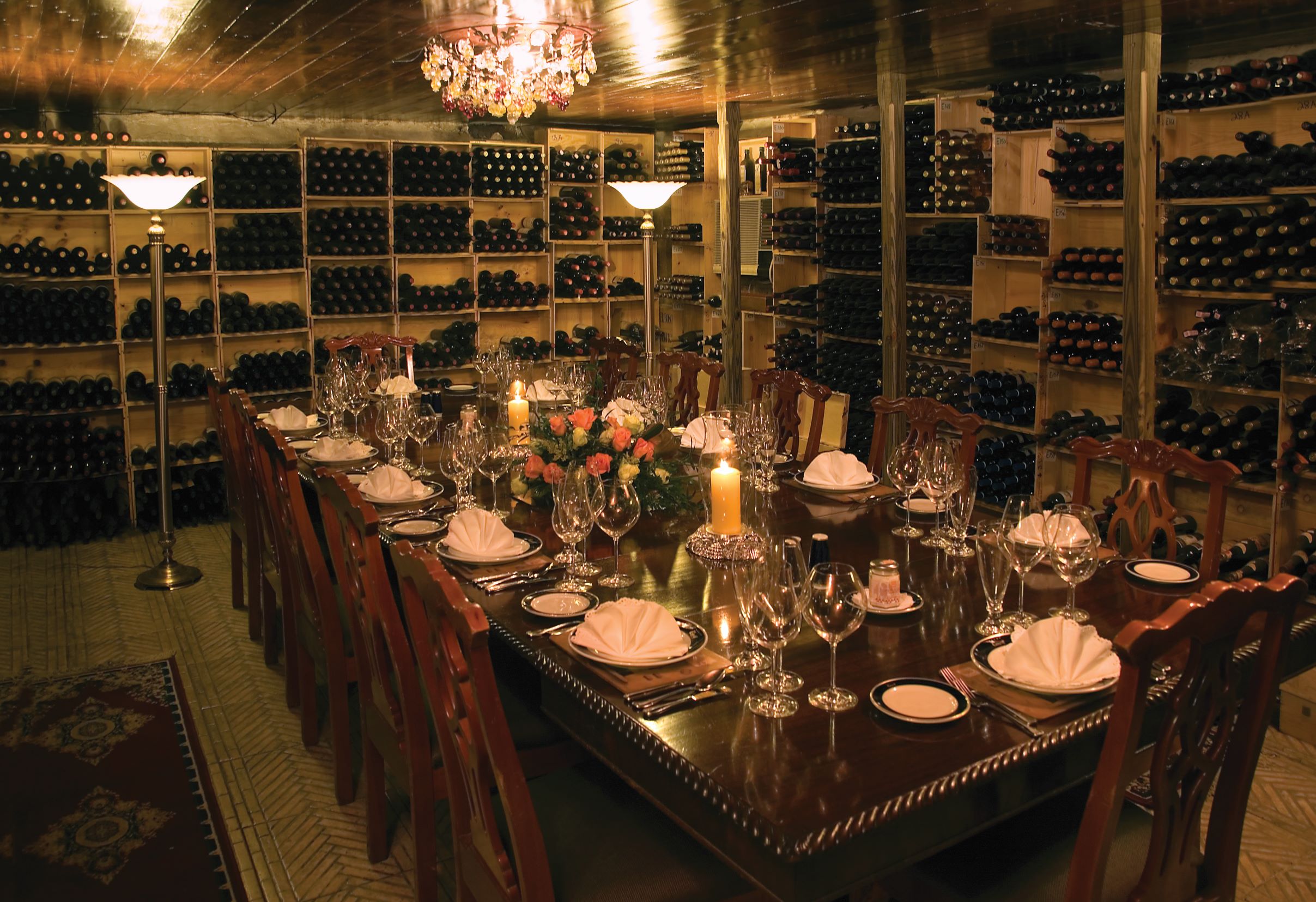 The Graycliff Hotel and Restaurant in Nassau has been a witness to, and a participant in, the history of the Bahamas for longer than the United States has existed. 
In 1740 Graycliff Mansion was first constructed by Captain John Howard Graysmith—one of the most successful, and feared, pirates in the entire Caribbean. It was later converted to  a naval garrison and became Nassau's first inn before being converted back into a private residence and receiving visitors such as the Duke and Duchess of Windsor. 
And when the property was reopened to the public in the 1970s, it offered a truly lucky few the opportunity to experience, and even contribute to, the history that still seeps from its walls.  
Graycliff takes pride in showing not only the diverse offerings of this island paradise, but in providing guests with the absolute pinnacle of the Bahamian experience. With a mere 20 exquisitely appointed guest rooms and suites, exclusivity is felt in every moment, with special rooms named for those who have contributed to the island's history. 
The centerpiece of the property's culinary offerings is the five-star Graycliff Restaurant. Upon arrival in the parlor, guests are supplied with their preferred cocktail before being led into one of five dining areas. Each dining room pays homage to the building's colorful history. 
Most recipes at Graycliff may remain closely guarded secrets, but the word is definitely out, the result of traditional Bahamian cuisine being treated, and executed, with the utmost sophistication, creativity and refinement. 
For those who need time to fully appreciate (and digest) such a meal, guests are welcome to enjoy an after-dinner cigar or perhaps a cognac with friends, be they old or recently made around one of the property's two pools. 
At a place like Graycliff, that's only the beginning. The property is also home to not only an expansive wine cellar with more than 250,000 bottles, the third-largest private wine collection in the world, but to some of the rarest vintages on Earth, such as a 1727 Rüdesheimer Apostelwein and an 1865 Château Lafite. 
Even the most discerning oenophile would be overwhelmed by the breadth, and depth, of the collection, offering everything from the perfect casual pour with dinner to a once-in-a-lifetime bottle to be uncorked for a truly special occasion. 
In addition to the practically mandatory tour of the cellar, it would be a crime to miss the wine and cheese pairing, offering an education as well as a chance to sample wares from throughout the cellar, which has held a Wine Spectator Grand Award since 1988. 
Let an expert walk you through a minimum of eight tastings, and perhaps find a new favorite, as the collection caters to any preference, or price range. Not to be outdone by its award-winning, globally renowned sibling, the Graycliff Cognateque brings the study, collection, and yes, drinking, of cognac to similarly atmospheric heights. 
Home to Graycliff 's 9,000 bottle collection of cognacs, Armagnacs, ports and other spirits, the Cognateque's offerings range from immaculate postprandial options to museum-quality investments like the 1893 Bottle #1 from A.E. Dor. 
True aficionados should have the Graycliff 's expert team guide you on a private tasting, pushing the limits of your palette, and potentially your wallet. But it's unlike almost anywhere else on Earth for those that appreciate these oft-misunderstood bedrocks of cultured imbibing. 
Of course, if you're going to be experiencing some of the best food, wine and spirits to be had anywhere on the planet, it wouldn't be quite complete without an accompanying cigar that can match these levels of craftsmanship, quality and exclusivity. 
And while any luxury property can boast of an impressive humidor, as usual Graycliff takes it to an even more exalted level, producing their own cigars on the premises to the same exacting standards that have crafted their restaurant, wine cellar and Cognateque. 
Starting with a single Torcedore (cigar roller) working in the foyer of the restaurant more than two decades ago, the Graycliff Cigar Company has, perhaps unsurprisingly, grown into an award-winning outfit employing 16 highly skilled master rollers. 
Producing five brands of cigar, Graycliff 's smokes are highly desired around the globe, but are best enjoyed in the same place as their creation, at the Graycliff itself. Watch the Torcedores work, their fingers flying with the dexterity and purpose of true artisans, before lighting up one of their creations on a walk around the property.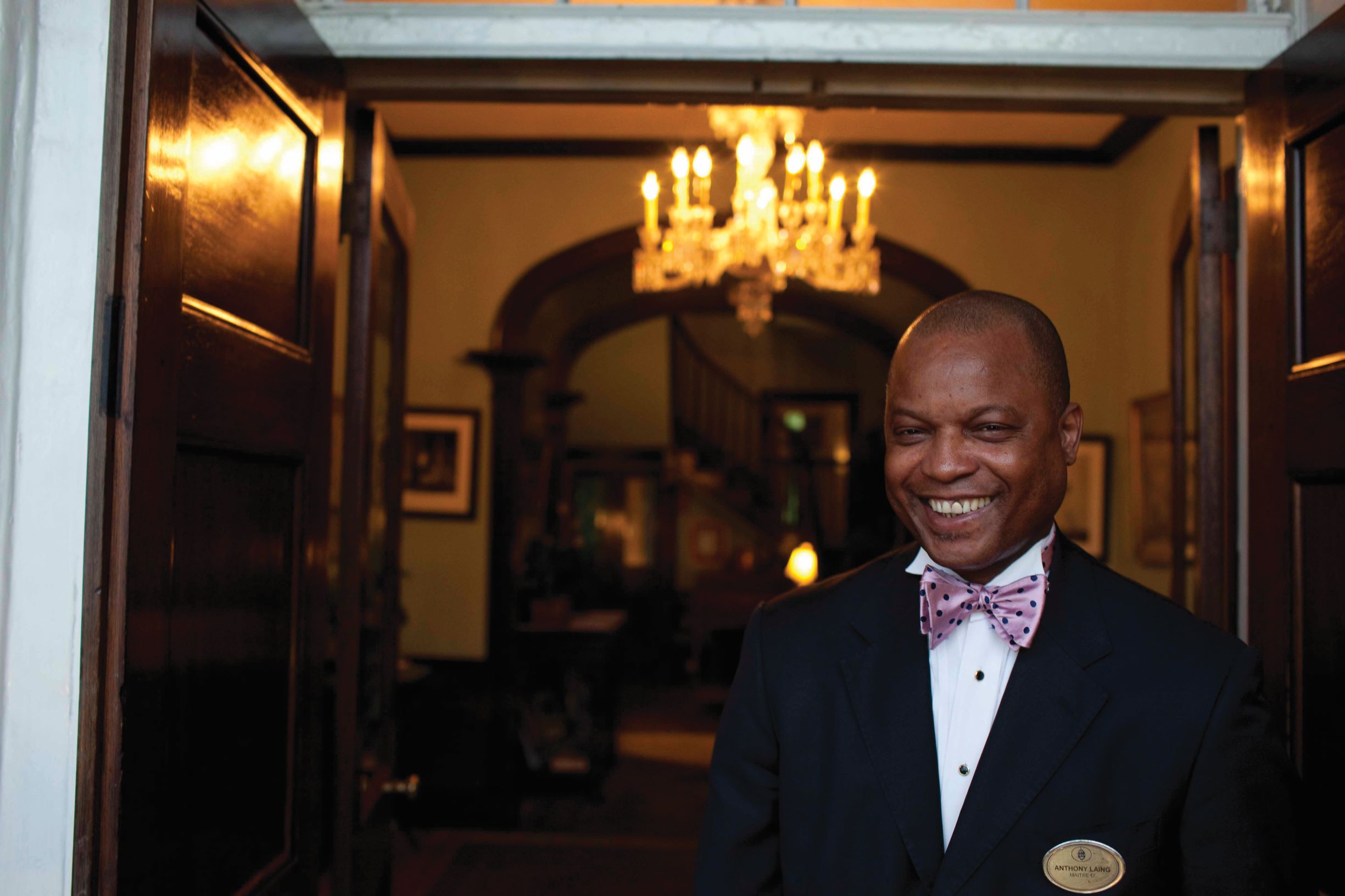 For a more hands-on experience, have a cigar rolling lesson, where you can not only learn the intricacies of the materials and process, but actually roll your own high-quality cigar under the watchful, yet patient, eye of the masters. The combined cigar rolling and rum tasting session is perhaps our favorite offering at the hotel, giving one a chance to find the perfect pairing with the fine tobacco you just watched rolled in front of you.
Simply, whatever your flavor of choice, from food to wine, cognac, rum or even tobacco, Graycliff offers world-class options and the opportunity to both learn about, and experience, the very best in each of these specialties. 
Graycliff is an icon of Bahamian luxury, uncompromising in its goal to provide the most magnificent guest experience imaginable after nearly three centuries of upgrades and evolution. Yet, it also works to not only bring awareness to the exquisite creations of the islands, but to continuously elevate them to even grander levels of quality and craftsmanship. 
Graycliff is indisputably intertwined in the history of the Bahamas as a whole, and so it seems, is intent on remaining historically influential now and in the years to come.  
— Keith Gordon
Sea Birds
With more than 700 islands spread across the Bahamas, seaplanes offer a convenient, and scenic, way to travel between them or visit the more farflung destinations in their midst. 
Furthermore, for those fortunate enough to acquire their own islands, seaplanes are the best option for a quick and convenient way to access one's private paradise. Operators like Seabird Air or Trans Island Airways offer various ways to explore off the beaten path. 
Pick a remote island or beach that you wish to visit, and ask to be dropped off in the morning and picked up again at sundown. Or hire one of their planes for the day and let an expert pilot guide you to some of the best, and least known, spots in the Bahamas. 
You might even be able to cruise around until you spot an alluring strip of sand and swaying palms from the air, and as long as it isn't a billionaire's heavily-guarded retreat, your pilot can likely set you down for a swim. 
– Keith Gordon